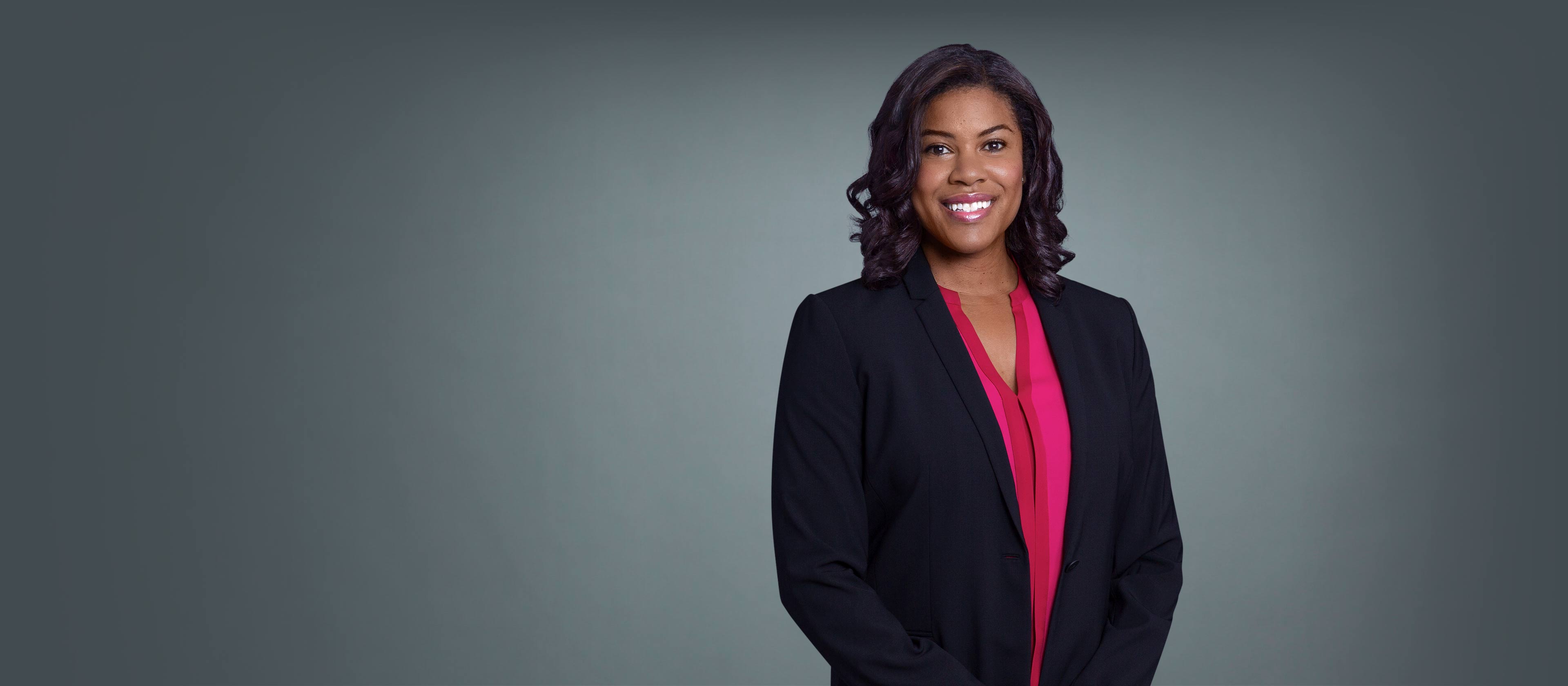 Aisha Langford,
MPH, PhD
Assistant Professor, Department of Population Health
Summary
A.Personal Statement
As a tenure-track assistant professor of population health at NYU School of Medicine, I use decision science methodology with research focused on the use of effective health communication to improve individual decision making, reduce population health disparities, and influence patients' ability to make informed decisions about treatment options, including participation in a clinical trial. It is clear from health behavior theories that many factors influence patient decision making, some of which are beyond the patient's control. Accordingly, an overarching goal I have set for my career is to equip patients with the health communication tools needed to manage their health and to make decisions informed by their values and preferences.
My primary mentor at NYU School of Medicine is R. Scott Braithwaite, MD, MS, FACP, Tenured Professor of Population Health and Medicine, Director of the Division of Comparative Effectiveness and Decision Science at New York University School of Medicine, and past President of the Society of Medical Decision Making. I have also trained with leading scholars in decision making, risk communication, and health communication:
Angela Fagerlin, PhD (Professor of Population Health Sciences, University of Utah)
Brian Zikmund-Fisher (Associate Professor of Health Behavior & Health Education, Univ. of Michigan)
Matthew Kreuter, PhD (Associate Dean for Public Health, Washington University in St. Louis)
Ken Resnicow, PhD (Professor of Health Behavior and Health Education, University of Michigan)
Langford AT, Sawyer DR, Gioimo S, Brownson CA, O'Toole ML. Patient-centered goal setting as a tool to improve diabetes self-management.Diabetes Educ. 2007 Jun;33 Suppl 6:139S-144S.PMID: 17620393
Langford A, Resnicow K, An L. Clinical trial awareness among racial/ethnic minorities in HINTS 2007: sociodemographic, attitudinal, and knowledge correlates. J Health Commun. 2010;15 Suppl 3:92-101. PMCID: PMC4013828.
Langford, AT, Seixas, A. Race, age, and gender differences in clinical trial awareness, participation, and social support in a sample of us adults. Annals of behavioral medicine. 2017 51():S1744-S1745 (# 2559902) [Meeting Abstract].
Langford AT, Griffith DM, Beasley DD, Braxton EI. A cancer center's approach to engaging African American men about cancer: the men's fellowship breakfast, Southeastern Michigan, 2008-2014. Prev Chronic Dis. 2014 Sep 25;11:E164. PMCID: PMC4176474.
B. Positions and Honors
Positions and Employment
2000 - 2002 Account Executive, Hill & Knowlton Public Relations Agency, New York, NY 2002 - 2005 Adult Literacy Specialist, San Mateo County READS, East Palo Alto, CA 2005 - 2007 Research Assistant, Saint Louis University School of Public Health, Saint Louis, MO 2007 - 2013 Director of Community Outreach, University of Michigan Comprehensive Cancer Center, Ann Arbor, MI 2009 - 2013 Doctoral Student/Project Director, University of Michigan School of Public Health, Ann Arbor, MI 2013 - 2015 Postdoctoral Fellow, Department of Veterans Affairs, Center for Clinical Management Research, Ann Arbor, MI 2015 Assistant Professor, New York University School of Medicine, Population Health, New York, NY
Other Experience and Professional Memberships
2008 - Member, American Public Health Association 2014 - Member, Member, Society of Behavioral Medicine 2014 - Member, Society for Medical Decision Making 2015 - Member, American Society of Preventive Oncology
Honors
2010 Bioethics, Clinical Trials, & Health Disparities Fellowship, University of Maryland School of Medicine. PI: Claudia Baquet, MD, MPH. 2013 Teaching the Responsible Conduct of Research Fellowship, National Center for Professional and Research Ethics, University of Illinois Urbana-Champaign. PI: Kenneth D. Pimple, PhD. 2016 Future Leaders Conference Participant, National Institutes of Health. Bethesda, MD
C. Contribution to Science
My previous work has largely focused on community-based behavioral interventions designed to prevent chronic disease and promote health research. Many of these studies incorporated health education tools and community engagement strategies to support decision making around preventive health behaviors (diet, exercise, cancer screening), and joining clinical trials. For example, in the Body & Soul Clinical Trials Project conducted with African American churches in Michigan, I produced a 9-minute educational video featuring local pastors, doctors, and clergy. My most notable contribution to science at this stage in my career is that, contrary to historically held beliefs about minority distrust of medical research, my research demonstrates that minorities are willing to participate in clinical trials, enroll in cancer clinical trials at equivalent rates as other racial/ethnic groups, and are willing to join a university-based registry when eligible and explicitly invited.
My current and future work in health communications will help improve the field's understanding of how to design health information tools for patients and the public. These tools will consider factors such as the quantity of information, readability, medium (e.g., web vs. print), and message framing. I am the PI of a recent pilot study entitled, Understanding the Role of Health Message Frames on African American Willingness to Participate in Physical Activity Clinical Trials, funded by the Department of Veterans Affairs. Using an Internet sample, I evaluated the impact of 5 variations in message frames related to African American willingness to participate in a hypothetical diabetes research study.
Andrews AM, Zhang N, Magee JC, Chapman R, Langford AT, Resnicow K. Increasing donor designation through black churches: results of a randomized trial. Prog Transplant. 2012 Jun;22(2):161-7. PMID:22878073
Langford AT, Resnicow K, Dimond EP, Denicoff AM, Germain DS, McCaskill-Stevens W, Enos RA, Carrigan A, Wilkinson K, Go RS. Racial/ethnic differences in clinical trial enrollment, refusal rates, ineligibility, and reasons for decline among patients at sites in the National Cancer Institute's Community Cancer Centers Program. Cancer. 2014 Mar 15;120(6):877-84. PMCID:PMC3947654.
Langford AT, Resnicow K, Beasley DD. Outcomes from the Body & Soul Clinical Trials Project: a university-church partnership to improve African American enrollment in a clinical trial registry. Patient Educ Couns. 2015 Feb;98(2):245-50. PMCID:PMC4293033.
Brown DL, Cowdery JE, Jones TS, Langford A, Gammage C, Jacobs TL. Adolescent knowledge and attitudes related to clinical trials. Clin Trials. 2015 Jun;12(3):212-4. PMID:25673637.
D. Research Support
Ongoing
5 UL1TR001445-03S (MPIs Cronstein & Hochman) 09/01/16 – 08/31/18
National Institutes of Health / NCATS
Research Supplement to Promote Diversity
This project investigates study teams' awareness of recruitment support tools and services (Aim 1) and the most commonly used methods for recruiting participants (Aim 2), building towards a tool to promote thoughtful recruitment planning (Aim 3). The short-term goal of the tool is twofold: 1) to encourage study teams to think about recruitment planning early in the process (i.e., pre-IRB submission) and 2) to gather aggregate data on recruitment practices across studies. A better understanding of these issues may elucidate supports needed by study teams to be successful in recruiting participants and increase the likelihood that future recruitment plans are feasible for the type of study conducted. I oversee all aspects of the study including conducting focus groups with investigators, implementing an online survey with study coordinators, developing study tools and measures, and overseeing data collection and analyses.
Role: Diversity Supplement Recipient
5 UL1 TR001445-03 (MPIs Cronstein & Hochman) - 08/18/15 – 03/31/20
National Institutes of Health / NCATS
Institutional Clinical and Translational Science Award (CTSA) - Linked Specialized Center Cooperative Grant
The purpose of this proposal is to establish a Clinical and Translational Science Institute (CTSI) that will have the following aims: 1) To increase collaboration among clinical, translational and basic scientists across the colleges and schools of NYU to better determine the relevance and applicability of scientific advances to clinical problems; 2) To provide the leadership, infrastructure and resources to support novel science and the rapid, efficient and safe application of scientific discoveries to the community; 3) To support the education, training and development of researchers who can carry on the investigations necessary to bring scientific advances to the public; 4) To enhance the ties between the research establishment at NYU and the community so as to more rapidly identify health problems, investigate their scientific basis, apply the knowledge gained and promote utilization of new developments and evidence based medicine by the community, and to reduce healthcare disparities.
Role: Co-Investigator
16SFRN27810006 (MPIs Spruill, Allison, Castaneda) - 07/01/17 – 6/30/19
American Heart Association
Evaluating a Mindfulness-Based Intervention for Diverse Prehypertensive Women
The goals of this project are to translate and culturally adapt a telephone-based mindfulness intervention for Latina women, and to conduct a pilot RCT to test its feasibility, acceptability and effects on BP and perceived stress in 72 racially and ethnically diverse women with prehypertension in NYC and San Diego, CA.
Role: Co-Investigator
Completed
Department of Veterans Affairs (Langford) - 05/15/14-06/30/15
Understanding the Role of Health Message Frames on African American Willingness to Participate in Physical Activity Clinical Trials
Goal: 1) Using a hypothetical clinical trial for physical activity, evaluate the impact of 5 health message frames on African American willingness to participate in clinical trials; and 2) Evaluate black/white differences in willingness to participate using a general message frame.
Role: PI
Positions
Assistant Professor, Department of Population Health
Graduate Education
PhD from University of Michigan
MPH from Saint Louis University
Nature reviews. Urology. 2018 Jul; 15(7):422-429
PHYSICAL ACTIVITY AND PRO-HEALTH BEHAVIOR PROFILES IN DIABETES RISK AMONG BLACKS AND WHITES: A NOVEL MACHINE LEARNING ANALYSIS [Meeting Abstract]
Annals of behavioral medicine. 2018 APR; 52:S284-S284
CANCER SURVIVORS' FATALISTIC BELIEFS AND MENTAL HEALTH INDICATORS [Meeting Abstract]
Annals of behavioral medicine. 2018 APR; 52:S234-S234
DO BELIEFS ABOUT THE CAUSES OF HIGH BLOOD PRESSURE PREDICT INTENTIONS TO CHANGE LIFESTYLE BEHAVIORS AMONG HINTS PARTICIPANTS? [Meeting Abstract]
Annals of behavioral medicine. 2018 APR; 52:S28-S28
PROTECTIVE SLEEP AND PHYSICAL ACTIVITY PROFILES IN DIABETES RISK AMONG BLACKS AND WHITES IN THE UNITED STATES: A BAYESIAN BELIEF NETWORK MACHINE LEARNING MODEL OF NATIONAL HEALTH INTERVIEW SURVEY [Meeting Abstract]
Sleep. 2018 APR; 41:A324-A325
NOVEL USES OF DECISION SUPPORT TOOLS FOR PATIENTS AND CLINICIANS: BLENDING HEALTH TECHNOLOGY AND HEALTH COMMUNICATION [Meeting Abstract]
Annals of behavioral medicine. 2018 APR; 52:S423-S423
SOCIODEMOGRAPHIC AND CLINICAL CORRELATES OF KEY OUTCOMES IN A MOBILE INSULIN TITRATION INTERVENTION FOR UNDERSERVED PATIENTS [Meeting Abstract]
Annals of behavioral medicine. 2018 APR; 52:S412-S412
DEVICE OWNERSHIP, HEALTH APP USE, AND INTEREST IN EHEALTH TECHNOLOGY: AN ANALYSIS OF US ADULTS IN HINTS WITH HIGH BLOOD PRESSURE [Meeting Abstract]
Annals of behavioral medicine. 2018 APR; 52:S298-S298