Educator Community
Educator Community Members

Educator Community Members
NYU Grossman School of Medicine's Educator Community is home to approximately 350 faculty with designated leadership roles in education. It also includes additional faculty and staff, bringing the total to 500 members.
We provide the institution with the forum to recognize, highlight, and celebrate the tremendous work in education occurring across our medical school and create new avenues for collaboration and shared learning. Members have priority access to a variety of existing and new resources in areas such as skill development, mentoring, innovation, and scholarship.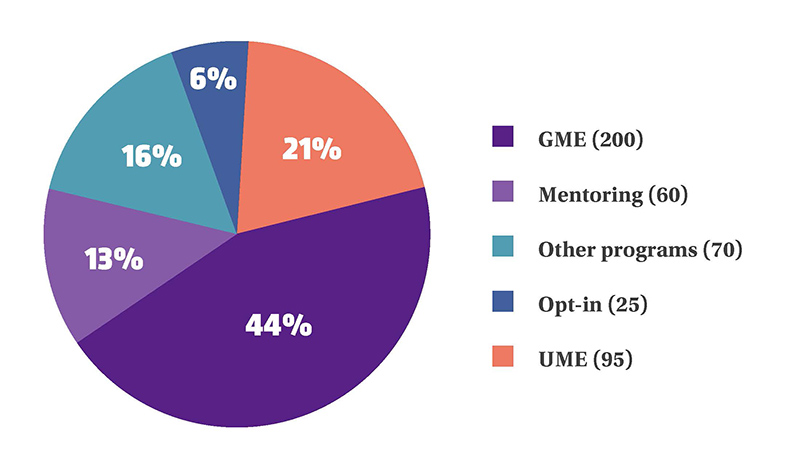 See a list of Educator Community members by department or division.
Anesthesiology, Perioperative Care, and Pain Medicine
Jan Boublik, MD
Joanna Koenigsberg, MD
Milad Nazemzadeh, MD
Jeanna Viola, MD
Biochemistry and Molecular Pharmacology
Perlmutter Cancer Center
Cardiology
Eugenia Gianos, MD
Cardiothoracic Surgery
Leora Balsam, MD
Jessica Donington, MD
Cell Biology
Theodore Smith, MD
Child and Adolescent Psychiatry
Dermatology
Emergency Medicine
Andrew Ashkenase
Hilary Fairbrother, MD
Maureen Gang, MD
Anand Swaminathan, MD, MPH
Geriatric Medicine and Palliative Care
Sherry Greenberg, PhD, RN
Infectious Diseases and Immunology
Daniel Eiras, MD, MPH
General Internal Medicine and Clinical Innovation
Medicine
Anthony Accurso, MD
Laura Bienenfeld, MD, MPH
Jeanne Marie Carey, MD
Ruth Crowe, MD, PhD
Lawrence Gardner, MD
James Lebret, MD
Veronica Lerner, MD
Anne Mooney, MD
Steven Sedlis, MD
Joshua Smith, MD
Nicholas Stine, MD
Alice Tang, MD
Susan Torrey, MD
Renee Williams, MD
Microbiology
Neurology
Alessandro Di Rocco, MD
Rebecca Gilbert, MD
Sanjeev Kothare, MD
Melissa Nirenberg, MD, PhD
Gregory Pastores, MD
Rachel Ziegler, MD
Neuroscience and Physiology
Neurosurgery
Obstetrics and Gynecology
Basma Faris, MD
Kimberly Ferrante, MD
Erin Higgins, MD
Francine Hughes, MD
Meera Kesavan, MD
Amitasrigowri Murthy, MD
Victor Nitti, MD
Lorraine Toner, MD
Ophthalmology
R. Theodore Smith, MD
Phillip R. Smith, MD, PhD
Orthopedic Surgery
Alice Chu, MD
Jonathan Vigdorchik, MD
Warren Young, MD
Otolaryngology—Head and Neck Surgery
Pathology
Ruliang Xu, MD
Pediatrics
Michael Espiritu, MD
Patricia Poitevien, MD
Henry Pollack, MD
Hsiang Yin, MD
Warren Young, MD
Plastic Surgery
Population Health
Jessica Athens, PhD
Elaine Meyer, MS
Nicholas Stine, MD
Psychiatry
Christina Ahn, MD
Meera Balasubramaniam, MD, MPH
Mary Kelleher, MD
Jacqueline Sergie, MD
Rubiahna Vaughn, MD
Radiation Oncology
Radiology
Amy Melsaether, MD
Divya Sridhar, MD
Rusk Rehabilitation
Skirball Institute of Biomolecular Medicine
Surgery
Armando Castro, MD
Arelis Espinal
Vasiliki Stellakis
Tanika Taylor, MD
Urology
Victor Nitti, MD
NYU Rory Meyers College of Nursing
Grace Ng, MS, RN
Amy Witkoski Stimpfel, PhD, RN
NYU Health Sciences Library
Nicole Contaxis, MLIS
NYU Langone Hospital—Brooklyn Faculty
Darsan Patel, MD
Dhuha Alhankawi, MD
Nowreen Haq, MD
Phaniram Sumanam, MD
Raman Bhalla, MD
Rotimi Ayoola, MD