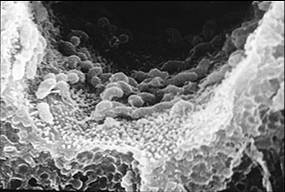 Research in the relationship between vitamin B12 deficiency and H. pylori infection
The relationship between vitamin B12 deficiency, a common cause of Geriatric syndromes, and infection with Helicobacter pylori.
The most common form of vitamin B12 deficiency in the elderly is food-cobalamin malabsorption. The mechanisms responsible for the development of food-cobalamin malabsorption are not well understood.
Evidence indicates that the development of gastritis and achlorhydria in the setting of Helicobater pylori colonization may be associated with food-cobalamin deficiency.
We hope, with our work, to further elucidate an important risk factor for food-cobalamin malabsorption in the geriatric population, to identify those elderly patients at highest risk for its development and to confirm the utility of antibiotic treatment in reversing the condition to prevent its sequelae.