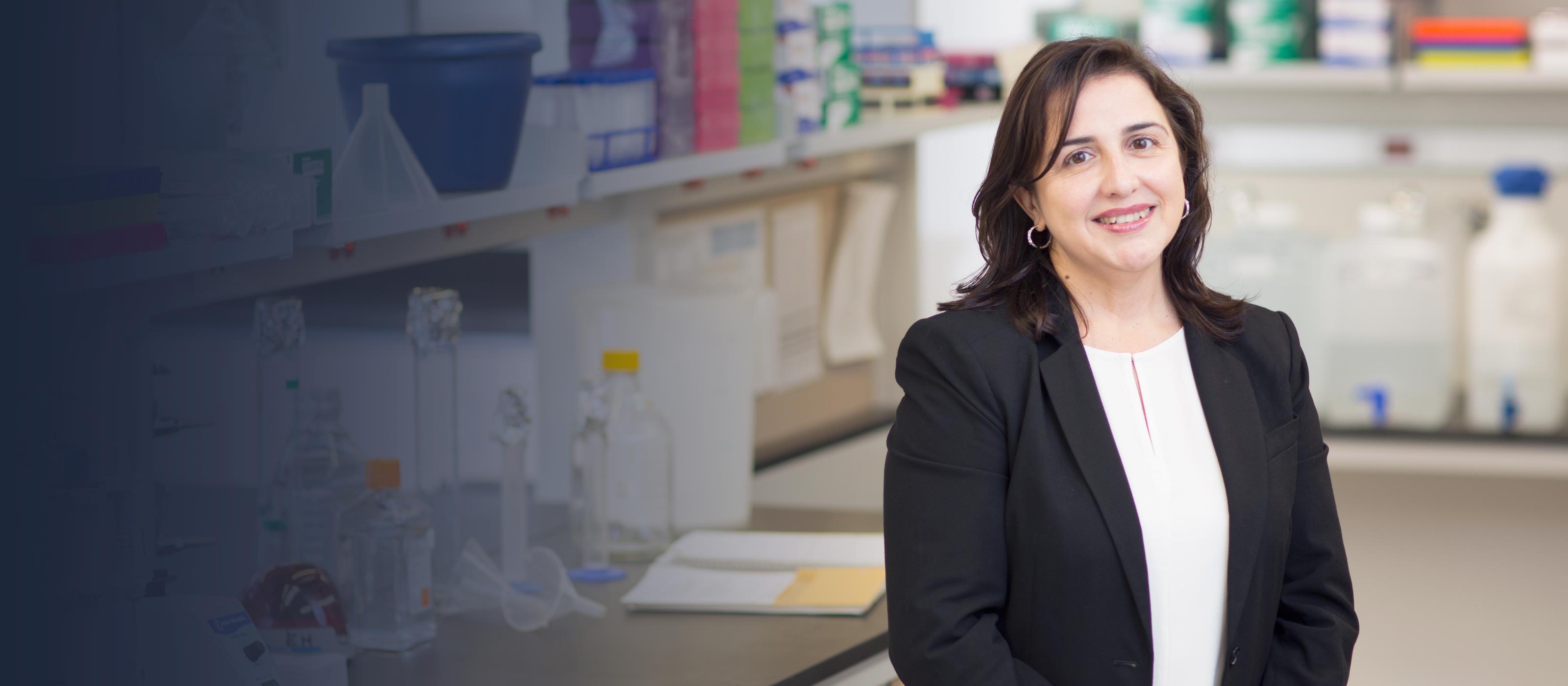 Eva M. Hernando-Monge,
PhD
Associate Professor, Department of Pathology
Keywords
cancer, genomics, stem cell biology
Summary
Traditionally, mature cells in specific tissues and organs have been regarded as the cell-of-origin of the corresponding tumors. However, the observation that tumor cells need to accumulate genetic and phenotypic alterations over extended time periods has turned the view to stem cells or progenitors with a prolonged lifespan, which are broadly distributed in local reservoirs. These cells, in charge of maintaining tissue homeostasis, are contemplated as the target of neoplastic transformation.

Our laboratory is studying whether certain sarcomas originate from mesenchymal progenitors and whether melanomas result from transformation of melanocytic stem cells. Moreover, we hypothesize that alterations in the normal differentiation process of these progenitors act at early stages of tumor initiation, and that the retention or reactivation of stem cell properties may contribute to tumor progression and aggressive behavior (resistance to therapy, metastasis). A limitation for these studies is our partial understanding of the normal differentiation process of these two lineages.

Sarcoma studies

To overcome this limitation, our laboratory has established and characterized the in vitro differentiation of human Mesenchymal Stem Cells (hMSCs) into smooth-muscle (SMC), the lineage of origin of Leiomyosarcomas (LMS), tumors that appear in the uterus, the retroperitoneum and the extremities. We have found that some miRNAs down-regulated during hMSC differentiation are overexpressed in uterine LMS compared to normal myometrium. We are currently determining whether these candidate miRNAs play an active role in SM differentiation in vitro and in vivo and whether their alteration leads to a blockade in SM maturation, increased proliferation and/or MSC transformation.

In addition, we have developed a leiomyosarcoma mouse model based on the inactivation of Pten in an early smooth-muscle progenitor (using the transgelin promoter, Tgln). MSCs isolated from Tgln-cre/Ptenlox/lox mice are being analyzed for the effect of Pten inactivation in stem cell maintenance, proliferation and differentiation. Mice heterozygous for Pten and p53 in the SM lineage develop very aggressive LMS that are able to spontaneously metastasize to distal organs.

Melanoma studies

Melanomas also show phenotypic heterogeneity both in vivo and in vitro, suggesting an origin from a cell with multilineage differentiation abilities. Moreover, malignant melanoma seems to evoke the migratory nature of neural crest and melanoblasts from which melanocytes arise, suggesting that transformation may occur in a melanocytic stem cell.

Our lab has found that a miRNA cluster (miR-182-96-183) located in a genomic region frequently amplified in melanoma (7q31-34) is overexpressed in melanoma tissues and cell lines. A member of this cluster, miR-182, controls MITF, a transcription factor with a critical role in melanocytic differentiation. We have demonstrated that upregulation of a member of this cluster, miR-182, promotes migration in vitro and metastasis in vivo. Interestingly, miR-182 targets MITF, a master regulator of melanocytic differentiation. Ongoing work using stem cells, melanoma cell lines, and mouse models should unravel the mechanism(s) by which this miRNA contributes to melanoma progression.
Our lab is studying whether a developmental model of tumorigenesis can be applied to solid cancers, in particular to sarcomas and melanomas. We hypothesize that these tumors originate from stem cells or precursors retaining self-renewal capacity, whose neoplastic transformation involves a differentiation blockade. As part of these studies, we are investigating the dual role of microRNAs in differentiation and tumorigenesis.
These focus areas and their associated publications are derived from medical subject headings from PubMed.
represents one publication
Loading...
*Due to PubMed processing times, the most recent publications may not be reflected in the timeline.
Positions
Assistant Dean for Research Integration
Graduate Education
PhD from Complutense University
Opens in a new tab