MD Degree
Accelerated Three-Year MD

Accelerated Three-Year MD
NYU Grossman School of Medicine's accelerated three-year MD pathway—the first of its kind at a nationally ranked academic medical center—allows students to earn the MD degree more quickly and at a significantly reduced cost. It provides early access to faculty mentors, opportunities to conduct research, and direct progression into one of our residency programs, pending successful completion of your medical school training. Upon meeting the academic and professional standards for graduation from medical school, you are ranked to match into an NYU Grossman School of Medicine residency program through the National Resident Matching Program. Should you choose to rank us, you would match into a position at NYU Grossman School of Medicine for residency.
NYU Grossman School of Medicine is a founding member of the Consortium of Accelerated Medical Pathway Programs, a group of North American medical schools offering the three-year MD, many of which focus on primary care training. Our three-year MD program stands out by offering early, conditional residency acceptance into any one of twenty NYU Langone Health residency programs, providing accelerated entry into a variety of medical specialties.
A Flexible, Fast-track MD Curriculum
As more aspiring physicians pursue specialty training as part of their medical education, the average time it takes to enter the workforce has lengthened. If you already know what type of physician you want to become, the accelerated three-year MD program at NYU Grossman School of Medicine allows you to complete our MD curriculum in less time and gain a head start on your specialization.
There are four options for entering the three-year MD pathway:
Prospective students can apply to the three-year MD pathway when they apply to the MD program at NYU Grossman School of Medicine.
Those who have earned a PhD from another college or university can apply to the three-year MD for specialized, research-focused residency programs.
Matriculated students in our MD program can opt in to the three-year pathway during their first year of training or halfway through the clerkship year.
Matriculated students in our MD/PhD program can apply to the three-year MD pathway after the completion of their PhD.
The basic elements of our three-year degree are nearly identical to those of our four-year MD curriculum. You spend the summer between years one and two doing a project in the department of your intended residency. This gives you a chance to get to know people in the department and meet potential mentors who can assist you throughout your time in medical school.
Accelerated Three-Year MD Pathway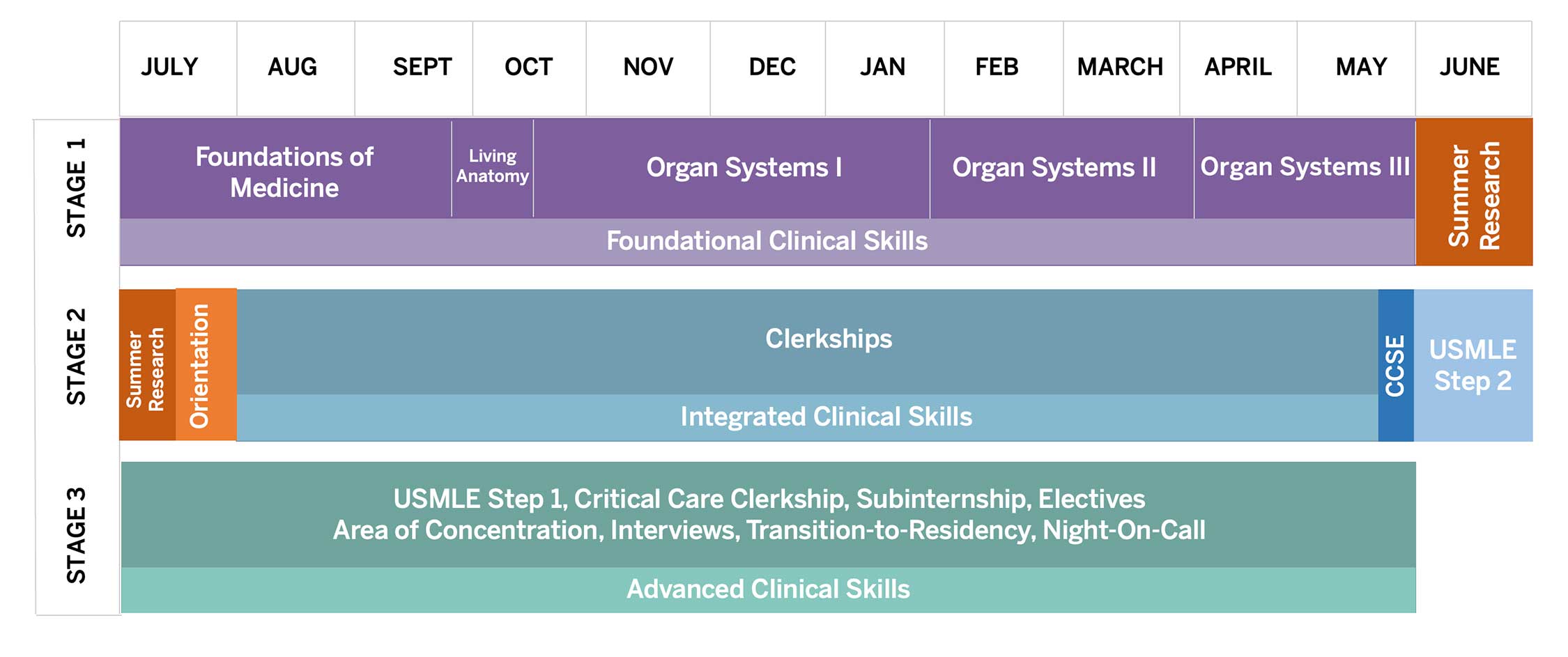 Contact Us
The three-year MD pathway is overseen by program director Joan F. Cangiarella, MD, senior associate dean for education, faculty, and academic affairs. For more information about the three-year MD admissions process, email admissions@nyulangone.org, or call 212-263-5290.