Life at NYU Grossman School of Medicine
Life as a Graduate Student

Life as a Graduate Student
Students come from all over the country—and the world—to study at NYU Grossman School of Medicine's Vilcek Institute of Graduate Biomedical Sciences. Meet five of them here, and find out how being part of our community helps them reach their goals.
PhD Candidate Jessie Brown Makes a Difference for Women in STEM
Having her choice of PhD programs, Tucson, Arizona, native Jessie Brown ultimately decided on NYU Grossman School of Medicine because "I knew the caliber of research here was so high. Also, the students I met were really happy and serious about their work."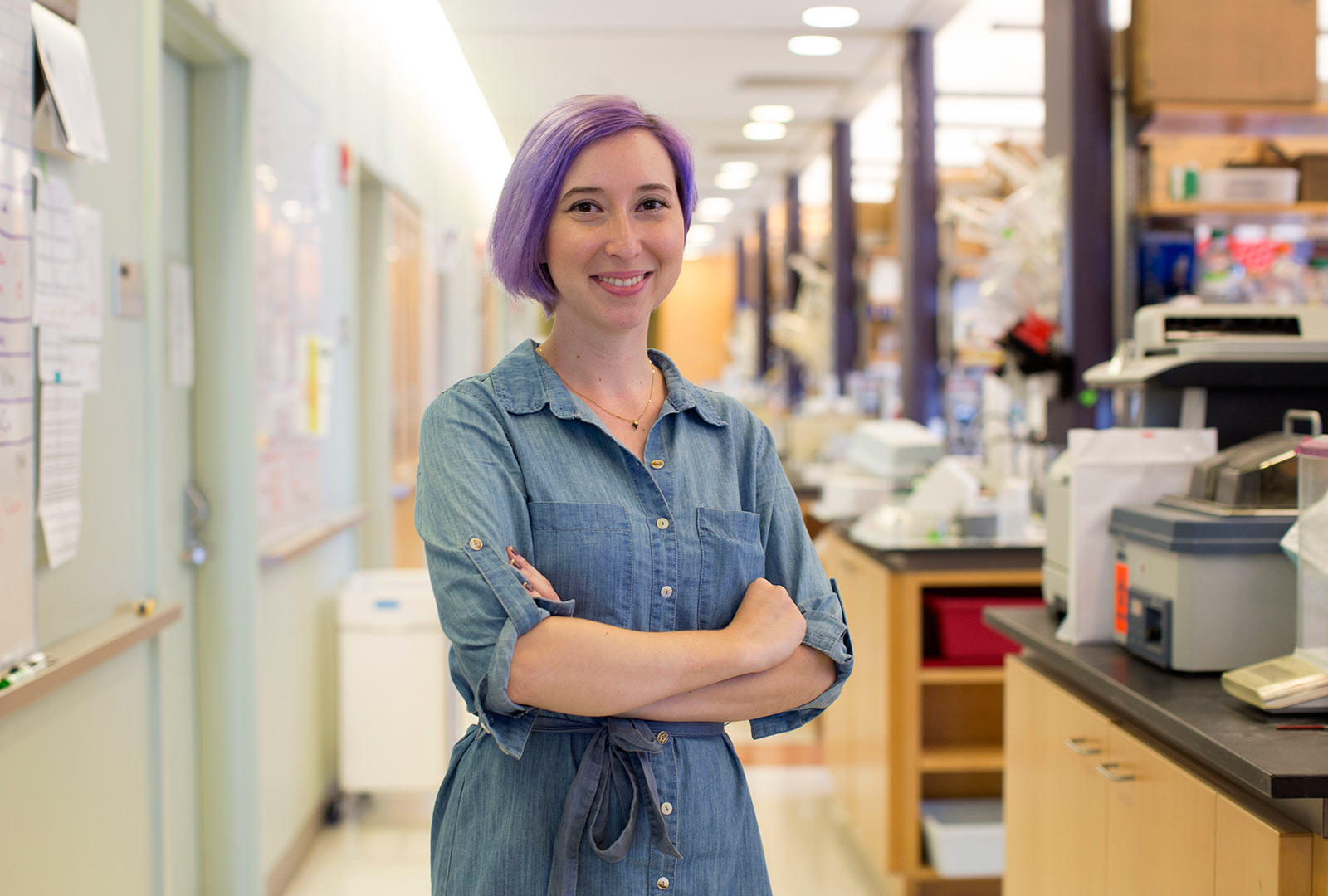 When Jessie arrived and found no group specifically geared toward women in science, technology, engineering, and mathematics (STEM), she started one.
"Along with another graduate student, Melania Fanok, and postdoc Jane Cullis, I formed NYU are Women in STEM, or NYUrWIS, in 2015," says Jessie, a trainee in the Molecular Oncology and Tumor Immunology PhD Training Program who studies quiescent cancer stem-cell resistance in the lab of Markus Schober, PhD.
Among the group's offerings are a mentoring program and a speaker series featuring women from STEM fields that includes topics such as biotech, publishing, and consulting.
"Research has shown that female students benefit greatly by having female mentors who can guide them through their careers, especially in regards to finding work–life balance," says Jessie. "We created a program that pairs female faculty members with postdocs, and female postdocs with graduate students. The response has been really positive."
"A lot of people want those kinds of relationships, but broaching the conversation with a potential mentor can be scary," explains Jessie. "We help make it happen."
'Faculty Are Really Enthusiastic About Working with Students,' says MD/PhD Candidate Alice Fok
Native New Yorker Alice Fok, now in the fifth year of her MD/PhD program in neuroscience and physiology, works at the Ringstad Lab, studying dopamine neurons in the roundworm Caenorhabditis elegans and their implications for the treatment of psychiatric and neurological disorders in humans.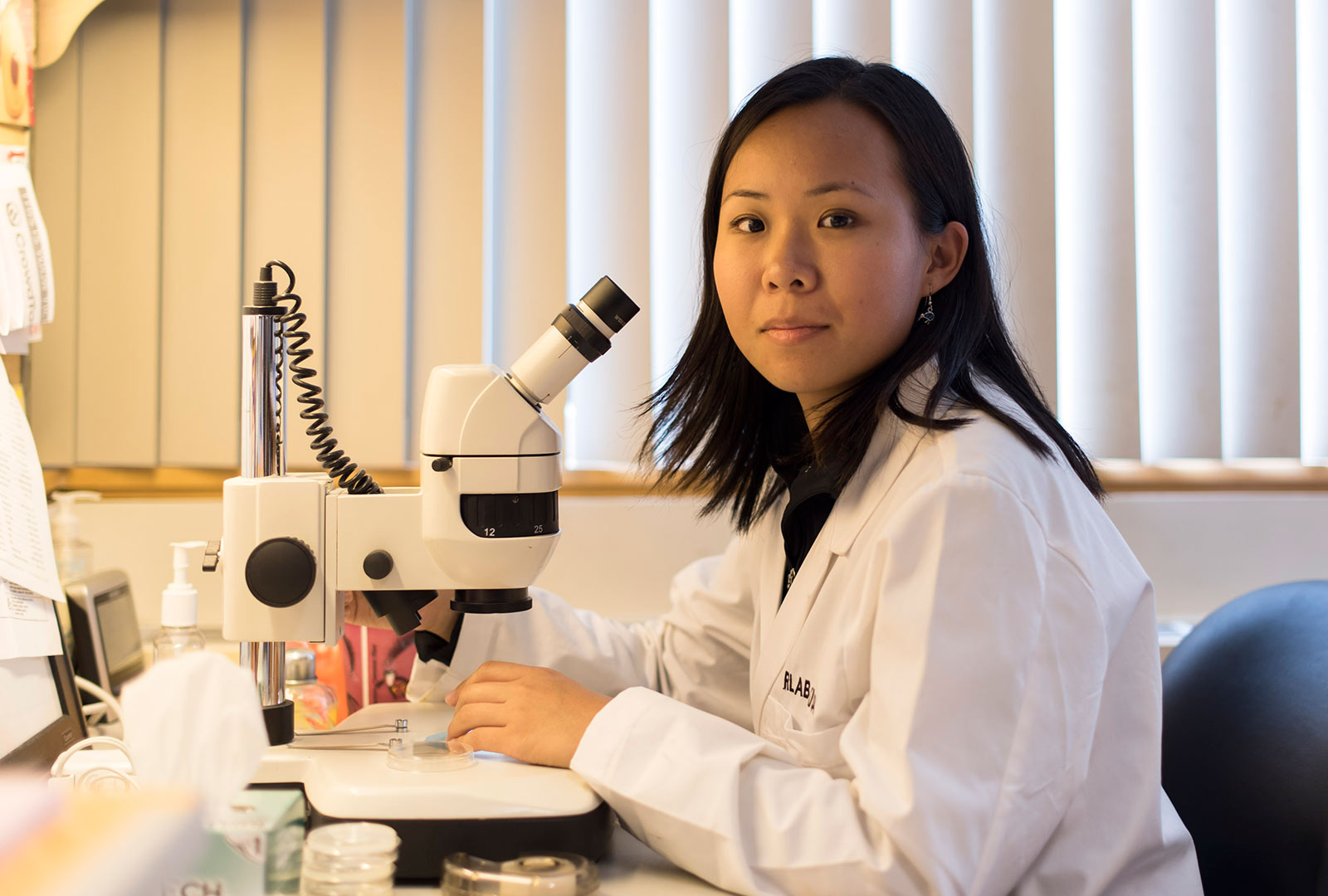 Recently, she's also been working with Dolores Malaspina, MD, MPH, of the Department of Psychiatry. "Dr. Malaspina studies genes turned on in people who have diseases like schizophrenia or obsessive–compulsive disorder," Alice says. "I think there may be overlap in our work.
"It's a cool thing about NYU Grossman School of Medicine—the faculty are really enthusiastic about working with students. I've been able to spend time with Dr. Malaspina as she does rounds at Bellevue Hospital.
"We currently don't have the same kind of tests for diagnosing brain diseases like schizophrenia as we do for other illnesses such as cancer or rheumatoid arthritis," she says, reflecting on one powerful experience.
"Instead, diagnoses are made by observing and interpreting patient behavior, which can be subjective and lead us down the wrong path. I got to witness firsthand the consequences of overprescribing antipsychotics to patients—those drugs have become the 'antibiotics' of psychiatry," she says.
"I saw a patient with severe social anxiety and depression earlier this year. He complained of feeling tired all of the time, and it turns out to have been a negative side effect of an antipsychotic he didn't even need to be on. I learned he was doing much better after coming off the drug."
Alice's thesis work and collaboration with Dr. Malaspina have inspired her to pursue a career as a physician–scientist in neuropsychiatry, a field in which mental illnesses and brain disorders are studied and treated.
For PhD Candidate Joshua Frenster, an Atmosphere of Collaboration is Key
Joshua Frenster first experienced NYU Grossman School of Medicine as part of the Summer Undergraduate Research Program. He returned a year later to pursue his PhD in stem cell and cancer research.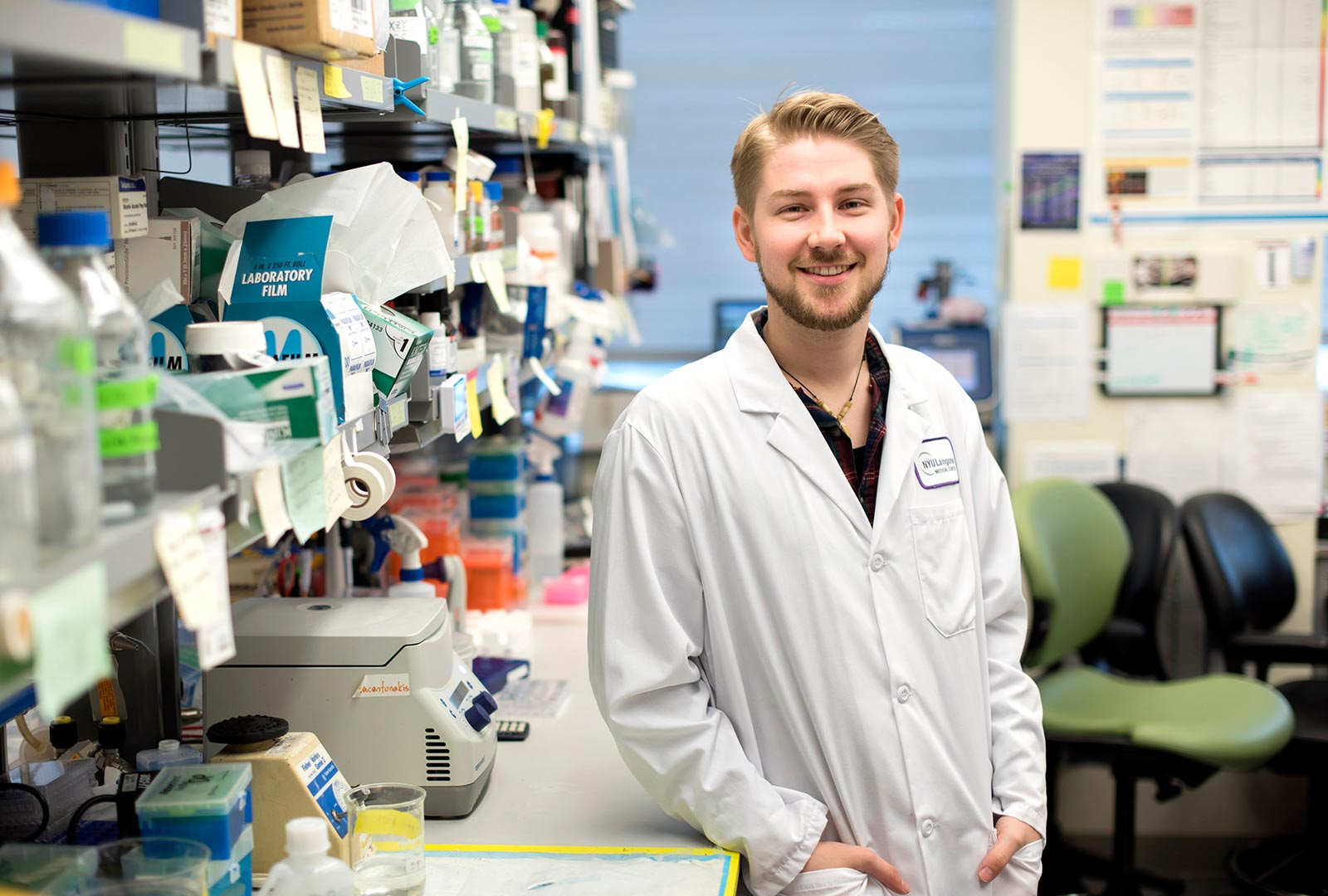 "NYU Grossman School of Medicine is a scientific hub," he says. "It's scientifically 'dense'—there are so many labs, very good facilities, and a lot of impressive visiting speakers."
Joshua, who studies glioblastoma stem cells in the Placantonakis Lab, is also impressed by the spirit of sharing and helpfulness.
"Compared to other big universities, the great thing about NYU Grossman School of Medicine is the friendliness and the feeling of wanting to develop things together, instead of competing over who gets it first," he explains. "And there's a willingness to share that's really great.
"For instance, it happens every so often that labs run out of reagents when they're direly needed, or that somebody needs a tiny bit of an antibody for a single experiment and doesn't want to buy a large aliquot for it. Every single time I get into these situations, I know I can text some of my friends and within minutes somebody replies, 'I've got an idea how you can solve that problem,' or 'Sure, come by. You can borrow reagents from our lab.'
"That spirit of sharing and helping each other here," he says, "is much bigger than any feeling of competition."
Sana Badri Gets Support as a Scientist and a Mother
PhD candidate Sana Badri, who studies bioinformatics, knows well the challenges of balancing life as a working scientist and a parent.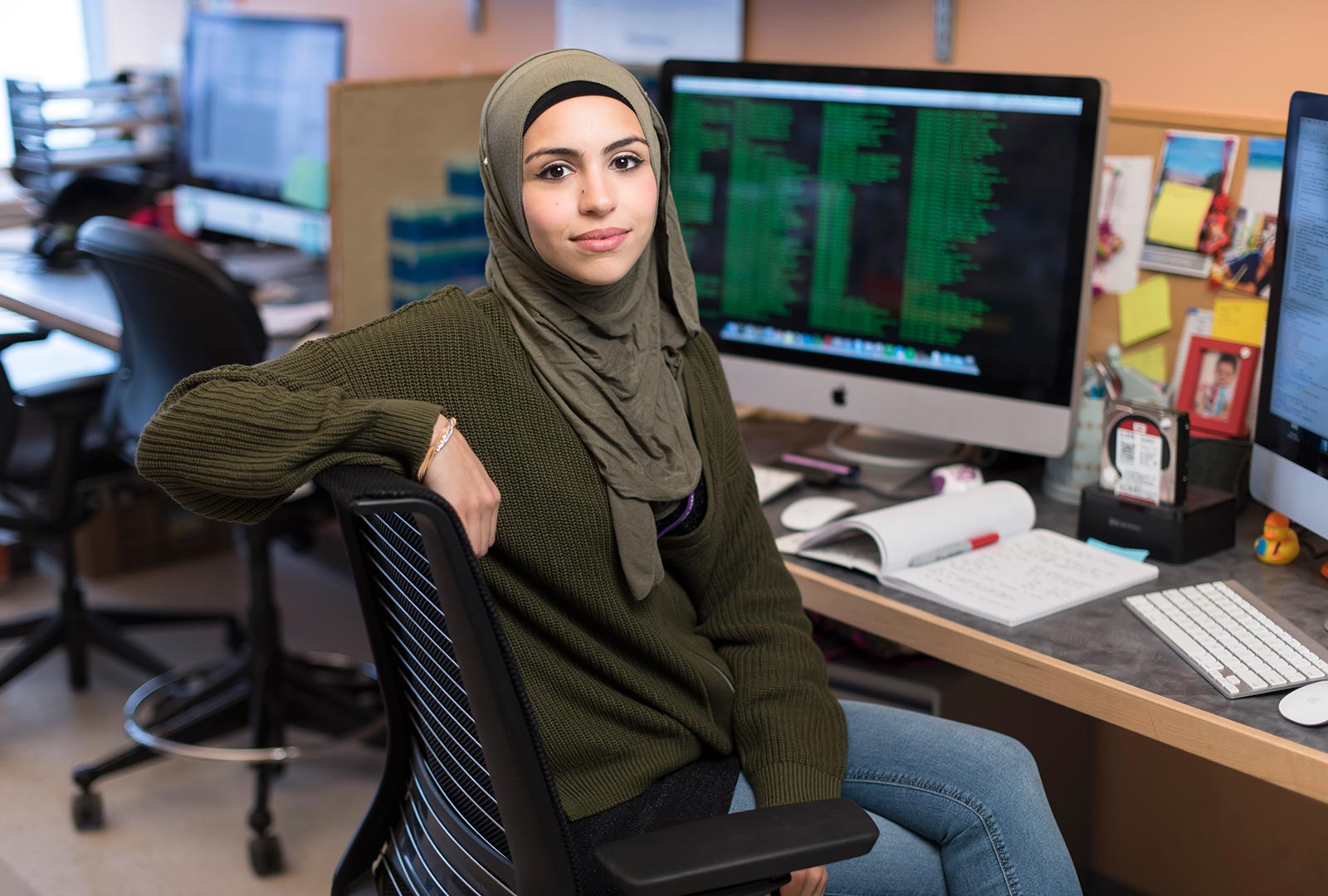 "My son was born two weeks after I started my PhD program," says the New Jersey native. "I managed to take only one week off before going back to classes. It was difficult at first, because I was starting two new major experiences at the same time."
She credits endless support from her husband, family, and the community of the Skok Lab and the Bonneau Lab, where she works.
"Both labs are great environments to work in. Everyone genuinely cares about each other," says Sana. "I've had last-minute emergencies and have had to call out or work from home, and my principal investigators, professors, and fellow labmates have always been understanding."
Sana discovered bioinformatics as an undergraduate as part of a year-long National Science Foundation–funded research program. She chose NYU Grossman School of Medicine's Vilcek Institute of Graduate Biomedical Sciences for her PhD studies because of its nationally and internationally recognized faculty—and because of the program's flexibility.
"I knew I wanted to do biomedical research and I loved the biomedical informatics program, but I also appreciated the fact that Vilcek has an open program. This allowed me to explore a range of options during my first year before having to choose my final track."
Now in the third year of her PhD program, Sana hopes to teach and consult in the future. In the meantime, she's enjoying her busy life as a mom and a scientist.
PhD Candidate Russell Ledet is Grateful for Mentors
PhD candidate Russell J. Ledet, who studies treatment-resistant prostate cancer in the Garabedian Lab, is grateful for the steadfast support, patience, and candor of faculty and staff at NYU Grossman School of Medicine's Vilcek Institute of Graduate Biomedical Sciences.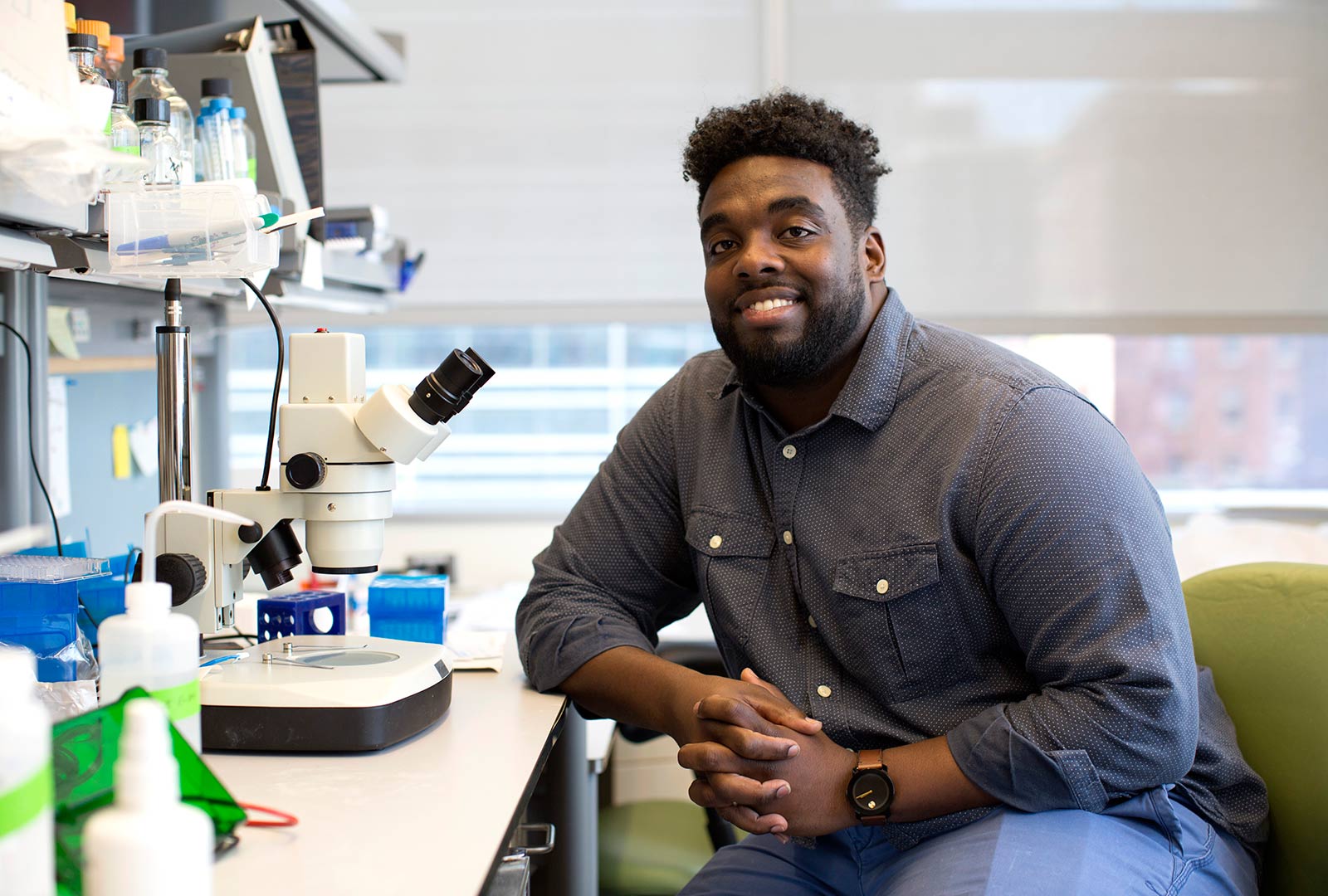 Russell arrived in New York City in 2013 after a nine-year career in U.S. naval intelligence, during which he completed undergraduate work in chemistry and biology at Southern University and A&M College in Baton Rouge, Louisiana.
"Since I've been here, I've been awarded a Ford Foundation Predoctoral Fellowship and a Howard Hughes Medical Institute Gilliam Fellowship for Advanced Study. I've also published my first scientific paper," he says.
None of this would have been possible, Russell adds, without Michael Garabedian, PhD, and Susan K. Logan, PhD, whom he calls two of the most supportive mentors he has ever come across.
"They've helped me develop into a better scientist, a better father, a better husband, and a better friend," he says. "I wouldn't be the person I am today without those two, as well as my laboratory mates, who support me in my training."