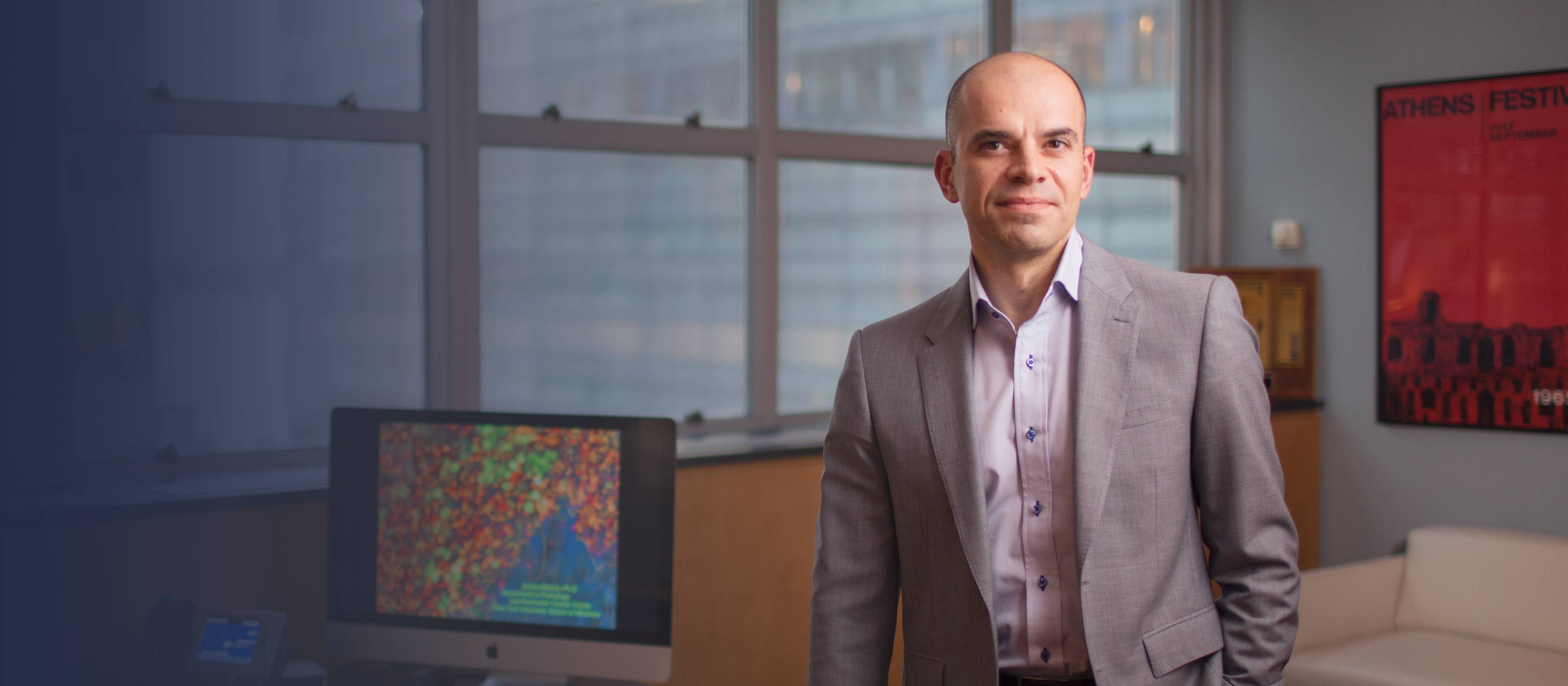 Iannis Aifantis,
PhD
Chair, Department of Pathology
Hermann M. Biggs Professor of Pathology, Department of Pathology
Keywords
cancer, immunology, stem cell biology, epigenetic regulation , leukemia, tumor microenvironment
Summary
My laboratory focuses on the molecular mechanisms of differentiation and transformation of hematopoietic stem cells and progenitors. Specifically, we study the initiation and progression of both lymphoid (T-ALL) and myeloid (AML, CML, CMML) leukemias.
Our work has identified and studied a number of novel oncogene proteins (including NOTCH1), tumor suppressor proteins (including FBXW7, TET2, CYLD, EZH2, UTX, cohesins), and downstream oncogenic signaling pathways. We have used these pathways to design molecularly targeted therapeutic protocols that inhibit the induction of or affect the maintenance of the disease. Our laboratory also studies the mechanisms of hematopoietic stem cell differentiation and self-renewal using both genomic and genetic approaches.
We currently have several areas of focus in our lab:
the impact of DNA methylation on stem cell transformation
the mapping of long noncoding RNAs in a number of human tumors
the impact of three-dimensional chromosomal architecture in cancer
the role of stress responses in human malignancy
the in vivo mapping of the tumor microenvironment for acute leukemia
We have recently expanded our scope to include the regulation of tumor progression and metastasis in selected solid tumors, with an emphasis on cancer-initiation mechanisms, including protein stability, epigenetics, and the tumor microenvironment.
These focus areas and their associated publications are derived from medical subject headings from PubMed.
represents one publication
Loading...
*Due to PubMed processing times, the most recent publications may not be reflected in the timeline.
Positions
Hermann M. Biggs Professor of Pathology, Department of Pathology
Chair, Department of Pathology
Graduate Education
PhD from University of Paris
Blood. 2020 Mar 12; 135(11):791-803
Trends in cancer. 2020 Mar; 6(3):177-180
Journal of experimental medicine. 2020 Feb 03; 217(2):
Cancer cell. 2020 Jan 13; 37(1):55-70.e15
Coactivation of NF-kB and Notch signaling is sufficient to induce B-cell transformation and enables B-myeloid conversion
Blood. 2020 Jan 09; 135(2):108-120
Nature communications. 2020 Jan 07; 11(1):99
Nature communications. 2020 Jan 07; 11(1):204
Opens in a new tab