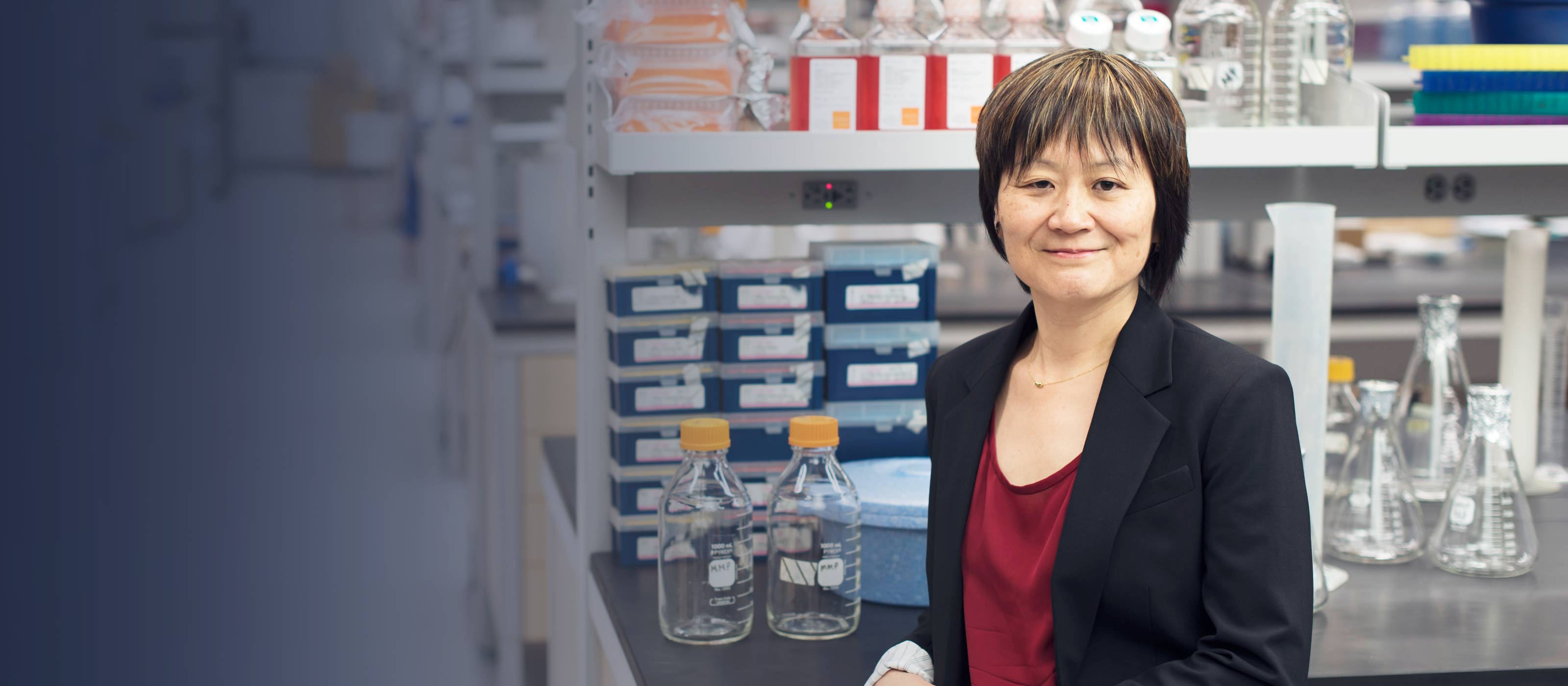 Naoko Tanese,
PhD
Associate Dean for Biomedical Sciences
Director, Vilcek Institute of Graduate Biomedical Sciences
Professor, Department of Microbiology
Keywords
cancer, microbiology, pharmacology, stem cell biology, Huntington's disease, huntingtin, neurodegenerative disorder, RNA transport, RNA trafficking, dendrite, neuronal granule, argonaute, gene silencing, processing bodies, post-transcriptional gene regulation, transcription, chromatin, SWI/SNF, chromatin remodeling complex, ubiquitin ligase, gene expression, cell cycle, cell growth
Summary
Huntington disease (HD) is a devastating disease that strikes affected individuals in mid-life with symptoms such as motor neuron dysfunction, cognitive and psychiatric disturbances that worsen with age. There is no cure for HD and currently available therapies are of limited use. Better understanding of the functions of the disease-causing huntingtin protein and the pathogenic mechanisms involved in the early stages of HD would permit identification of new targets for therapeutic intervention. Studies suggest that other neurodegenerative disorders caused by poly-glutamine expansion may share similar disease mechanisms. Thus, research on HD will likely contribute to the molecular understanding of many diseases of the brain. The gene that is mutated in HD is huntingtin (Htt), which encodes a large ubiquitously expressed protein. Expansion of a triplet CAG repeat sequence in the Htt gene generates a protein with poly-glutamine repeat expansion, which is the cause of HD, an autosomal, dominantly inherited neurodegenerative disorder. Although the pathogenic mechanisms of HD remain unclear, current evidence suggests significant dysfunction of neurons leading to progressive neuronal loss initially in the striatum. Wild-type Htt has been implicated in many cellular functions including regulation of gene expression, endocytosis and microtubule-directed vesicular trafficking in axons and dendrites. We recently reported a new role for Htt in post-transcriptional gene regulation and maintenance of processing bodies / neuronal RNA granules (PNAS 2008:105,10820; JBC 2010:285,13142). Endogenous Htt was found to co-localize and co-traffic with mRNA in dendrites. An emerging body of evidence suggests regulated transport and local translation of mRNA in neurons play a critical role in establishing their connectivity. Our findings implicate normal Htt in these important dynamic processes in neurons. It is possible that mutant Htt perturbs them in some way, contributing to the HD pathogenesis. Our ongoing research focuses on the identification and characterization of proteins and RNA that associate with normal and mutant Htt.
These focus areas and their associated publications are derived from medical subject headings from PubMed.
represents one publication
Loading...
*Due to PubMed processing times, the most recent publications may not be reflected in the timeline.
Positions
Associate Dean for Biomedical Sciences
Director, Vilcek Institute of Graduate Biomedical Sciences
Graduate Education
PhD from Columbia University
Residency And Fellowship Training
Fellowship, University of California, Berkeley, Biochemistry
Academic medicine. 2021 Apr 01; 96(4):518-521
Proteomic analysis of Huntingtin-associated proteins provides clues to altered cell homeostasis in Huntington's disease
Protein folding disorders of the central nervous system. 2018. p.?-?. (4158982)
Frontiers in cellular neuroscience. 2017 03; 11:33
Journal of Huntington's disease. 2016 05; 5(1):39-51
Methods in molecular biology. 2013 May; 1010:123-38
Journal of biological chemistry. 2012 Jun 22; 287(26):21599-614
Molecular & cellular biology. 2011 Sep; 31(17):3639-52
Opens in a new tab