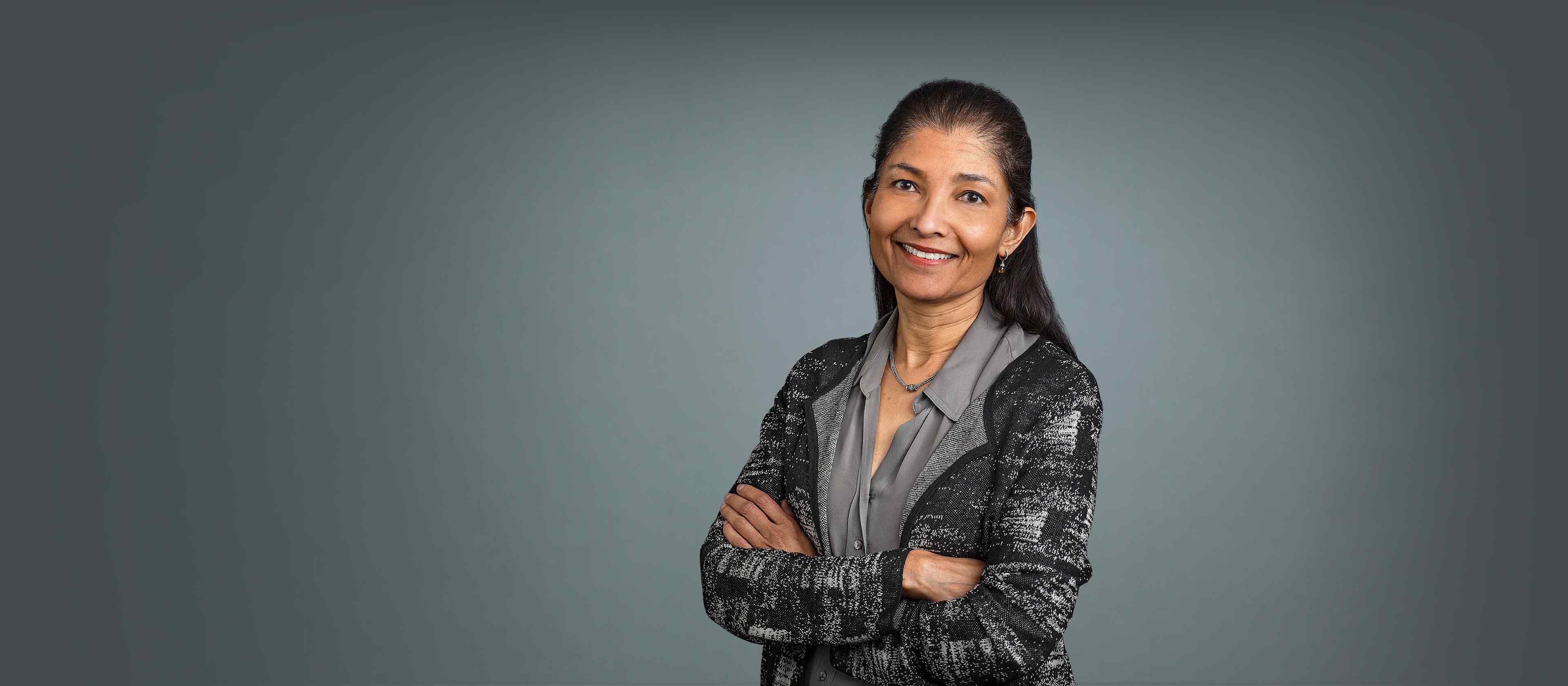 Shukti Chakravarti,
PhD
Professor, Department of Ophthalmology
Professor, Department of Pathology
Summary
My laboratory is interested in how extracellular matrices (ECM) regulate tissue architecture,integrity and provide specific cues to cells under homeostatic conditions and disease. The major ECM components are collagens, glycoproteins, proteoglycans and growth factors, and their relative composition and assembly is fine-tuned based on the functional demands of a particular tissue.
Studies of the cornea
A major focus in our laboratory is the cornea, a specialized ECM-rich protective barrier that provides 70% of the refractive power of the eye. Our earlier studies on a group of small leucine-rich repeat proteoglycans (SLRPs) have shown that they regulate collagen fibril structure, and thereby, corneal transparency and connective tissue strength. Gene-targeted mice deficient in lumican, a prototypical SLRP, have abnormally thick collagen fibrils with consequent loss of corneal transparency and reduced biomechanical strength in tendon and skin. Mice deficient in lumican and fibromodulin, another SLRP, show multiple structural defects in connective tissues like the sclera and tendon. Double-nulls show increased ocular axial length and thin corneas, reminiscent of myopia.
This fundamental interest in corneal biology has led us to study keratoconus. A common corneal ectasia, keratoconus leads to high astigmatism, scarring and progressive loss of vision. This condition is managed at early stages by hard contact lens use and UV cross-linking of collagens (CXL) to temporarily strengthen the connective tissue, and at advanced stages by cornea transplants. We have used proteomic and transcriptomic RNA-sequencing of patient corneas to elucidate global pathogenic changes. To investigate keratocytes, the specialized cells that produce much of the stromal ECM, we have developed ex-vivo 2D and 3D cell cultures from discarded corneas of keratoconus patients undergoing cornea transplantation. Our studies have specifically identified degenerative changes in the stroma combined with an ECM production deficiency in keratocytes.
With a positive family history in 18% of cases, keratoconus has a strong genetic component. Previously, linkage analysis, candidate gene sequencing and genome-wide association studies (GWAS) have identified multiple genes and loci in keratoconus. However, few definitive causal genes have been identified. We have undertaken whole genome and exome sequencing studies, complemented by ECM and keratocyte functional studies, to identify the causal genes and signaling pathways that underlie the development and progression of keratoconus. We have also established iPSC-derived organoid cell culture systems that are being used to probe functions of candidate genes.
Immunoregulatory studies of ECM proteoglycan
Our studies on SLRPs, led to the realization, that some of these exist in pericellular matrices of cells where they interact with growth factors, pathogens and cell surface receptors. For example, we discovered that lumican-b2 integrin interactions promote neutrophil chemotaxis and modulate inflammation in many tissues. We also discovered that lumican in its glycoprotein form interacts with CD14, an adaptor protein for toll-like receptor mediated host response to pathogen-associated molecular patterns (PAMPs). Lumican-CD14 interactions promote TLR4-mediated host response to lipopolysaccharides (LPS). Our Lumican-null mice are hypo-responsive to LPS-sepsis. However, challenged with live bacteria in corneal and lung infection models, the null mice develop exacerbated disease. Our ongoing studies indicate that LRR proteoglycans have multiple and specific interactions with integrins, TLRs, PAMPs and growth factors to modulate various leukocyte functions. We are also exploring their role in lymphocyte differentiation and functions. The emerging view from these new studies is that while the bulk of these SLRPs may be incorporated in collagen-ECM, newly produced or released from a remodeled wound-healing ECM, they regulate immune cell functions. Thus, our current studies are exploring these SLRPs further to fully understand their implications in infection, inflammation and autoimmunity.
Lab members
George Maiti, PhD 2016-present
Vishal Shinde, PhD 2016-present
Avinash Veerappa, PhD 2018-present
Nan Hu, MS, 2017-present
Carly Lam, BS, 2018-present
Positions
Professor, Department of Ophthalmology
Professor, Department of Pathology
Director, Basic Science Research, Department of Ophthalmology
Graduate Education
PhD from University of Pittsburgh
Opens in a new tab