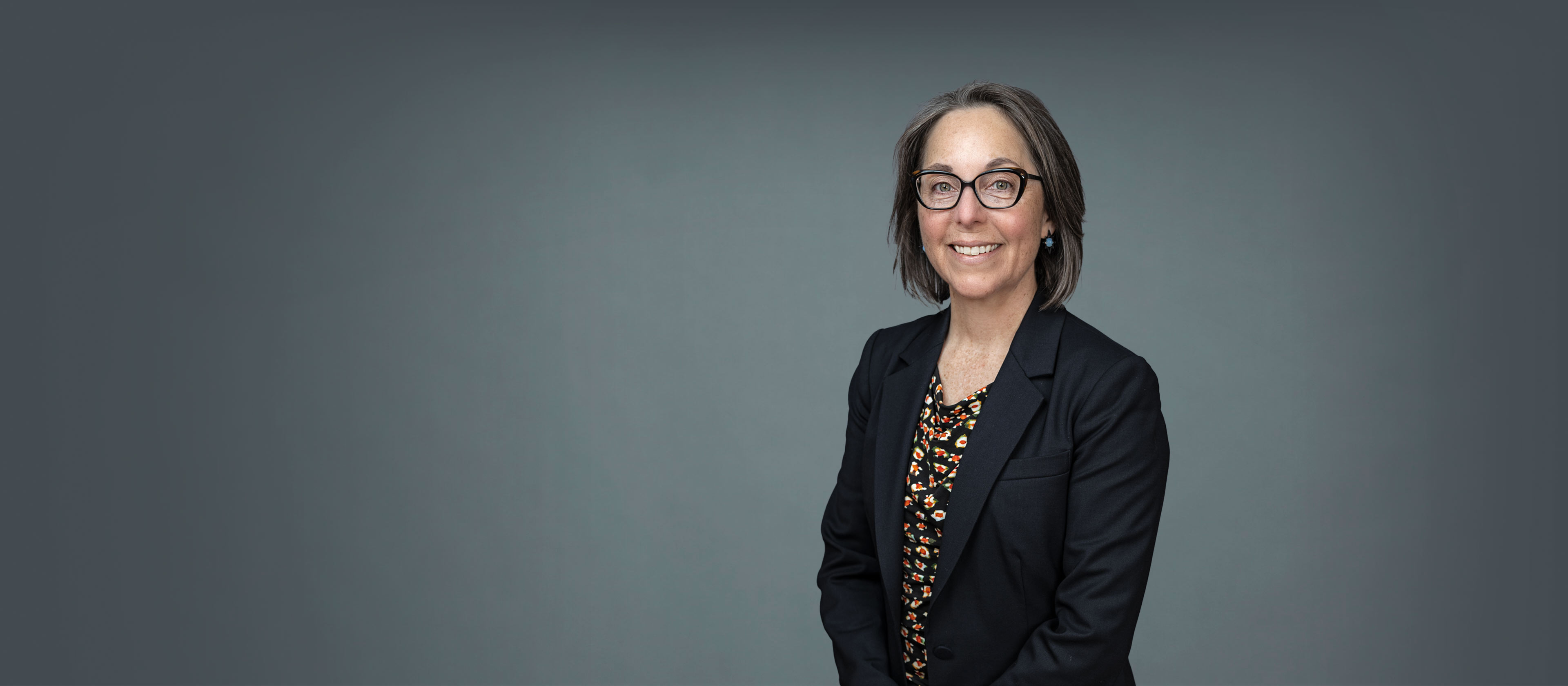 Heather T. Gold
Associate Professor, Department of Population Health
Associate Professor, Department of Orthopaedic Surgery
Summary
Positions and Honors
Other Selected Experience
1999- Member, Society for Medical Decision Making (Board Trustee, 2008-2010; Annual Meeting co-chair, 2013; Secretary-Treasurer Elect, 2014-15; Secretary-Treasurer 2015-2017; President-Elect 2017-18)
2010-15 Chair (2015), Vice Chair (2013-14), and Member, American Cancer Society Peer Review Committee for Cancer Control and Prevention: Health Policy and Health Services Research
2012-2016 Ad hoc reviewer: Biomarker, Imaging and QOL Studies Funding Program (BIQSFP) of the National Cancer Institute (NCI) Clinical Trials Working Group (CTWG)
2016, 2017 Reviewer, Special Emphasis Panel of R21 and R03 applications for the National Cancer Institute (NCI) Omnibus, focused generally on cancer epidemiology
Selected Awards and Honors
1998-2000 National Research Service Award Trainee Fellowship, AHRQ
2001-2002 Health Care Financing Administration (DHHS) Dissertation Fellowship
2002 Society for Medical Decision Making, Lee Lusted Student Paper Competition, 4th place
2004-2008 American Cancer Society Mentored Research Scholar
2009 Society for Medical Decision Making, Outstanding Paper by a Young Investigator
2011 Outstanding Course Director Award, Cost-effectiveness Analysis, NYU School of Medicine
2012 AAMC Mid-career Women's Leadership Development Seminar, Austin, TX
1. Analysis of large claims databases. My early work focused on analysis of Medicare claims data to study patterns of treatment and diagnosis of breast cancer and ductal carcinoma in situ (DCIS). At the time, there was much uncertainty about choice of optimal DCIS treatment compared to early invasive breast cancer, because of limited randomized trials. We therefore expected higher variability in DCIS treatment over time. This work included a novel study evaluating variations and variability of DCIS treatment to see whether treatment patterns became more stable over time as treatment patterns had for early invasive breast cancer. Several algorithms have been developed over the years to identify new breast cancer cases in Medicare claims data; we evaluated those for their effectiveness on newer data, and found they did not hold up as well as might be expected. I have been involved advising junior faculty on their analyses of large claims databases and contributed to several papers, including one that considers imaging rates for prostate cancer in the United States. Finally, I have started working with all-payer data, such as the California Healthcare Cost and Utilization Project data focused on orthopedic surgery.
Gold HT, Dick AW. Variations in treatment for ductal carcinoma in situ in elderly women. Med Care. 2004 Mar;42(3):267-75. PubMed PMID: 15076826.
Gold HT, Do HT. Evaluation of three algorithms to identify incident breast cancer in Medicare claims data. Health Serv Res. 2007 Oct;42(5):2056-69. PubMed PMID: 17850533; PubMed Central PMCID: PMC2254559.
Makarov D, Soulous P, Gold HT, Yu JB, Sen S, Ross JS, Gross CP. "Regional-level inappropriate imaging rates for prostate and breast cancers are correlated." JAMA Oncology. 2015; 1(2):185-194. PubMed PMID: 26181021; PubMed Central PMCID: PMC4707944.
Gold HT, Slover J, Joo L, Bosco J, Iorio R, Oh C. Association of depression with 90-day hospital readmission following total joint arthroplasty. Journal of Arthroplasty 2016 (in press). PubMed PMID: 27211986.
2. Large database analyses using econometric methods. Given that large observational databases are retrospective in nature, I focused my analytic efforts on using complex econometric methods to account for selection bias, or confounding by indication, in several studies. This body of work includes comparisons across methods to drive optimal model choice, given presence or severity of selection bias. My first paper in this area was a novel approach to estimating DCIS treatment effects from observational data. I implemented a modification of the trivariate probit model, which includes exclusion restrictions (similar to instrumental variables in the linear framework). The work showed the bias inherent in estimating treatment effects from observational data when not accounting for selection bias. This work built the analytic framework for a collaborative project using clinical data abstracted from charts of patients with DCIS. Finally, I undertook a study to assess the effect of suboptimal radiotherapy for women with DCIS or early invasive breast cancer. We used a standard model and the (econometric) bivariate probit model to account for patients' differing propensities for receiving delayed or incomplete radiation treatment. We found the more sophisticated model was not necessary in this case due to limited presence of selection bias.
Gold HT, Sorbero ME, Griggs JJ, Do HT, Dick AW. Structural estimates of treatment effects on outcomes using retrospective data: an application to ductal carcinoma in situ. Med Care Res Rev. 2011 Dec;68(6):627-49. doi: 10.1177/1077558711408324. Epub 2011 May 19. PubMed PMID: 21602195; PubMed Central PMCID: PMC4260455.
Dick AW, Sorbero MS, Ahrendt GM, Hayman JA, Gold HT, Schiffhauer L, Stark A, Griggs JJ. Comparative effectiveness of ductal carcinoma in situ management and the roles of margins and surgeons. J Natl Cancer Inst. 2011 Jan 19;103(2):92-104. PubMed PMID: 21200025; PubMed Central PMCID: PMC3022620.
Gold HT, Do HT, Dick AW. Correlates and effect of suboptimal radiotherapy in women with ductal carcinoma in situ or early invasive breast cancer. Cancer. 2008 Dec 1;113(11):3108-15. doi: 10.1002/cncr.23923. PubMed PMID: 18932243
3. Cost-effectiveness research. Another major contribution is to the field of cost-effectiveness research. I published applied analyses that followed national guidelines for conducting such analyses. One used rigorous methods to evaluate the cost effectiveness of breast cancer radiation treatments, incorporating claims-based analyses into estimates for treatment effects. We showed that for women who might be more likely to have a delayed course of radiation, a shorter, accelerated course would be more cost effective due to higher recurrence rates associated with delayed treatment. A second paper was driven by the uncertainty surrounding use of pharmacogenetic tests prior to chemotherapy regimen choice. Here, we developed a model focused on this uncertainty and showed that without knowing the impact of a dose reduction of irinotecan for metastatic colorectal cancer, we were quite uncertain about the benefit of using a pharmacogenetic test that predicted a patient's sensitivity to irinotecan. I also have thought deeply about how cost-effectiveness research has been used. One paper here focused on applying value frameworks from the American Society of Clinical Oncology (ASCO) and the European Society for Medical Oncology(ESMO) to quantify the benefit of antineoplastic drugs in the face of rising costs. We applied these frameworks to drugs approved by the US Food and Drug Administration(FDA) over 12 years, and examined relationships between costs and benefit. The analysis hihglighted the heterogeneous benefit of new medications and the challenge of creating a unified concept of drug value. Drug benefit does not correlate with cost and the number of high cost/benefit outliers has increased. A second paper listed here evaluated how sensitivity analyses of variables such as quality of life, cost, and discount rate would change published studies' intervention recommendations. We showed that sensitivity analyses for economic parameters are widely reported and often identify whether choosing different assumptions leads to a different conclusion regarding cost effectiveness; however, the review and analyses showed that study quality varied dramatically. Finally, I am co-I on six grants to oversee and manage cost data collection and cost-effectiveness analyses of healthcare interventions and have conducted or advised on several cost-effectiveness analyses and cost analyses of large databases.
Gold HT, Hayes MK. Cost effectiveness of new breast cancer radiotherapy technologies in diverse populations. Breast Cancer Res Treat. 2012 Nov;136(1):221-9. doi: 10.1007/s10549-012-2242-y. PubMed PMID: 22983837.
Gold HT, Hall MJ, Blinder V, Schackman BR. Cost effectiveness of pharmacogenetic testing for uridine diphosphate glucuronosyltransferase 1A1 before irinotecan administration for metastatic colorectal cancer. Cancer. 2009 Sep 1;115(17):3858-67. doi: 10.1002/cncr.24428. PubMed PMID: 19517472; PubMed Central PMCID: PMC2853177.
Becker DJ, Lin D, Lee S, Levy BP, Makarov DV, Gold HT, Sherman S. An exploration of the ASCO and ESMO value frameworks for anti-neoplastic drugs. Journal of Oncology Practice. In press 2017.
Schackman BR, Gold HT, Stone PW, Neumann PJ. How often do sensitivity analyses for economic parameters change cost-utility analysis conclusions? Pharmacoeconomics. 2004;22(5):293-300. PubMed PMID: 15061679.
4. Qualitative healthcare research. Conducting qualitative research in healthcare can elucidate subtle distinctions in attitudes and decision-making. In order to inform a study on the diffusion of new technology, I sought to understand the nuanced decision-making process that physicians experience when deciding whether to adopt a new technology in their practice. This qualitative analysis of interviews with surgeons and radiation oncologists highlighted several important factors important to the process, including physician incentives (financial and reputational), practice location (rural versus not), level of scientific evidence available, and social pressure. I also helped with a project focused on ethnic minorities and understanding reasons for their employment changes following a breast cancer diagnosis, which concluded that employer support services during treatment could improve attitudes towards returning to work.
Gold HT, Pitrelli K, Hayes MK, Murphy MM. Decision to adopt medical technology: case study of breast cancer radiotherapy techniques. Med Decis Making. 2014 Nov;34(8):1006-15. doi: 10.1177/0272989X14541679. PubMed PMID: 25009191.
Blinder VS, Murphy MM, Vahdat LT, Gold HT, de Melo-Martin I, Hayes MK, Scheff RJ, Chuang E, Moore A, Mazumdar M. Employment after a breast cancer diagnosis: A qualitative study of ethnically diverse urban women. Journal of Community Health 2012;37(4):763-72.
Research Support
CURRENT R01 CA188353 (PI: Gold) - 04/01/2015-03/31/2019 - 3.36 CM NIH/NCI Treatment and Outcomes in Diabetic Breast Cancer Patients This study of two large patient databases aims to evaluate the health impacts of the co-existence of breast cancer and diabetes in women and better understand how differences in treatment management and the conditions themselves help explain differences in health outcomes. Role: PI The Helmsley Trust (PI: Gerard; Subcontract PI: Gold) - 01/01/2015-12/31/2018 - 2.4 CM Novel education and diabetes pilot program for Latinos at the Barbara Davis Center for Childhood Diabetes This is a pilot study of a new education intervention program for Latino adolescents and children with Type I diabetes. Dr. Gold is focused on estimating the cost effectiveness of the program. Role: Co-I R25EB020389 (MPIs: Braithwaite/Recht) - 9/30/2015 -- 6/30/2019 - 0.6 CM NIH Discovering the Value of Imaging: A Collaborative Training Program in Biomedical Big Data and Comparative Effectiveness Research for the Field of Radiology This proposal addresses this lack of evidence-based use of imaging by developing a collaborative training program in comparative effectiveness research (CER) and biomedical big data that will be accessible to a large number of imagers and imaging trainees. Role: Co-I R01 - (PI: Islam) - 04/04/2017-03/31/2022 - 0.6 CM NIH/NIMHD Integrated Community-Clinical Linkage Model to Promote Weight Loss among South Asians with Pre- Diabetes The goal of this study is to test the effectiveness and assess the implementation process of an integrated intervention to support weight loss for South Asian patients in primary care settings. Role: Co-I R01 CA175329 (MPIs: Shelley/Nguyen) - 09/01/2013-08/31/2018 - 0.48 CM NIH/NCI Implementing tobacco use treatment guidelines in community health centers in Vietnam This is a tobacco cessation program and evaluation with community health workers in Vietnam. Dr. Gold is focused on estimating the cost effectiveness of the program. Role: Co-I R01 AA020836 (PI: Lee) - 08/01/2013-04/30/2018 - 0.6 CM NIH/NIAAA Extended-release vs. Oral naltrexone for alcohol treatment in primary care This randomized trial will evaluate the effectiveness of naltrexone treatment for alcohol dependence. Role: Co-I R18 HS023922 (PI: Shelley) - 05/01/2015 – 04/30/2018 - 0.3 CM Agency for Healthcare Research and Quality Using Practice Facilitation in Primary Care Settings to Reduce Risk Factors for Cardiovascular Disease To study and evaluate strategies that aim to increase implementation and dissemination of guidelines for reducing the risk of CVD in primary care settings, with special attention to serving populations most at risk for CVD-related mortality. Role: Co-I COMPLETED 1 R03 CA161752-01 Gold (PI) - 08/01/2011-07/31/2014 National Institutes of Health/National Cancer Institute Costs and Complications of Radiotherapy Technologies This quantitative study compared the costs and complications of two radiotherapy (RT) techniques used for early invasive breast cancer and ductal carcinoma in situ (DCIS). Dr. Gold oversaw all aspects of the study and conducted analyses of Medicare claims data to assess costs and complications.
Positions
Associate Professor, Department of Population Health
Associate Professor, Department of Orthopaedic Surgery
Director, Population Health Research, Department of Orthopaedic Surgery
Arthroscopy. 2018 Jul 15; 34(7):2019-2029
American journal of roentgenology (1976). 2018 Jun 10; 210(6):1279-1287
Obesity surgery. 2018 May; 28(5):1395-1401
Cancer. 2018 Apr 15; 124(8):1791-1797
A Review of Quality of Life and Utility Determination Studies for Health Outcomes Research in the Management of Head and Neck Cancer [Meeting Abstract]
International journal of radiation oncology biology physics. 2018 APR 1; 100:1396-1397
Journal of arthroplasty. 2018 Mar 06;
Inquiry : a journal of medical care organization, provision & financing. 2018 03; 55:46958018759115-46958018759115
Cancer causes & control. ccc. 2017 Dec 18; 29(2):253-260