Research News, Events & Awards
Research Highlights

Research News, Events & Awards
Research Highlights
Learn about the latest happenings from NYU Langone Health's research community through our regular updates, including our digests and reports.
Dr. Gbenga Ogedegbe Elected to the National Academy of Medicine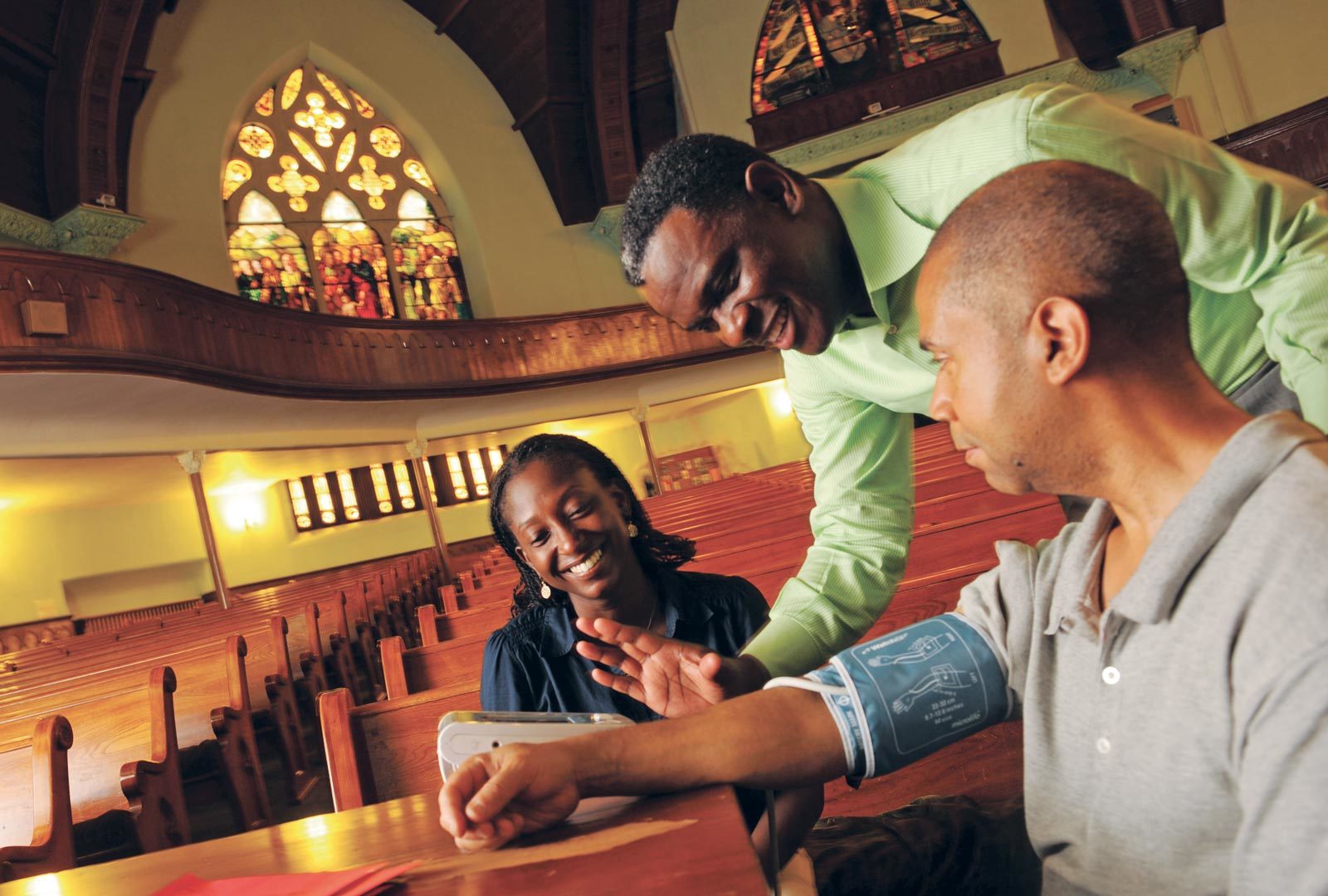 Gbenga Ogedegbe, MD, MPH, the Dr. Adolph and Margaret Berger Professor of Population Health and Medicine, has been elected to the National Academy of Medicine, considered one of the highest honors in health and medicine.
Dr. Ogedegbe has dedicated himself to developing strategies to eliminate racial disparities in cardiovascular diseases and to improving the outcomes of chronic diseases in minority populations. Underlying Dr. Ogedegbe's approach is a deep understanding for the real-world challenges people face to stay healthy in their day-to-day lives.
"People know they have high blood pressure. They are aware of that. But you know what gets in the way? Life gets in the way," said Dr. Ogedegbe. "We decided one way to solve the problem is to actually bring health to the community, where they live, where they eat, where they work, and where they play."
Born in Lagos, Nigeria, Dr. Ogedegbe earned his MD in Ukraine and came to the U.S. for his residency training in internal medicine at Montefiore Medical Center. He joined NYU Langone Health in 2008 as the founding director of the Center for Healthful Behavior Change. When the Department of Population Health launched in 2012, Dr. Ogedegbe became the inaugural director of its Division of Health and Behavior. He has also served as Vice Dean and Chief Medical Officer at the College of Global Public Health, and is currently Associate Vice Chancellor for Global Network Academic Planning for NYU Langone Health.
Dr. George Miller Receives Prestigious Ruth Leff Siegel Award for Excellence in Pancreatic Cancer Research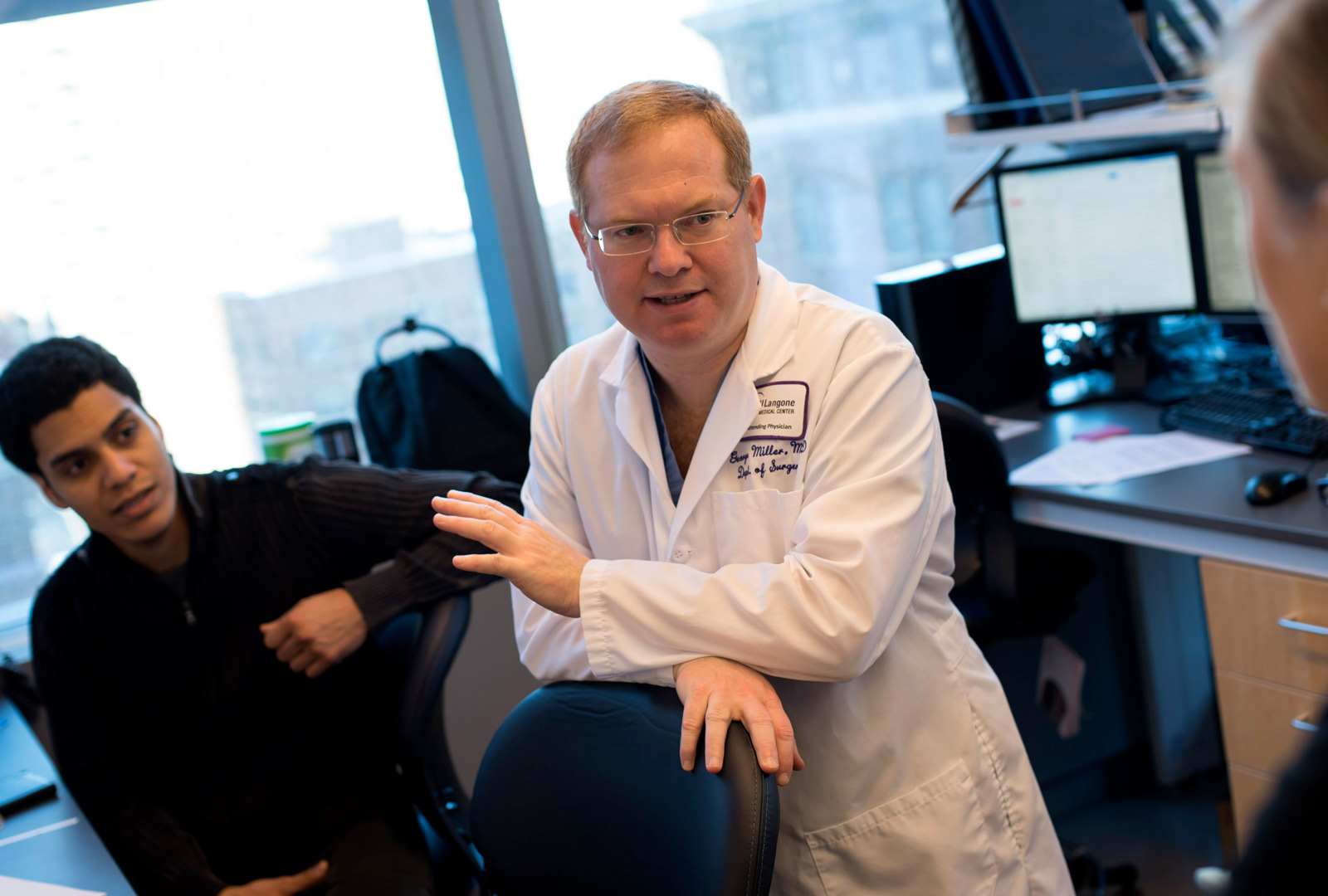 George Miller, MD, H. Leon Pachter Chair and associate professor in the Department of Surgery and the Department of Cell Biology, has been selected to receive the Ruth Leff Siegel Award for Excellence in Pancreatic Cancer Research. This highly prestigious honor is awarded to the investigator who has made the most impactful contribution to the understanding and/or treatment of pancreatic cancer in the past year.
The award recognizes two groundbreaking papers recently published by Dr. Miller's group. The papers identify new potential targets for therapeutic intervention in pancreatic cancer, an aggressive form of cancer that is difficult to treat.
"Fundamental research is an integral part of our comprehensive approach to winning the fight against pancreatic cancer at NYU Langone Health," said Dafna Bar-Sagi, PhD, vice dean for science and chief scientific officer. "George's seminal findings arm us with new tools to tackle this devastating condition and fuel novel clinical investigations of possible treatment options."
Past Ruth Leff Siegel award winners include Raghu Kalluri, MD, PhD, of the University of Texas MD Anderson Cancer Center, Steven Leach, MD, of Memorial Sloan Kettering Cancer Center, and NYU Langone Health's own Alec Kimmelman, MD, PhD. Dr. Miller will receive a $50,000 cash prize and an invitation to deliver a lecture at Columbia University that highlights his work.
György Buzsáki, MD, PhD, Recently Elected to National Academy of Sciences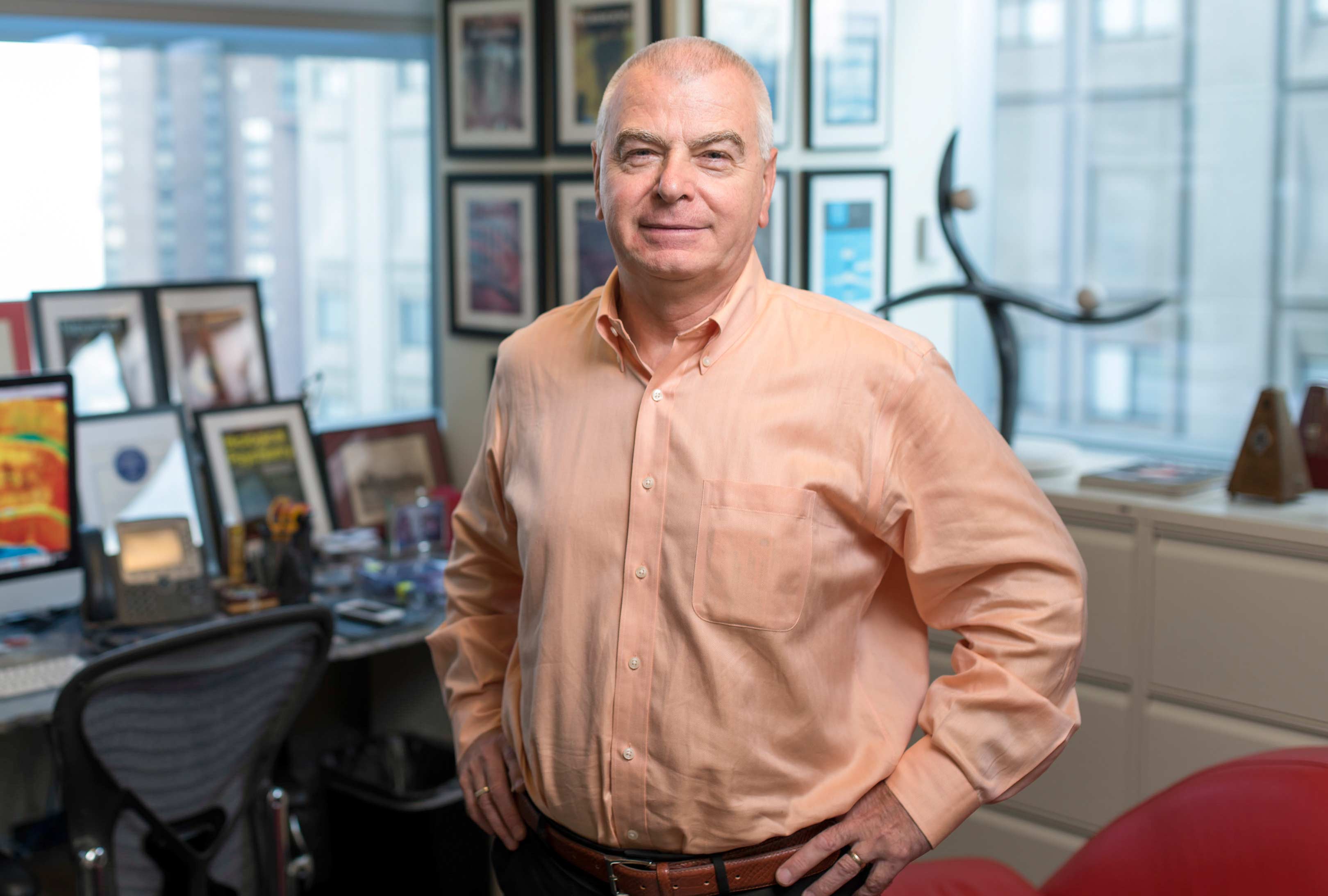 On Tuesday, May 2, György Buzsáki, MD, PhD, learned about his election to the National Academy of Sciences, one of the nation's greatest research honors, from a colleague's congratulatory email. Dr. Buzsáki, the Biggs Professor of Neuroscience at NYU Langone's Neuroscience Institute and Department of Neuroscience and Physiology, hadn't been able to check his voicemail, and only then spoke with a member of the academy's election committee, who confirmed the news. "The election process is slow, and it's nice that your colleagues stand up for you and invite you to 'join the club,' " Dr. Buzsáki says.
The prestigious honor, recognizing a career of consistent academic contribution, was given to Dr. Buzsáki, who is best known for his groundbreaking two-stage model for memory trace formation. The model, which he laid out in a seminal 1989 Neuroscience paper, depicts the role of a hippocampal activity pattern, the "hippocampal sharp wave ripple," in compressing and transferring information learned during waking hours to the neocortex for long-term storage during sleep.
Dr. Buzsáki's research has demonstrated that remembering single occurrences, known as episodic memory, is facilitated by the repetition of compressed events thousands of times a night. This process is "hijacked" in epilepsy, Dr. Buzsáki says, resulting in memory decline. "In fact, antiepileptic drugs are now being tested on patients with Alzheimer's disease, with the hopes of blunting memory deterioration."
A Different Approach to the Study of Neuroscience
Dr. Buzsáki, author of the book Rhythms of the Brain, has taken an unorthodox approach to the study of neuroscience. Traditionally, the field has examined how the brain perceives the world and responds to it. Dating back to William James's 1890 book, The Principles of Psychology, this approach attempts to assign functions, such as motivation and perception, to regions of the brain. "The problem with an 'outside-in' methodology," Dr. Buzsáki argues, "is that it uses naïve labels that don't actually correspond to anything mechanistic."
An example of how such blanket labeling can mask true function comes from Dr. Buzsáki's work on the hippocampus. This region of the brain, long known to be involved in planning and memory, was also found to control spatial navigation, a seemingly discordant function. Dr. Buzsáki was intrigued by the fact that ablation of this "GPS" component in patients with epilepsy can leave them unable to recall the timing and location of past events. Dr. Buzsáki and his team hypothesized that memory may be the product of "mental travel" (adapting the term from Endel Tulving), in which the mind visits places not only in space but also in time.
"Of course, good theories have solid predictions," he said. Indeed, Dr. Buzsáki and his team were able to provide evidence for such a spatiotemporal connection in a 2008 Science paper. The study showed that rats trained to follow a motion pattern had continuously changing hippocampal activity, even when they were spatially confined but had to keep the route in mind. The discovery of such firing sequences, which were absent in confined animals that were not completing a memory task, confirmed a role for hippocampal processing of information that would later determine action.
The Buzsáki Lab has also been studying the process by which the brain starts watching its own computation. "The main goal of the brain is to predict the future based on past experience," he explains. "Cognition is when the brain evaluates likely outcomes without actually acting out different scenarios."
In order to help us navigate unfamiliar surroundings, the hippocampus requires the ability to learn new things, but also relies on a set of rules that have been shaped by prior knowledge. In a 2016 Science paper, Dr. Buzsáki's team showed that some neurons in the hippocampus do in fact make generalizations. This "makes no new room we enter completely new," as Dr. Buzsáki puts it.
A Need for Freedom to Explore Scientific Questions
Dr. Buzsáki recalls that funding for his work in the early days of his career was inconsistent. And so, like many scientists, he found it difficult to focus on his research questions without being swept away by the "funding tide." Still, he stayed the course and advises others to do the same.
"Getting money is much easier than doing good science. And if you do good science, the money will follow," Dr. Buzsáki says. "We talk a lot about translational science without being responsible enough." He encourages scientists to not oversell the significance of their findings; to be bold but also to change direction when they hit a wall, regardless of how well funded the field might be.
"As scientists, we need to have the freedom to explore the questions that are within our reach to answer. If you take away this freedom," he warns, "science simply stops."
Dr. Buzsáki joins 11 other NYU Langone Health faculty members who have been elected to the National Academy of Sciences for their distinguished achievement in the biomedical sciences. "It's a great personal honor," he says, "and also an important one for the institute."
Dr. Buzsáki is also an elected fellow of the American Association for the Advancement of Science.
Research Digests and Reports
Our enewsletter, Spotlight on Science, features a sampling of the latest accomplishments in research at NYU Langone. It is the accumulation of day-to-day breakthroughs by which we lead the way to truly monumental findings. Sign up to receive future issues, and read previous issues.
At NYU Langone, our researchers have a long history of pioneering medicine and making breakthrough biomedical discoveries that change the way we look at healthcare. Read about some of the highlights in Pioneering Medicine.
Our annual Research Report details our accomplishments of the previous year and outlines exciting new developments.