Laboratory for Translational Auditory Research
Laboratory for Translational Auditory Research Team

Laboratory for Translational Auditory Research Team
Investigators in the Laboratory for Translational Auditory Research lead interdisciplinary studies to better understand the processes that enable individuals with auditory prosthetics to improve their hearing.
For inquiries about the lab, please email Nicole Hope Capach, AuD, at nicole.capach@nyulangone.org or hearingresearch@nyulangone.org.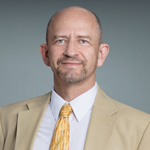 Principal Investigator
The Noel L. Cohen Professor of Hearing Science, Department of Otolaryngology—Head and Neck Surgery
Professor, Department of Neuroscience and Physiology
Dr. Svirsky is the first Noel L. Cohen Professor of Hearing Science and the Vice Chairman of Research in the Department of Otolaryngology—Head and Neck Surgery. He got his bachelor's and master's degrees in electrical engineering from the Universidad de la República in Montevideo, Uruguay. He obtained his PhD in biomedical engineering from Tulane University in 1988. He was a postdoctoral associate at MIT's Speech Communication Group, where he stayed as a research scientist until 1995. From 1995 to 2005 he was at Indiana University School of Medicine's Department of Otolaryngology, with a joint appointment at Purdue University's Departments of Electrical and Biomedical Engineering. Dr. Svirsky joined NYU Langone in 2005.
He is a fellow of the Acoustical Society of America, the American Speech-Language-Hearing Association, and the American Institute of Medical and Biological Engineering; a member of the Collegium Otolaryngologicum Amicitiae Sacrum; and a senior member of the Institute of Electrical and Electronic Engineers. He has been an elected co-chairman of the Conference on Implantable Auditory Prostheses. He is editor-in-chief, emeritus, of the journal Ear and Hearing and he also serves on the editorial boards of other international journals.
Dr. Svirsky's research has been funded since 1992 by grants from the National Institutes of Health, private foundations, and the Uruguayan government. He has also received support from cochlear implant and hearing aid companies as well as from Sun Microsystems. Dr. Svirsky is a co-founder of the Uruguayan Cochlear Implant Program as part of a scientific and clinical collaboration that dates back to 1984.
His research interests, shared in more than one hundred articles, editorials, and book chapters, include basic research in speech perception and auditory psychophysics, the development of mathematical models of speech perception, the study of speech production and language development, the study of communication outcomes after cochlear implantation, and the development of software- and hardware-based fitting tools to optimize cochlear implant fitting. He is interested in both the clinical and scientific aspects of cochlear implantation, and what the study of this clinical population can tell us about more general phenomena such as speech perception in normal hearing listeners, integration of acoustically- and electrically-delivered auditory information, critical periods for the development of speech and language skills, and adaptation to a distorted or degraded sensory input.
Fun fact: his greatest athletic accomplishment was running a marathon in Antarctica, but he did it very slowly.
Email: mario.svirsky@nyulangone.org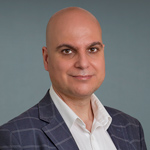 Co-Principal Investigator
Research Assistant Professor, Department of Otolaryngology—Head and Neck Surgery
Dr. Azadpour received a PhD in cognitive neuroscience from the International School for Advanced Studies (SISSA) in Trieste, Italy. He also received background degrees in electrical and biomedical engineering from Sharif University of Technology and University of Tehran, Iran. His research interests include auditory psychophysics, speech perception, electrophysiology, and neural modeling of auditory perception. The primary goal of his research is to improve assistive technologies for hearing impaired individuals—in particular, to improve sound coding and stimulation strategies for cochlear implant and auditory brainstem implant devices. Auditory implant devices have enabled hundreds of thousands of deaf individuals to hear sounds by directly stimulating neural auditory pathways. However, performance with these devices is still far from ideal and varies largely among individuals. As a first step to address this issue, our lab develops and employs psychophysical and electrophysiological testing methods to understand how the auditory system processes information provided by the implant devices. We then use this foundational knowledge to optimize auditory stimulation delivered to individual device users.
Email: mahan.azadpour@nyulangone.org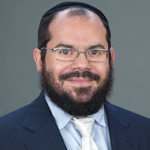 Co-Principal Investigator
Research Associate Professor, Department of Otolaryngology—Head and Neck Surgery
Dr. Sagi's interests and expertise are in computational modeling, speech perception, psychophysics, auditory neuroscience, hearing loss, and interpretation of clinical outcomes. His particular focus is applying computational models to help understand how users of cochlear implants use their devices to understand speech. These models successfully explain vowel and consonant perception by cochlear implant users, perceptual adaptation to frequency mismatch in cochlear implant users, and how speech understanding is affected by changes to cochlear implant device settings. Working with hearing-impaired individuals that use cochlear implants offers unique insights into how the brain compensates for, and adapts to, degraded auditory input. Working with computational models and fundamentals of perception offers the opportunity to optimize these devices for individuals and improve hearing outcomes.
Email: elad.sagi@nyulangone.org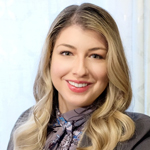 Research Audiologist
Research Assistant Professor, Department of Otolaryngology—Head and Neck Surgery
Dr. Capach is a research audiologist who joined the Laboratory for Translational Auditory Research in July 2018. Her primary responsibilities include recruitment for research, data collection/organization, and manuscript preparation. Dr. Capach received her bachelor of arts in communication sciences in 2014 from CUNY Brooklyn and her doctorate of audiology in 2018 from Montclair State University. She completed her fourth-year externship at a private practice where she focused on hearing/vestibular diagnostic testing, hearing aid fittings, and verification measurements. Dr. Capach is a New York State-licensed audiologist and is also licensed to dispense hearing aids in New York State. She is a member of the American Speech Language and Hearing Association. Her research interests include cochlear implant outcomes and the adaptation process, auditory psychophysics, and music perception.
Email: nicole.capach@nyulangone.org
Ariel E. Hight, PhD
Postdoc
Dr. Hight studies sensory neuroplasticity in rats and humans with cochlear implants. The cochlear implant is a neuroprosthesis that restores auditory sensation to the deafened ear by sending electrical currents directly to auditory nerve, mimicking the patterns of activity in the healthy ear. Upon hearing with the cochlear implant for the first time, however, human subjects report significantly distorted sound compared to later time points. Learning to hear the cochlear implant requires a rehabilitation period and is proposed to require plasticity within the central auditory system, for example via changes to synaptic transmission and neural circuits. Dr. Hight is interested in how neuroplasticity enables speech comprehension despite significantly distorted cues provided by the cochlear implant. Dr. Hight received a PhD from Harvard University working under Dan Polley, focusing on compensatory plasticity in the auditory cortex following noise-induced high-frequency hearing loss.
See Google Scholar for more details about Dr. Hight's research.
Email: ariel.hight@nyulangone.org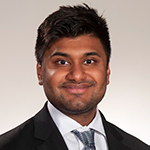 Rahul Sinha
Research Assistant
Rahul is a medical student from New York, currently studying at Philadelphia College of Osteopathic Medicine. He is taking a year off to pursue research with the Department of Otolaryngology. He received his bachelor's degree at Vassar College in mathematics in 2018. After finishing medical school, he hopes to pursue a residency in otolaryngology. Rahul's research interests include the development and clinical outcomes relating to auditory brainstem implants and using machine learning to better understand speech perception.
Email: rahul.sinha@nyulangone.org