Institute for Innovations in Medical Education Digital Experience Program
Virtual & Augmented Reality

Virtual & Augmented Reality
World-changing technologies like virtual and augmented realities (VR/AR) are poised to redefine and diversify the ways in which we train physicians. VR/AR captures the advantages of mobile technologies, high-resolution graphics, and low-barrier natural interfaces for the visualization of complex systems and realistic simulations.
Developing the next generation of innovative and advanced practice using VR/AR is no small task, and we are excited about our initial integrations into the curriculum. The dedication and expertise of our faculty at NYU Langone are crucial to develop and implement the technology here. Our faculty development workshops that introduce educational technology are designed to keep our community informed of the latest advancements.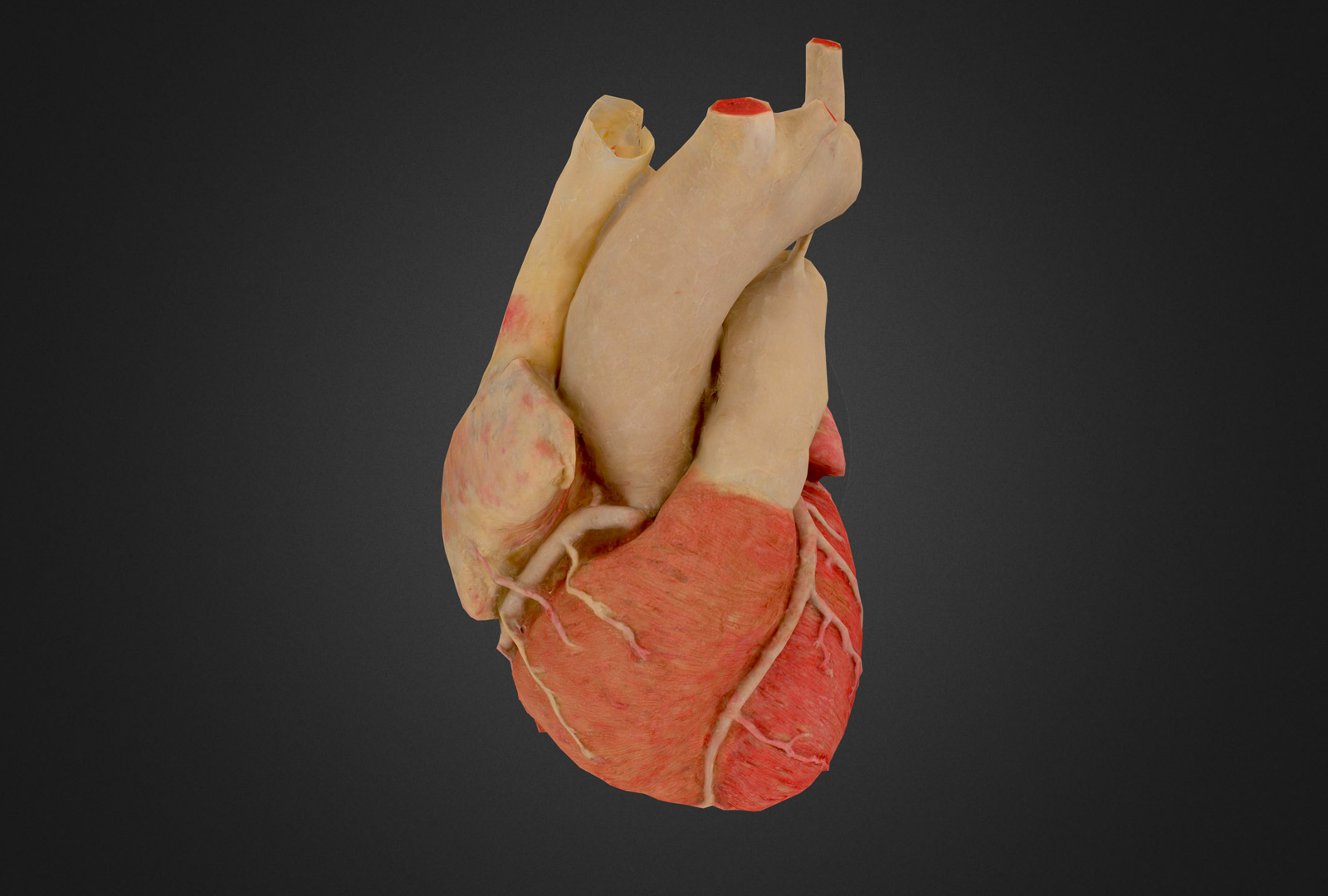 Reimagining Anatomy
Our Living Anatomy course moves away from traditional cadaveric dissection and integrates clinically relevant training while leveraging emerging technologies to solve problems in the learning space. The course includes the following experiences:
photorealistic scanned cadavers and specimens and digital atlases providing students with greater access to anatomy content throughout the curriculum and a better understanding of the spatial relationships of anatomical structures
use of our radiology record system that gives students a better understanding of normal anatomy, disease, and exposure to how anatomical knowledge is part of practice
lectures from NYU Langone surgical faculty who discuss how they use anatomy in their work
three-dimensional printed structures for more hands-on, tactile experiences with difficult anatomical structures
faculty creation of three-dimensional models and VR/AR exercises
Watch how our Living Anatomy course promotes a more clinically relevant view of anatomy instruction through integration with imaging, surgery, clinical practice, and maximization of technology.
IIME Virtual & Augmented Reality Image Gallery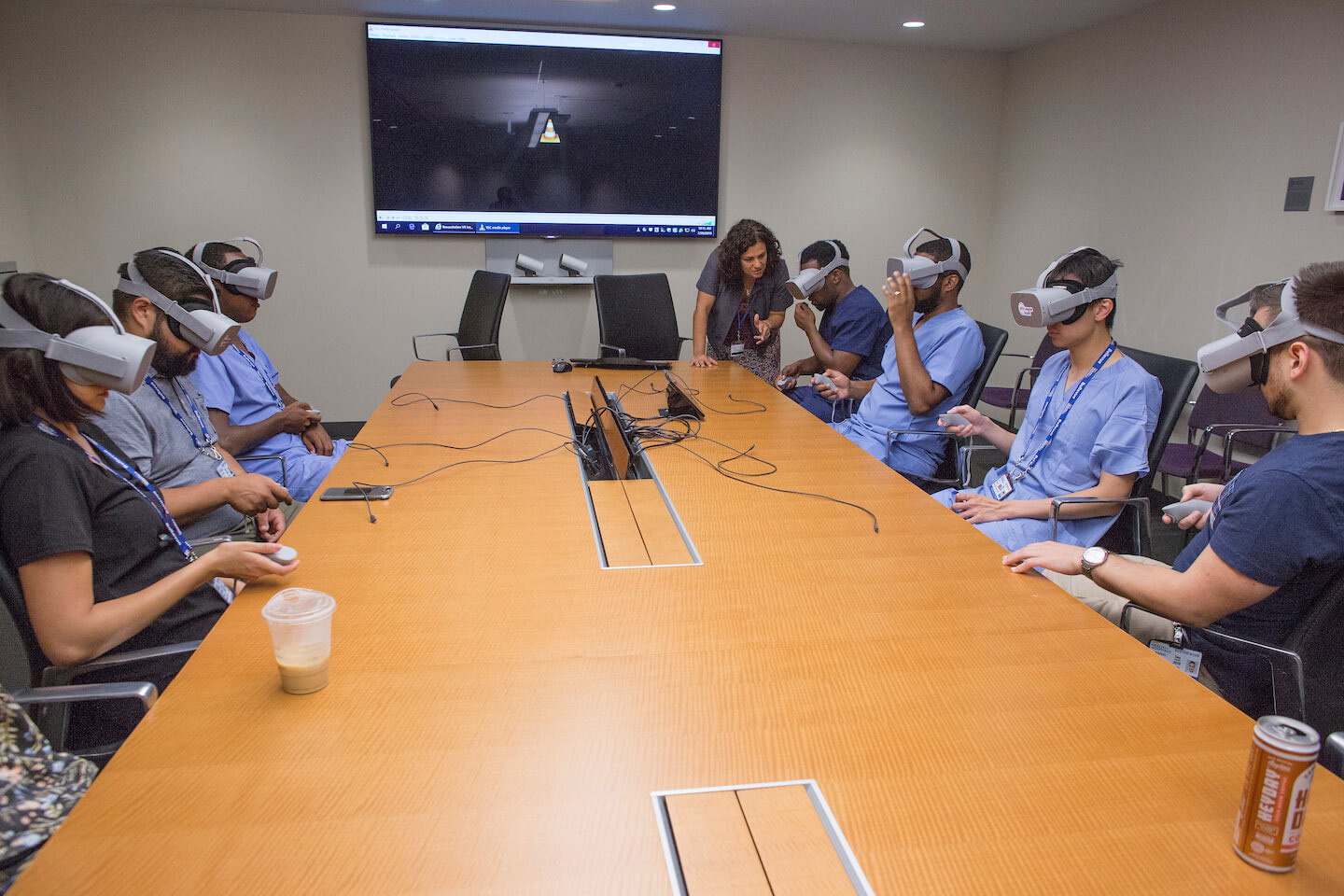 Carol DerSarkissian, MD, of NYU Langone's Ronald O Perelman Department of Emergency Medicine, leads students rotating in pediatrics through a Virtual Reality patient simulation.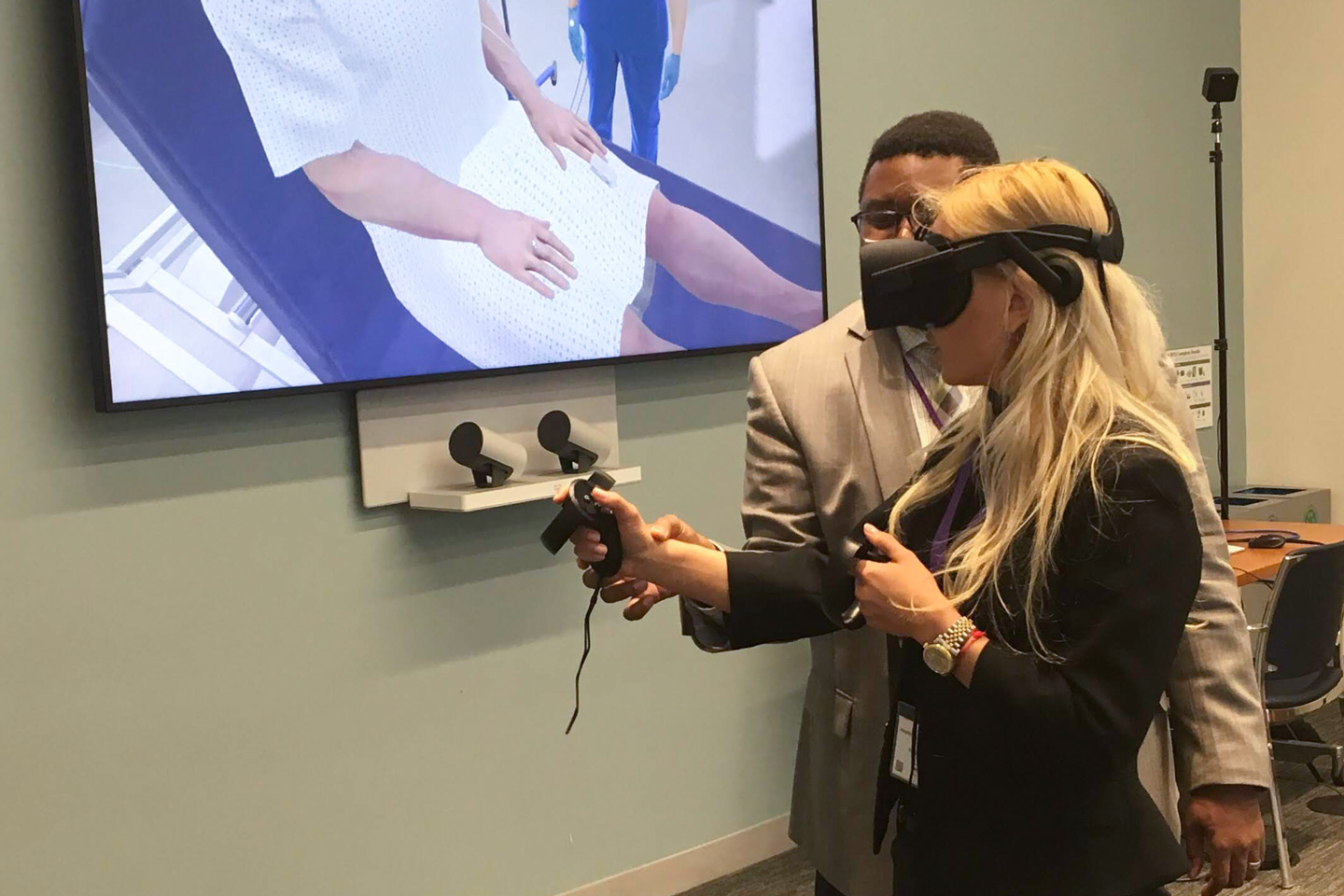 At the 2019 MCIT Health Symposium, Greg Dorsainville, MPS, demonstrates to an attendee how to order medications for a patient in virtual reality.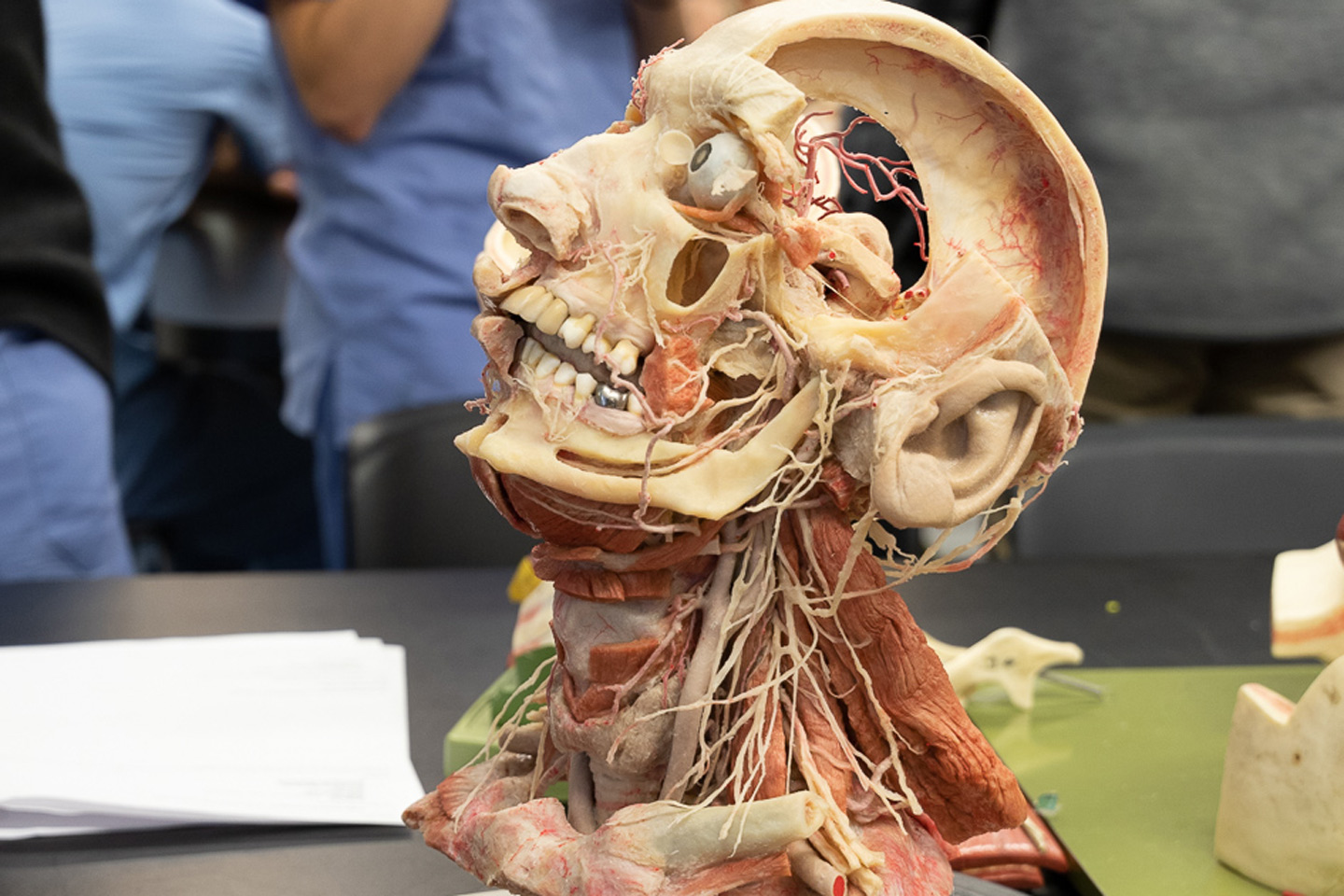 In the anatomy lab model room, students have access to exquisitely preserved plastinated specimens of real cadavers as well as three-dimensional–printed anatomy from radiological imaging.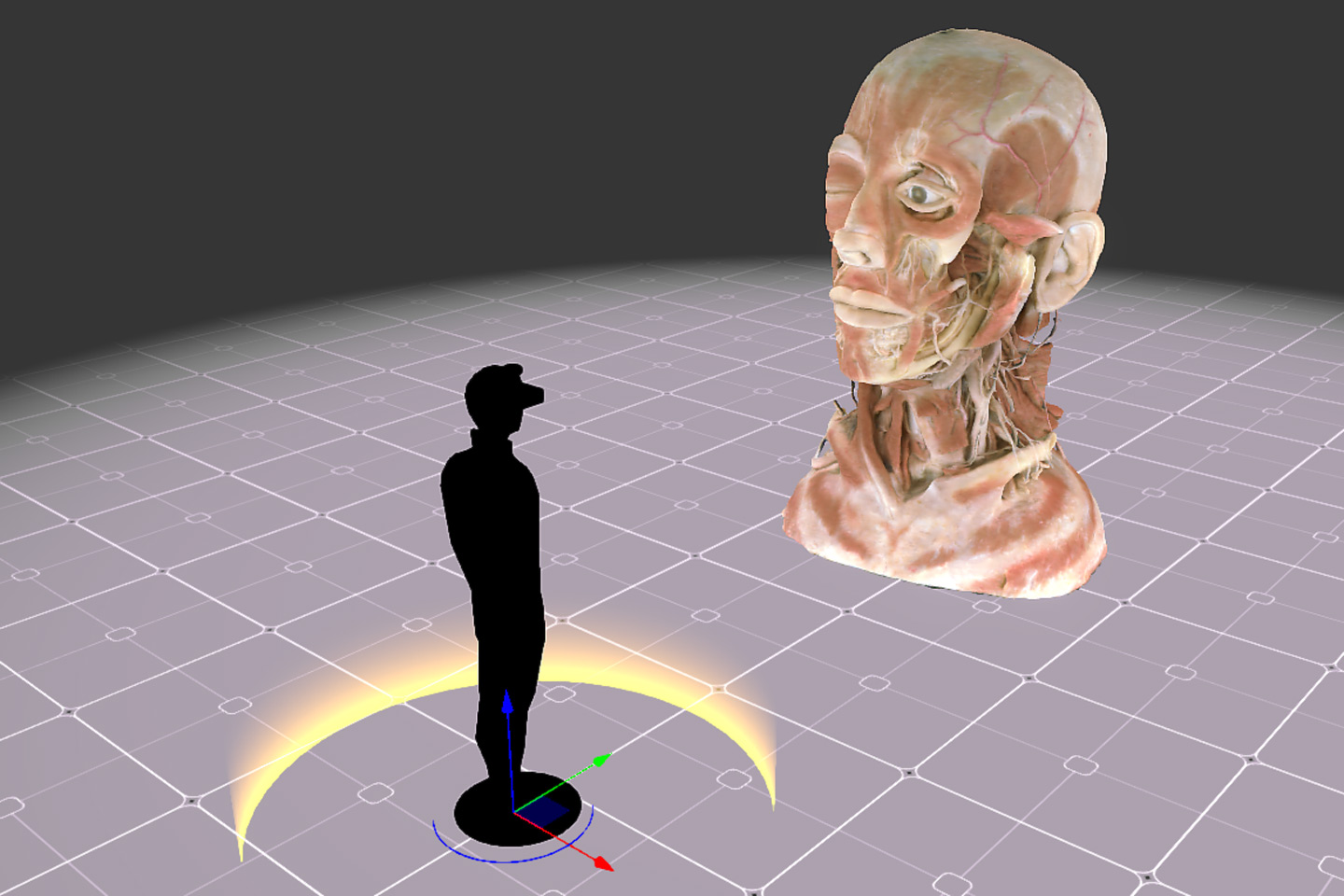 Three-dimensional–scanned digital models of the plastinated specimens are available to examine on any device, including, as shown here, within virtual reality.