Pediatrics Residency
Pediatrics Residency Committees
Pediatrics Residency Committees
Pediatrics residents are involved in a number of initiatives within NYU Langone's Department of Pediatrics, including committees that focus on resident wellness and diversity and inclusion.
Resident Wellness Committee
The Resident Wellness Committee advances evidence-based, multidisciplinary solutions to improve patient care by caring for the caregiver. The resident-run committee, founded in 2018, organizes and oversees a number of projects, activities, and initiatives designed to improve the resident experience by supporting health and wellbeing, promoting professional resilience, encouraging professional fulfillment, and developing community. Some of these initiatives, funded by the Department of Pediatrics, include Resident of the Month, annual career panels, curriculum vitae and personal statement workshops, financial literacy workshops, yoga classes, and surprise bagel breakfasts in the inpatient units.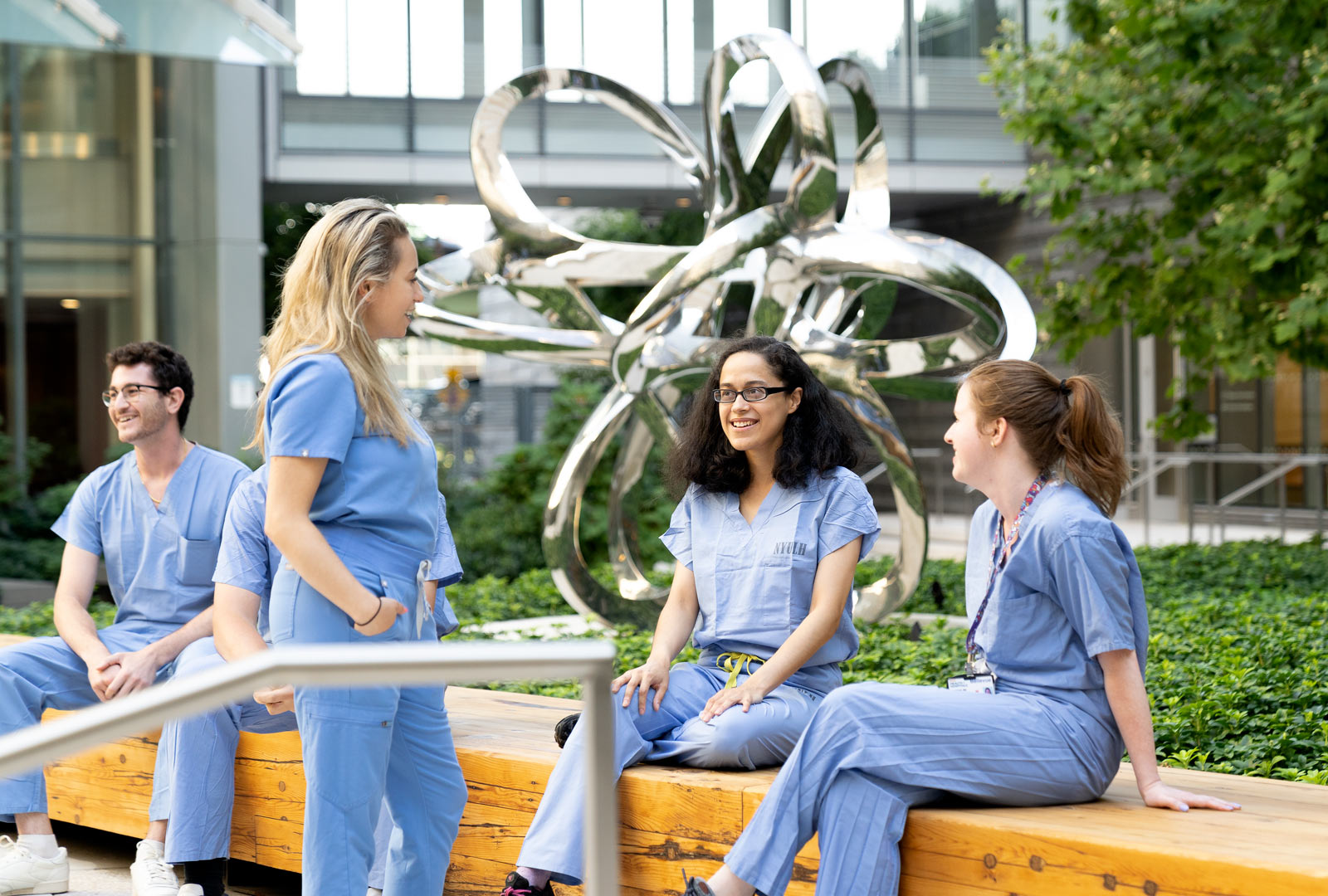 Diversity and Inclusion Committee
The Department of Pediatrics Diversity and Inclusion Committee consists of both residents and faculty members who work together within recruitment, education, mentorship, and outreach branches, each targeting a different aspect of building an inclusive environment.
Recruitment Branch
The Recruitment Branch is committed to recruiting, training, and retaining a diverse group of residents. The branch prioritizes the development and implementation of strategies to combat systemic racism, gender bias, sexual orientation discrimination, implicit bias, and health inequity both within the program and for patients. The branch's goal in recruitment is to reflect the diverse patient populations that the department serves in one of the most ethnically and racially diverse cities in the world. The branch continues to foster a culture of inclusion for all races, ethnicities, sexual orientations, and gender identities.
Education Branch
The Education Branch aspires to expand the academic component of the residency program to include discussions about race, gender, sexuality, and micro- and macroaggressions, as well as various other aspects of healthcare disparities. The branch hopes to engage residents and faculty in dynamic conferences regarding healthcare disparities among patients and throughout their medical careers, reporting and mitigating inequities, as well as bridging racial and cultural barriers. In addition to institutional speakers, the branch aims to establish an inter-institutional collaboration with local programs and welcomes speakers from other areas within and outside of the medical field.
Mentorship Branch
The Mentorship Branch is formalizing a process for identifying mentors for house staff who are underrepresented in medicine (URiM). Through connecting with individual contacts and creating a unified list of pediatricians within different subspecialties and areas of work, the branch hopes that all pediatrics residents find mentors who match their backgrounds, career goals, and life interests. The branch also aims to create opportunities for house staff to serve as mentors for junior trainees and increase the representation of URiM faculty at conferences within this institution and on a national level.
Outreach Branch
The Outreach Branch strives to increase the numbers of URiM students, trainees, and faculty at NYU Grossman School of Medicine, through outreach and engagement with the surrounding community. The branch has established the following goals:
to interest more minority youth in pursuing medicine as a career possibility
to inform URiM members of the medical school community, including students, residents, and faculty, about the existence of specialized programs and opportunities sponsored by this institution and its affiliates that specifically serve an underserved and/or diverse patient population.
Learn more about diversity and inclusion at NYU Grossman School of Medicine.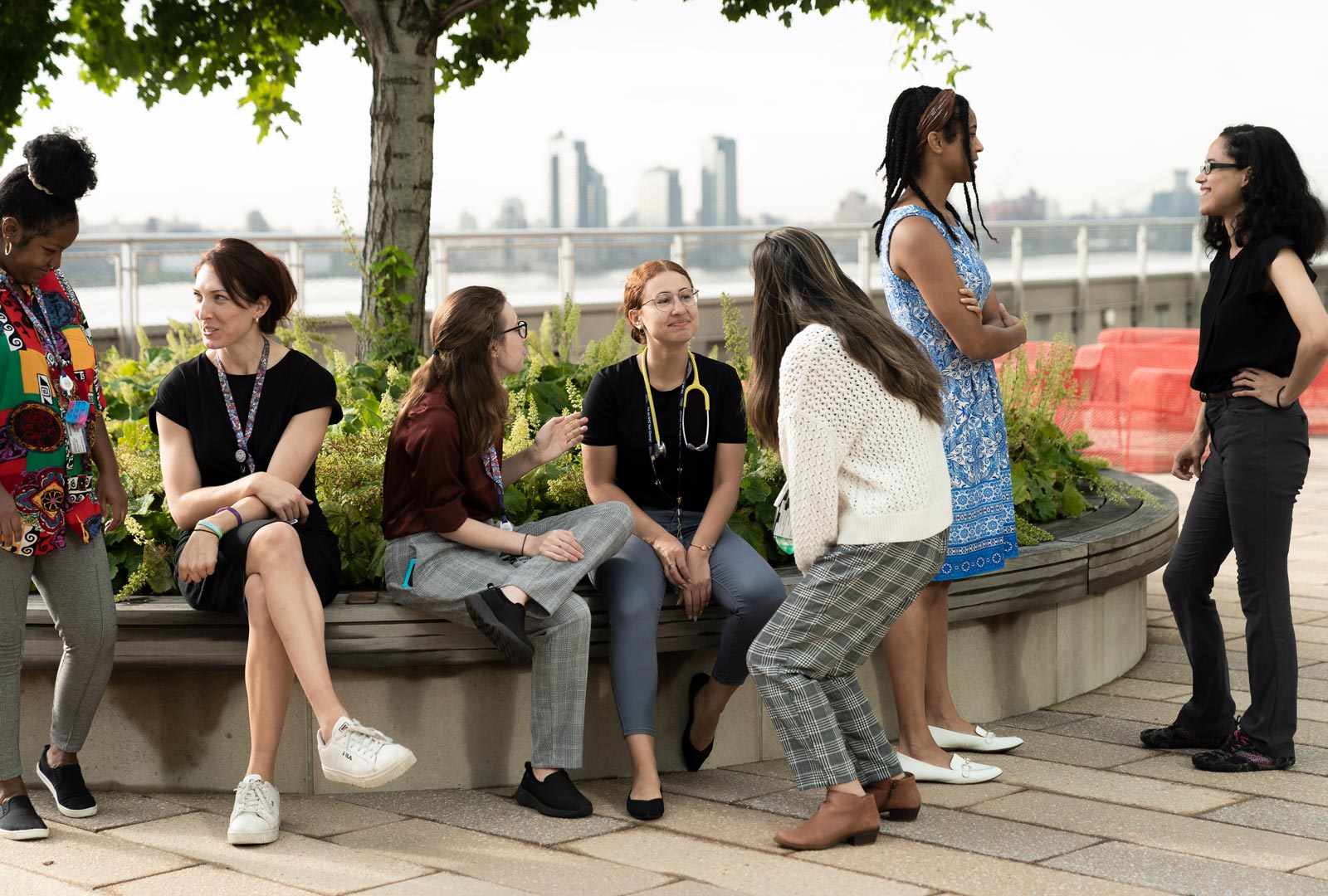 Committee of Interns and Residents
Residents employed at NYC Health + Hospitals/Bellevue are invited to join the Committee of Interns and Residents (CIR), which advocates for residents on various work-related issues.
Other Residency Program Opportunities
Pediatrics residents also have the opportunity to participate in the department's Medical Education Committee and Faculty Development Planning Committee, as well as serve as program delegates to the American Academy of Pediatrics (AAP).
In addition to program-specific committees, residents take part in a number of institution-wide and national programs in order to improve hospital policies and best practices, and effect positive change for residents. These committees include the following:
House Staff Leadership Committee
House Staff Patient Safety Council
Physician Wellness Committee
Committee of Interns and Residents
High Reliability Organization House Staff Committee (Resident HeROs)