Pediatrics Residency
Pediatrics Residency Curriculum
Pediatrics Residency Curriculum
NYU Grossman School of Medicine's Pediatrics Residency offers two training tracks:
a three-year track, known as the categorical track, that prepares trainees to achieve broad clinical competency in general pediatrics
a two-year neurology track, known as the preliminary track, that prepares trainees for advanced training in pediatric neurology
Categorical Track
This Accreditation Council for Graduate Medical Education (ACGME)–accredited track offers three years of comprehensive and competency-based training in acute care, subspecialty pediatrics, adolescent medicine, and developmental and behavioral pediatrics. The clinical training occurs in inpatient, perinatal, ambulatory, and emergency services settings. Residents also devote time to the continuity of patient care.
In their first year, residents acquire basic scientific knowledge, training in cognitive problem-solving skills, and skills in procedures that are required for the ongoing care of healthy children. They also participate in episodic care of patients with acute, intermittent conditions and comprehensive care of hospitalized patients with chronic or severe illness.
The second year is devoted to increasing residents' knowledge and developing the organizational, management, supervisory, and leadership skills necessary to provide thorough care to the pediatric patient, with an additional focus on critically ill neonates and children.
The third year focuses on expanding residents' clinical skills. They also teach and supervise the junior house staff and focus on career planning and preparation.
Preliminary Track
The two-year, ACGME-accredited preliminary track provides residents with an in-depth and competency-based introduction to training in acute care and subspecialty pediatrics as a prelude to advanced training in pediatric neurology. The track is geared toward individuals who desire pediatric training that prepares them for advancement to the Child Neurology Residency at NYU Grossman School of Medicine. The academic curriculum is similar to that of the categorical track, with approximately 10 percent of training time devoted to the continuity of patient care.
Scholarly Pathways
The residency program also provides opportunities for trainees to pursue scholarly activities. Although academic assignments are common throughout training years, all house staff on the categorical track are required to pursue at least one major scholarly project during their residency. Residents are encouraged to engage in a project that is meaningful to them. There are five pathways:
advocacy
medical education
global health
quality improvement
research
Residents choose their pathway at the end of the first year. During the second and third years of training, time is reserved during outpatient blocks to work on these projects and to complete the curriculum for the chosen pathway. Some residents choose to complete projects in multiple pathways, which is fully supported by the program but not required.
Each pathway has a faculty lead who assists residents in selecting a project and in identifying a faculty advisor to supervise their work.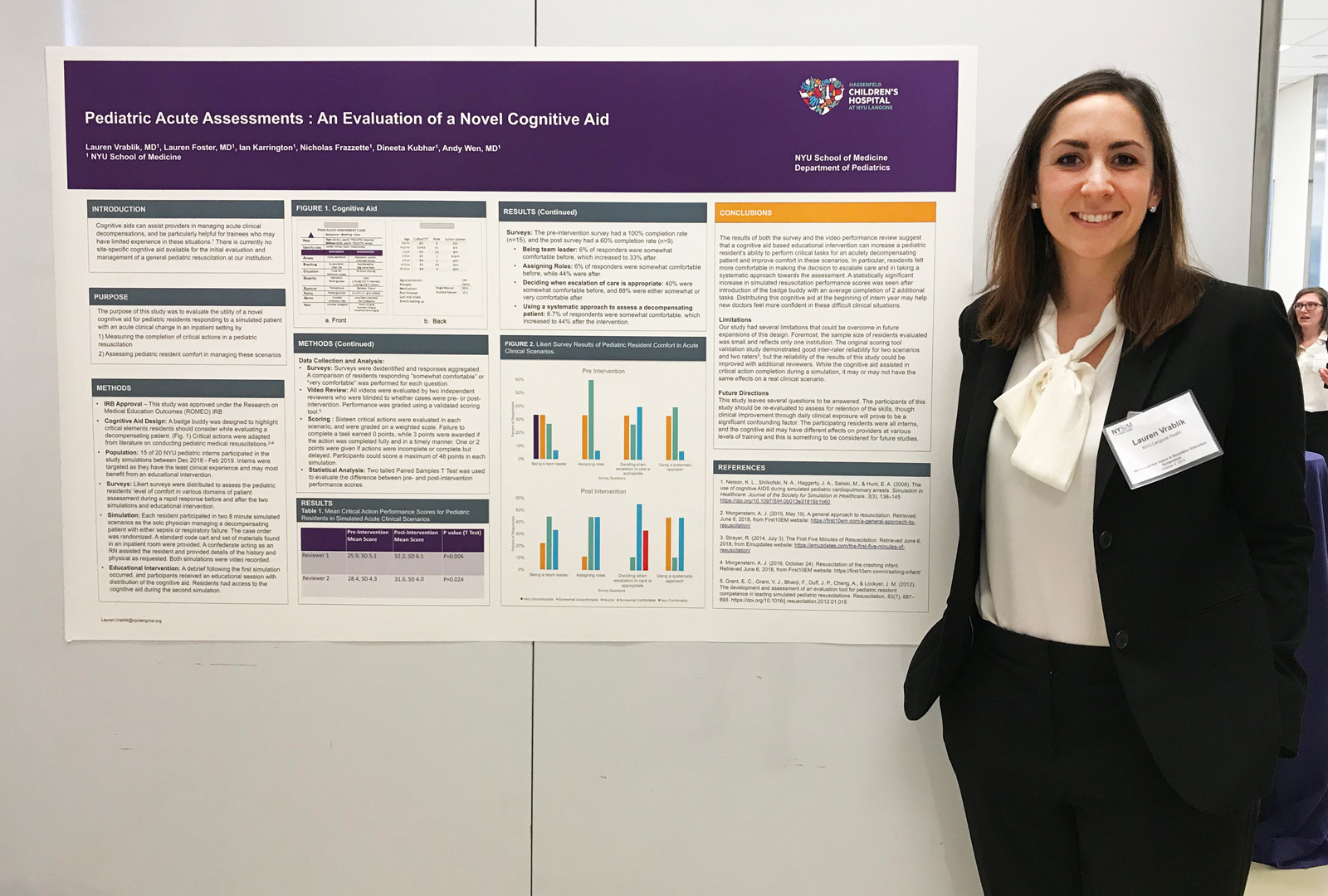 X+Y Schedule
In 2018, as part of an ACGME pilot program, the residency program initiated a change in the block scheduling system. Known as the "X+Y schedule," the new system enables residents to spend uninterrupted time in both inpatient and outpatient settings by alternating inpatient and ambulatory blocks. Core inpatient rotations span four weeks without disruption in patient care or team continuity. Residents on these rotations do not go to continuity clinics during this time. Instead, there are dedicated four-week blocks of outpatient care that includes continuity, subspecialty, and urgent care clinics.
Although the primary goal of X+Y scheduling is to enhance the ambulatory care experience, the program also aims to significantly decrease the number of patient handoffs, reduce resident stress, and improve patient care.
Training Sites
Training environments for pediatrics residents include Hassenfeld Children's Hospital—34th Street, with a staff of more than 400 doctors who are experts in more than 35 medical and surgical specialties, and NYC Health + Hospitals/Bellevue, which has a rich history of caring for underserved children.
Approximately 50 percent of residents' total training time is clinical experience at Hassenfeld Children's Hospital. They receive hands-on instruction in the pathophysiology and treatment of complex inpatient medical and surgical conditions. They work with pediatric specialty fellows, generalists, subspecialty attendings, and other physicians to design management plans for each patient, track each patient's progress, and assist in providing primary care to children who are in the hospital. Residents also learn about the most recent advancements in pediatric diagnosis and care and develop the skills needed to communicate effectively with families in crisis.
Rotations at Bellevue account for the bulk of the remaining training time. Residents evaluate patients in an inpatient or ambulatory setting with a high degree of autonomy. This provides a valuable opportunity for medical decision-making that is unique to the program. However, trainees are never alone while formulating diagnostic or treatment plans. Chief residents, subspecialty fellows, and the full-time attending staff, all of whom hold faculty appointments at NYU Grossman School of Medicine, are available for guidance and assistance at all times.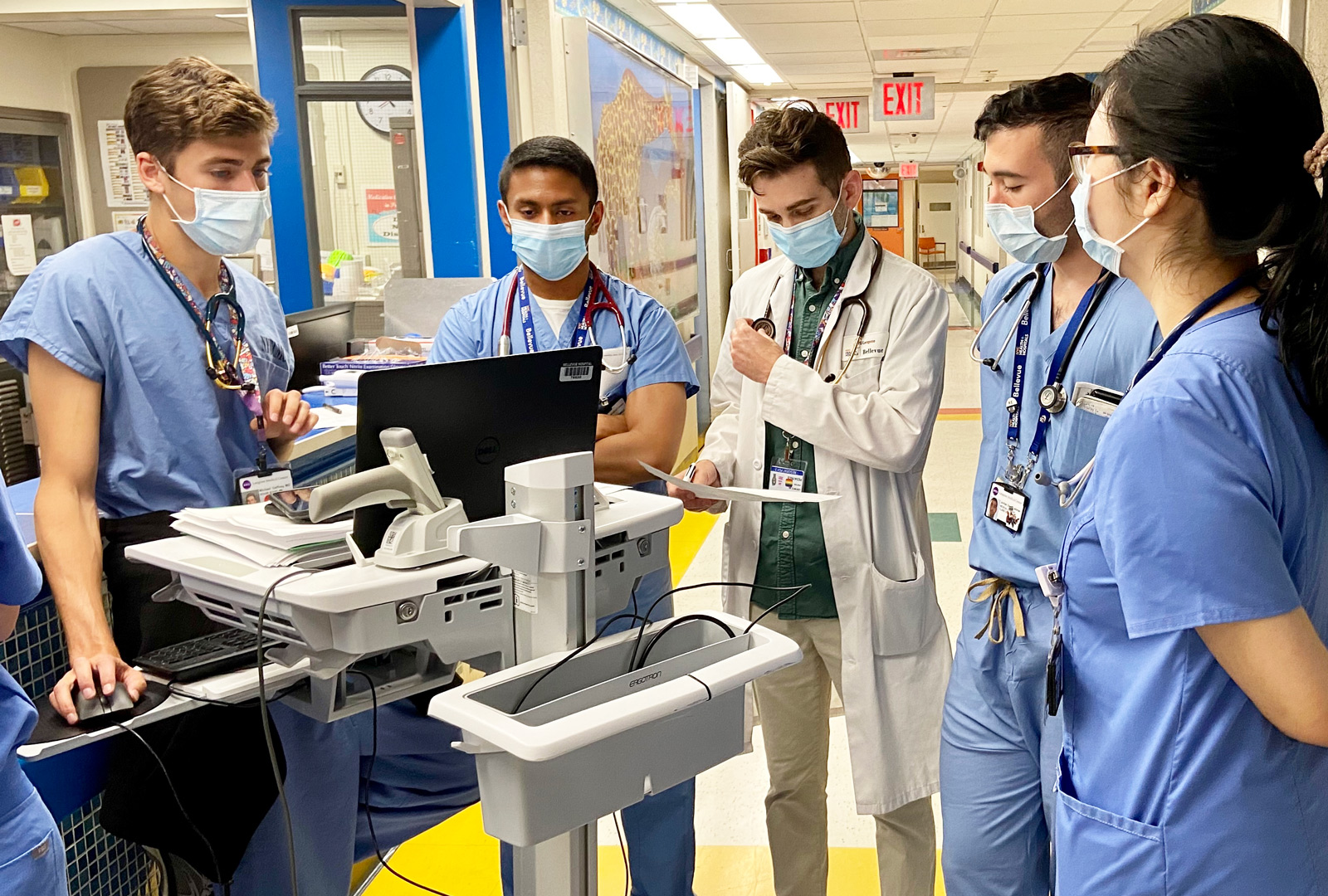 Residents also take elective rotations at Stephen D. Hassenfeld Children's Center for Cancer and Blood Disorders, Fink Children's Ambulatory Care Center, and NYU Langone Orthopedic Hospital.
Throughout training, residents treat and manage both common and uncommon pediatric conditions, supported by a team of attending pediatricians, social workers, nurses, and other healthcare professionals. The experiences residents gain in the program prepare them well for wherever their pediatrics career path takes them.
Pediatrics Residency Academics
The Pediatrics Residency offers a rigorous academic environment that includes conferences, didactics, simulations, and workshops. Teaching conferences take place at both Hassenfeld Children's Hospital and Bellevue.
Academic Half Day
Each Friday afternoon, from 2:00PM to 5:00PM, residents meet for conferences focused on the American Board of Pediatrics content specifications. Sessions are designed to be interactive and incorporate board review, evidence-based medicine, interactive didactics, journal club, practice of medicine workshops, small group discussions, and simulations.
Ethics Rounds
Quarterly and in an open forum, residents are encouraged to bring cases of patients they have taken care in which they encountered an ethical dilemma. A member of the pediatric advanced care team and a clinical ethics consultant lead the discussion.
Evidence-Based Medicine Course
Offered at the beginning of the academic year, the evidence-based medicine course is a four-session program that reinforces the principles of evidence-based medicine used in interpreting articles published in the medical literature. The skills developed during this program are then reinforced with monthly evidence-based medicine sessions led by residents and faculty.
Grand Rounds
Every week, nationally recognized speakers from NYU Langone and outside institutions present a current clinical topic in this continuing medical education offering.
Morning Report
Residents, general pediatricians, and subspecialists participate in the morning report, a lively discussion of differential diagnoses and disease management principles that are illustrated by cases from the pediatric emergency department, the outpatient ambulatory care setting, and the inpatient units.
Morbidity and Mortality and Chief of Service Conferences
As part of the department's quality improvement efforts, mortality and morbidity and chief of service conferences are used to review challenging cases. House staff present a case, a pediatric radiologist and pathologist present relevant findings, and a panel of faculty experts discuss the current understanding of the disease and the approach to its management.
Multidisciplinary Morning Report
A senior resident presents a complex patient case requiring multidisciplinary input. Faculty from different disciplines discuss the various management strategies for these patients and the current evidence supporting their suggested approach.
Practice of Medicine
Practice of Medicine covers topics that are crucial to becoming a practicing physician but are not typically taught in the medical education curriculum. A variety of topics are covered, including advocacy, bereavement, career development, cultural competency, and stress management and wellness.
Research in Progress Seminar
Throughout the year, residents learn about the research being performed by the department's faculty members.
Senior Presentations
Once or twice a month, a senior resident presents a topic of his or her choice based on current evidence with the support of a faculty preceptor.
Simulation Curriculum
Residents at NYU Grossman School of Medicine participate in simulated medical training at the New York Simulation Center for the Health Sciences (NYSIM), one of the nation's largest urban health science simulation training facilities. At this state-of-the-art, 25,000-square-foot center, residents participate in simulation activities once a month during academic half day, as an innovative and interactive method of teaching. Faculty from the Pediatric Intensive Care Unit and the Neonatal Intensive Care Unit at Tisch Hospital, both of which are part of Hassenfeld Children's Hospital, and the pediatric emergency medicine and pediatric hospital medicine teams select curricular topics that are best taught through simulation rather than standard didactic sessions. These include mock codes, high-fidelity case management scenarios, procedural skills workshops, and the use of standardized learners for the development of communication skills. Additionally, residents on the inpatient wards participate in an interprofessional in situ simulation at Hassenfeld Children's Hospital each month.
Mentorship for Residents
Mentorship plays a crucial role in the residency program. Starting in the first year of residency, residents are paired with one of the core faculty academic advisors, with whom residents meet at least twice each year. The advisor also delivers feedback from the department's clinical competency committee and helps trainees identify a career advisor who will mentor them in their chosen field.
Resident Performance Evaluation
In compliance with the new ACGME requirements, all residents are now evaluated on the basis of the ACGME-designated milestones. Twice a year, residents meet with one of the residency program directors for feedback and a comprehensive review of their individualized learning plan.
In addition, rotation feedback occurs on an ongoing basis between faculty and residents, and every Thursday is Feedback Thursday, when residents and attendings are encouraged to evaluate each other. Residents are also able to provide feedback about attendings in a confidential manner.