Neuromodulation Lab
Advancing technology and treatments for early detection and recovery from multiple sclerosis and CNS disorders.

Led by principal investigators Leigh E. Charvet, PhD, and Giuseppina Pilloni, PhD, NYU Langone's Neuromodulation Lab is dedicated to investigating new approaches to manage symptoms of neurological conditions and find treatments that can improve the daily lives of our patients.
Neuromodulation
Our lab is developing the use of noninvasive brain stimulation therapies and other emerging digital technologies to reduce symptom burden and to restore cognitive and motor function.
Transcranial Direct Current Stimulation (tDCS)
Transcranial direct current stimulation (tDCS) is a type of noninvasive brain stimulation currently under investigation for use in symptom management and rehabilitation. The treatment is delivered in daily sessions, and tDCS is thought to have the most benefit when repeatedly administered.
If you would like to learn more about our clinical tDCS telehealth program, or if you are seeking tDCS for treatment or you are interested in learning more about our research, email us at tdcs@nyulangone.org or call 929-455-5126.
tDCS Clinical Services
At NYU Langone's tDCS Program, we provide tDCS instruction and loan all equipment for home use, and guide patients to use it to augment their therapeutic training activity, all done from the comfort of their own home. We tailor the tDCS setup (including electrode placement and stimulation intensity), as well as associated training activities, to their individual needs, and can also partner with other therapists to add stimulation to an ongoing rehabilitation program.
At each session, we connect with you in real time using videoconference through NYU Langone's Virtual Health platform, accessed through the NYU Langone Health app.
You can email us with questions at tdcs@nyulangone.org or call 929-455-5126.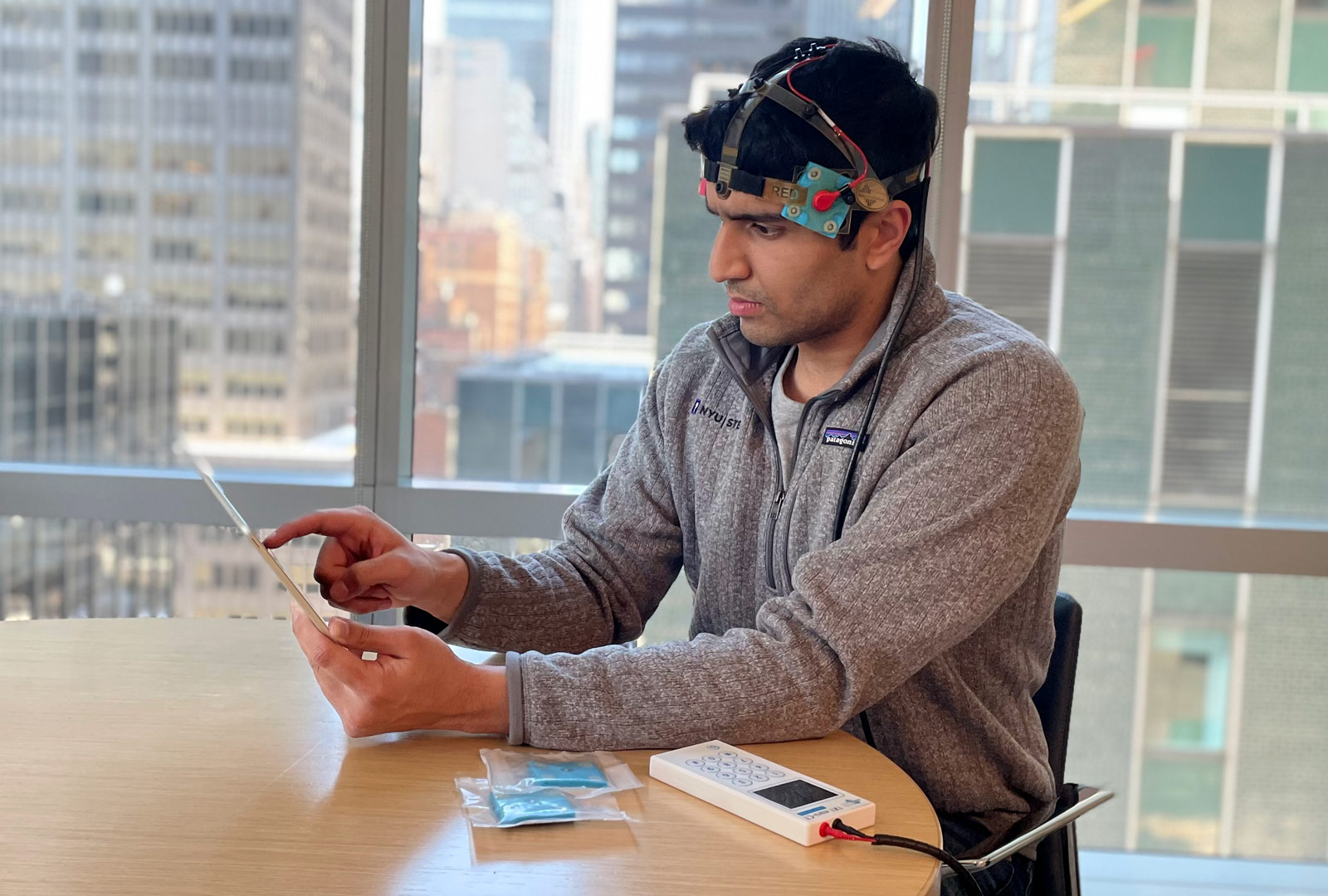 tDCS and Noninvasive Brain Stimulation Technology Research
We have developed a method to deliver daily tDCS sessions to patients and study participants in their homes using telemedicine. With our method, called remotely supervised tDCS (or RS-tDCS), we have several ongoing areas of research:
Our research is focused on evaluating tDCS, the clinical benefits for functional recovery, and managing symptoms in various neurological and psychiatric conditions. See a list of currently recruiting studies.
Other studies are investigating how tDCS works, using neuroimaging to measure its effect on the brain and to determine what might predict benefit.
Telehealth: Assessment, Monitoring, and Management
We are leaders in the delivery of telehealth services for both clinical and research use. We have established the use of tDCS at home through live videoconference supervision (known as remotely supervised tDCS, or RS-tDCS).
In addition, our lab is evaluating a range of devices and technologies to both monitor and manage a range of cognitive, motor, and psychological symptoms experienced by many patients. We also use technologies from Cogstate to precisely measure cognitive functioning, as well as sensors from RunScribe and BTS G-Walk to capture walking and balance both onsite and remotely.
We are developing novel prototypes and partnering with innovative companies to bring the best of these advances to our patients. These include technologies from partner companies that can provide cognitive and physical exercises at home.
Contact Us
You can reach us directly by email at charvetlab@nyulangone.org or by calling 646-501-7511.
You can also follow us on twitter @NYUNeuromod.