Department of Emergency Medicine Clinical Services
Our doctors provide expert and compassionate emergency and urgent care.

At NYU Langone's Ronald O. Perelman Department of Emergency Medicine, we treat our patients the way we treat each other—like family. We promote positive health outcomes by providing patient-centered, highly reliable clinical services to the more than 500,000 adults and children we care for annually across our sites.
We provide emergency, observation, and inpatient services at NYU Langone's Ronald O. Perelman Center for Emergency Services, NYU Langone Hospital—Brooklyn, and NYU Langone Hospital—Long Island, and emergency services at NYU Langone Health—Cobble Hill, NYU Langone Orthopedic Hospital, and NYC Health + Hospitals/Bellevue.
Our physicians provide outpatient and walk-in services at NYU Langone's Samuels Orthopedic Immediate Care Center and we offer virtual urgent care for nonemergency illnesses and injuries.
Additionally, we are partnered with the NYC Poison Control Center, assisting people with emergencies related to exposure to toxic agents or possible poisoning, 24 hours a day, 7 days a week.
Our medical teams collaborate across NYU Langone sites and emergency medicine divisions, including specialists in the Division of Pediatric Emergency Medicine, who staff the KiDS Emergency Department, and members of the Division of Observation Medicine, who oversee the largest dedicated observation unit in the country.
Our Clinical Sites
Our emergency departments (EDs) are 911 receiving centers, certified stroke and ST-elevation myocardial infarction (STEMI) receiving centers, and designated trauma centers. Our ED faculty physicians, residents, and staff are dedicated to providing the highest-quality care to all patients in our EDs and observation or inpatient units. Our medical teams remain involved with patients through discharge and follow-up care.
We continue to expand access to services and enhance the convenience of doctor consultations through our evolving virtual health programs. We are also developing our urgent care network to better meet the demands of our patients and our communities. As we grow across all of our sites, we aspire to lead the transformation of emergency care by promoting health and wellness among our diverse populations of patients, their caregivers, and the broader community.
Ronald O. Perelman Center for Emergency Services
The Ronald O. Perelman Center for Emergency Services provides exceptional emergency care 24 hours a day, 7 days a week. It serves as the emergency department for NYU Langone's main campus, covering 34,764 square feet between Tisch Hospital and Kimmel Pavilion and providing 65 treatment positions.
Our physicians use advanced tools and technologies, including rapid imaging services, which enable our staff to treat patients quickly and efficiently. In 2019, our physicians treated 88,113 patients.
At 22,000 square feet, the Perelman Emergency Center has 40 treatment spaces, including 3 triage rooms, 3 resuscitation rooms, and 3 negative-pressure isolation rooms designed to ensure infection control.
Our emergency spaces are welcoming to patients' families, both at the bedside and in our comfortable waiting rooms.
As one of Manhattan's busiest EDs, the Perelman Emergency Center provides our trainees with an opportunity to gain comprehensive experience in treating a wide range of illnesses and injuries in a diverse population of patients.
NYU Langone Hospital—Brooklyn
The ED at NYU Langone Hospital—Brooklyn has been operated by the Ronald O. Perelman Department of Emergency Medicine since the summer of 2016, and doctors there care for approximately 80,000 patients annually.
Formerly known as NYU Lutheran Medical Center, NYU Langone Hospital—Brooklyn was founded in 1884 and has a long history of serving the community. Many of our patients come from the local Sunset Park neighborhood, an area rich in ethnic and cultural diversity. We also serve the South Brooklyn community as an American College of Surgeons Level 1 Trauma Center, a Joint Commission–accredited Comprehensive Stroke Center, and a Fire Department of the City of New York (FDNY) STEMI receiving center. Our campus serves as the base for NYU Langone emergency medical services and operates as part of the FDNY 911 system.
The physical layout includes 55 care spaces, with a 10-bed critical care area and 2 trauma bays, and a separate psychiatric care area. Patients younger than 18 are treated in a separate pediatric ED with dedicated providers and staff.
As an ED located within a full-service community hospital, NYU Langone Hospital—Brooklyn provides valuable diversity to the training and research experience of medical students, residents, and other trainees.
NYU Langone Health—Cobble Hill
The freestanding NYU Langone Health—Cobble Hill ED is located in Brooklyn. Since 2015, it has grown at the remarkable pace of 15 percent every year, and emergency physicians currently care for nearly 30,000 patients annually.
Because it is a freestanding ED, there is no attached hospital, nor are there on-site subspecialists. To provide expertise in emergency situations, physicians use a state-of-the-art telemedicine system to communicate with specialists at the Ronald O. Perelman Center for Emergency Services and NYU Langone Hospital—Brooklyn.
The ED at NYU Langone Health—Cobble Hill offers radiology, laboratory, and pharmacy services 24 hours a day, 7 days a week, and is equipped and staffed to stabilize patients during any emergency situation. According to Press Ganey Associates, it is ranked in the top 15 percent of more than 2,000 EDs nationwide in patient satisfaction, and has been recognized as best in class for pain management and for excellence in the 5 principles of patient experience.
NYU Langone Orthopedic Hospital
Ranked on U.S. News and World Report's "Best Hospitals" list as one of the top 10 hospitals in the country for orthopedics, rheumatology, and rehabilitation, NYU Langone Orthopedic Hospital provides exemplary care to patients with musculoskeletal, rheumatic, immunological, and neurological conditions.
Our emergency medicine specialists collaborate with orthopedic experts at NYU Langone's Samuels Orthopedic Immediate Care Center to ensure that patients receive comprehensive care from diagnosis to rehabilitation. We treat more than 7,000 people each year for acute orthopedic injuries in one of New York City's only walk-in orthopedic immediate care facilities.
NYU Langone Hospital—Long Island
Located in Mineola, Long Island, the emergency department at NYU Langone Hospital—Long Island provides exceptional emergency care to adults and children. With a staff of board-certified emergency physicians, advanced practice practitioners with emergency department experience, and highly trained emergency department nurses, as well as a dedicated emergency department pharmacist who is available 24 hours a day, 7 days a week, we provide care to approximately 85,000 patients every year.
Our main emergency department has 60 treatment spaces, including a 3-bed critical care resuscitation suite. In addition, we have a separate dedicated pediatrics emergency department with 10 treatment spaces staffed by physicians and nurses specially trained to care for children. We also have a 5-bed state-of-the art trauma unit staffed 24 hours a day, 7 days a week by a board-certified trauma surgeon leading a dedicated team with expertise in trauma care.
Our emergency department is a New York State Primary Stroke Care Center, as well as a Level 1 Trauma Center certified by the American College of Surgeons. With cardiac catheterization and intervention cardiology readily available at all hours, we provide prompt, lifesaving care for those with acute heart attacks. We also have an outstanding program to provide prompt and aggressive care to patients with sepsis.
The emergency department provides education and research experience for NYU Langone Hospital—Long Island resident physicians as well as students from the NYU Long Island School of Medicine.
NYC Health + Hospitals/Bellevue
In volume, variety, urgency, and complexity, Bellevue offers a rich array of medical and human challenges. The result is a uniquely rewarding clinical setting for the training of medical students, interns, residents, and fellows.
As the core site for NYU Langone's training programs, Bellevue is the primary location for clinical instruction, and is also a significant research hub. Our medical students complete much of their third-year clinical clerkship at Bellevue, and many fourth-year students complete subinternships and participate in clinical electives here. Residents in emergency medicine, internal medicine, surgery, pediatrics, and psychiatry rotate through Bellevue's EDs.
Bellevue's modern facilities include a microsurgery center, a regional center for brain and spinal cord injuries, and comprehensive pediatric services. Bellevue also boasts the nation's largest array of behavioral health programs, and its psychiatric services are world-renowned.
Bellevue's ED—the only Level 1 Trauma Center below 68th Street in Manhattan—is an internationally recognized model for emergency medicine development. It has received numerous awards, including a Cardiovascular Center of Excellence designation for comprehensive cardiac care from the American Heart Association and the American College of Cardiology, an American Heart Association Mission: Lifeline® STEMI Receiving Center Silver-level performance award, a Patient Safety Champion Award for Sepsis Performance, and recognition for having the lowest risk-adjusted mortality rate for sepsis in New York state among hospitals with more than 50 cases annually.
NYC Poison Control Center
As one of the first poison control centers in the country, the NYC Poison Control Center was instrumental in establishing methods whereby poisoning information could be offered as a service to healthcare professionals and the public. In 1955, the center received 2,908 calls; in 1973, 37,000 calls; in 1979, 57,285 calls; and in 2018, the volume exceeded 80,000 calls. Approximately 65 to 70 percent of the calls come from the public, with the remainder coming from healthcare providers.
The NYC Poison Control Center is located at 455 First Avenue, near Bellevue and NYU Langone Medical Center.
Contact Us
For general inquiries about our clinical services, please contact Harita Reddy, MPH, division administrator of clinical operations, at harita.reddy@nyulangone.org.
Learn more about our clinical services leadership.
Perelman Emergency Center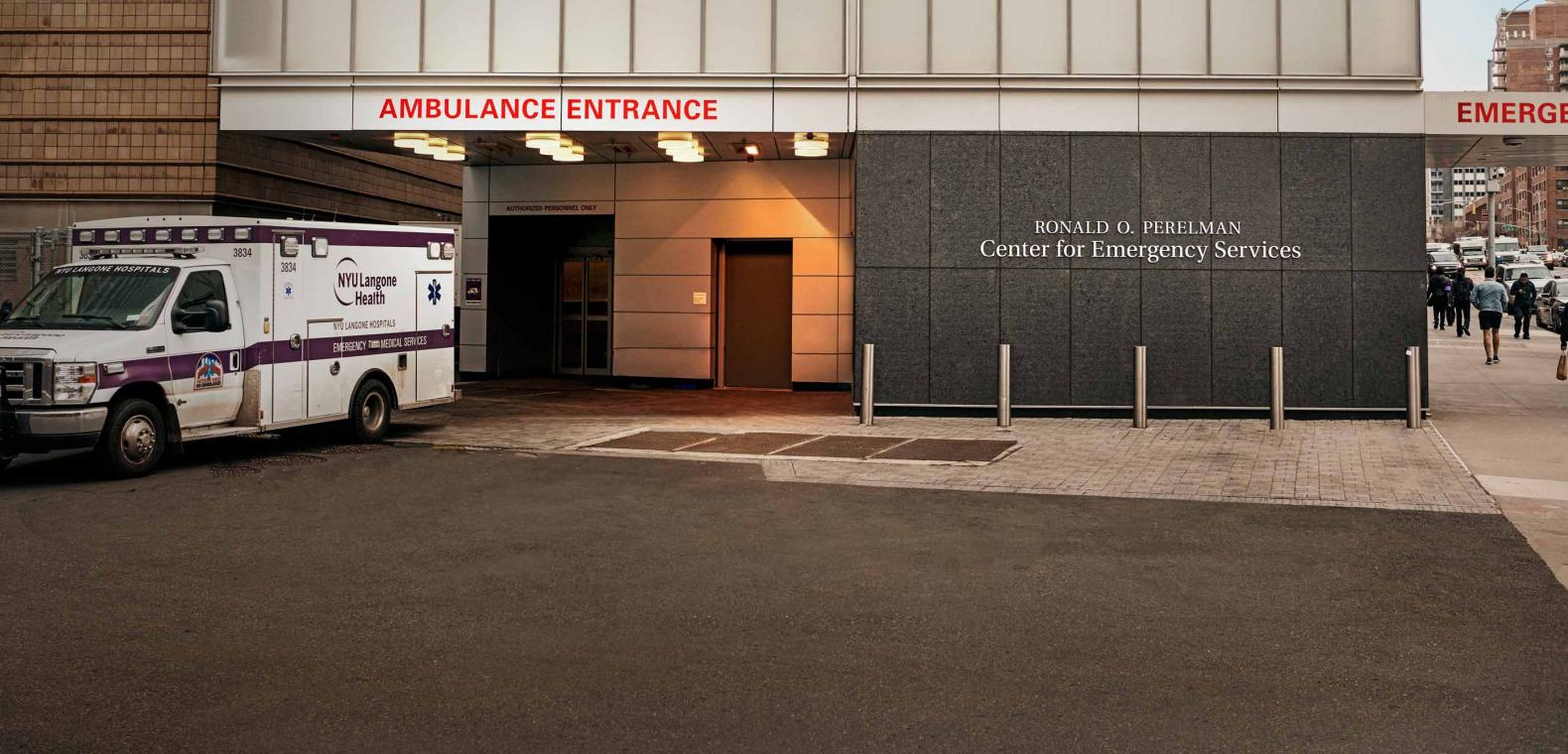 Virtual Urgent Care