Pulmonary, Critical Care & Sleep Medicine Fellowships
Sleep Medicine Fellowship

Sleep Medicine Fellowship
The Sleep Medicine Fellowship in NYU Langone's Division of Pulmonary, Critical Care, and Sleep Medicine prepares fellows for academic or clinical careers in sleep medicine.
Clinical training occurs at NYC Health + Hospitals/Bellevue, the VA NY Harbor Healthcare System, and NYU Langone's ambulatory clinics and Tisch Hospital, exposing you to a diverse patient population. Clinic sessions are held at multiple sites, including Bellevue, VA NY Harbor Healthcare System, Manhattan campus, and at NYU Langone Comprehensive Epilepsy Center—Sleep Center, in conjunction with NYU Langone's Department of Neurology. Nishay Chitkara, MD, is our fellowship director.
Our division also provides a rich research environment in sleep medicine, reflecting the multidisciplinary backgrounds of our faculty, clinical fellows, research postdoctoral fellows, and research technicians. We offer the opportunity to extend your fellowship for protected research time for one or two years beyond your first clinical training year.
Whatever your focus, we look forward to your time with us as you train for your future in sleep medicine.
Clinical Training for Fellows
During your clinical training at Bellevue, the VA NY Harbor Healthcare System, and NYU Langone, you learn to manage the full spectrum of sleep disorders, including sleep apnea, narcolepsy, insomnia, excessive daytime sleepiness, rapid eye movement (REM) sleep behavior disorder, parasomnia, and restless legs syndrome.
Our specialists provide comprehensive training in sleep disorder diagnostic tools, including scoring and interpretation of in-lab polysomnography, home modified polysomnography, multiple sleep latency testing, maintenance of wakefulness testing, and actigraphy. Attending physicians supervise interpretation and didactic assessment of in-lab polysomnography results at the NYU Langone Comprehensive Epilepsy Center—Sleep Center.
During the clinical year, you participate in a total of six half-days of clinic throughout the week, spread across the three clinical sites. Of that time, two half-days are protected for clinical and administrative follow-up, and two half-days are protected for research.
You also attend clinical rotations in neurology and electroencephalogram (EEG) interpretation, pulmonary function testing, pediatric sleep medicine, otolaryngology, and sleep dentistry. These rotations are integrated into your clinical training, with dedicated time for each.
Research Training for Fellows
As a clinical fellow, you can participate in current research studies and learn how to develop your own research ideas. We encourage training in academic research, including the scientific method, hypothesis generation, grant writing, and biostatistics, available through a close relationship with NYU Langone's Clinical and Translational Science Institute (CTSI).
Our research training addresses a wide variety of topics including general physiology of sleep-disordered breathing, positive airway pressure compliance, sleep-disordered breathing in pregnancy, predictors of sleep stage transitions, cognitive consequences of sleep disruption and sleep apnea, and links between sleep-disordered breathing and neurodegeneration.
Although you are not required to secure independent funding, recent fellows have successfully competed for research grant funding through the CTSI, the American Sleep Medicine Foundation, and the National Institutes of Health.
Didactic Training for Fellows
We hold a twice weekly sleep conference for formal didactic teaching on sleep medicine topics, clinical case presentations, journal club, and presentation of research data. You are also expected to attend a monthly respiratory failure conference that focuses on case presentation and polysomnogram interpretation, with discussion of unique inpatient cases from the Bellevue or Tisch Hospital respiratory failure services.
A variety of clinical and research conferences in sleep medicine are available throughout NYU Langone. A schedule is emailed to fellows at the start of each week. Conferences include, but are not limited to, grand rounds in our Division of Pulmonary, Critical Care, and Sleep Medicine and in the Departments of Neurology and Psychiatry. We encourage you to attend these conferences when topics are related to sleep medicine or are otherwise of interest.
How to Apply
Applications are accepted through the Electronic Residency Application Service (ERAS).
Current Fellow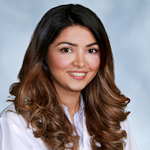 Nupur Dandawate, MD, MBBS
Dr. Dandawate was born in India and brought up in the United Kingdom and Dubai. She graduated from medical school in India from Kasturba Medical College, Manipal. After medical school she completed her internal medicine residency training in Massachusetts at Mass General Brigham - Salem Hospital.
Dr. Dandawate has a strong focus on pulmonary, critical care, and sleep medicine. Outside of work she enjoys tennis, free-verse poetry, travel, and spending time with family.
Past Fellows
2022
Alok Bhatt, MD
Current institution: WVU Medicine Uniontown Hospital, Uniontown, Pennsylvania
2021
Sunil Nair, MD
Current institution: Abington Pulmonary and Critical Care Associates, Abington, Pennsylvania
2020
Jessica Riggs, MD
Current institution: Virginia Heart, Leesburg, Virginia
2019
Kathleen Doo, MD
Current institution: Kaiser Permanente - East Bay Pulmonary, Oakland, California
2018
Yefim Cavalier, DO
Current institution: Private Practice, Boca Raton, Florida
Contact Us
For questions about applying to our Sleep Medicine Fellowship, please contact Alicia Brewster, MPA, fellowship coordinator, at alicia.brewster@nyulangone.org or 212-263-2315.