Rheumatology Fellowship
Current & Past Rheumatology Fellows

Current & Past Rheumatology Fellows
In NYU Langone's Division of Rheumatology, we recruit the most promising talent from around the nation and world to our fellowship program.
Rheumatology Fellows Class of 2023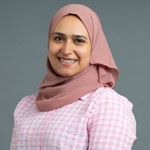 Tasneem Ahmed, MD
Born in Cairo, Egypt, Dr. Ahmed grew up in Brooklyn, where she moved with her parents when she was 2 months old. After high school, she matriculated into the BS/MD Sophie Davis Program at the City College of New York. There she earned the prestigious Sophie and Leonard Davis Medical School Scholarship, which helped fund her medical education. She graduated with summa cum laude honors and then moved to NYU Grossman School of Medicine for the last two years of her clinical education, where she fell in love with rheumatology and the division. Dr. Ahmed completed her residency at Robert Wood Johnson in New Brunswick, New Jersey, where she participated in research studies in rheumatoid arthritis and diffuse idiopathic skeletal hyperostosis, as well as quality improvement projects at the Federally Qualified Health Center where she practiced primary care medicine. She also worked with Ashira D. Blazer, MD, on a research project exploring the sequelae of ApoL1 on phenotypes in a Ghanian SLE population.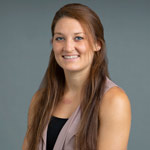 Meghan Anderson, DO, Chief Resident
Dr. Anderson graduated magna cum laude from St Mary's College of Maryland, where she majored in biology. For her medical education Meghan made her way south to Nova Southeastern University College of Osteopathic Medicine, where she was a classmate of class of 2023 fellow Kelly Corbitt, DO. At medical school Meghan was inducted into the Psi Sigma Alpha National Honor Society, received the Alvin Greber Cardiology Award, and graduated with highest honors among the top 3 percent of her class. While in medical school Meghan served as a team leader on medical mission trips to Jamaica, where she led the set-up of free clinics. She completed her residency at Albert Einstein Medical Center in Philadelphia, where she received the Tosounian Award for contributions to house staff wellness. Meghan was selected to serve as chief resident, a role she is currently fulfilling, including playing a critical role in resident wellness and adjusting training to cope with COVID-19.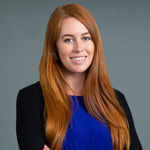 Kelly Corbitt, DO, Chief Quality Resident
A native Floridian, Dr. Corbitt attended the University of Florida at Gainesville where she majored in psychology and rode on the equestrian team. After college she spent two years with the Salvation Army as a social services director, working with underserved and homeless families, writing grants, and managing data on the populations she served. Dr. Corbitt then attended medical school at Nova Southeastern University College of Osteopathic Medicine, where she participated in studies of lymphedema, tissue elasticity, and fibrosis, resulting in several publications. Dr. Coribitt then moved to residency at the University of Miami, where she conducted several retrospective studies of Sjogren's syndrome. Kelly was chosen as resident of the month and was later selected to serve as chief resident, a position she is currently fulfilling, including developing new electives for residents.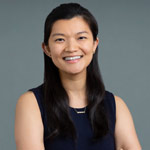 Jammie Law, MD
A native New Yorker, Dr. Law grew up in Chinatown. She attended the Bronx High School of Science and completed her undergraduate degree at Stony Brook University, where she studied biology and graduated magna cum laude. She completed medical school at Albert Einstein College of Medicine in the Bronx, where she received the Wolmer Summer Research Fellowship, which she used to study the impact of soluble immune mediators on innate genital mucosal antimicrobial activity. Dr. Law stayed in the Bronx for residency, joining the program at Montefiore Medical Center and being selected as resident of the month. During residency she participated in a prospective cohort study, published in the Journal of Intensive Care Medicine, of organ dysfunction and disability after hospitalization among older adults. She has also worked with Anna Broder, MD, to study non-ischemic cardiovascular complications in lupus, and with Shereen N. Mahmood, MD, to study interstitial lung disease in patients with inflammatory myositis.
Rheumatology Fellows Class of 2024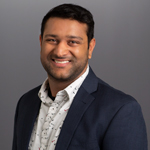 Abhimanyu Amarnani, MD, PhD
Dr. Amarnani, who is originally from Los Angeles, received his bachelor's degree from the University of California, Los Angeles. After coming east to attend medical school at SUNY Downstate College of Medicine in Brooklyn, he returned to Los Angeles for residency at the University of Southern California. Dr. Amarnani then transferred to NYU Grossman School of Medicine for a fellowship on the research fast track. His research has focused on lupus nephritis proteomics and B-cell transcription factor biology.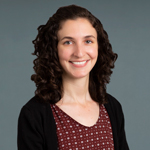 Catherine Howe, MD
Dr. Howe was born in New York City and raised in the suburbs with her three younger siblings. She studied neuroscience as an undergraduate at Fordham University, spending her summers doing research in electrophysiology at Albert Einstein School of Medicine and cell biology at Fordham. A graduate of Tufts School of Medicine, she attended Duke University for residency and completed research in health literacy and telehealth utility.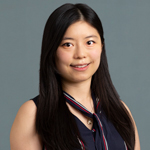 Nicole Leung, MD
Dr. Leung was born and raised in New York City and attended Stuyvesant High School. She graduated from Duke University with a major in biology and a focus in pharmacology. While there she investigated outcomes of food allergy immunotherapy and immunopathological mechanisms of food allergy. She remained at Duke University School of Medicine, where she developed an interest in autoimmune connective tissue diseases and investigated the use of noninvasive imaging devices to detect early signs of fibrosis in systemic sclerosis. Dr. Leung returned to New York City for residency training at NYU Grossman School of Medicine. As a resident she received a grant from the Rheumatology Research Foundation to conduct research in gout and complete coursework in clinical research design, biostatistics, and bioinformatics.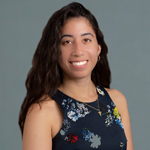 Cristina Sorrento, MD
Dr. Sorrento is originally from Long Island and studied biochemistry as an undergraduate at Columbia University. Following graduation, she remained at Columbia for one year to perform research in chemistry and participate in chemistry education. She attended SUNY Downstate College of Medicine, where she was elected president of the downstate chapter of the Alpha Omega Alpha Honor Society. Dr. Sorrento went on to residency at Beth Israel Deaconess Medical Center in Boston. Her research interests include rheumatoid arthritis and cardiovascular disease, as well as osteoarthritis and frailty in the geriatric population.
Recent Fellowship Alumni
Class of 2022
Brittany Banbury, MBBS
Ghadeer Hasan, MD, MPH
Gary H. Ho, MD
Sara E. Stream, MD, Chief Fellow
Class of 2021
Rebecca B. Blank, MD, PhD
Robert Freilich, MD, PhD
Allison Guttmann, MD, Chief Fellow
Mayce Haj-Ali, MD
Ben Plotz, MD
Class of 2020
Rochelle L. Castillo, MD
Ruth Fernandez Ruiz, MD, Chief Fellow
Konstantin Brodetskiy, MD
Craig A. Smuda, MD, PhD