Department of Orthopedic Surgery Divisions
Division of Primary Care Sports Medicine

Division of Primary Care Sports Medicine
The Division of Primary Care Sports Medicine in NYU Langone Health's Department of Orthopedic Surgery is a nationally recognized leader in education, research, and clinical care focused on the total athlete. As a medical student, resident, or fellow, you receive comprehensive, hands-on training from our renowned faculty in the prevention, treatment, and management of athletic injuries and nonoperative orthopedic injuries.
Our doctors evaluate and treat the full spectrum of sports-related injuries. We use state-of-the-art imaging and nonsurgical treatments to return athletes of all ages to the playing field quickly and safely. Our goal is to allow each athlete to achieve full performance potential. Our doctors also provide team coverage for numerous professional, collegiate, and high school athletic programs in the New York area.
Primary Care Sports Medicine Education
Medical students who wish to explore orthopedic surgery may take electives with the Division of Primary Care Sports Medicine as part of NYU Grossman School of Medicine's Curriculum for the 21st Century.
We offer a one-year primary care sports medicine fellowship that is accredited by the Accreditation Council for Graduate Medical Education (ACGME) and is open to physicians who have completed an accredited residency program in pediatrics, family medicine, internal medicine, or emergency medicine.
As a fellow in our program, you develop expertise in the area of primary care sports medicine including the diagnosis and management of musculoskeletal injuries, musculoskeletal ultrasound, medical problems related to sports participation, sports concussion, and procedures including injection therapy and casting. You participate in weekly journal clubs and didactics, and treat patients in the outpatient setting, the collegiate athletic training room, and other subspecialty clinics. You also gain experience with sideline coverage and mass event coverage with professional sports teams, collegiate Division I and Division III athletics, high school football and rugby, and the New York City Marathon and other race events.
Our fellowship is a joint program that combines the resources of NYU Langone's Department of Pediatrics and Department of Orthopedic Surgery. The program participates in the primary care sports medicine National Residency Matching Program (NRMP), also known as The Match. We accept one fellow each year and are committed to recruiting exceptional individuals who will become leaders in primary care sports medicine.
Fellows who successfully complete the fellowship are eligible to sit for the board exam in sports medicine. For more information about our fellowship, please contact Meena Casas, pediatrics program manager, at meena.casas@nyulangone.org, and Karina Rustia, MBA, our orthopedic surgery fellowship coordinator, at 212-598-2783 or karina.rustia@nyulangone.org.
Our educational programs also include weekly didactic conferences, journal clubs, grand rounds, and multiple annual continuing medical education programs for medical professionals.
We are very involved in the community. Throughout the year, we host educational programs and seminars in sports medicine for athletes, parents, and coaches. These programs are an important part of our mission to promote safe sports participation for athletes of all ages.
Primary Care Sports Medicine Research
Current research areas of interest in our division include the pediatric athlete, nonsurgical treatments for orthopedic injuries and illnesses, and concussion. We also have ongoing clinical studies on dance medicine, concussion, knee osteoarthritis, and the use of headgear in women's lacrosse. Medical students, residents, and fellows have opportunities to work with our faculty on many research projects. Learn more about research in the Department of Orthopedic Surgery.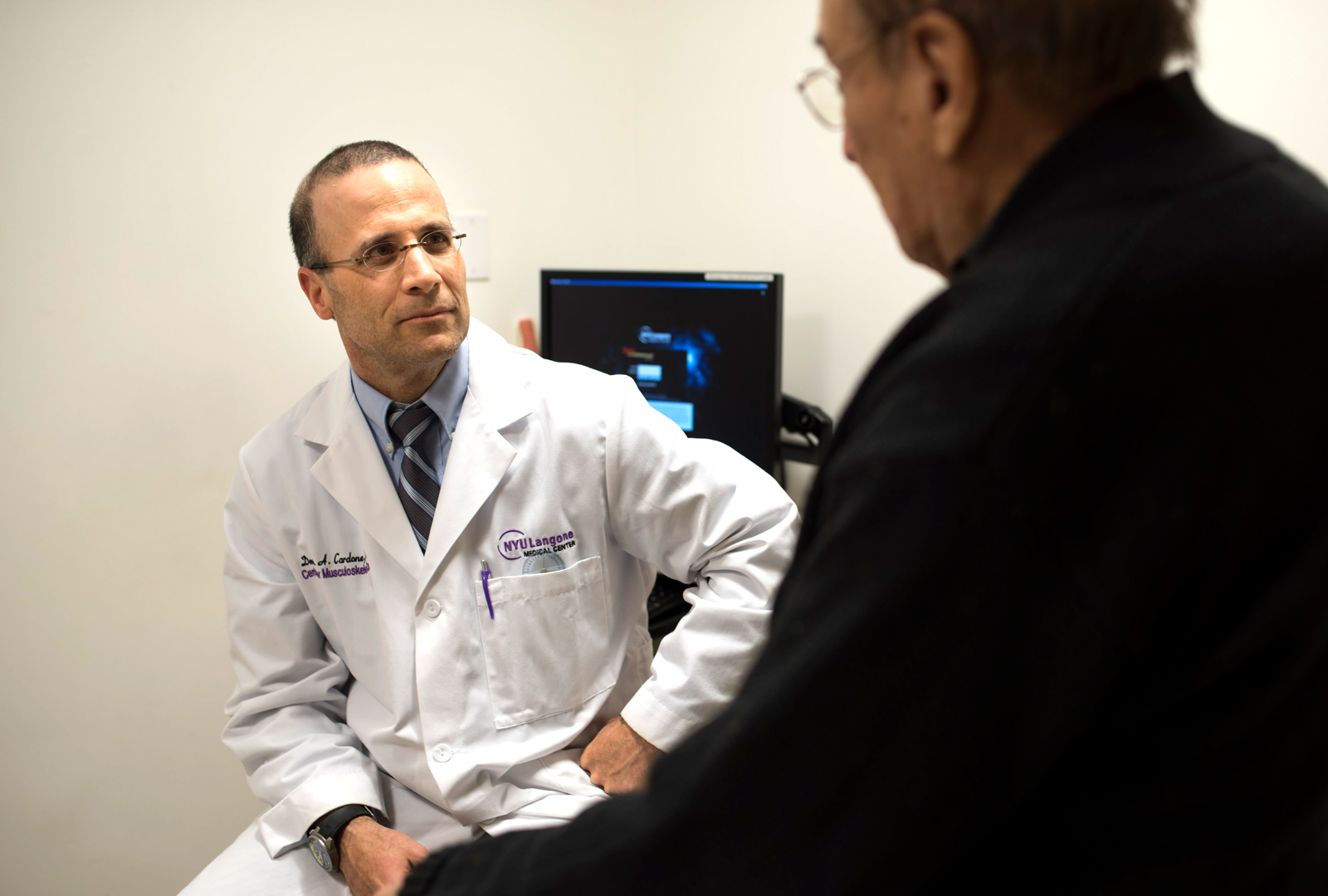 Primary Care Sports Medicine Clinical Services
We use advanced diagnostic tools, including high-resolution ultrasound, to diagnose soft tissue injuries and guide joint and soft tissue injections. Treatments include platelet-rich plasma injections for chronic tendon conditions, as well as cutting-edge regenerative stem cell therapies for selected cases.
Our doctors also perform extracorporeal shock wave treatment and office-based tenotomy procedures. Each treatment plan is carefully created to meet the individual needs of the athlete.
Our doctors treat sports-related concussions and provide comprehensive evaluations and up-to-date therapies at NYU Langone's Concussion Center, a multidisciplinary center that brings together experts in concussion care and rehabilitation from NYU Langone's Departments of Neurology, Orthopedic Surgery, and Rehabilitation Medicine. The center has emerged as a leader in sports-related concussion research.
Members of our division provide medical coverage for the athletic departments of NYU, Long Island University, Baruch College, Yeshiva University, Friends Seminary, Brooklyn Friends School, Xavier High School, and East Harlem High School. Our faculty also provide medical coverage for the US Open Tennis Championships, USA Wrestling, and sports teams such as the New York Empire, the New York Sharks, and the Metropolitan Riveters.
Primary Care Sports Medicine Leadership
The Division of Primary Care Sports Medicine is led by Dennis A. Cardone, DO, who also serves as the division's fellowship director and as chief medical officer for the New York City Public Schools Athletic League. Lauren E. Borowski, MD, is the associate director of the division's fellowship.