Department of Orthopedic Surgery Divisions
Division of Sports Medicine

Division of Sports Medicine
The Division of Sports Medicine, part of NYU Langone Health's Department of Orthopedic Surgery, incorporates the clinical, educational, and investigational aspects of athletic injuries to treat athletes playing at all levels: high school, college, and professional, as well as recreational athletes of all ages.
Our sports medicine surgeons treat the full spectrum of athletic injuries in adults and adolescents, performing more than 5,000 procedures annually including arthroscopic surgery for problems affecting the knee, shoulder, elbow, hip, and ankle. Members of the Division of Sports Medicine are well known regionally and nationally as experts in their field, employing cutting-edge technology and techniques in the management of complex surgical cases.
Coupled with our large surgical volume is our division's dedication to the nonoperative management of many sports-related injuries and the utilization of injury prevention strategies. We are leaders in the use of biologics, including platelet rich plasma (PRP), bone marrow– and adipose-derived medicinal signaling cells, and placental-derived tissue injections to aid healing following injury and for joint preservation.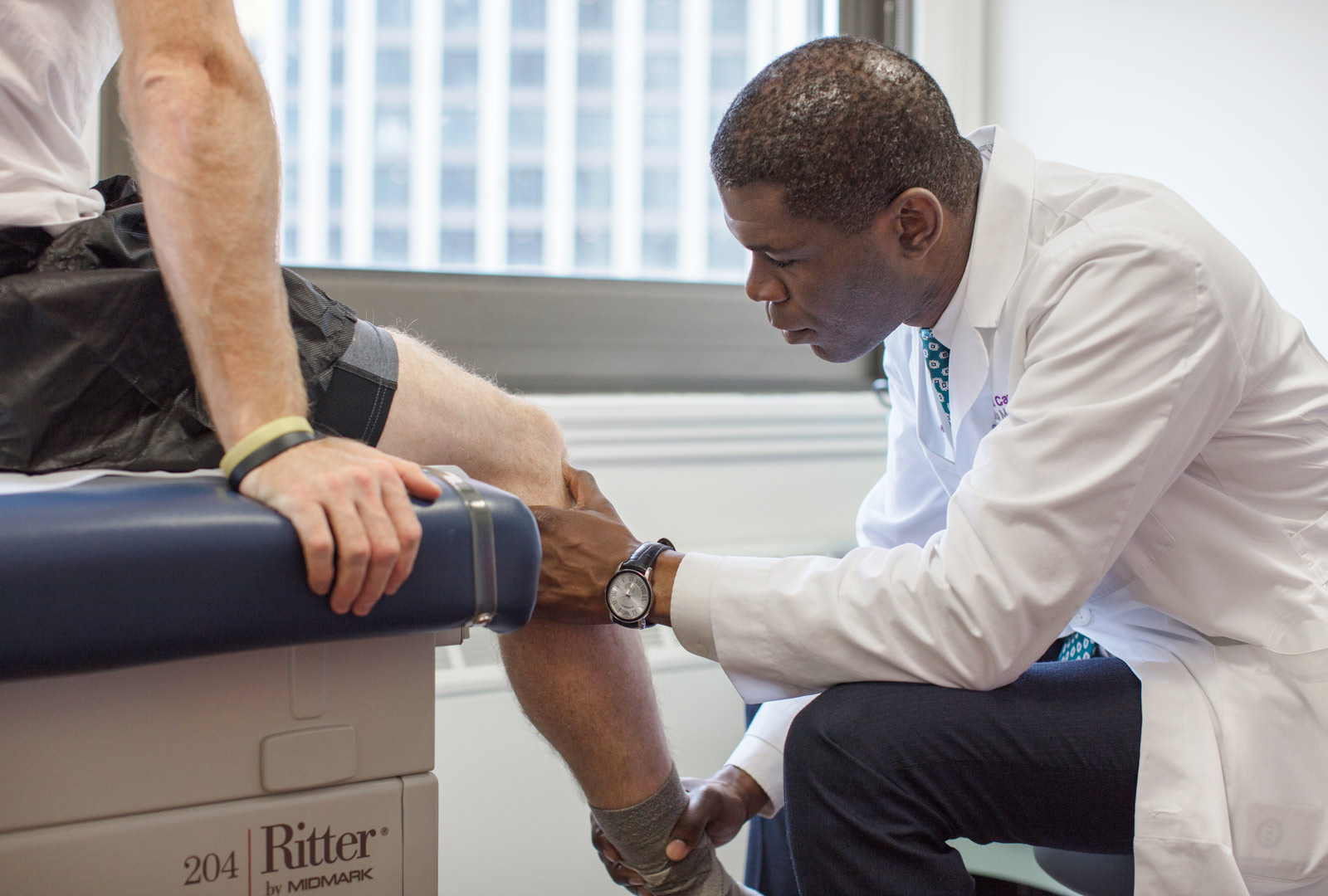 Sports Medicine Education
We train our residents and fellows to be fully proficient in treating athletic injuries. Training includes the following objectives:
to examine and diagnose common sports injuries in the office or clinic
to formulate treatment plans, both nonoperative and operative, for injured athletes
to understand the principles of prophylactic, functional, and rehabilitative bracing
to interpret MRIs related to sports injuries (knee, shoulder, ankle, hip, and elbow)
to gain skills in performing knee, shoulder, ankle, hip, and elbow arthroscopy; ligament reconstruction in the knee; rotator cuff repair and reconstruction; shoulder stabilization and reconstruction procedures both open and arthroscopic (Latarjet and allograft reconstruction of the shoulder); elbow reconstruction; ankle instability and cartilage transplant surgery; hip reconstruction and complex osteotomy procedures with cartilage transplantation; and all joint preservation procedures, including meniscus transplantation
to understand the role rehabilitation plays in treating the injured athlete
Your education includes evaluating and treating both adolescents and adults with a wide range of athletic injuries in a high-volume setting. People you treat may be involved in organized or recreational sports, and you gain hands-on experience in evidence-based surgical techniques and disease management approaches. Weekly multidisciplinary conferences provide you with ample opportunities to interact with radiologists, primary care physicians, certified physical therapists, occupational therapists, and surgeons in other divisions of the Department of Orthopedic Surgery.
Medical students, residents, fellows, and professionals seeking to continue their training learn to formulate personalized, targeted treatments using advanced diagnostic, surgical, and reconstructive techniques. These include three-dimensional technology, minimally invasive and arthroscopic surgical procedures, and the most recently developed meniscal and cartilage reconstruction and advanced shoulder procedures.
Medical students wishing to explore orthopedic surgery may enroll in electives within the Division of Sports Medicine as part of NYU Grossman School of Medicine's Curriculum for the 21st Century. Residents interested in specializing in sports medicine surgery participate in rotations as part of the Department of Orthopedic Surgery's residency program. Fellows in our one-year sports medicine fellowship program receive intensive subspecialty training in arthroscopic and open reconstructive sports surgery.
As part of the curriculum in our department's Surgical Skills Lab, residents and fellows advance their arthroscopic skills through cadaveric training. The curriculum also includes a series of labs that addresses the primary procedures and issues involved in shoulder, elbow, hip, knee, and ankle surgery. Each joint-specific curriculum begins with diagnostic arthroscopy, proceeds through arthroscopic techniques of increasing difficulty, and concludes with open procedures. Labs are taught in rotation by attending surgeons who are specialists in these procedures.
Sports Medicine Research
Under the direction of Eric J. Strauss, MD, the Division of Sports Medicine has a robust research effort with a large number of ongoing clinical and basic science studies focused on the management of all aspects of athletic injuries. With a multidisciplinary approach including collaboration with other divisions at NYU Langone Orthopedic Hospital, members of our division are frequent contributors to the orthopedic surgery literature and present their work at local, regional, national, and international subspecialty conferences. Our specific areas of current research include the following:
biologic therapies such as PRP, bone marrow aspirate, and adipose mesenchymal cells
synovial fluid biomarkers in the setting of intra-articular injuries and prevention of post-traumatic osteoarthritis
treatment and prevention of anterior cruciate ligament tears
novel imaging techniques such as dynamic real-time MRI and three-dimensional MRI
innovative and minimally invasive surgical techniques that speed healing time and return people to work and athletes to the field more quickly
Medical students, residents, and fellows are encouraged to participate in research in these areas alongside our academically productive faculty. Learn more about research in the Department of Orthopedic Surgery.
Sports Medicine Clinical Services
The Sports Medicine Center is one of the Northeast's leading programs for treating sports-related injuries and recurring conditions. Specialists, including our orthopedic surgeons, treat everyone from adult professional athletes and dancers to young athletes, weekend warriors, and more. The center includes faculty practice offices, physical therapy spaces, and research facilities all under one roof.
At the Sports Performance Center, we focus on improving health, fitness, and athleticism in everyone from the elite athlete to the fitness novice in a state-of-the-art environment. The heart of the center, a 7,200-square-foot gym, houses an array of the latest equipment used for sports performance testing.
Both the Sports Medicine Center and the Sports Performance Center are vital components of NYU Langone Orthopedic Center. They help fulfill the division's mission to provide the best setting for the evaluation, treatment, and rehabilitation of sports-related injuries with an advanced and evidence-based approach, all under one roof.
We maintain a busy clinical and operative presence at NYU Langone's Tisch Hospital, Kimmel Pavilion, NYU Langone Orthopedic Hospital, NYU Langone Outpatient Surgery Center, NYU Langone Hospital—Brooklyn, and the Joan H. and Preston Robert Tisch Center at Essex Crossing, as well as NYC Health + Hospitals/Bellevue and the VA NY Harbor Healthcare System, performing both arthroscopic and reconstructive surgery for all sports- or fitness-related injuries.
Our surgeons also collaborate with the Department of Radiology at NYU Langone for advanced traditional and three-dimensional imaging studies and interventional radiologic procedures, including image-directed procedures and orthobiologic injections.
If surgery is necessary, our reconstructive team is among the world's most experienced, performing more than 5,000 procedures each year. The following are some of our cutting-edge technologies and procedures:
matrix-induced autologous chondrocyte implantation
osteochondral allograft transplantation
osteochondral autograft transfer system
high tibial, tibial tubercle, and distal femoral osteotomy of the knee
meniscus transplantation and all joint preservation procedures
elbow ligament reconstruction and cartilage transplant procedures
hip, knee, ankle, shoulder, and elbow arthroscopy
ankle cartilage transplantation and ligament reconstruction
arthroscopic Latarjet procedures for shoulder reconstruction
complex hip reconstruction, including arthroscopic hip labral reconstruction procedures
Division faculty members care for athletes of all skills and ages. Guillem Gonzalez-Lomas, MD, serves as a ringside physician for the New York State Athletic Commission and Ultimate Fighting Championship (UFC) events. Andrew J. Feldman, MD, is co-director of NYU Langone's Hockey Center. Dennis A. Cardone, DO, serves as physician for all NYU and Long Island University NCAA Division I athletic teams. He also cares for adolescents in the New York City Public Schools Athletic League as director of Partners for Youth. In partnership with Kevin M. Kaplan, MD, the head team physician for the Jacksonville Jaguars of the National Football League (NFL), our sports medicine fellows serve as team physicians at the NFL Scouting Combine and games.
Learn more about the exceptional range of specialized care services and programs our Sports Health experts offer to athletes at all levels.
Sports Medicine Leadership and Administration
Laith M. Jazrawi, MD
Chief of the Division of Sports Medicine
Director of the Sports Medicine Fellowship Program
Eric J. Strauss, MD
Director of Sports Medicine Research
Associate Residency Program Director
Kirk A. Campbell, MD
Director of Sports Medicine Resident Education
Michael J. Alaia, MD
Associate Director of the Sports Medicine Fellowship Program
Thomas Youm, MD
Director of Hip Arthroscopy Research
Donald J. Rose, MD
Director of Harkness Center for Dance Injuries
Guillem Gonzalez-Lomas, MD
Ringside Physician for the New York State Athletic Commission and Ultimate Fighting Championship (UFC)
Andrew J. Feldman, MD
Co-director of NYU Langone's Hockey Center