Department of Urology
We deliver excellence in urologic education, research, and clinical care.

The trifold mission of NYU Langone Health's Department of Urology is to train future leaders in the field, conduct research that innovates medical and surgical treatments for patients, and provide world-class, compassionate care to people with genitourinary conditions.
Our educational programs are among the nation's best and include a Urology Residency, as well as highly competitive fellowships in female pelvic medicine and reconstructive surgery, gender-affirming and reconstructive surgery, and urologic oncology. We also offer a Summer Urology Fellowship for Medical Students.
In addition, we present, through NYU Grossman School of Medicine's continuing medical education (CME) programs, multiple major CME courses each year that explore issues and advances in female pelvic medicine and reconstructive surgery, prostate cancer, robotic surgery, and the field of urology as a whole. These courses attract urologists from around the country.
Working closely with our colleagues at Perlmutter Cancer Center and as part of the Genitourinary Disease Management Group, our faculty are engaged in leading-edge basic, translational, and clinical research in cancers of the bladder, kidney, prostate, and testicles. Members of our team also investigate urothelial biology, kidney stones, and population health, with the goal of improving treatment outcomes and quality of life for patients.
We are proud of our long history of trailblazing advances in the screening, detection, and treatment of prostate cancer. Many of these have emerged through our close collaboration with NYU Langone's Departments of Radiology and Pathology. For instance, our team pioneered the use of MRI to diagnose and pinpoint the precise location of prostate cancer. Our physicians innovated prostate ablation using lasers, radiofrequency, and high-intensity focused ultrasound, or HIFU. And our surgeons developed nerve-sparing radical retropubic prostatectomy to protect nerves that control erectile function.
Across the department's six divisions, our internationally known faculty represent the range of subspecialties in the field: endourology; female pelvic medicine, reconstructive surgery, and neurourology; gender-affirming and urologic reconstructive surgery; male sexual medicine and benign conditions of the prostate; pediatric urology; and urologic oncology. They provide world-class clinical services to patients seeking diagnosis and treatment of a range of urogenital conditions.
Education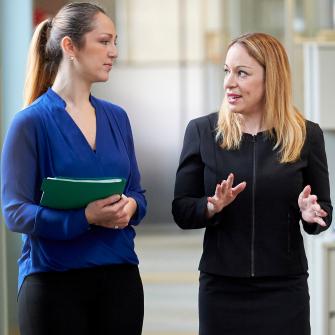 Clinical Trials
Our Clinical Services