Rodriguez Lab
Rodriguez Lab Members

Members of the Rodriguez Lab lead collaborative projects to better understand the parasites Plasmodium and Trypanosoma cruzi, with the goal of developing new treatment approaches for malaria and Chagas disease.
Principal Investigator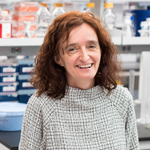 Professor, Department of Microbiology
Director, Anti-Infectives Screening Core
Co-Director, Anopheles Insectary
Dr. Rodriguez earned a PhD from Universidad Autonoma de Madrid, Spain, and completed two postdoctoral fellowships, first at Yale University School of Medicine with Dr. Norma Andrews and then at Institut Curie, France, with Dr. Sebastian Amigorena. She joined NYU Langone in 1999. Her accolades include being named a Marie Curie Fellow and receiving a Liver Scholar Award from the American Liver Foundation, a Career Scientist Award from the Irma Hirschl Trust, and a Pathogenesis of Infectious Disease Award from the Burroughs Wellcome Fund.
Fellows, Students, and Staff
Claudia Paradela-Gomes
Postdoctoral Fellow, 2019–present
Margaux Sica
Graduate Student, 2019–present
Kelly Crotty
Graduate Student, 2020–present
Marilyn Vasquez
Graduate Student, 2020–present
Hedy Rocha
Research Technician, 2021–present
Nathalie Shoji
Student Intern, 2021–present