Child & Adolescent Psychiatry Fellowship
Child & Adolescent Psychiatry Fellowship Alumni

Child & Adolescent Psychiatry Fellowship Alumni
Graduates of NYU Grossman School of Medicine's Child and Adolescent Psychiatry Fellowship provide valuable information about their training experiences to support the Department of Child and Adolescent Psychiatry's mission of teaching, research, and service.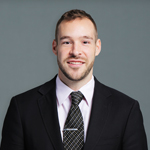 Aron Janssen, MD
Vice Chair, Pritzker Department of Psychiatry and Behavioral Health, Ann and Robert H. Lurie Children's Hospital of Chicago
Associate Professor of Psychiatry, Northwestern Feinberg School of Medicine
As child psychiatrists, we have an opportunity and a responsibility to recognize that improving the mental health of children requires thinking beyond the four walls of the office and into the structures that create or hinder healthy development. The Child and Adolescent Psychiatry Fellowship at NYU Grossman School of Medicine delivers diverse clinical training while also recognizing the complex systems that impact care, all while providing mentorship to build a future career. For me, I learned that by embracing my own unique experiences, interests, and strengths, I could make an impact that both serves my community and advances the field. This is a "yes and" program with a healthy mix of enthusiastic support for unique ideas and effective accountability on follow through.
Leslie A. Hulvershorn, MD, MSc
Director, Section of Child and Adolescent Psychiatry, Riley Hospital for Children
Associate Professor of Psychiatry, Department of Psychiatry, Indiana University School of Medicine
I love that I was able to observe high-quality, evidence-based psychotherapy at NYU Langone. Over time, I have learned that if you never see this kind of care change a patient's life, it is hard to appreciate why the effort of training at this level is worth going through. Most child mental health providers do not have this experience. The field really needs people with this caliber of training to advocate for the kind of care that everyone deserves.
I also appreciate that I trained with not only world-class research faculty but also junior faculty and other trainees at various stages, who modeled what is needed at each stage of research development. Ultimately, this was really helpful for planning my career.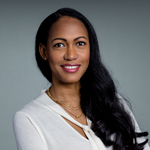 Psychiatrist, Private Practice
Clinical Assistant Professor, Department of Child and Adolescent Psychiatry, NYU Langone
During my training at NYU Langone, I worked alongside leaders in mental health while being encouraged to develop my own area of expertise. I graduated feeling prepared to become a leader in the field of child psychiatry, and I felt confident practicing evidence-based medicine for both basic and complex clinical cases. I continue to benefit from my training through ongoing friendships with former peers and colleagues who continue to serve as lifelong resources that enrich my career and the care that I provide to my patients.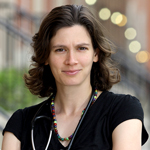 Rheanna Platt
Assistant Professor of Psychiatry and Behavioral Sciences, Johns Hopkins University School of Medicine
Training at NYU Langone was a fantastic experience for so many reasons, but my experience in the age-specific inpatient units stands out because it allowed us to focus on and learn about tailored, developmentally appropriate interactions.
The Children's Comprehensive Psychiatric Emergency Program (C-CPEP) experience was unique and made me feel extremely well prepared to quickly assess the need for different levels of care. The breadth of outpatient clinic at NYU Langone's Child Study Center and NYC Health + Hospitals/Bellevue was outstanding. But what stands out most were the people—both my co-fellows and the faculty—who provided a rich and supportive environment. I felt extremely well-prepared for both clinical practice and my current academic position.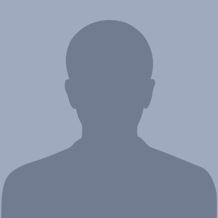 Tresha Gibbs, MD
Medical Director of Community Services and Director of Medical Education, New York City Children's Center
The Child and Adolescent Psychiatry Fellowship at NYU Langone and NYC Health + Hospitals/Bellevue played a significant role in my development as a psychiatrist and prepared me to work with the most diagnostically complex and diverse patient populations.
During training, our rotations included state hospital inpatient psychiatry at Rockland Children's Psychiatric Center, city hospital inpatient and outpatient psychiatry at Bellevue, and private sector work at the Child Study Center.
As a fellow, I worked alongside esteemed colleagues and amazing supervisors. I especially learned a lot from conducting detailed diagnostic evaluations and appreciate the training I received in evidence-based treatments. The clinical exposure, supervision from mentors, and didactic education were top notch!
I'll never forget the advice from Dr. Jess P. Shatkin to get a jump start on my career goals during my second-year elective. With that in mind, I chose to do an administrative elective focused on public financing in a city-wide initiative to help child psychiatry clinics in New York City transition to managed Medicaid. This project increased my knowledge base and skill set and also solidified my interest in serving the underserved.
I'm grateful for my time at NYU Langone and my child and adolescent psychiatry training was great preparation for a future in this dynamic field!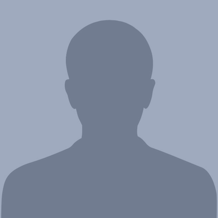 Matthew Biel, MD, MSc
Vice Chair and Division Chief, Child and Adolescent Psychiatry, MedStar Georgetown University Hospital
Associate Professor of Clinical Psychiatry and Pediatrics, Georgetown University School of Medicine
My training at NYC Health + Hospitals/Bellevue and the Child Study Center were instrumental in shaping my career as a child psychiatrist. I was taught to be a prepared, dedicated, and flexible clinician. I learned to work across disciplines and to understand how systems function. I had mentors and role models who opened my eyes to how social justice, public health, and clinical neuroscience can enrich our work with patients and expand opportunities within our field.
I had the opportunities to take on leadership roles in academic child psychiatry immediately following training, and I was ready for those roles because of the rigor and dynamism of my training. I continue to be grateful for the formative experience in NYU Grossman School of Medicine's Child and Adolescent Psychiatry Fellowship and for the exceptional teachers that I learned from as a fellow.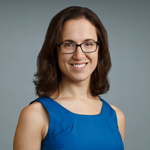 Chief Psychiatrist, the New York Foundling
Clinical Assistant Professor, Department of Child and Adolescent Psychiatry, NYU Langone
I'm deeply grateful for everything that I learned in NYU Grossman School of Medicine's Child and Adolescent Psychiatry Fellowship. I ranked this program first based on the broad clinical training experiences, knowing that in my training I would see everything—acute psychiatric emergencies, tertiary outpatient care, autism, complex trauma, psychosis, and every other diagnosis under the sun—in every treatment context and setting. Other programs may have school-based mental health training, but how many programs have a school in the building?
What I did not anticipate was the nonclinical skills that I would gain at NYU Langone that have since proved deeply valuable as I have moved through my career and which include the following:
knowledge of systems
working within and leading, via direct authority or softer influence, a multidisciplinary team
getting kids and families what they need in different contexts
understanding the social and environmental influences on kids' health
working efficiently
working simultaneously on the individual patient level and on the system level through quality improvement, research, and administrative change
NYU Grossman School of Medicine crafts great clinicians, but it also crafts leaders. I'm grateful and proud to be a graduate of this program.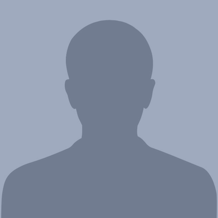 Anna Kerlek, MD
Assistant Clinical Professor in Psychiatry, Nationwide Children's Hospital, The Ohio State University Wexner Medical Center
I always knew that my child and adolescent psychiatry training at NYU Langone and NYC Health + Hospitals/Bellevue was stellar, but I can now say with certainty that it prepared me for my current job more than I could have anticipated. Clinically, I saw an appropriate volume and variety of patients—interesting families and feeling busy but not overwhelmed—that prepared me for the real world.
Currently, as a fellowship training director, I find myself taking all the best parts of my fellowship training at NYU Langone and incorporating it into my own program. There are too many great aspects to describe, and I continue to be thankful for my training.