Department of Medicine Research
Department of Medicine Research Day

Department of Medicine Research Day
NYU Langone's Department of Medicine hosts an annual Research Day to encourage early career investigators, house staff, and medical students to develop and present research in a highly collaborative and supportive scientific environment.
This event celebrates new advances in biomedical research and reinforces longstanding traditions in the Department of Medicine, which was built on the principles of care, support for diversity of thought, and dedication to the process of discovery. Our 19th Annual Research Day is on Wednesday, April 29, 2020, in the Smilow Research Center at 522 First Avenue.
Students, residents, fellows, and junior faculty may apply to present research during our poster sessions using the Research Day Abstract Submission Form. The submission deadline is March 13, 2020.
2020 Research Day Program
Each year our Research Day program features a keynote lecture from an internationally recognized luminary in academic medicine and short oral presentations from NYU Langone faculty and selected trainees about ongoing research.
This year, Judy Cho, MD, Dean of Translational Genetics, Director of the Charles Bronfman Institute for Personalized Medicine, and Professor of Medicine and Genetics and Genomic Sciences at Mount Sinai School of Medicine, discusses her pioneering research on the genetic factors that underly susceptibility to inflammatory bowel disease (IBD).
 
Dr. Cho's laboratory has made importance advances, which include defining the genetic architecture that underlies differentiation of distinct immune cell subsets and differences in the epigenetic landscape of immune cell subsets, as well as their effects in IBD. She is widely recognized for her pioneering research and is a member of the American Society of Clinical Investigation and the National Institutes of Diabetes and Digestive and Kidney Diseases Advisory Council.
Our program also includes over 150 poster presentations from medical students, house staff, fellows, and junior faculty. Senior investigators are available to consult with early career researchers about their projects in a spirit of collegiality.
For questions about our annual Research Day, contact Lilly Sypher, program manager, at lilly.sypher@nyulangone.org.
Medicine Research Day 2019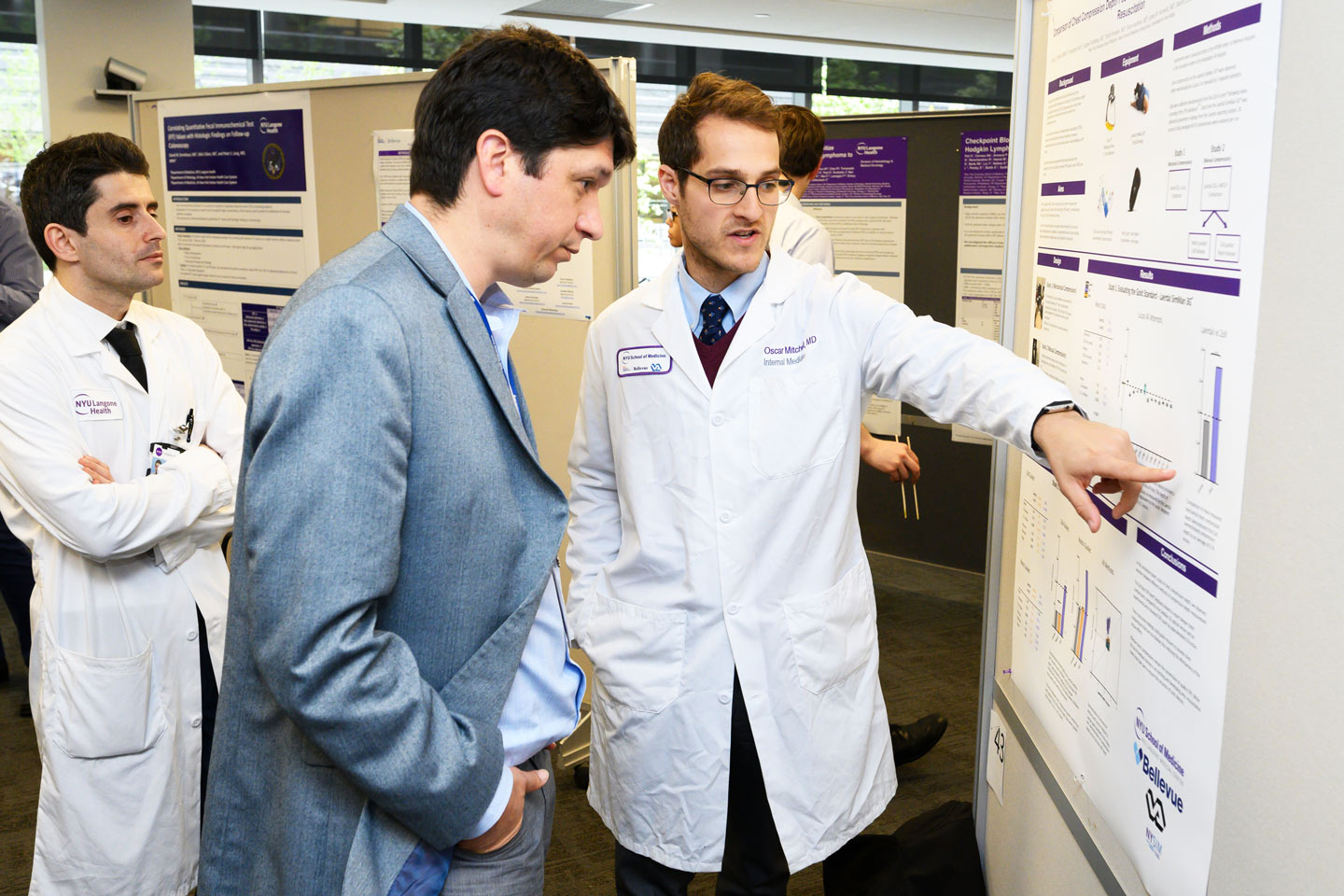 Poster sessions at our annual Research Day give junior members in the Department of Medicine a chance to engage colleagues in scientific discussions about ongoing work.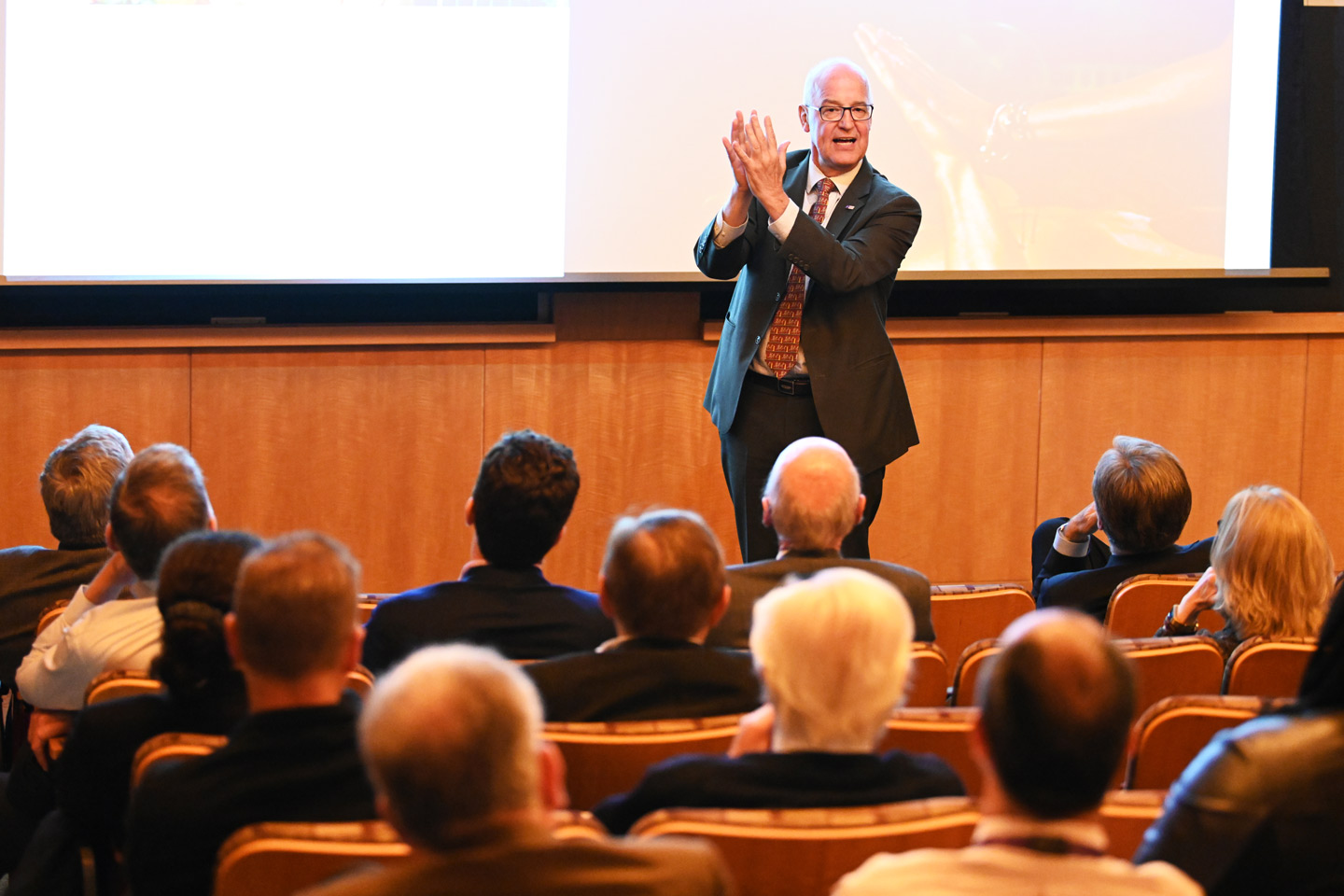 Andrew Hamilton, PhD, president of NYU, gives a featured lecture at the 2019 Department of Medicine Research Day.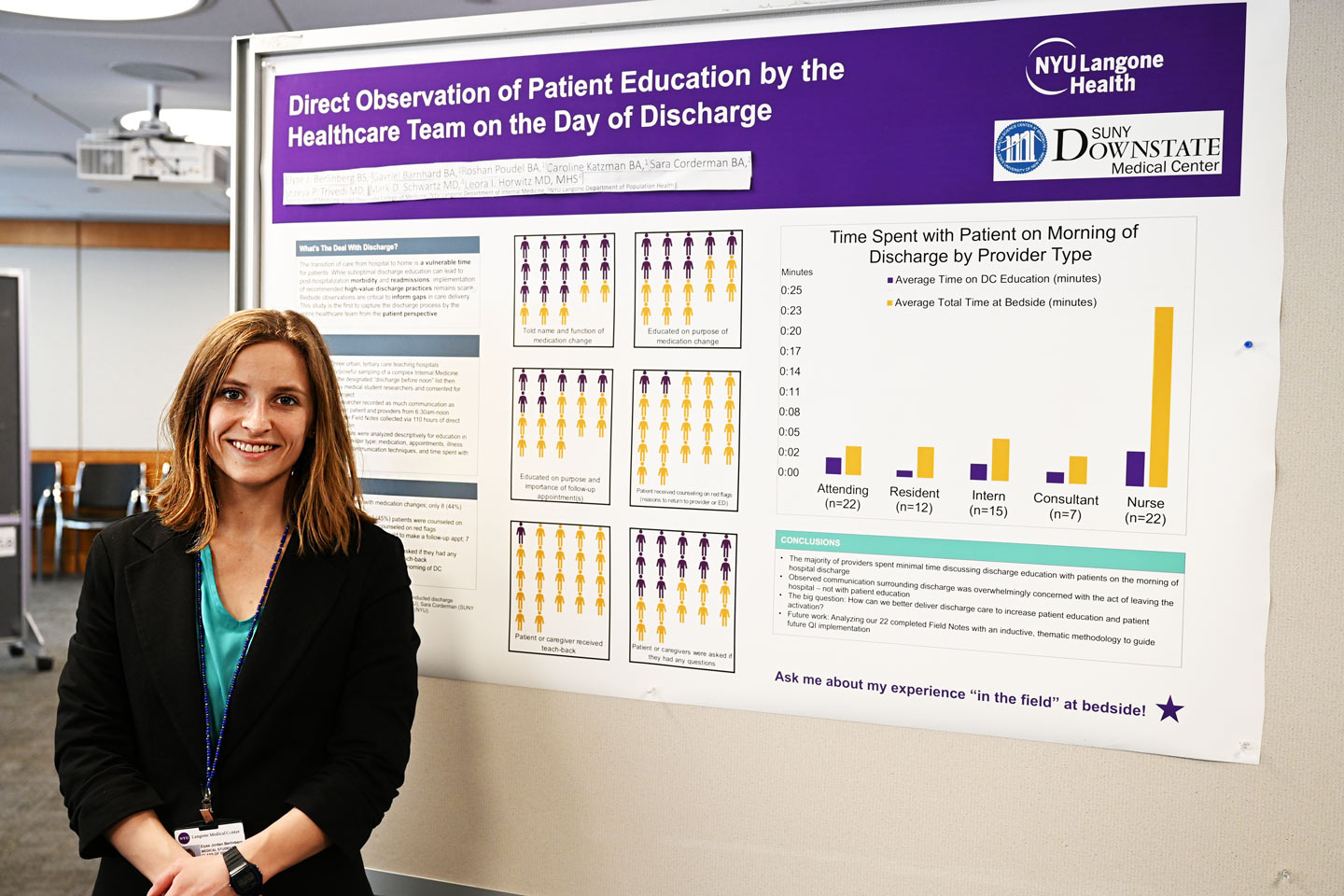 Elyse Berlinberg, a student at NYU School of Medicine, shows her poster at the 2019 Department of Medicine Research Day.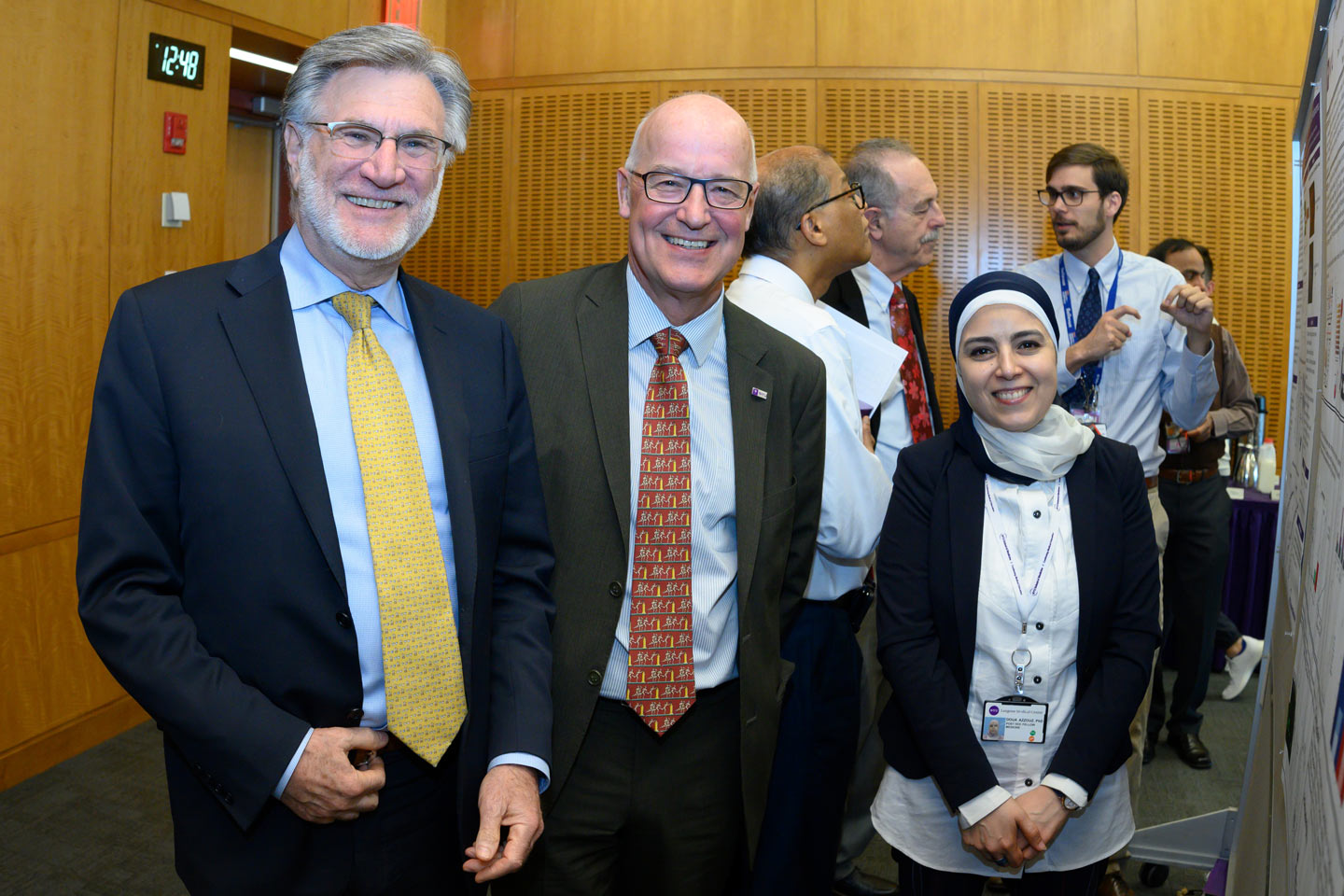 Department of Medicine Chair Dr. Steven B. Abramson and NYU President Andrew Hamilton with Doua Azzouz, a postdoctoral fellow in the Division of Rheumatology, at a Research Day poster session.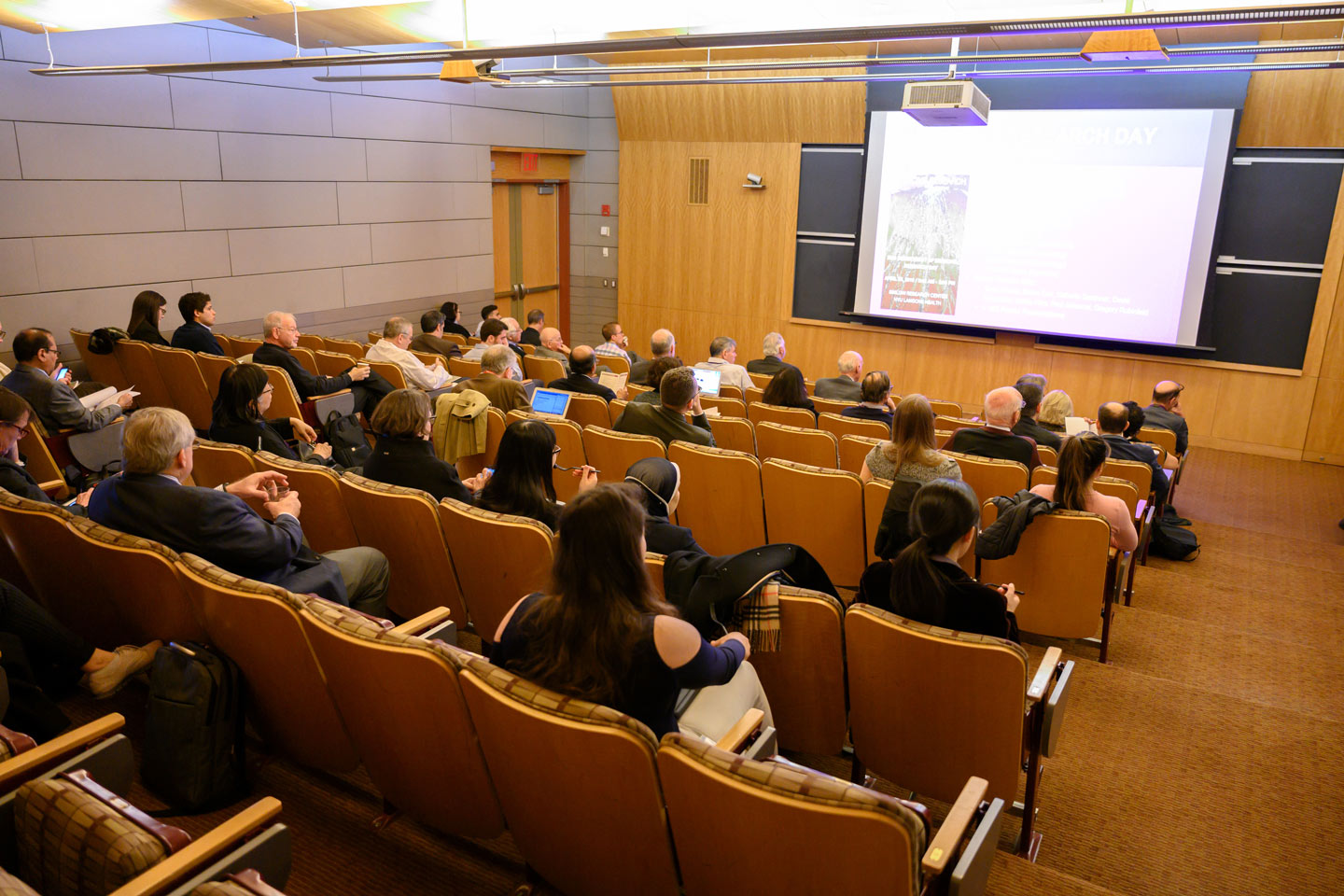 Attendees watch a presentation at the 2019 Department of Medicine Research Day.