Division of Sports Medicine
Sports Medicine Fellowship

Sports Medicine Fellowship
NYU Langone's Division of Sports Medicine offers a one-year fellowship that provides rigorous subspecialty training in arthroscopic and open reconstructive sports surgery. The fellowship is accredited by the Accreditation Council for Graduate Medical Education (ACGME) for two positions.
Our fellows are important members of our team, who are dedicated to the care of people with athletic injuries of both the upper and lower extremities. Fellows' core responsibilities include participating in weekly office hours and assisting in both basic and advanced arthroscopic and open surgical procedures. Fellows also lead weekly journal club meetings; assist with on-field coverage for local high school, collegiate, and professional athletic events; and participate in ongoing research projects and multimedia video presentations.
Sports Medicine Fellowship Objectives
We accept two fellows a year. As a fellow in our program, you are assigned to a service, rotating with the other fellow at three-month intervals. You each complete a total of six months on each service. Our goal is to train you to become highly proficient in evaluating and treating sports injuries in the clinic, on the playing field, and in the training room, and to equip you with the surgical skills to address these problems.
Sports Medicine Fellowship Curriculum
As a fellow, you take on clinical responsibilities in operating rooms and outpatient settings and at athletic events. You also participate in educational conferences and are engaged in ongoing clinical and basic science research projects.
Clinical Responsibilities
Attending physicians and fellows share preoperative, operative, and postoperative care responsibilities for the people we treat. Under supervision of the attending orthopedic surgeon, fellows assist in the care of patients in the operating room, private offices, and clinics. During office hours, fellows learn correct surgical indications, participate in post-operative management, and engage in office-based procedures such as ultrasound-guided injections, as well as perform biologic injections including platelet rich plasma (PRP), bone marrow concentrate, and liposuction for adipose-derived mesenchymal stem cell injections.
Operative Cases
Surgical cases are performed at NYU Langone Orthopedic Hospital, NYU Langone Outpatient Surgery Center, and the Joan H. and Preston Robert Tisch Center at Essex Crossing.
Surgical experience increases as you move through your fellowship. Fellows assist in more than 800 surgical cases that entail the following procedures:
matrix-induced autologous chondrocyte implantation
osteochondral allograft transplantation
osteochondral autograft transfer system
high tibial, tibial tubercle, and distal femoral osteotomy of the knee
meniscus transplantation and all joint preservation procedures
elbow ligament reconstruction and cartilage transplant procedures
hip, knee, ankle, shoulder, and elbow arthroscopy
ankle cartilage transplantation and ligament reconstruction
arthroscopic Latarjet procedures for shoulder reconstruction
complex hip reconstruction, including complex arthroscopic hip labral reconstruction procedures
complex shoulder reconstruction, including open Latarjet procedures and open shoulder allograft reconstruction
pediatric sports medicine procedures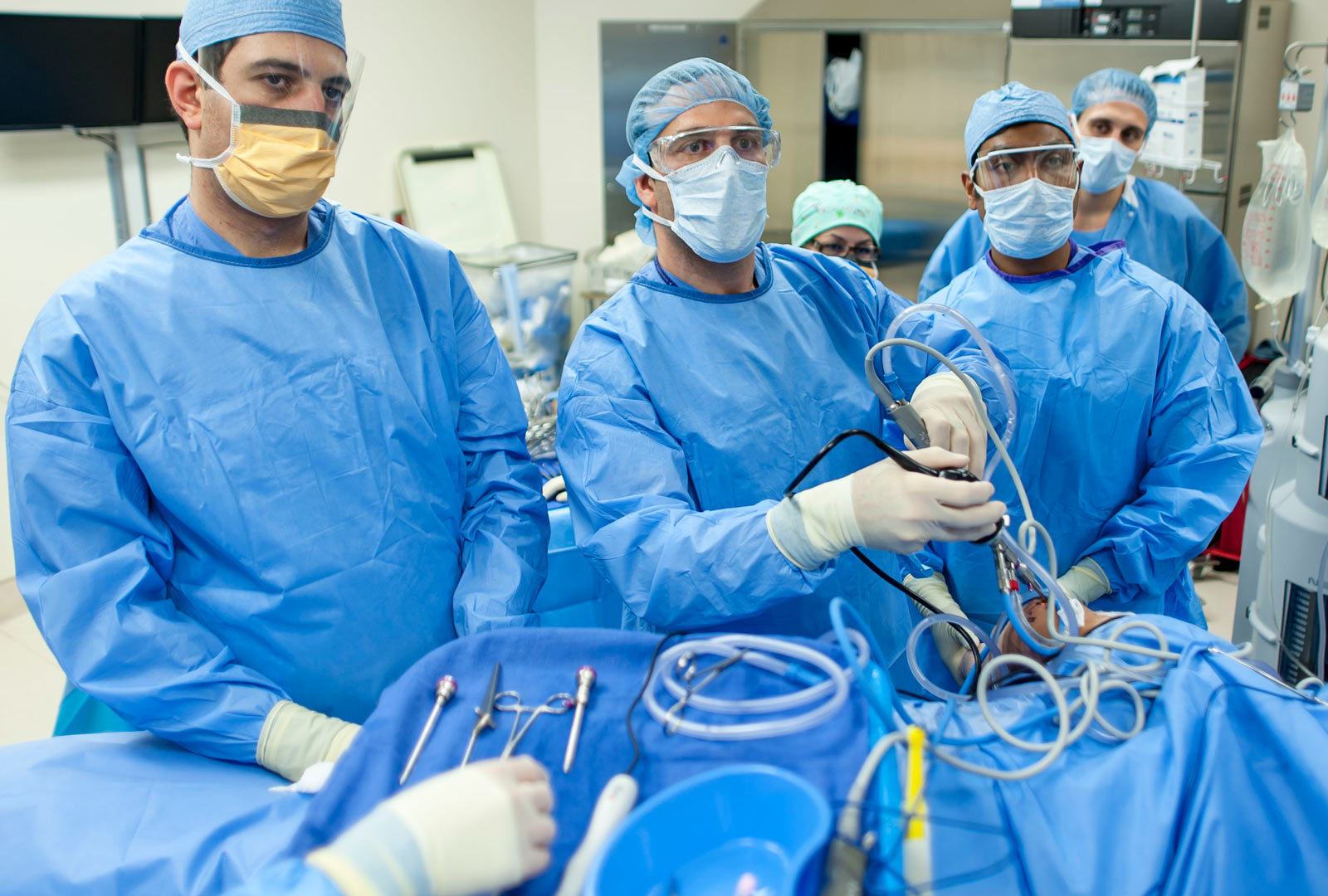 Athletic Event Coverage
Under the supervision of Dennis A. Cardone, DO, fellows provide coverage at athletic events and in training rooms for Division I athletics at Long Island University and Division III athletics at NYU. In addition, under the supervision of Kevin M. Kaplan, MD, head team physician for the Jacksonville Jaguars of the National Football League (NFL), fellows participate in covering the NFL Scouting Combine, preseason training camp, and regular season games.
Conferences Requirements
The department covers your attendance at one national conference per year, such as the annual meeting of the American Academy of Orthopaedic Surgeons (AAOS), the American Orthopaedic Society for Sports Medicine (AOSSM), the American Shoulder and Elbow Surgeons (ASES), or the Arthroscopy Association of North America (AANA). Before starting the fellowship, all fellows attend the AOSSM Fellow's Course, held at the Orthopedic Learning Center in Chicago.
Research Activities
Research is an important component of our fellowship program. You are required to complete at least three clinical or basic science research projects during the year. This is in addition to a mandatory video submission, per the American Academy of Orthopaedic Surgeons' guidelines. Projects are assigned according to your specific interests in the field.
Clinical research involves ongoing protocols and independent studies on different aspects of sports medicine. Basic science research is usually prepared in conjunction with the department's Musculoskeletal Research Center. One project is selected for presentation to the department during the fellows' June research presentations.
Sports Medicine Fellowship Schedule
As a fellow, your daily activities revolve around the schedule of our operating rooms, clinics, practice offices, conferences, Surgical Skills Lab, and research lab. Each rotation block switches every three months. Although you have no in-house or home-call assignments, you are expected to manage postoperative issues with surgical patients after hours and under the supervision of the attending physician. You are also expected to cover athletic team events on nights and weekends.
How to Apply
If you have specific questions about the terms and conditions of employment in our ACGME-accredited fellowship program, please contact Jewel Winters, our fellowship coordinator, at 212-598-6704 or jewel.winters@nyulangone.org.
Learn more about graduate medical education at NYU Grossman School of Medicine, and access information for incoming house staff.