Division of Sports Medicine
Sports Medicine Fellowship

Sports Medicine Fellowship
NYU Langone's Division of Sports Medicine offers a one-year fellowship under the direction of fellowship directors Laith M. Jazrawi, MD, professor and chief of the Division of Sports Medicine, and Michael J. Alaia, MD, associate professor and director of continuing medical education (CME). Our fellowship provides rigorous subspecialty training in arthroscopic and open reconstructive sports surgery, and is accredited by the Accreditation Council for Graduate Medical Education (ACGME) for three positions.
Our fellows are important members of our team, who is dedicated to the care of people with athletic injuries of both the upper and lower extremities. Fellows' core responsibilities include participating in weekly office hours and assisting in both basic and advanced arthroscopic and open surgical procedures. Fellows also lead and participate in multiple weekly academic conferences; assist with on-field coverage for local high school, collegiate, and professional athletic events; and participate in ongoing research projects and multimedia video presentations.
Fellows are expected to devote their year to obtaining the maximum amount of education possible for the short period of time that they are part of our division. One of the most valuable aspects of our fellowship is the unity and collegiality of the faculty, trainees, and staff. We believe that the best way to educate is by example, and we take a tremendous amount of pride in not only the quality of care we provide to our patients but also in the manner in which we accomplish this: with humility, humor, teamwork, and fun.
Our main goal is to provide our fellows with the best year of their training, from both the surgical and personal standpoints. We expect our fellows to graduate with a passion for sports medicine and become an ambassador not only for NYU Langone but also for our field.
Sports Medicine Fellowship Objectives
We accept three fellows a year. As a fellow in our program, you are assigned to a service, rotating with the other fellows at two-month intervals. Trainees complete a total of four months on each service. Our objective is to train you to become highly proficient in evaluating and treating sports injuries in the clinic, on the playing field, and in the training room, and to equip you with the surgical skills to address these problems. Additionally, we aim to train the highest-quality physicians who will serve as ambassadors and future pioneers of our field.
Sports Medicine Fellowship Faculty
The faculty in the Division of Sports Medicine are dedicated to fellowship training, education, and advocacy. The faculty represent a wide array of subspecialization, including complex knee reconstruction and joint preservation, hip preservation, shoulder and elbow reconstruction, women's and pediatric sports medicine, and team coverage. The cases you are exposed to represent complex depth and breadth, ranging from straightforward cases to tertiary cases referred from throughout the country.
Laith M. Jazrawi, MD
Chief of Sports Medicine and Sports Fellowship Co-Director
Clinical interests: complex shoulder reconstruction, knee joint preservation surgery and biologic therapies, and the throwing elbow
Michael J. Alaia, MD
Director of CME and Sports Fellowship Co-Director
Clinical interests: multi-ligament knee reconstruction and knee dislocation, revision ACL surgery, and joint preservation
Eric J. Strauss, MD
Residency Director and Director of Sports Research
Clinical interests: joint preservation, cartilage surgery, and meniscus repair and transplantation
Andrew S. Rokito, MD
Chief of Division of Shoulder and Elbow Surgery
Clinical interests: bone loss in shoulder instability, biologic augmentation of rotator cuff repair, and outcome optimization through evidence-based ethical practice
Thomas Youm, MD
Director of Hip Preservation and Research
Clinical interests: intra- and extra-articular (hamstring, abductors, nerve release) hip arthroscopy procedures, hip labrum repair and reconstruction, and joint preservation
Brandon Erickson, MD
Team physician, Philadelphia Phillies
Clinical interests: treatment of thrower's shoulder and elbow, shoulder reconstruction and replacement
Andrew J. Feldman, MD
Co-director, NYU Langone's Hockey Center
Clinical interests: complex shoulder reconstruction, articular cartilage and reconstruction, and biologics
Robert J. Meislin, MD
Clinical interests: arthroscopic Latarjet, superior capsule reconstruction/bridging allograft reconstruction, and hip labrum reconstruction
Guillem Gonzalez-Lomas, MD
Head Team Physician, Metropolitan Riveters
Clinical interests: hip arthroscopy, extra-articular hip disorders, and cartilage preservation
John G. Kennedy, MD
Chief, Division of Foot and Ankle Surgery
Clinical interests: biologics, needle arthroscopy, and cartilage and ankle joint preservation
Kevin M. Kaplan, MD
Medical Director, Jacksonville Jaguars
Mandeep S. Virk, MD
Chief, Division of Shoulder and Elbow
Clinical and research interests: partial, total, reverse, and computer-navigated shoulder replacements as well as arthroscopic rotator cuff repairs and labral repairs
Sports Medicine Fellowship Curriculum
As a fellow, you take on clinical responsibilities in operating rooms and outpatient settings and at athletic events. You also participate in educational conferences and are engaged in ongoing clinical and basic science research projects.
Clinical Responsibilities
Attending physicians and fellows share preoperative, operative, and postoperative care responsibilities for the people we treat. Under supervision of the attending orthopedic surgeon, fellows assist in the care of patients in the operating room, private offices, and clinics. During office hours, fellows learn correct surgical indications, participate in post-operative management, and engage in office-based procedures such as ultrasound-guided injections, as well as perform biologic injections including platelet rich plasma (PRP), bone marrow concentrate, and liposuction for adipose-derived mesenchymal stem cell injections.
Operative Cases
One of the benefits of being a fellow at a tertiary care center that treats a diverse patient population is exposure to a significant number and breadth of surgical cases. These cases are most commonly from the New York City area, but many are referred to us from the Northeast and the rest of the United States, underscoring the tremendous complexity our fellows are exposed to.
Surgical cases are performed at NYU Langone Orthopedic Hospital, NYU Langone Outpatient Surgery Center, and the Joan H. and Preston Robert Tisch Center at Essex Crossing.
Surgical experience increases as you move through your fellowship, consistent with the educational goals of the division. Fellows assist in more than 600 to 700 surgical cases that encompass the following procedures:
matrix-induced autologous chondrocyte implantation
osteochondral allograft transplantation and OATS
high tibial, tibial tubercle, biplanar, and distal femoral osteotomy of the knee
patellar stabilization
meniscus transplantation and joint preservation procedures
single- and two-staged revision ACL and multi-ligamentous knee reconstruction
elbow arthroscopy
elbow ligament reconstruction and cartilage transplant procedures
ankle cartilage transplantation and ligament reconstruction
arthroscopic and open Latarjet/bone augmentation for shoulder instability
superior capsule reconstruction
complex hip reconstruction, including labrum repair and reconstruction, endoscopic hamstring and abductor repairs, and deep gluteal space syndromes
pediatric sports medicine procedures
ankle arthroscopy, reconstruction, and cartilage transplantation
Typical case volumes include the following averages based on fellows' logs from prior years:
primary and revision ACL reconstruction: 122 cases
multi-ligament knee reconstruction: 18 cases
high tibial/distal femoral osteotomy: 34 cases
osteochondral allograft/MACI: 30 cases
meniscal allograft transplantation: 10 cases
open and arthroscopic shoulder reconstruction for instability/bone block: 15 to 20 cases
hip arthroscopy, including endoscopic abductor repairs, labrum reconstructions, ischiofemoral impingement, sciatic neurolysis, and hamstring repairs: 60 cases
Total current procedural terminology (CPT) codes for the fellow can approach the following:
knee: 520
shoulder: 375
elbow: 55
hip: 245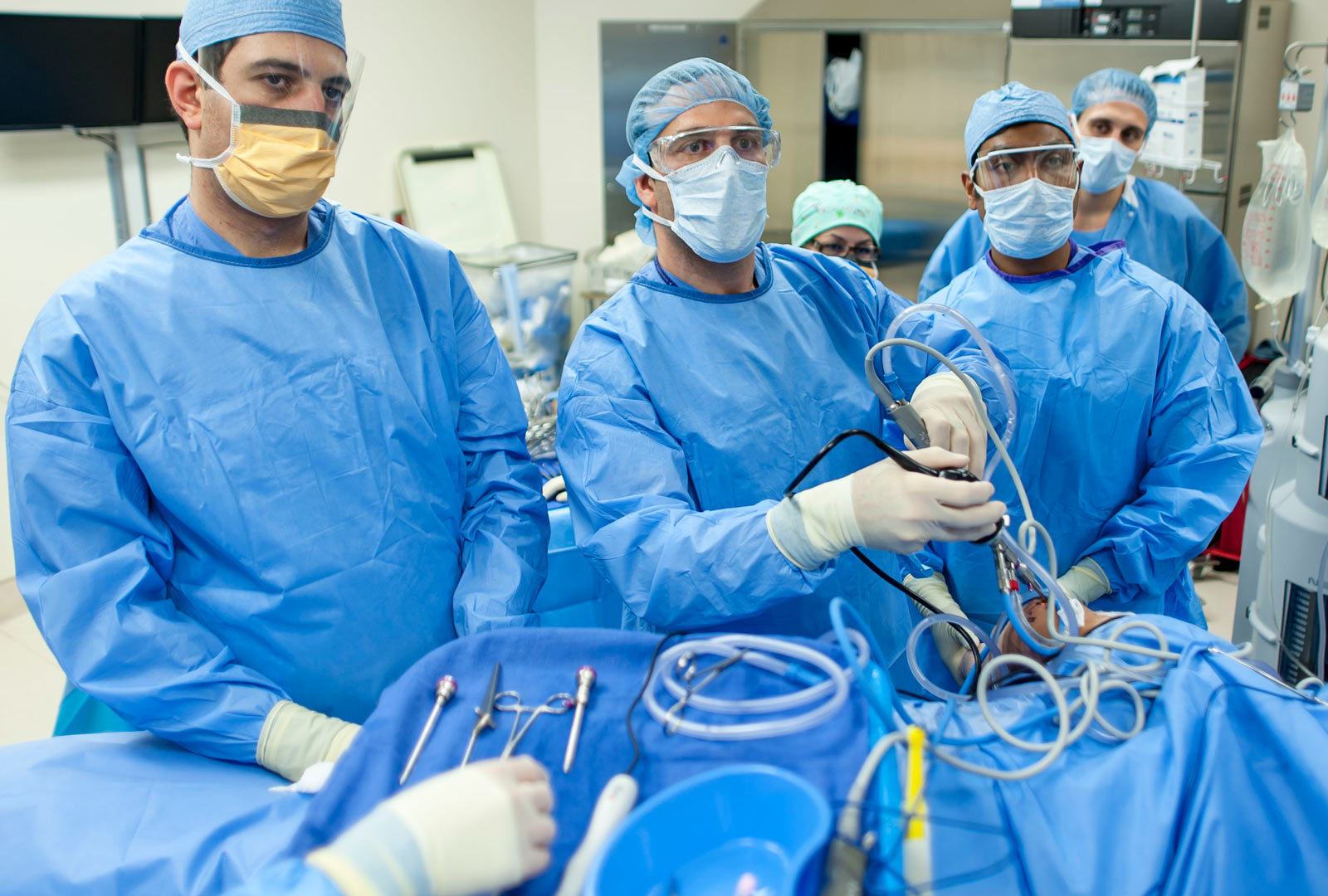 Athletic Event Coverage
Under the supervision of Dennis A. Cardone, DO, fellows provide coverage at athletic events and in training rooms for Division I athletics at Long Island University and Division III athletics at NYU. In addition, under the supervision of Kevin M. Kaplan, MD, head team physician for the Jacksonville Jaguars of the National Football League (NFL), fellows participate in covering the NFL Scouting Combine, preseason training camp, and regular season games. Our fellows also work closely with the chief medical officer of the New Jersey Devils professional hockey club, attending games, providing locker room care, and attending preseason/exit physicals. You also have the option of participating in the coverage of the U.S. Ski and Snowboard Team, under the supervision of Lauren E. Borowski, MD, a member of the Division of Primary Care Sports Medicine and head physician of the U.S. Ski Jump World Cup Team.
Conference Requirements
The department covers your attendance at one national conference per year, such as the annual meeting of the American Academy of Orthopaedic Surgeons (AAOS), the American Orthopaedic Society for Sports Medicine (AOSSM), the American Shoulder and Elbow Surgeons (ASES), or the Arthroscopy Association of North America (AANA). Before starting the fellowship, all fellows attend the AOSSM Fellow's Course, held at the Orthopedic Learning Center in Chicago. Additionally, our fellows routinely take part in industry-sponsored fellowship educational events, such as lectureships.
Research Activities
Research, led by the expertise of Eric J. Strauss, MD, is an important component of our fellowship program. Our faculty are devoted to academic growth and lifelong learning. During the 2019–20 academic year, our division has published 60 peer-review manuscripts with another 30 to 40 pending. Many additional publications were completed in inter-divisional endeavors, such as those involving leadership, education, quality improvement, and diversity.
Our presence is often heavily felt at the AAOS, AANA, and AOSSM annual meetings, in research presentations, symposia, technology, and instructional course lectures. The division has, at any point, well over 150 ongoing projects.
Fellows are required to complete at least three clinical or basic science research projects during the year. However, you have the opportunity to complete more if you choose to do so. This is in addition to a mandatory video submission with the assistance of department videographer Dylan Lowe, MD, per the American Academy of Orthopaedic Surgeons' guidelines. Fellows have a breadth of opportunity to take part in research in conjunction with their own clinical interests.
Clinical research involves ongoing protocols, multicenter trials, and independent studies on different aspects of sports medicine. Basic science research is usually prepared in conjunction with the department's Musculoskeletal Research Center. One project is selected for presentation to the department during the fellows' June research presentations.
We strongly encourage our fellows to acquire significant expertise in the topics of their choice. Fellows are responsible for two lectures per year, for the Sports Medicine Grand Rounds.
Sports Medicine Fellowship Schedule
As a fellow, your daily activities revolve around the schedule of our operating rooms, clinics, practice offices, conferences, Surgical Skills Lab, and research lab. Each rotation block switches every two months.
Although you have no in-house or home-call assignments, you are expected to manage postoperative issues with surgical patients after hours and under the supervision of the attending physician. You are also expected to cover athletic team events on nights and weekends for the Jaguars and Devils. In addition, there are training room and athletic events responsibilities for NYU (Division III) and Long Island University (Division I) athletics.
Our academic conference schedule is robust, including three conferences per week consisting of the following:
Mondays: case conference, lectures, morbidity and mortality conference, and indications conference
Tuesdays: arthroscopic skills lab (every other week)
Wednesdays: department grand rounds
Fridays: research meetings and select lectureships
Sports Medicine Fellows
Ian Savage Elliott
Dr. Elliott hails from New Haven, Connecticut, and received his medical degree from the Royal College of Surgeons in Ireland. He completed his orthopedic surgery residency at Tulane University, where he was named a resident scholar and an American Orthopaedic Association (AOA) Emerging Leader, and worked as an assistant team physician for the New Orleans Gold Major League rugby team. He completed an orthopedic foot and ankle fellowship at Washington University in St. Louis. He is passionate about all aspects of sports medicine, having previously competed as a collegiate All-American Rugby 7s player and international Rugby League athlete.
Andrew Hughes
Dr. Hughes graduated from the University College Dublin School of Medicine in Ireland and completed postgraduate surgical training in the Royal College of Surgeons in Ireland on the Core Surgical Training Scheme, and the Irish National Higher Specialty Training Scheme (residency program) in trauma and orthopedic surgery. He then completed a fellowship in pelvic and lower extremity reconstruction at the Rothman Orthopaedic Institute in Philadelphia. His research has been presented internationally and published throughout top peer-reviewed musculoskeletal scientific journals. As a keen rugby player throughout his medical and orthopedic training, he developed an interest in anatomy, physiology, and biomechanics, most notably recognizing the challenges facing the adolescent and young adult population when returning to sports post injury.
How to Apply
If you have questions about the terms and conditions of employment in our ACGME-accredited fellowship program, please contact Karina Rustia, MBA, our fellowship coordinator, at 212-598-2783 or karina.rustia@nyulangone.org.
Learn more about graduate medical education at NYU Grossman School of Medicine, and access information for incoming house staff.