Department of Orthopedic Surgery Education
We offer the largest orthopedic residency program in the country and fellowships in key subspecialties.

Led by residency program director Eric J. Strauss, MD, and associate residency program directors Mara Karamitopoulos, MD, and Ran Schwarzkopf, MD, the educational programs at NYU Langone's Department of Orthopedic Surgery are among the most sought after in the United States. Our orthopedic surgery residency program is the oldest, largest, and one of the most prestigious in the country, providing comprehensive academic education and surgical training. With the size and breadth of our department and clinical faculty, we also offer fellowship training in key subspecialties including adult reconstructive surgery, spine surgery, sports medicine, hand surgery, pediatric orthopedics surgery, and shoulder and elbow surgery. Additionally, educational opportunities are available for undergraduate students, medical students, and visiting orthopedic surgeons from the United States and around the world.
The goals of our residency and fellowship training programs are to provide surgeons with the tools to master the rigors of clinical practice and stay on the cutting edge with innovative techniques and technologies, to introduce students and trainees to the principles of sound orthopedic science and academic medicine, and above all to provide an extensive patient care experience in the operating room, emergency room, and various outpatient settings.
Along the way, the education, training, and support that we provide enable our residents and fellows to grow and develop the skills necessary to become leaders in our field. This is accomplished in an environment that promotes a broad range of experiences covering each of the orthopedic subspecialties in a variety of clinical care settings.
Surgical Skills Lab
A chief component of our program is ensuring that our trainees develop psychomotor surgical skills both in the operating room and at our state-of-the-art Surgical Skills Lab. Here, we hold surgical instruction sessions on open and arthroscopic techniques and perform research studies and surgical anatomy dissections. The skills lab is equipped with fully functional stations that can be operated simultaneously. Each station has its own set of arthroscopic equipment, including arthroscopes, shavers, pumps, and suction equipment. The lab can accommodate arthroscopic procedures of the shoulder, elbow, hip, knee, or ankle. Several types of open procedures can also be performed.
The Surgical Skills Lab is primarily utilized by the residents, fellows, and attending staff within the Department of Orthopedic Surgery, but it is also available to outside surgeons for training and implant companies for use in product development and validation.
Telecasts of live demonstrations with two-way audio can be viewed in Loeb Auditorium, located on the first floor of NYU Langone Orthopedic Hospital, as well as in conference rooms throughout the hospital and streamed online. Continuing medical education (CME) credit courses held at NYU Langone Orthopedic Hospital have featured these surgical demonstrations, providing course participants the opportunity to see cutting-edge procedures performed in real time.
Our department is a national leader in virtual reality (VR) training for residents and fellows. Our residents are able to rehearse surgical procedures using one of two VR systems: an adult reconstruction–dedicated VR system in which they train for total hip and knee replacements, and 10 VR headsets and a surgical simulator program that residents can use at home. This is part of our department's ongoing VR educational program.
If you have questions, please contact Bernadette James, Surgical Skills Lab coordinator, at bernadette.james@nyulangone.org.
Contact Us
For more information about our educational offerings, please contact Randie Godette, MS, senior residency program coordinator, at 212-598-6509 or randie.godette@nyulangone.org.
Our 2020 Orthopedic Surgery Graduate Medical Education brochure also provides additional information.
Learn more about graduate medical education at NYU Grossman School of Medicine.
Orthopedic Digital Library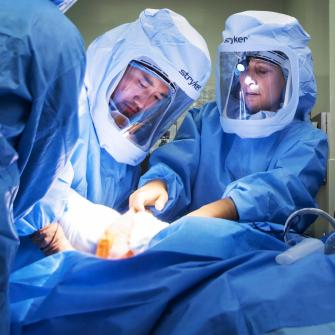 Continuing Medical Education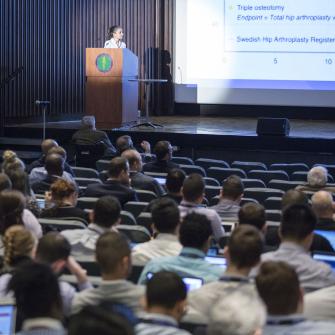 Visiting International Physician's Program