Department of Orthopedic Surgery Education
We offer the largest orthopedic residency program in the country and fellowships in key subspecialties.

Led by Kenneth A. Egol, MD, vice chair for education and residency program director, and Eric J. Strauss, MD, associate residency program director, the educational programs in NYU Langone's Department of Orthopedic Surgery include the oldest, largest, and one of the most prestigious residency training programs in the country, as well as fellowship opportunities in many of the major orthopedic subspecialties. We also offer educational opportunities for undergraduate students, medical students, and visiting orthopedic surgeons from the United States and around the world.
The goals of our residency and fellowship training programs at NYU Grossman School of Medicine are to provide surgeons with the tools to master the rigors of clinical practice, to introduce students and trainees to the principles of sound orthopedic science, and to provide extensive patient care experience in the operating room, emergency room, and various outpatient settings.
Along the way, the support and training we provide enable individuals to grow and to develop the skills they need to become leaders in our field. We do this in an environment that promotes a broad range of experiences across the main orthopedic subspecialties.
Surgical Skills Lab
A chief component of our program is helping trainees develop psychomotor surgical skills at our state-of-the-art Surgical Skills Lab. Here, we hold surgical instruction sessions on open and arthroscopic techniques and perform research studies and anatomy dissections. The lab is equipped with fully functional stations that can be operated simultaneously. Each station has its own set of arthroscopic equipment, including arthroscopes, lights, shavers, pumps, and suction equipment. The lab can accommodate arthroscopic procedures of the shoulder, elbow, hip, knee, or ankle. Several types of open procedures can also be performed.
Trainees can view multiple images on any of the screens in the lab with a master touch screen. This allows them to see comparative images while inside a joint or have an inside view of a procedure being performed by a surgeon who can be observed via an external wall camera. The lab is also equipped for still-image and video recording during surgical procedures.
The Surgical Skills Lab is reserved for use by residents, fellows, and attending staff in the Department of Orthopedic Surgery. That said, companies that manufacture orthopedic surgical instruments and other equipment have used the lab, by request, to introduce new products and to further develop surgical techniques with existing products.
Telecasts of live demonstrations with two-way audio can be viewed in Loeb Auditorium, located on the first floor of NYU Langone Orthopedic Hospital, as well as in conference rooms throughout the hospital, allowing more surgeons to participate. Continuing medical education credit courses held at NYU Langone Orthopedic Hospital have featured these real-time cadaver demonstrations.
If you have questions, please contact David Bloom, Surgical Skills Lab coordinator, at david.bloom@nyulangone.org.
News and Events
Congratulations to our newest interns from Match Day 2019:
Matthew Abola, Case Western Reserve University
Utkarsh Anil, NYU Grossman School of Medicine
Andrew Bi, Northwestern University Feinberg School of Medicine
Christopher Colasanti, Michigan State University College of Human Medicine
Babatunde Fariyike, Medical College of Georgia
Nina Fisher, NYU Grossman School of Medicine
Nathan Jia, NYU Grossman School of Medicine
Noah Kirschner, Albert Einstein College of Medicine
Jaclyn Konopka, Stanford School of Medicine
Oluwatomi Lanre-Amos, University of California, San Francisco, School of Medicine
Charles Lin, University of California, Irvine, School of Medicine
William Neal, University of Illinois College of Medicine
Stephane Owusu-Sarpong, Albany Medical College
Hayley Sacks, Joan and Sanford I. Weill Medical College of Cornell University
Contact Us
For more information about our educational offerings, please contact Randie Godette, MS, senior residency program coordinator, at 212-598-6509 or randie.godette@nyulangone.org.
Learn more about graduate medical education at NYU Grossman School of Medicine.
Orthopedic Digital Library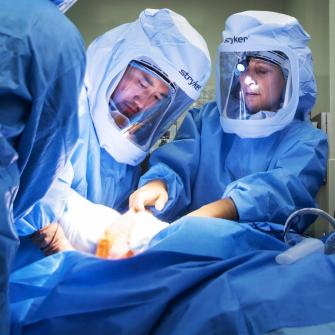 Continuing Medical Education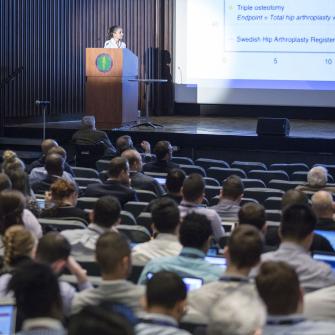 Visiting International Physician's Program