Children's Health & Environment Study
For Prospective Children's Health & Environment Study Participants

For Prospective Children's Health & Environment Study Participants
Our research team in the Division of Environmental Pediatrics is looking for women who are pregnant to participate in our Children's Health and Environment Study (CHES). As a study participant, you partner with our physicians and researchers, whose mission is to protect children by learning as much as they can about how the environment affects health and development.
If you participate in CHES while you are pregnant, you are eligible to continue to participate after you give birth as part of the National Institutes of Health Environmental influences on Child Health Outcomes (ECHO) program.
What to Expect as a Study Participant
While you are pregnant, you participate in the study during four of your regular prenatal visits. In each of these visits, we collect biological samples. We do not use needle sticks or uncomfortable procedures. We also ask you a few questions about your lifestyle and health. You may answer these questions in person or online.
Prenatal study visits occur on the following timeline:
at or before 18 weeks of pregnancy
between 18 and 25 weeks of pregnancy
after 25 weeks of pregnancy
at birth
If you decide to continue to participate in the study as part of the ECHO program after your baby is born, we will connect with you six times during the first two years of your baby's life.
On three of these occasions, we ask you questions about your child's diet, development, recent illnesses and medications, and your home environment. All interviews can be conducted by phone or online, unless you and the research staff agree to have an interview in person.
We will also call you when your baby is 15 months old to update your contact information. This phone call should take no more than a few minutes.
On two occasions, we ask you to come with your baby to NYU Langone for an in-person visit. During these visits, you complete an interview and a survey about the foods your child is eating. We measure your height, weight, blood pressure, and the skin thickness on the back of your arm, as well as the percentage of muscle, fat, and water in your body. In addition, you provide a urine sample.
We also measure your child's length, weight, head size, the skin thickness on the back of his or her arm, and muscle and fat percentage, and collect a small amount of urine.
The postnatal study timeline is as follows:
4 months old: 30-minute phone or online interview
8 months old: 30-minute phone or online interview
12 months old: 90-minute in-person visit
15 months old: brief phone call to update contact information
18 months old: 30-minute phone or online interview
24 months old: 90-minute in-person visit, similar to the one at 12 months
Protecting Your Personal Medical Information
As a study participant, we ask for your permission to collect medical record data from your and your child's visits with healthcare providers at NYU Langone Health and NYC Health + Hospitals locations. This information helps researchers identify any associations between your health and potential environmental exposures.
NYU Langone is committed to protecting the privacy and confidentiality of your health information.
Participant Recruitment Locations
Study participants (and their infants) may be recruited from NYU Langone's Tisch Hospital, NYU Langone Hospital—Brooklyn, and NYC Health + Hospitals/Bellevue.
Compensation and Costs
You will be paid $30 for each online or phone interview completed at 4, 8, and 18 months, and $150 to $200 for each completed in-person visit at 12 and 24 months. You will also be given an MTA MetroCard to compensate you for your travel by public transportation to and from the study site.
There is no cost to you to participate in the study. Your regular medical care and your child's pediatric care will be billed as usual by your providers.
Length of Your Participation
Your participation in CHES is expected to last two years, from your child's birth to age two. There may be opportunities to extend your participation over a longer period of time.
If you decide to participate, you are free to leave the study at any time. Leaving the study will not affect your future healthcare, payment for your healthcare, or your eligibility for healthcare benefits.
For general information about participating in a research study at NYU Langone, see our resources for prospective and current study participants and our participant bill of rights.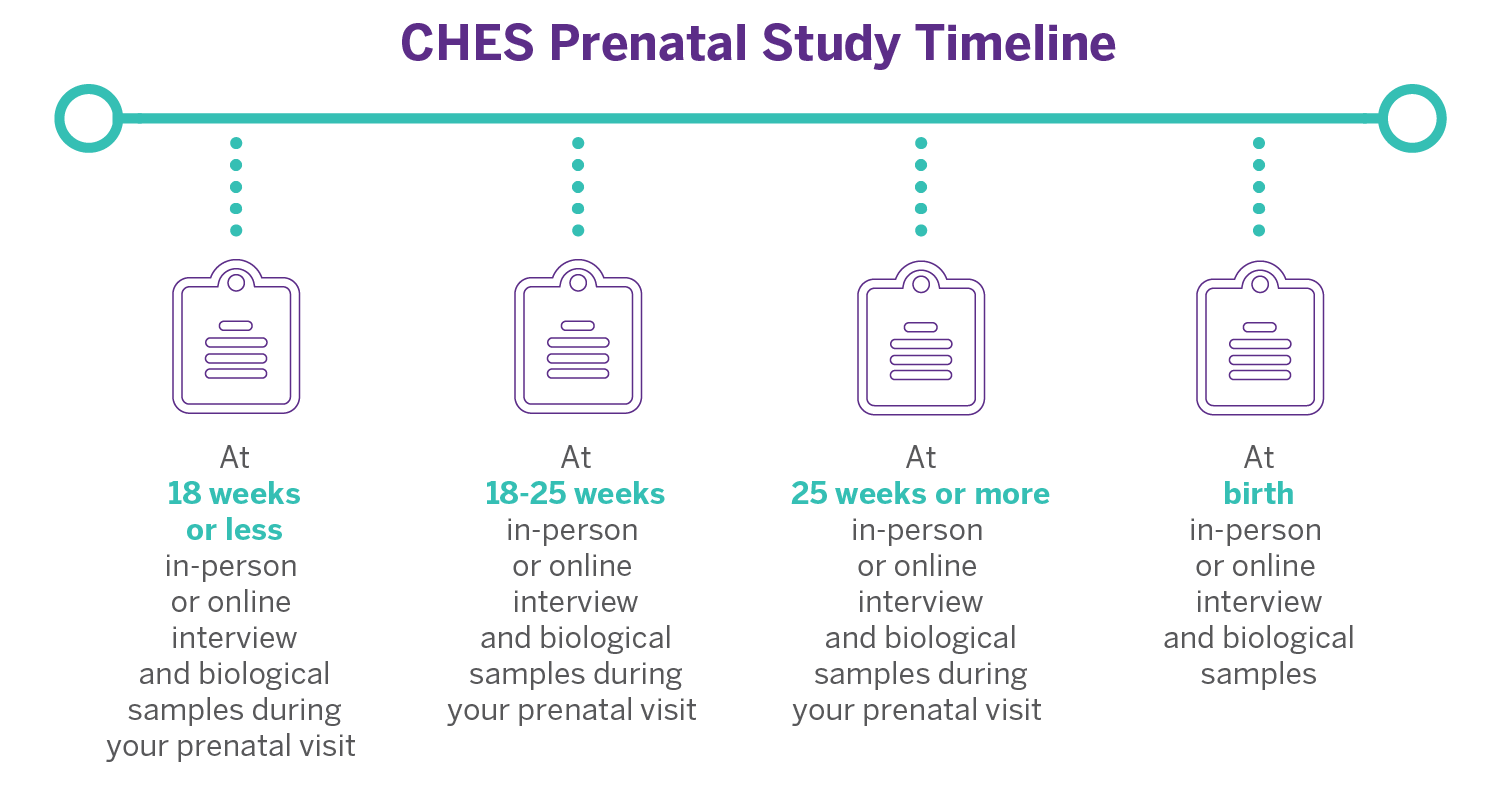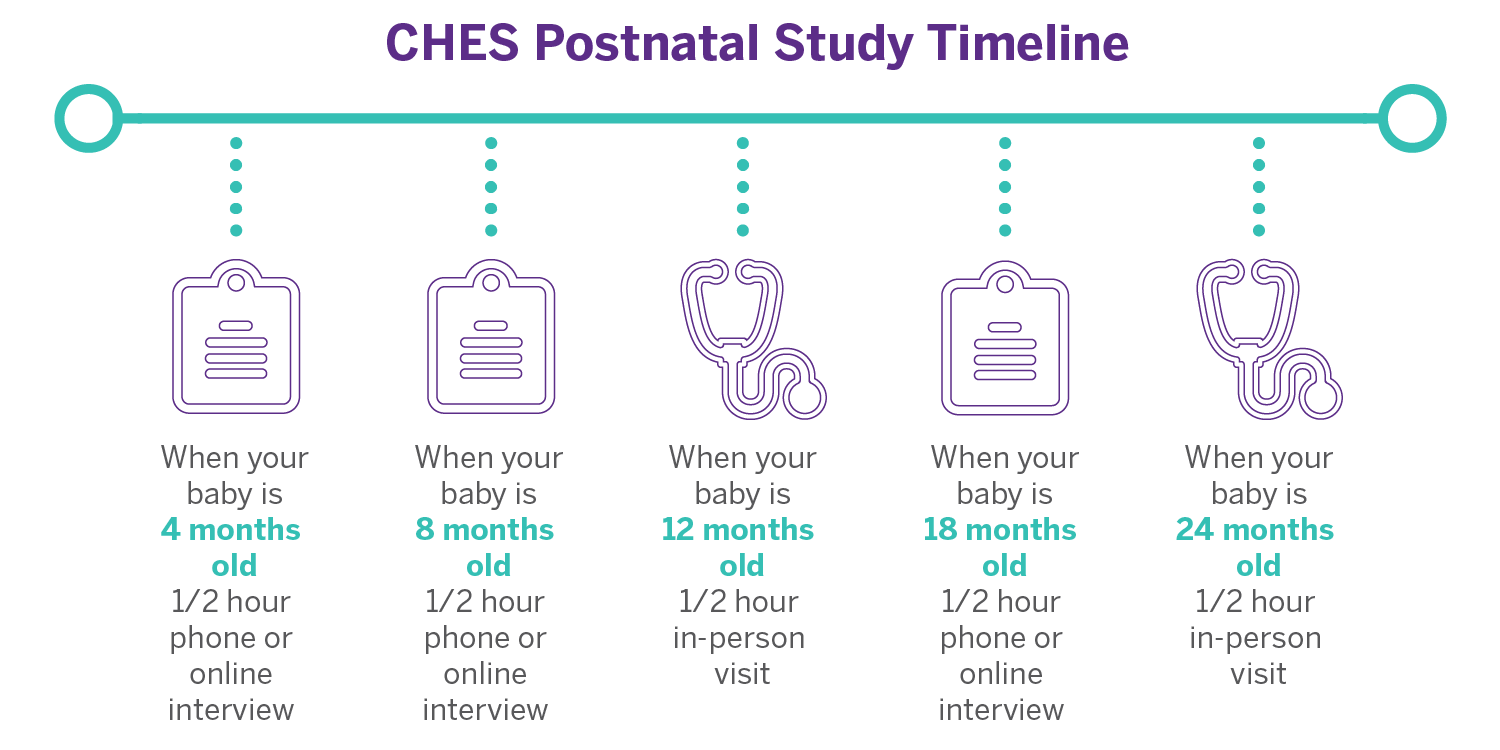 Learn More About Participating in the Children's Health and Environment Study
If you are pregnant and wish to learn more about participating in CHES, please contact us, and someone from our staff will be in touch with you.