Division of Health & Behavior
Section for Health Equity

Section for Health Equity
The vision of NYU Langone's Section for Health Equity, part of the Division of Health and Behavior, is to promote health equity for racial and ethnic minorities and other underserved populations. We do this by conducting research on the effectiveness of various strategies to reduce health disparities, such as community health worker programs. We also provide education and training for health professionals doing health equity work and help to develop policy that promotes health equity and encourages participatory action.
In working with our local and national community partners, we disseminate research findings, culturally adapted health information, networking opportunities, and events through digital and in-person channels. Additionally, we cosponsor the annual Health Disparities Symposium with the Clinical and Translational Science Institute and Office of Diversity Affairs each fall.
Our faculty conduct many of our innovative research and education programs in conjunction with the NYU Center for the Study of Asian American Health and the NYU-CUNY Prevention Research Center.
Guiding Principles of the Section for Health Equity
The section is guided by a multiprong framework that integrates the following principles:
applying a social determinants of health approach
conducting research guided by multisectoral coalitions
engaging communities through community-based ethnic coalitions and panethnic advisory groups
performing disaggregated data collection to better represent diverse populations
building human and social capital to highlight community strengths
fostering clinical practice and community linkages and access to care
strengthening organizational and community-based infrastructures through capacity-building activities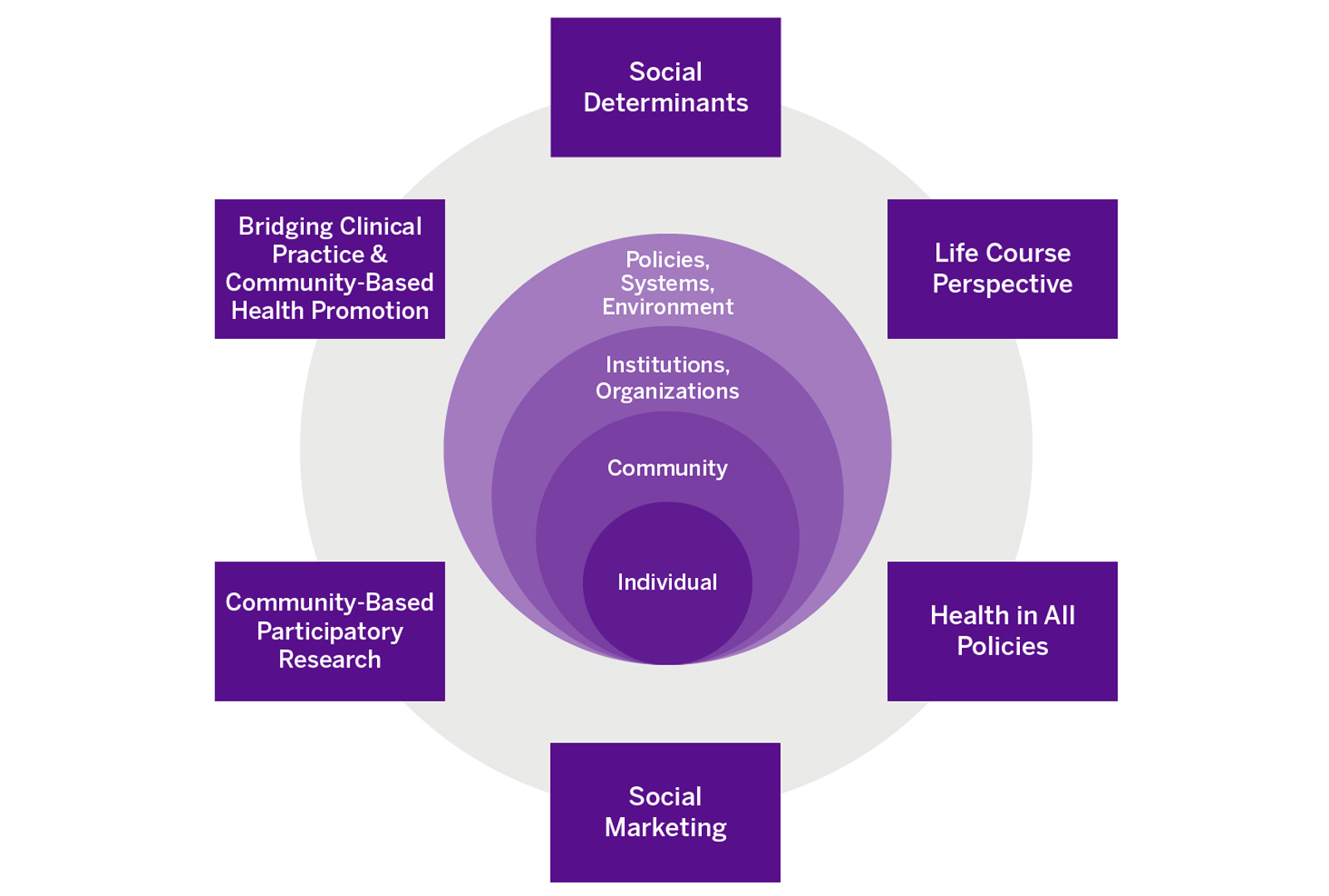 As presented in the Journal of Health Care for the Poor and Underserved, this graphic describes concepts and parallel approaches targeting social and structural determinants of health that underpin our integrative population health equity framework.
Contact Us
For more information about the Section for Health Equity, please contact Rebecca Lee, MPA, senior program coordinator, at rebecca.lee3@nyulangone.org or 646-501-3493.