Department of Radiation Oncology Research
We conduct basic and translational research and lead innovative clinical trials to improve patient outcomes.

At NYU Langone's Department of Radiation Oncology, research is an integral part of our mission. Our investigators and clinicians focus on basic science and translational research. We are committed to advancing the field of radiation oncology through our large portfolio of clinical trials at Perlmutter Cancer Center. Through our research, we aim to develop innovative treatments and enhance the effectiveness of existing treatments, including chemotherapy and radiation therapy.
Our three laboratories for basic science include the Kimmelman Lab, the Sulman Lab, and the Pacold Lab, which occupy two floors of NYU Langone's Joan and Joel Smilow Research Center. This facility serves as the main research hub for Perlmutter Cancer Center and is home to more than 40 multidisciplinary research teams.
Our medical students, radiation oncology residents, and medical physics therapy residents actively participate in research under the mentorship of our investigators and clinicians. They also present their work at national and international meetings and conferences.
Leaders in Radiation Oncology Research
The department is known for its leadership in cancer research. Alec Kimmelman, MD, PhD, department chair, received the National Cancer Institute's Outstanding Investigator Award in 2018 for his research on the altered cellular metabolism of pancreatic cancer. Dr. Kimmelman is also co-leader of Stand Up To Cancer's Pancreatic Cancer Interception Research Team where he leads other top researchers to develop innovative technologies and treatments needed to detect pancreatic cancer at an early stage.
Erik P. Sulman, MD, PhD, vice chair for research and co-chair of the Brain and Spine Tumor Center, is also well recognized as a leader in translational research that focuses on finding new treatments, particularly those that improve the effectiveness of radiation therapy.
Our investigators receive funding from the National Institutes of Health and the National Cancer Institute, as well as major foundations and societies such as the American Society for Radiation Oncology, American Cancer Society, and American Association for Cancer Research.
Kimmelman Lab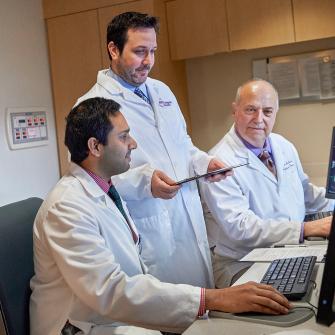 Pacold Lab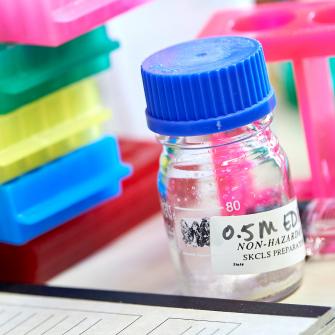 Our Clinical Trials