MD Student Orientation
MD Student Orientation Events & Schedule

MD Student Orientation Events & Schedule
NYU Grossman School of Medicine welcomed students and family to campus for Orientation Week on August 11–16, 2019. During this series of programs and events, students learned about the traditions and community that make our school unique.
During orientation, students register for classes, participate in interactive classroom scenarios, become familiar with academic and career resources, and meet faculty and advisors.
But Orientation Week isn't only about business. Students participate in social activities to explore New York City and get to know classmates.
Please know that all scheduled events and activities are subject to change.
Orientation Week Events
The following was the schedule for the 2019 Orientation Week.
Sunday, August 11, 2019
12:00PM–2:00PM
Brunch Meet and Greet: Join us for some New York bagels and get to know your peers and the Orientation Committee! This event is optional.
Monday, August 12, 2019
8:30AM–9:50AM
Breakfast and Registration: Pick up your medical center ID, try on white coats, tour the medical school, and handle any outstanding issues.
10:00AM–11:00AM
Welcome and Informational Panel from the Office of Student Affairs
11:00AM–11:30AM
Meet the Title IX Coordinator for NYU Grossman School of Medicine's Sexual Harassment Policy
11:30AM–1:30PM
Lunch on your own and scheduled meetings with the Student Health Service
1:30PM–4:00PM
Bystander Intervention Training
6:00PM–10:00PM
Manhattan Harbor Cruise: Dine, dance, and mingle with classmates while cruising past the Statue of Liberty and under the Brooklyn Bridge. This is an optional, ticketed event.
Tuesday, August 13, 2019
8:30AM–9:30AM
Check-in and Breakfast: Check-in and grab a bite to eat from our continental breakfast.
9:30AM–10:15AM
Dean's Welcome Address: Our deans and directors welcome you and offer words of wisdom on starting your medical career.
10:15AM–12:00PM
Violet Society Program Overview: Learn about our Violet Society Program and opportunities for career and professional development.
12:00PM–2:00PM
Lunch with your peers in Violet Society groups and scheduled appointments with the Student Health Service.
2:00PM–5:00PM
Curriculum Overview: Become familiar with the goals and objectives of our innovative Curriculum for the 21st Century with this presentation from the Office of Medical Education. Bring your laptop to participate in an interactive classroom experience.
6:00PM–8:00PM
Bowling Night! This is an optional, ticketed event.
Wednesday, August 14, 2019
8:00AM–9:00AM
Check-in and Breakfast
9:00AM–10:00AM
Professional Identity Development: Hear about the joys and challenges of developing an identity as a physician.
10:00AM–10:30AM
Emergency Management and Campus Security Overview
10:30AM–11:00AM
Medical Center Information Technology (MCIT) and Cybersecurity Presentation
11:00AM–1:00PM
Lunch on your own and scheduled meetings with the Student Health Service
1:00pm–2:30PM
Information Session from MD AWARE (Medical Students Developing Awareness, Wellbeing, and Resilience)
2:40PM–3:30PM
Student Council Information Session and Student Panel
3:30PM–5:00PM
Information Session from the Office of Diversity Affairs
5:00PM
Reception hosted by the Office of Diversity Affairs
Thursday, August 15, 2019
9:00AM–10:00AM
Family Welcome: An opportunity for your family members to learn about how you will spend your time at NYU Grossman School of Medicine.
10:30AM–12:00PM
White Coat Ceremony: Mark the start of your medical career by taking the stage to be cloaked in your first white coat in the presence of friends, family, and colleagues, followed by a light reception.
Friday, August 16, 2019
10:00AM–11:00AM
Meet the staff and learn about the services and resources provided through the Student Health Service.
11:00AM–12:00PM
Brightspace and Library Resources: Become familiar with student resources available from the Sid and Ruth Lapidus Health Sciences Library and online learning tools from our Institute for Innovations in Medical Education.
12:00PM–1:30PM
Discussion with the Office of Admissions and Financial Aid with a special visit from the Association of American Medical Colleges. Lunch will be provided.
Special optional activities will be planned by our Orientation Committee for this afternoon/evening.
Contact Us
The Office of Student Affairs oversees new student orientation and organizes Orientation Week events. For orientation-related questions or for assistance with adjusting to life at NYU Grossman School of Medicine, contact Rebecca Novick, Senior Program Coordinator, Student Engagement and Transition Programs, at 212-263-3930 or rebecca.novick@nyulangone.org.
Meet Our Student Orientation Committee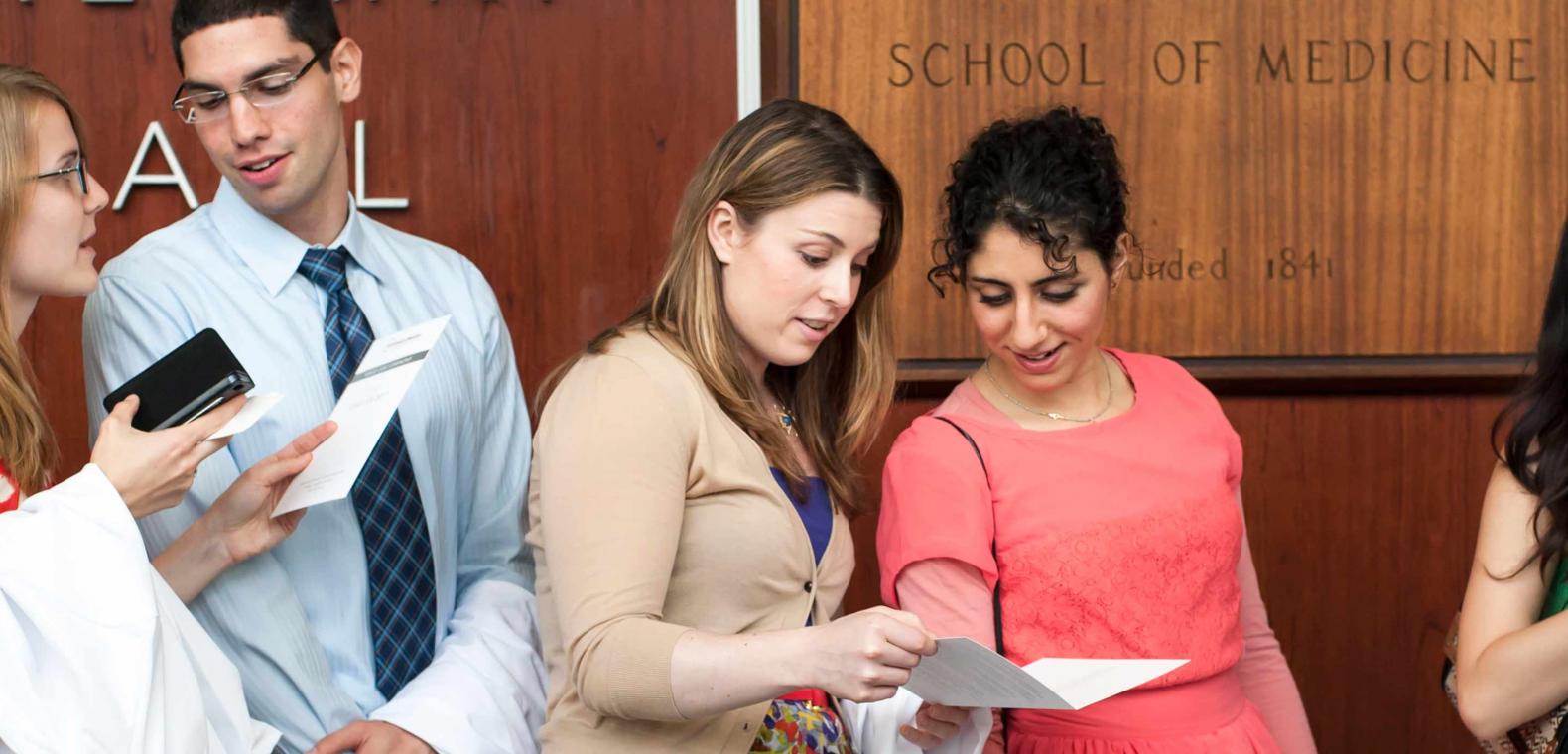 White Coat Ceremony