MD Curriculum
Stage Four: Career Preparation

Stage Four: Career Preparation
In stage four of NYU Grossman School of Medicine's curriculum, students spend 11 months on several career preparation activities including the completion of required rotations in a critical care clerkship and a subinternship that offers vital experience in advanced patient care.
Students also use this time to prepare for residency interviews and finish clinical electives, selectives, advanced clinically integrated science selective (ACISS) courses, scholarly concentrations, and a transition to residency course.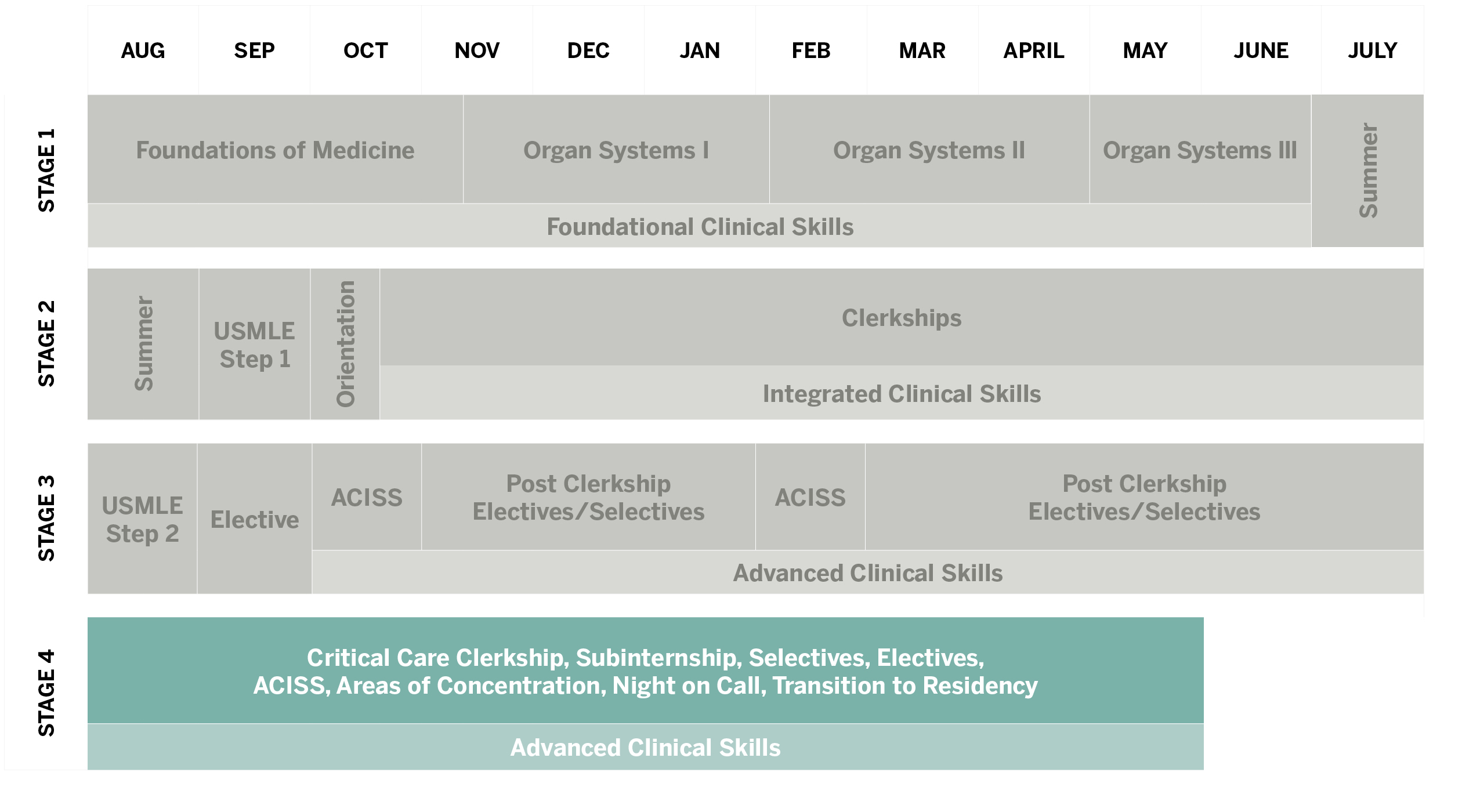 Critical Care Clerkship
In a four-week critical care clerkship, you develop the knowledge, skills, and experience you need to care for critically ill patients. You are assigned to a specialty intensive care unit and become an active member of the care team. Responsibilities include daily teaching rounds and following, assessing, and treating critically ill patients. Grades are honors, high pass, pass, and fail.
Subinternships
Another component of stage four of the MD curriculum is a four-week subinternship in one of three areas—advanced medicine, advanced surgery, or advanced pediatrics. During the subinternship, you take on patient care responsibilities that exceed those in your core clerkships. This helps you excel during the internship year of your upcoming residency. Subinternship responsibilities may include taking overnight calls, admitting patients, and entering orders. Grades are honors, high pass, pass, and fail.
Advanced Medicine Subinternship
The advanced medicine subinternship provides additional training and experience in managing the care of hospitalized patients on an internal medicine inpatient ward. It better prepares you for a residency in internal medicine or, if that is not your eventual destination, offers a final opportunity to study internal medicine before you complete residency training in another area.
Advanced Surgery Subinternship
The advanced surgery subinternship provides additional training and experience in general surgery. It also fulfills the subinternship graduation requirement for students applying for a residency in general surgery or another surgical specialty.
Advanced Pediatrics Subinternship
The advanced pediatrics subinternship is for students who have successfully completed their pediatrics clerkship and are interested in additional pediatrics training and experience. It also fulfills the subinternship graduation requirement for students applying for a residency in pediatrics.
Senior Clinical Skills Exam
The senior clinical skills exam is an immersive experience that consists of a night on call in the simulation center. The exam challenges students to be the intern and perform tasks that include evaluating patients, collaborating intra- and inter-professionally, using oral and written documentation, and critically appraising information to inform decision-making. All of this work is framed within routine clinical activities that you should be ready to perform upon graduation. You receive written feedback on your performance, including areas of strengths and gaps that might be addressed before or upon transitioning to residency. Past participants have found this exam to be an authentic, rewarding, and enjoyable experience.
Transition to Residency
During the transition to residency course, students focus on integrating basic science and clinical knowledge. You then work to identify your own learning needs as you look ahead to your internship. The course is a mix of workshops, simulation, and conferences. A key focus is on developing autonomy, understanding the limits of self-reliance, and knowing when to ask for help. The overall goal is to put students in a position to not only survive, but also to thrive as a leader and educator during your internship and residency years.