Healthcare Innovation Bridging Research, Informatics & Design Lab
Healthcare Innovation Bridging Research, Informatics & Design Lab People

Healthcare Innovation Bridging Research, Informatics & Design Lab People
NYU Langone's Healthcare Innovation Bridging Research, Informatics, and Design (HiBRID) Lab team brings together the disciplines of behavioral economics, public health, sociology, biology, biomedical engineering, biostatistics, informatics, medicine, predictive analytics, and design and user experience.
Our Team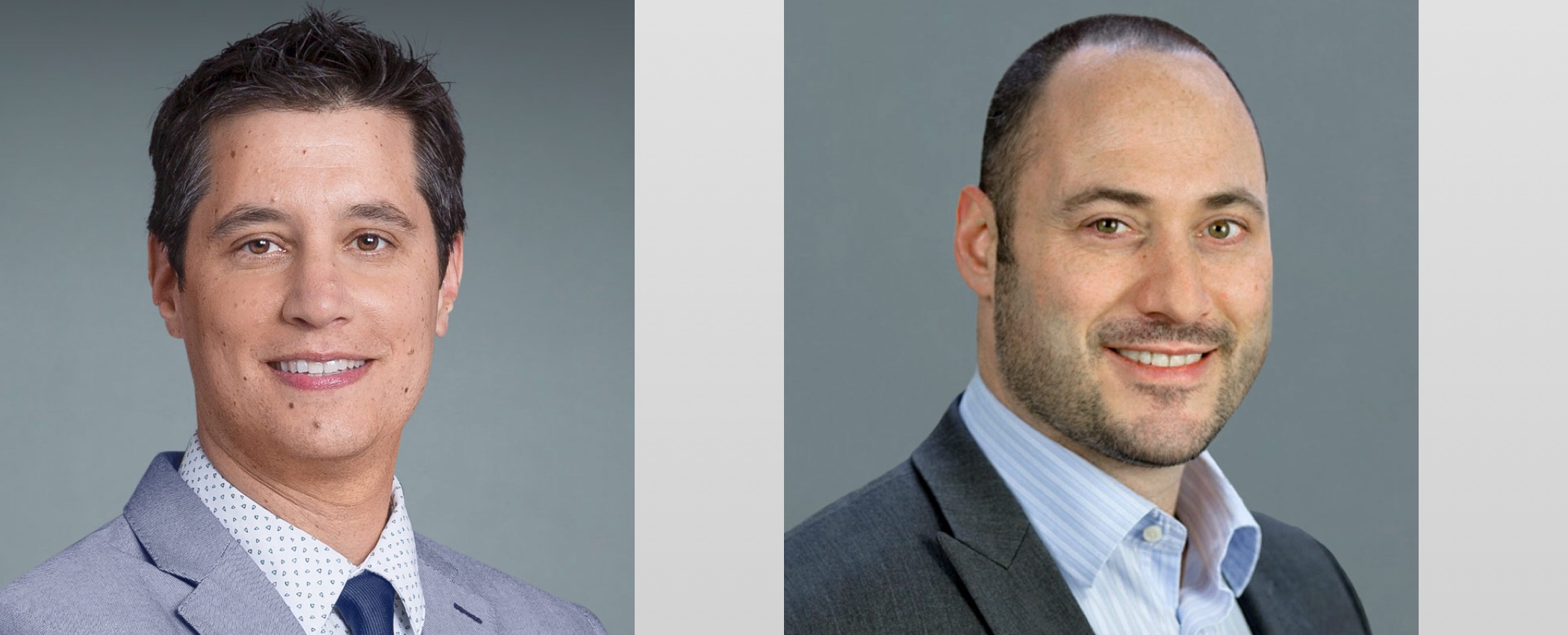 Devin Mann, MD, MS
Senior Director of Informatics Innovation, Medical Center Information technology (MCIT)
Director, HiBRID Lab
Associate Professor, Departments of Population Health and Medicine
Dr. Mann leads a hybrid program of research and operational innovation focused on enhancing healthcare delivery using novel technologies. His research combines the disciplines of informatics, behavioral medicine, human–computer interactions, mobile health, and primary care in service of a learning health system and the delivery of effective healthcare. He is passionate about fostering creativity and using that energy to transform healthcare.
Michael Mainiero
Senior Director of Digital Strategy and Innovation, MCIT
Co-Director, HiBRID Lab
As the Senior Director of Digital Strategy and Innovation for MCIT, Michael leads digital transformation strategy, innovation, and design for the health system. He has an extensive background in strategic planning, management, software development, and large-scale implementation at an enterprise level. He has also taught design and software development at NYU. Prior to NYU, he ran several startups, both in and out of the digital health realm. As Co-Director of HiBRID, Michael provides his product development and digital strategy knowledge and expertise to the group.

Ruth Agbakoba, PhD
Postdoctoral Research Fellow
Dr. Agbakoba holds a PhD in digital health innovation from University of Glasgow, Scotland, with an MSc in health informatics and a BSc in biomedical informatics (first class honors). Her doctoral work explored the design, implementation, and evaluation of a novel Scottish government eHealth innovation at scale. Dr. Agbakoba's doctoral work was awarded 1st place at the 15th World Congress of Health and Biomedical Informatics in Sao Paulo, Brazil. She has a strong background in qualitative research and is keen on adopting user-centered design approaches to include clinicians and patients in the development of interventions. Before joining the HiBRID Lab, Dr. Agbakoba worked in the Clinical Research Informatics Unit as part of the UK National Health Service, and she was awarded Honorary Research Fellow at University College London. She was also a postgraduate tutor for the MSc Health Informatics course. Her current interests are in translational research (translating research findings into practice) and global eHealth policy to foster evidenced-based and person-centered care.
Veronica Alfáro Arias, MPS
Design Technologist
Ms. Alfaro Arias works in the intersection between Accessibility and Healthcare through the fields of Human-Centered Design, UX/UI Design, and Information Visualization. She is passionate about the use of technology and design for social good and strives to create projects that serve as conversation starters around ethics in Tech. Her most recent work focuses on the design of frameworks for developing customizable Assistive Technologies for people with disabilities and reimagining healthcare and the use of technology and design to improve the relationship between patients and providers. Previously, her research in creating a visualization portal for genetic variation (VizGVar) was published in the Bioinformatics journal by Oxford and she worked as a UX Designer for Lionbridge and Volteo | Intel. Verónica holds a BE in Industrial Design from the Tecnológico de Costa Rica University and a MPS from NYU Tisch School of the Arts's Interactive Telecommunications Program (ITP).
Ji Chen, MS
Graduate Assistant
Mr. Chen is a second-year PhD student at NYU Langone's Vilcek Institute of Graduate Biomedical Sciences. He has an MS from NYU's Department of Biology. He is currently interested in predictive analysis using machine learning methods and electronic health record data analysis.
Xingwei Cui, MPH, MA
Data Analyst
Ms. Cui is a data analyst at the Healthcare Innovation Bridging Research, Informatics & Design (HiBRID) Lab. She received her MPH in Epidemiology from CUNY School of Public health and her MA in Statistics from CUNY Hunter College.

Dawn M. Feldthouse, MSN, RN-BC
Clinical Informatics Advisor
With experience in both clinical operations and informatics, Dawn Feldthouse sits at the intersection of digital health innovations and the future of healthcare delivery. As a nurse informaticist at NYU Langone, she has supported the opening of two state-of-the-art hospitals, Kimmel Pavilion & Hassenfeld Children's Hospital, and numerous implementations of innovative healthcare technology that continue to elevate NYU Langone as one of the nation's premier academic health systems. Her efforts are focused on improving the patient experience, optimizing outcomes, and advocating for clinician wellbeing. She holds a master's degree in Nursing Informatics from NYU where she graduated as Valedictorian and Distinguished Master's Student of her class. She is a recipient of the NYU President's Service Award for her work utilizing human-centered design methodologies to address fall prevention amongst elderly, and has contributed to publications in reproductive and digital health.
Jerlisa Fontaine, MPH
Project Coordinator
Ms. Fontaine received her BS in Human Biology (Pre-Med) with double minors in Business & Africana Studies from the University at Albany (SUNY). Throughout her undergraduate experience, Jerlisa dedicated her time to growing professional opportunities for underrepresented groups in Medicine through the Minority Association of Pre-Medical/Health Students where she paved the way for this group to attend the SNMA conference, yearly, since 2015. With a passion for developing a culturally conscious, tech-driven, and business savvy healthcare system, as well as, reforming health literacy, Jerlisa worked in Dr. Jennifer Manganello's Health Communications Lab leading research focused on e-health literacy amongst the Young Adult Population. The data from this research was used to develop online learning modules for health literacy. Jerlisa is now a graduate student pursuing her Masters of Public Health with a focus in Management from the College of Global Public Health at NYU. Prior to her studies, here, she worked for a nonprofit dedicated to career development and health literacy for teens, as well as, a digital health start up with a mission to ensure that medical imaging is affordable, convenient, and transparent for all.
Javier Gonzalez
Technical Lead
Mr. Gonzalez earned his BS in computer and automatic control systems from the School of Electrical Engineering at Central University of Las Villas in Santa Clara, Cuba. Before joining NYU Langone, Mr. Gonzalez worked in the fintech, education, digital media, and health tech industries as a software engineer and architect, focused on designing and building highly scalable and resilient systems. He is passionate about technology and a believer in education as a driver of software quality and innovation. He has tutored multiple teams in functional and reactive programming paradigms.
Lisa Groom, MSN, RN, RHIA
Doctoral Student Intern
Ms. Groom is a PhD student at NYU Meyers College of Nursing. She received her Bachelor of Science in Nursing from the University of North Carolina at Chapel Hill and holds a Master's in Nursing Informatics from New York University. Ms. Groom's research focuses on remote patient monitoring and adoption of health technology. Previously, she led development of a smart dresser to assist persons with dementia to don apparel. Her recent professional work includes the design and implementation of remote patient monitoring applications and AI/CDS projects. Her broad range of tech roles include clinical product manager, health technology consultant, senior clinical analyst, and nurse informaticist. Her clinical experience includes working as a charge nurse and registered nurse in multiple Seattle hospitals on cardiac surgery, stepdown, and ICU units.

Andrew Heckman
Project Manager
Mr. Heckman is a project manager with ten years of healthcare experience, overseeing anything from full EMR implementations to specialty-targeted reporting dashboard development to opening satellite transplant evaluation clinics. He received his BA in history from Miami University in Oxford, Ohio. Before joining HiBRID Lab, Mr. Heckman worked on the COVID-19 vaccine rollout and system updates to address the 21st Century CURES Act.
Anna Kharmats, PhD
Postdoctoral Research Fellow
Dr. Kharmats is a postdoctoral research fellow in NYU's Center for Healthful Behavior Change. She completed her PhD in Social and Behavioral Interventions at John Hopkins Center for a Livable Future in 2019. Her dissertation research was based in Baltimore City, and focused on low-income children and their caregivers. She examined the extent to which associations between access to food retailers, and obesity and food security outcomes vary, depending on how geospatial access is defined. Dr. Kharmats research interests include studying obesity and cardiovascular epidemiology in underserved populations and immigrant communities, as well as in developing interventions that encourage consumption of healthier and more environmentally sustainable diets. 
Katharine Lawrence, MD, MPH
Clinical Assistant Professor
Dr. Lawrence is a Clinical Assistant Professor in the Department of Medicine. She completed her postdoctoral fellow in healthcare science delivery within the Population Health Science Scholars Program in May 2021. Dr. Lawrence completed her residency in internal medicine and primary care at NYU Grossman School of Medicine. Before joining the HiBRID Lab, her research focused on social determinants of health and social justice, as well as on quality improvement in both patient safety and outcomes and provider wellness and resilience. Her current interests are in the realm of digital innovations in healthcare, with the goals of improving patient–physician relationships, provider workflows, and physician resilience in the era of digital medicine.
Daniel Lu
Doctoral Student Intern
Mr. Lu is a PhD student at NYU Tandon School of Engineering's Future Building Informatics and Visualization Lab investigating the role of virtual reality in designing responsive environments. His current interests include architectural robotics and the interplay between technologies at different scales, from devices to physical spaces. Before starting his PhD, Dan worked as a building envelope consultant and energy engineer in New York City.

Son Luu, MPS
User Experience Designer
Mr. Luu is an experience designer/creative technologist and a recent graduate of the Interactive Telecommunications Program at NYU. Before pursuing the intersection of design and technology, he developed a solid background in business and operations in the energy sector.
Chris Mahoney, MBA
Senior EpicCare Ambulatory Analyst
Mr. Mahoney is a senior EpicCare analyst with six years of experience working on multiple EpicCare ambulatory go-lives, Epic upgrades/downtimes, and integrated Epic application projects. He received his BBA and MBA in Marketing from Providence College. Before joining NYU Langone, he worked as a new business manager at Concentric Health Experience.
Tiffany Rose Martinez
Project Associate
Ms. Martinez received her BA in global public health and anthropology with a minor in chemistry from NYU in 2019. During her time as an undergraduate, Ms. Martinez gained exposure to finding innovative and sustainable ways to address obesity and improve health outcomes and quality of life, working as research assistant on the Financial Incentives for Weight Reduction Study for the MOTIVATE Research Lab. Before joining the HiBRID Lab, Ms. Martinez volunteered as a field representative for SAHA Global, a non-governmental organization dedicated to empowering women in rural communities in Ghana's northern region to solve their villages' need for clean water by establishing low-cost social business opportunities.
John Michael Meddar 
Doctoral Student
Mr. Meddar is a Population Health PhD student at NYU Vilcek Institute of Graduate Biomedical Sciences. He holds a bachelor's degree in biomedical informatics and a master's degree in health informatics from Cornell University. Mr. Meddar's research focus sits principally, though not exclusively, at the intersection of informatics and epidemiology. His prior research has focused on the development of an mHealth application for population health surveillance in rural Western Myanmar, elucidating the impacts of built environmental attributes on hospital readmission, and the integration of social determinants of health screening in routine clinical care. With a health equity lens, Mr. Meddar's current research is centered on streamlining processes for remote patient monitoring, and the development of innovative technology solutions to remedy health disparities in low-income communities.

Maggie Ramatowski 
Research Data Associate
Ms. Ramatowski received her BA in global public health and anthropology with a minor in chemistry from NYU in 2021. Her background includes working on a study involving the development of a texting tool to connect people dealing with addiction to harm reduction resources.
Safiya Richardson, MD, MPH
Assistant Professor, Departments of Population Health and Medicine 
Collaborating Faculty, Institute for Excellence in Health Equity
Dr. Richardson's primary research interest is in the use of information technology to integrate evidence based medicine into daily clinical practice. Her previous work focused on usability testing, implementing, monitoring and evaluating clinical decision support. Dr. Richardson's current work is funded by a K23 Mentored Patient-Oriented Research Career Development Award from NHLBI to use insights from the field of behavioral economics to design high impact clinical decision support. She received both her MD and MPH from Columbia University and completed an AcademyHealth Delivery System Science Fellowship. Dr. Richardson was recently recognized by Business Insider as one of 30 leaders under 40 transforming healthcare. 
Steven Robinson, MFA
User Experience Lead
Mr. Robinson is a product designer with more than 15 years of experience focused on emerging technologies. Before joining NYU Langone, he co-founded and led user experience and product design for two personalization startups. He has delivered user experience design for major media providers including MTV Networks Interactive and Discovery Networks, and he has provide design consulting for multiple New York City startups. He has a background in visual design and fine art, with an MFA from the Yale School of Art and a BFA from Cornell University with honors. 
Danissa Rodriguez, PhD
Postdoctoral Fellow
Dr. Rodriguez completed her PhD in software engineering at Louisiana State University (LSU) in August 2020. As part of her research, she introduced an innovation in the software engineering field in the form of applying optimization algorithms, such as a genetic algorithm and a swarm intelligent algorithm, to the software engineering process. She holds a BS in computer science with a magna cum laude diploma from Universidad de Oriente in Venezuela. After working in higher education for four years, Dr. Rodriguez received the Fulbright Foreign Student Scholarship and moved to the United States to continue her education. She received her MS in computer science from LSU. Her current research interests focus on requirements engineering and the healthcare and computer science field.
Kerilyn Tacconi, MA
Innovation Manager
Ms. Tacconi is a product strategist who bridges the gap between innovative concepts and MVP delivery. Before joining NYU Langone, she worked as an innovation consultant, head of a skunkworks project team and director of product at a startup. She has an MA in Innovation Management from Central Saint Martins in London, where she wrote her thesis on social innovation and the philosophy of aesthetics.
Sumaiya Tasneem, MPH
Project Manager
Mrs. Tasneem received her MPH with a concentration in epidemiology from the Icahn School of Medicine, Mount Sinai, in 2017. Before joining the HiBRID Lab, Mrs. Tasneem worked with the Center for Healthcare Innovation and Delivery Science healthcare system redesign annual pilot grants, where she applied her background in epidemiology research methods, project management, and implementation for research studies with mobile health applications, electronic wearables, telemedicine initiatives, and multidisciplinary digital health technology projects. Mrs. Tasneem has a diverse research background. During her time as an intern at the NYU  Center for the Study of Asian American Health, she worked on intervention programs for diabetes, hypertension, nutrition, and colorectal cancer screenings involving South Asian immigrants living in New York City. Mrs. Tasneem has extensive patient interaction experience from her previous job as a clinic manager at Westchester Medical Healthcare and volunteer experiences at NYC Health + Hospitals/Bellevue and NewYork-Presbyterian Hospital.
Ratnalekha Viswanadham, PhD
Postdoctoral Research Fellow
Dr. Viswanadham is a postdoctoral fellow within the Population Health Science Scholars Program. Before joining the HiBRID Lab, she completed her PhDs in management, focusing on marketing, from INSEAD and in cognitive neuroscience from the Brain, Cognition, and Behaviour Doctoral School of Sorbonne Université in Paris, France. Her doctoral work explored how quantitative (ex. machine learning), behavioral (ex. economic experiments), and neuroscience methods (ex. rTMS and fMRI) provide insight into the mechanisms and boundary conditions of self-control, with applications in retail food choice, obesity, and psychiatry. Her current interests lie in integrating behavioral economics approaches to clinical decision-making processes and policy implementation. 
Our Alumni
Sara Chokshi, DrPH, MSPH
Assistant Director, HiBRID Lab
Assistant Professor, Department of Population Health
Dr. Chokshi is currently the Director of Research at Healthcare Innovation & Technology Lab  (HITLAB). HITLAB is a digital health innovation company in NYC that partners with organizations to shape the future of healthcare and improve lives worldwide. 
Catherine Dinh-Le, MPH
Project Coordinator
Mrs. Dinh-Le is currently a project manager at the Center for Innovation in Mental Health (CIMH) at the CUNY School of Public Health. At CIMH, Mrs. Dinh-Le oversees several projects around mental health innovation in our local community and abroad.
Yagnesh Gohil
Industrial and User Experience Design Intern
Mr. Gohil is a master's candidate studying industrial design at the Indian Institute of Information Technology, Design, and Manufacturing in Jabalpur, India. He is interested in using his industrial design perspective to improve patient experience and continuing to apply design thinking in the healthcare sector to develop research-oriented innovative solutions.
Roshini Hegde, MPH
Project Coordinator
Ms. Hegde is currently a product manager at Fern Health, an early-stage startup developing digital care programs for people with chronic musculoskeletal pain. Ms. Hegde helped successfully deliver the company's first live product to a set of alpha users, and is now working to prepare the product for business-to-business release.
Sumaiya Islam
Research Fellow
Ms. Islam is a medical student in the dual BS/MD program at the Sophie Davis School of Biomedical Education/City University of New York (CUNY) School of Medicine. Her research background focuses on data analytics and public health domains examining health equity and inequality, with a special focus on global health. As an aspiring Emergency Medicine physician and future physician-scientist, she aims to deliver equitable health care access to underserved populations through community health initiates and interventions. 
Hunter Jamison
Undergraduate Research Intern
Mr. Jamison currently works with the NYC Department of Health and Mental Hygiene advising New York City medical providers in establishing improved workflows that elevate health outcomes, patient satisfaction, health IT use, and care coordination.
Holly Krelle, MPhil
Commonwealth Fund Harkness Fellow in Health Care Policy and Practice
Ms. Krelle is a principal analyst at the Prime Minister's Implementation Unit in London, England, where her team drives the delivery of the prime minister's top domestic priorities, identifying issues and conducting rapid research to intervene where policy is found to be off track. She leads on health work force analysis and digital technologies. 
Gabriel Luce
Project Associate
Mr. Luce is a medical student at SUNY Downstate Medical Center. He continually seeks ways to incorporate his professional skills into his medical education and has a special interest in technology as an innovative tool in healthcare delivery, as well as its impact on the experiences of patients and clinicians throughout the United States.
Lucas Souto Manning
Undergraduate Research Intern
Mr. Manning is in the dual BA program at Trinity College Dublin in connection with Columbia University. He is majoring in Neuroscience.
Soaptarshi Paul
Undergraduate Research Intern
Mr. Paul currently attends Albert Einstein College of Medicine where he serves as treasurer for the Oncology Interest Group and volunteers at the Echo Free Clinic in the Bronx. He continues his research in digital health and hopes to incorporate it into his career as a physician.
Lucas Wozniak
XR Design Intern
Mr. Wozniak is an interdisciplinary multimedia artist. He is currently a Master's Candidate at New York University's Interactive Telecommunications Program (ITP), class of 2022. He works part-time as a teaching assistant and XR consultant.
Jonathan Yu
Medical Student Intern
Mr. Yu is currently a resident at NYU Grossman School of Medicine on the Internal Medicine Primary Care track. He seeks to apply novel technologies to improve healthcare delivery, and his current interests include leveraging digital health innovations to enhance the doctor–patient relationship and motivate patients to engage in healthy behaviors.