Department of Ophthalmology Education
Ophthalmology Residency

At NYU Langone's Department of Ophthalmology, we are fortunate to have a long history of dedication to teaching and mentorship. We aim to foster a collegial and nurturing culture and provide a well-balanced and rich environment in which to learn.
Recent years have seen the rapid growth of our department's clinical and research faculty. The addition of new faculty and the development of our research infrastructure have strengthened the foundation of training available to our residents.
The department's program leadership is committed to providing residency education at the highest level. Our mentorship program matches you with attendings who provide support and guidance. We have an advanced surgical curriculum that helps you become a skilled and confident ophthalmologist, and our complete didactic schedule is supplemented with a visiting lecture series and conference seminars. Furthermore, we are focused on your wellbeing and on creating a positive learning environment where you feel supported and challenged.
The diversity of our teaching sites and patient population remains one of the highlights of our program. The combination of NYC Health + Hospitals/Bellevue, the VA NY Harbor Healthcare System, NYC Health + Hospitals/Woodhull, NYU Langone's Tisch Hospital and Kimmel Pavilion, Hassenfeld Children's Hospital at NYU Langone, and our NYU Langone Eye Center provides an unmatched patient base and the best settings in which to learn the latest evidence-based techniques and how to provide the highest-quality care.
We thank you for your interest in our program and invite you to learn more about us.
Residency Admissions and Application
The Department of Ophthalmology selects its residents through the SF Match Ophthalmology Matching Program. Beginning in 2021, our residency program will include an integrated postgraduate year one (PGY-1).
Five positions are available in the 2020–21 match. House officers are selected for their enthusiasm, academic excellence, collaborative approach, and dedication to providing unparalleled patient care.
Prospective residents apply through the central application service SF Match, which distributes all applications to our residency program. We ask candidates not to send any materials directly to NYU Langone's Department of Ophthalmology.
NYU Langone does not offer H-1B visa sponsorship for house staff, residents, or fellows. J-1 sponsorship is available through the Educational Commission for Foreign Medical Graduates (ECFMG). O-1 sponsorship is also available. For more information, please contact the Office of Graduate Medical Education.
Resident Housing
Incoming residents can complete a two-step housing request process on or after Match Day of their starting year. Learn more about housing for eligible employees.
Resident Vacation and Call Schedule
Vacation is typically taken in four one-week increments. Primary call is typically taken by PGY-2 residents who utilize a night float system from Sunday to Thursday nights. PGY-2 residents start on-call duties in a buddy system with senior residents until around Labor Day. PGY-4 residents are on call with PGY-2 and PGY-3 residents, and attending supervision is always available.
Learn more information for incoming house staff.
Residency Events
Our residents enjoy living in New York City and find many opportunities to bond. The department typically holds a number of social events, wellness events, conferences, and retreats throughout the year.
Ophthalmology Residents
Our residents enjoyed the beautiful skyline of Manhattan while welcoming our new PGY-2 class in Long Island City.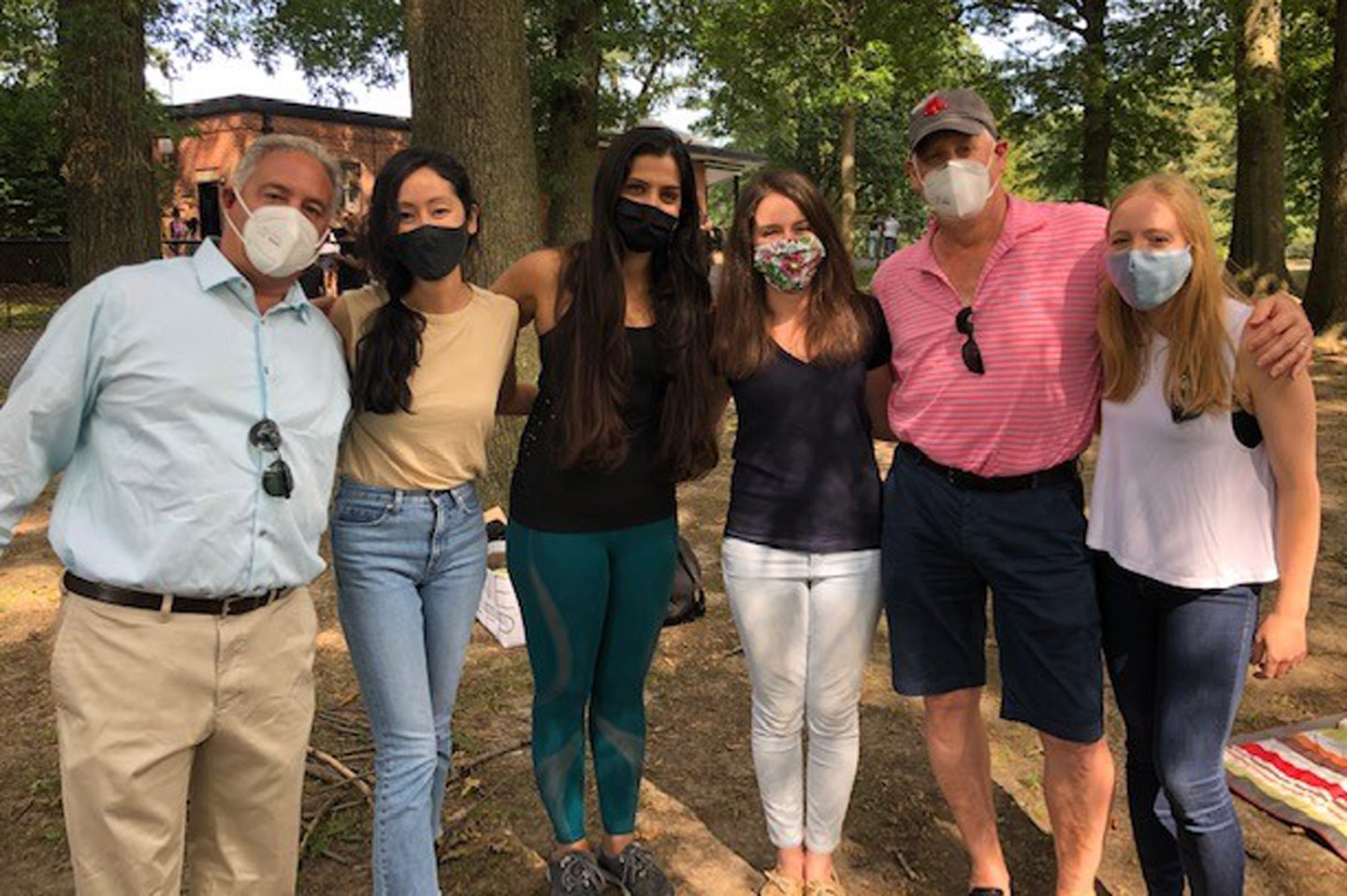 Our faculty and residents enjoy opportunities to bond outside of work and have found safe and fun ways to gather even during the pandemic.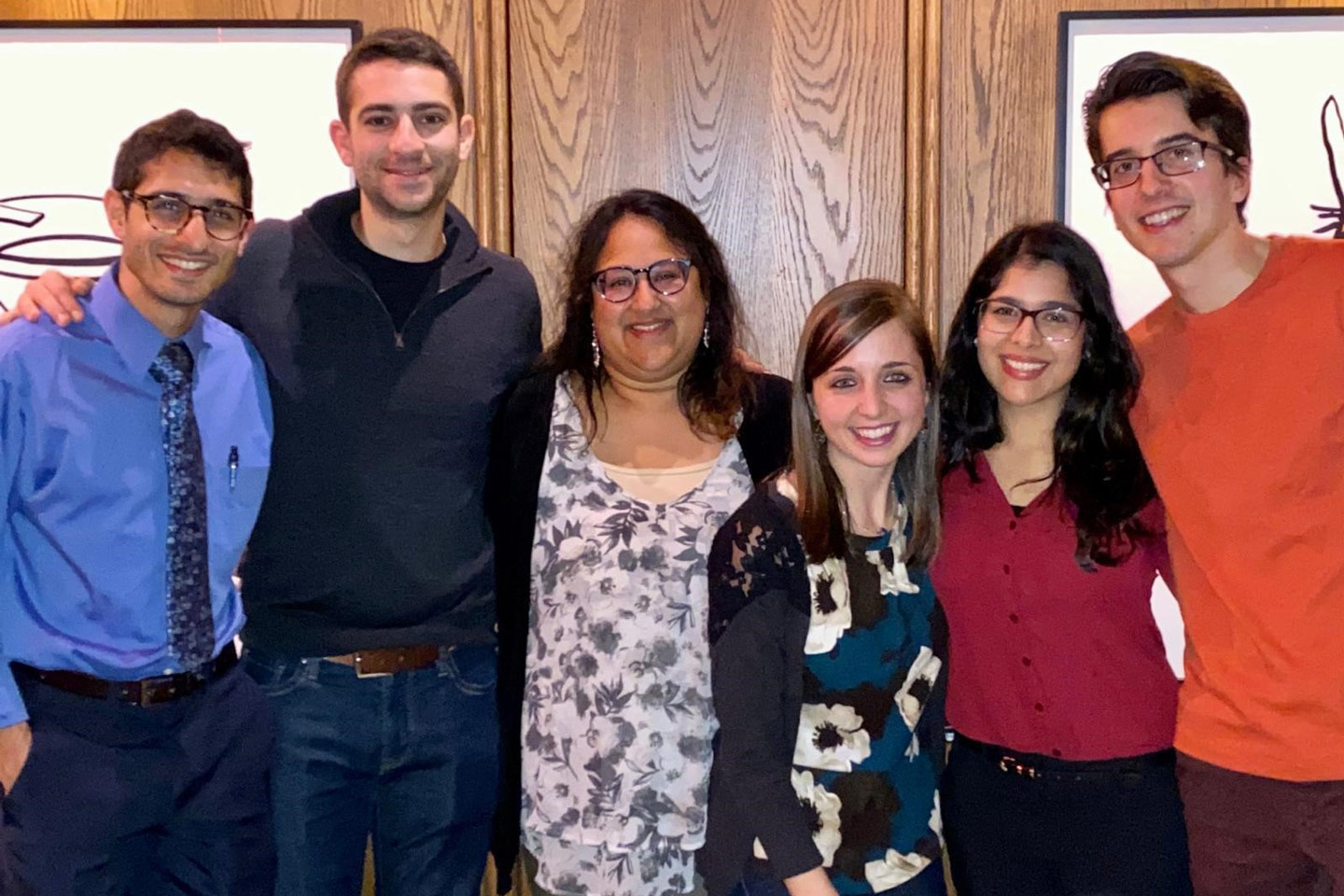 Our residents find opportunities to connect outside of work, particularly within each class.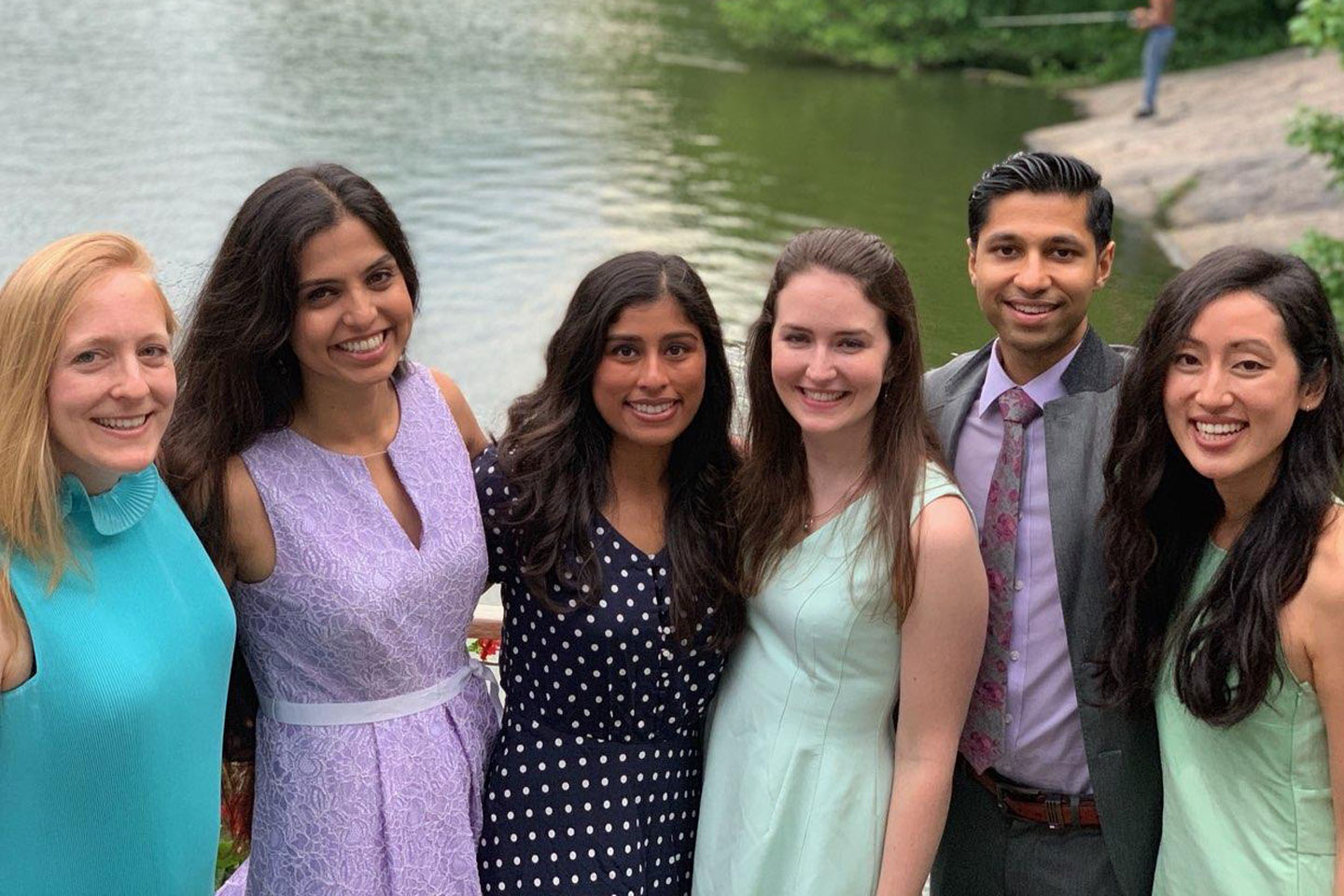 Our graduation ceremony at Central Park is a scenic and momentous event for our graduating seniors and entire program.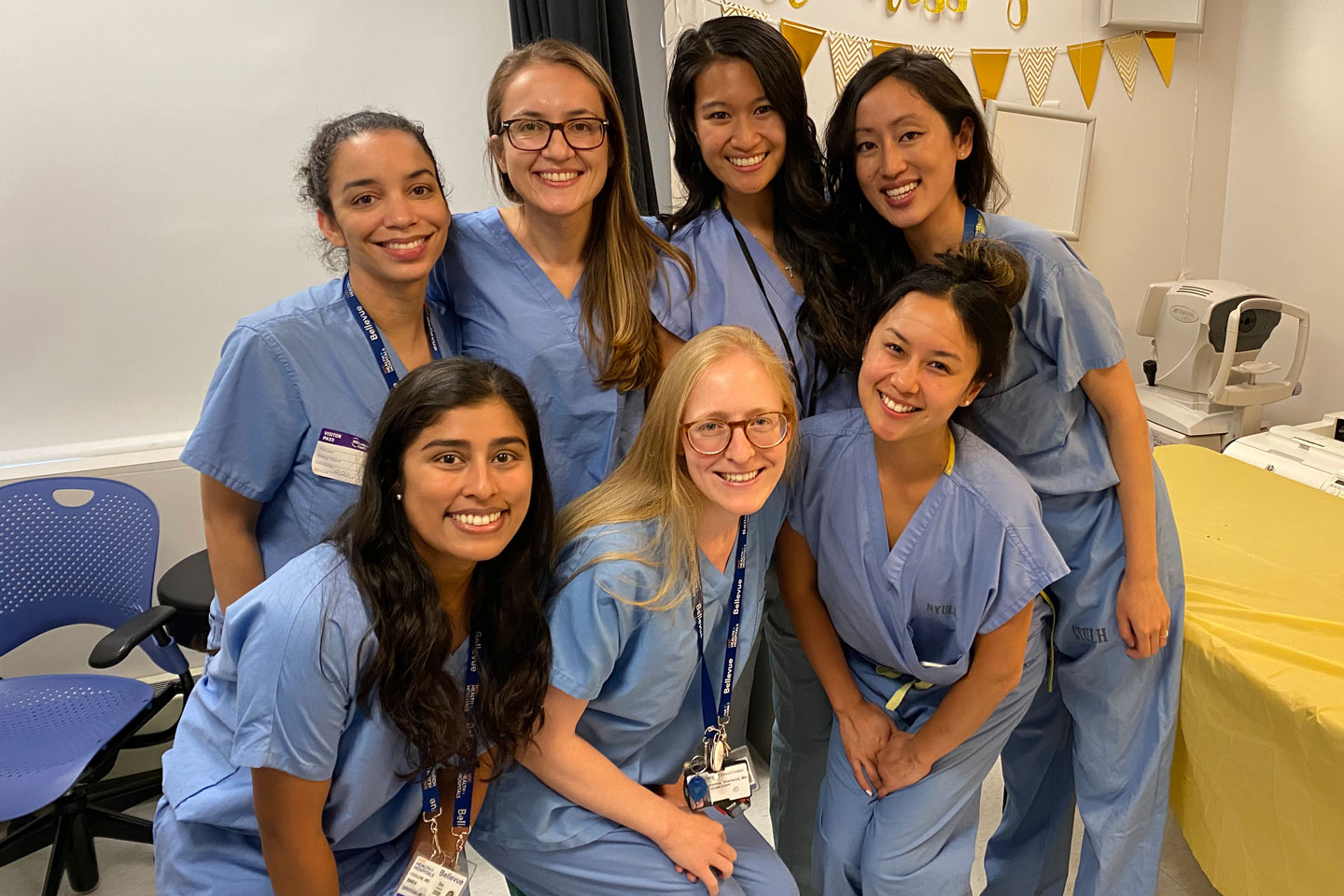 The collaborative and supportive environment of our program fosters friendships that extend well beyond training.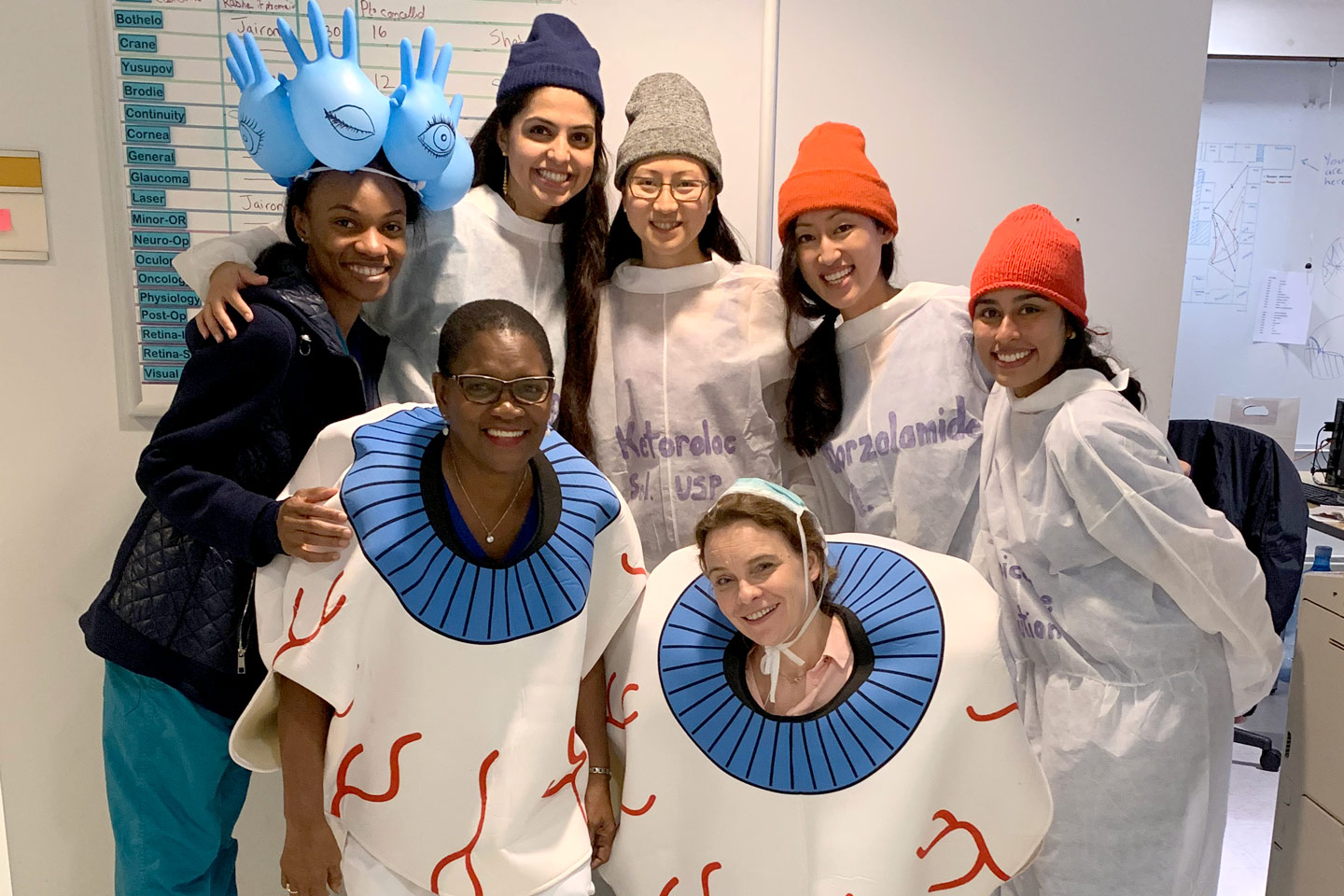 Halloween is a festive time at our Bellevue site and residents, faculty, and staff enjoy finding creative eye-appropriate costumes.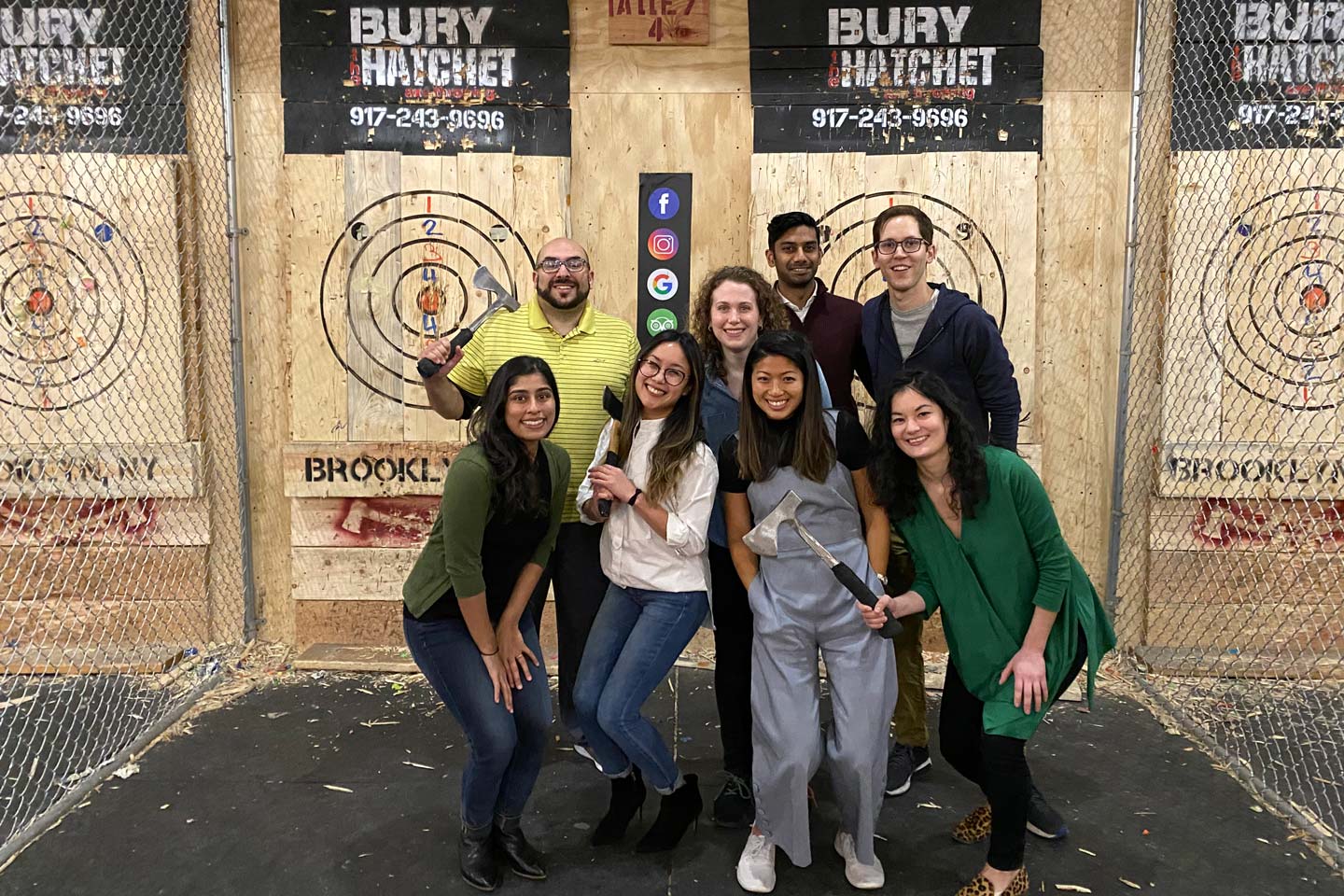 Residents enjoyed a fun end-of-rotation activity with faculty and peers.
Residency Mentorship
The Department of Ophthalmology has a robust mentoring system to support our residents throughout their training and to strengthen and encourage them as they prepare for careers in the field.
PGY-2 residents are assigned senior resident buddies to help acclimate to the program. PGY-3 residents have a PGY-4 surgical buddy to assist in the transition to ophthalmic surgery.
PGY-2 residents are also paired with a junior faculty member, with whom they meet at least quarterly. These meetings provide support and help set goals and milestones. Mentors may change based on resident interests to better advise on career goals and the fellowship application process.
Residents are also provided numerous opportunities to teach. They serve as mentors to our medical students and teach students in clinics, didactics, and clerkships. Residents also provide education to trainees in other departments and have numerous opportunities to present cases. Our grand rounds series features resident case presentations, which are formulated with the input of faculty advisors. Residents also present at weekly chief rounds and in other didactics.
Contact Us
To learn more about our program, contact ophthalmologyeducationadmin@nyulangone.org.
Residency Curriculum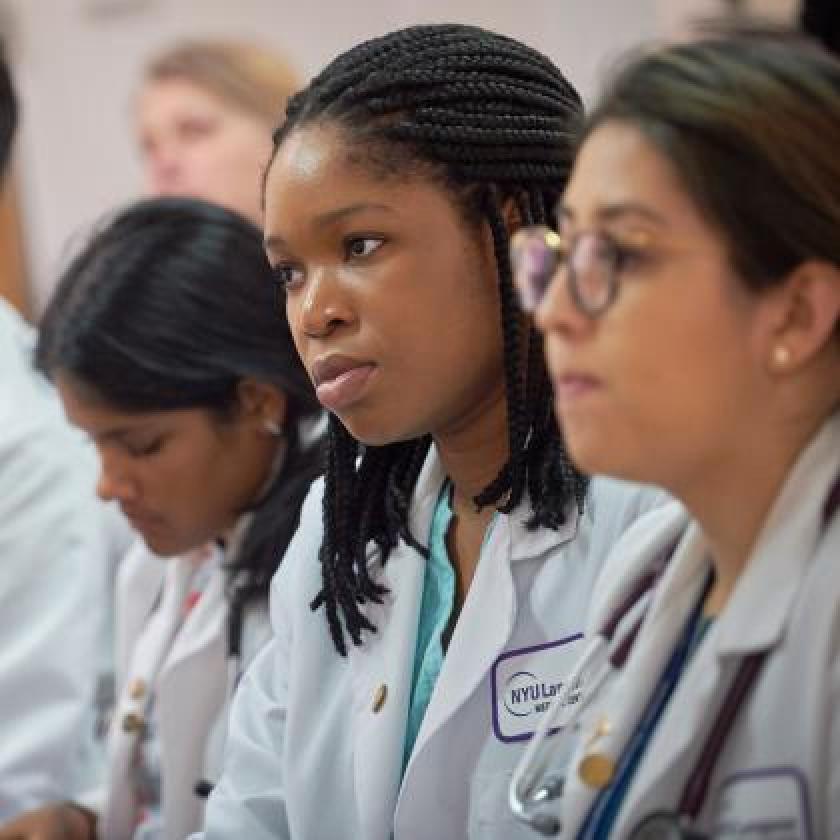 Diversity and Inclusion