Department of Plastic Surgery Research
Plastic Surgery Face Transplant Research

Plastic Surgery Face Transplant Research
NYU Langone's Hansjörg Wyss Department of Plastic Surgery face transplant research program is a clinical research study open to selected patients for the treatment of facial trauma or disfigurement, burns, and acquired malformations of the face.
The goal of our program is to restore function, movement, and sensation to the face, including in the eyes, lips, and mouth, and to improve the appearance of injured or malformed anatomical features. In August 2015, under the leadership of Eduardo D. Rodriguez, MD, DDS, department chair, we performed the most complex and comprehensive face transplantation to date, and the first in New York State. In January 2018, Dr. Rodriguez and team performed the second face transplantation at NYU Langone.
To make face transplantation possible, our research team closely collaborates with several NYU Langone entities, including the Transplant Institute, the Department of Radiology, and the Division of Medical Ethics. We also work with NYU's Department of Psychology.
Recent Achievements
Through our research, we have achieved several surgical milestones in facial transplantation, including the following:
transplantation of the ears and ear canals and selected bony structures from a donor, including the chin, cheeks, and entire nose
use of three-dimensional modeling, computerized modeling, and three-dimensional–printed patient-specific cutting guides designed from the recipient's and the donor's CT scans to achieve precise fitting of transplanted tissue and bony structures
precise placement of patient-specific surgical plates and screws to ensure the proper contour and symmetry of the transplanted face
Areas of Investigation
As our research in facial transplantation continues, active topics of investigation include the following:
improving surgical techniques in facial transplantation
enhancing and preserving the eyelids
meeting the nonsurgical challenges of facial transplantation
improving outcomes, through continued monitoring, in the face transplant recipients cared for by NYU Langone's Face Transplant Program
Contact Us
If you are a patient or physician who would like more information about our face transplantation services, please contact us at 646-501-4481 or facetransplant@nyulangone.org.
Face Transplant Program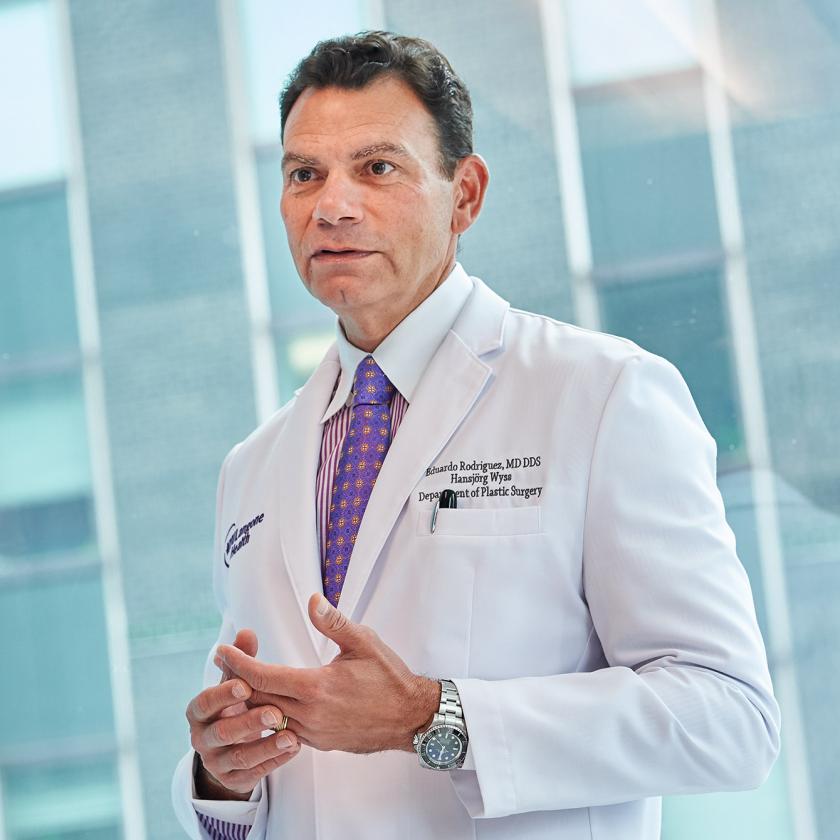 Further Details on Craniomaxillofacial Allotransplantation