Scientific Cores & Shared Resources
Microscopy Laboratory

NYU Langone's Microscopy Laboratory (RRID: SCR_017934) is a shared resource offering comprehensive light and electron microscopy technologies. We partner with faculty, staff, and researchers at NYU Langone, as well as investigators from other institutions in the metropolitan area. Our scientists use powerful light microscopes and electron microscopes at resolutions ranging from centimeters to angstroms, providing clear and detailed images.
We assist at every stage of your experiment, offering research-design consultation and instrument training, as well as guidance in study execution, analysis, and presentation for publication.
To reserve time on an instrument, faculty, staff, and investigators must be registered in iLab. We have also provided iLab login instructions for NYU Langone, NYU, NYU College of Dentistry, and external users.
If you're working with us for the first time, email or call us to discuss project design, sample preparation, and instrument selection. All users must follow lab policies, as well as those of NYU Langone.
New Instruments
We have three new instruments: an Olympus Fluoview multiphoton microscope, a Zeiss Gemini 300 field-emission scanning electron microscope with Gatan 3View®, and an FEI Talos L120C transmission electron microscope. Learn more about our light microscopy and electron microscopy technologies and instruments. You can also contact us for further information about our microscopes.
New Image Analysis Workstations and Software
We offer three high-end Dell Precision Tower 7910 workstations with 256 GB RAM that support quantitative large-volume data processing with Imaris, Amira, ImageJ, IMOD, and other software. Those powerful computers support both light and electron microscopy, in particular volumes from the Gatan 3View®.
Recent Publications
Investigators have published the results of research conducted at the Microscopy Laboratory in a variety of leading publications. See a comprehensive list.
Contact Us
For electron microscopy, contact Alice Liang, PhD, director, at fengxia.liang@nyulangone.org. For light microscopy, contact optical microscopy specialists Yan Deng at yan.deng@nyulangone.org and Michael Cammer at michael.cammer@nyulangone.org.
To reach us by phone, call 212-263-7099.
Our main laboratory is located at 540 First Avenue in Manhattan, in the Skirball Institute of Biomolecular Medicine.
How to Acknowledge the Microscopy Laboratory
You are required to acknowledge NYU Langone's Microscopy Laboratory (RRID: SCR_017934) in all publications, presentations, grant applications, media releases, and other forms of media when you use our equipment, technologies, or expertise, or generate data at the lab. As a courtesy and for copyright purposes, we also request that you inform us of the publication and any images created by the lab's staff or instruments.
This shared resource is partially supported by the Cancer Center Support Grant P30CA016087 at the Laura and Isaac Perlmutter Cancer Center. Please acknowledge this grant in all publications resulting from the use of this facility. Additionally, all publications resulting from the use of this facility are required to abide by the National Institutes of Health Public Access Policy and be deposited in PubMed Central®.
Please consider authorship when our staff members contribute significantly to the development of your experimental design or to your publication content.
Learn more about our imaging facilities guidelines for acknowledgement.
Microscopy Laboratory Image Gallery Component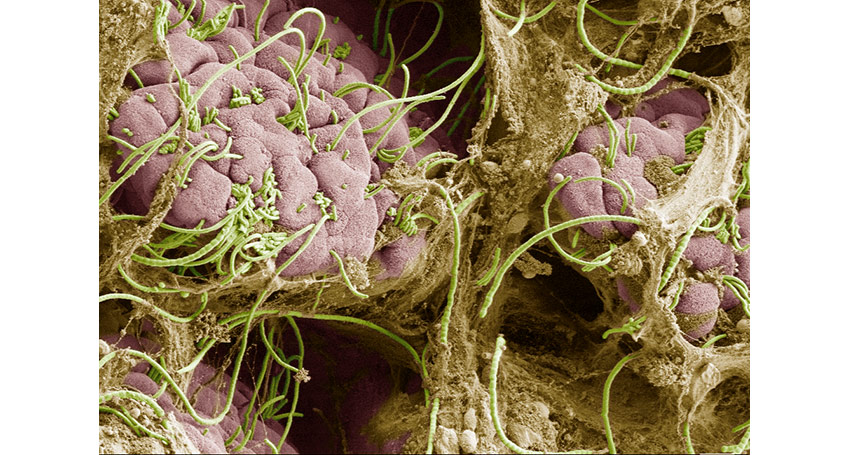 SEM images of segmented filamentous bacteria (SFB) in the terminal ileum of an 8-week-old Taconic mouse.
Photo: Alice Liang, Doug Wei, Eric Roth. Image taken using the Zeiss Supra 55 FESEM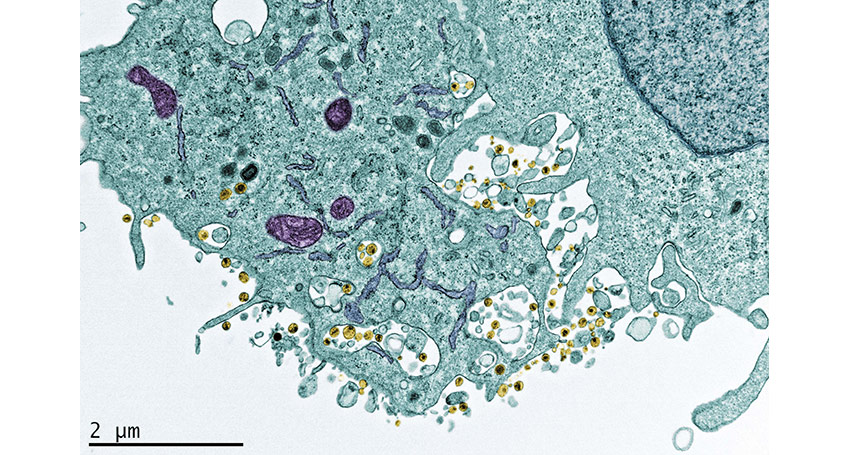 HIV infection cause a synapse formation between a dendritic cell and a CD4 + T cell after HIV infection.
Photo: Mickael Menager, Kristen Dancel-Manning. Image taken using the FEI CM12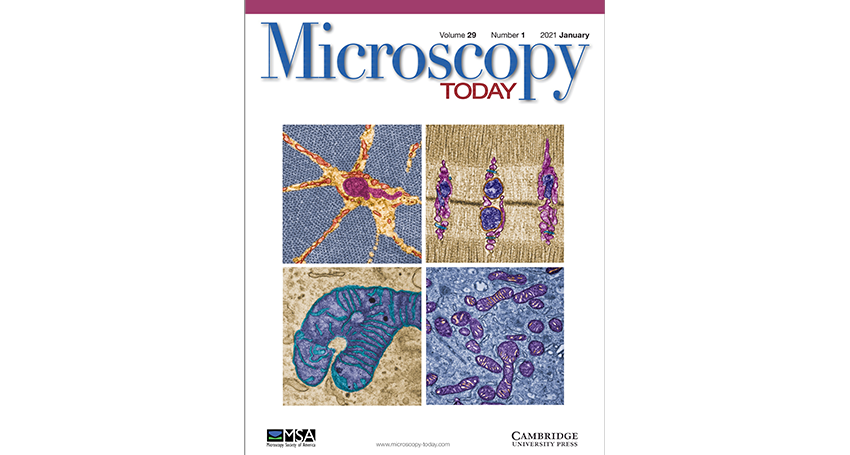 The recent issue of Microscopy Today discusses practical electron microscopy methods for preservation of various biological samples and workflow for three-dimensional electron microscopy in the context of a microscopy core facility.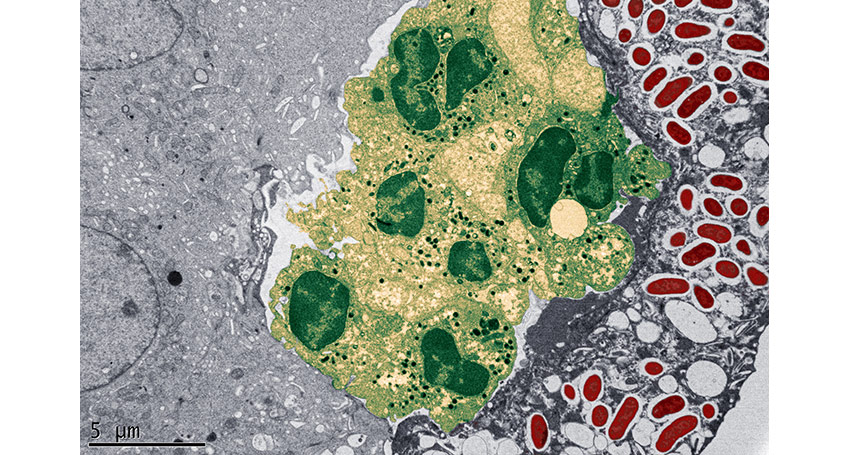 Neutrophil help prevent bacterial infection in urothelium.
Photo: Yan Liu, Kristen Dancel-Manning. Image taken using the FEI CM12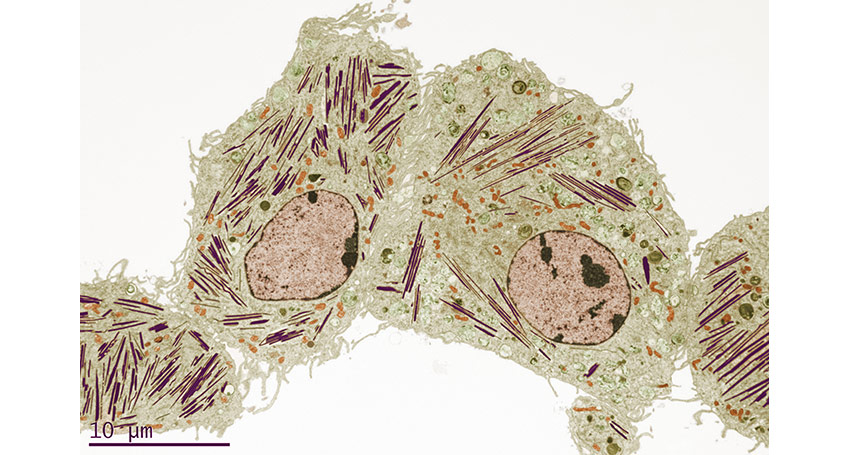 A lung cell in a mouse with Gaucher's disease shows tubular-like lysosomes.
Photo: Jinlong Jian, Kristen Dancel-Manning. Image taken using the FEI CM12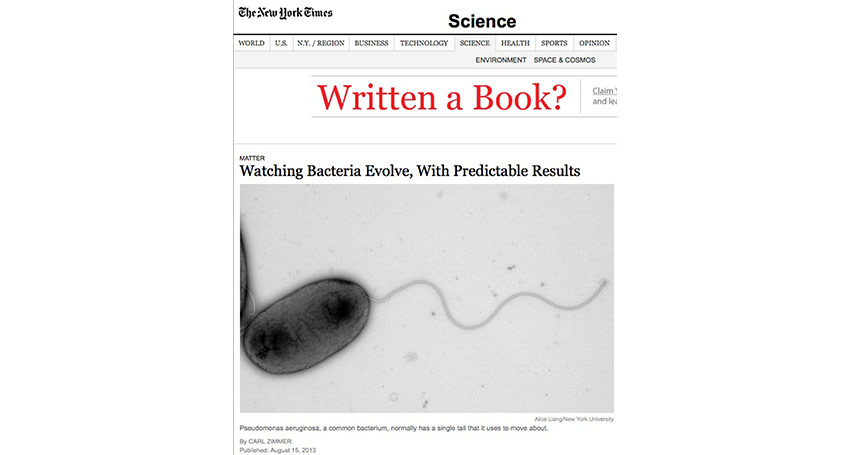 Pseudomonas aeruginosa.
Photo: Alice Liang