About the Department of Population Health
Scaling Our Work in the Department of Population Health

Scaling Our Work in the Department of Population Health
Scaling up successful demonstration projects into larger population health interventions is challenging. In NYU Langone's Department of Population Health, we focus on designing actionable research with an eye to move our work along a trajectory that starts with building the evidence base. We design and evaluate programs or policies that either we or others can bring to scale and improve population health for people, communities, cities, or the nation. Partnership and collaboration are fundamental to making such meaningful advances in population health and health equity. We work with a diverse set of community partners, as well as national and global stakeholders.
Learn more about a few recently scaled projects—and their impact—led by Department of Population Health faculty and staff.

Patient Navigators in Non-Healthcare Settings for Cancer Prevention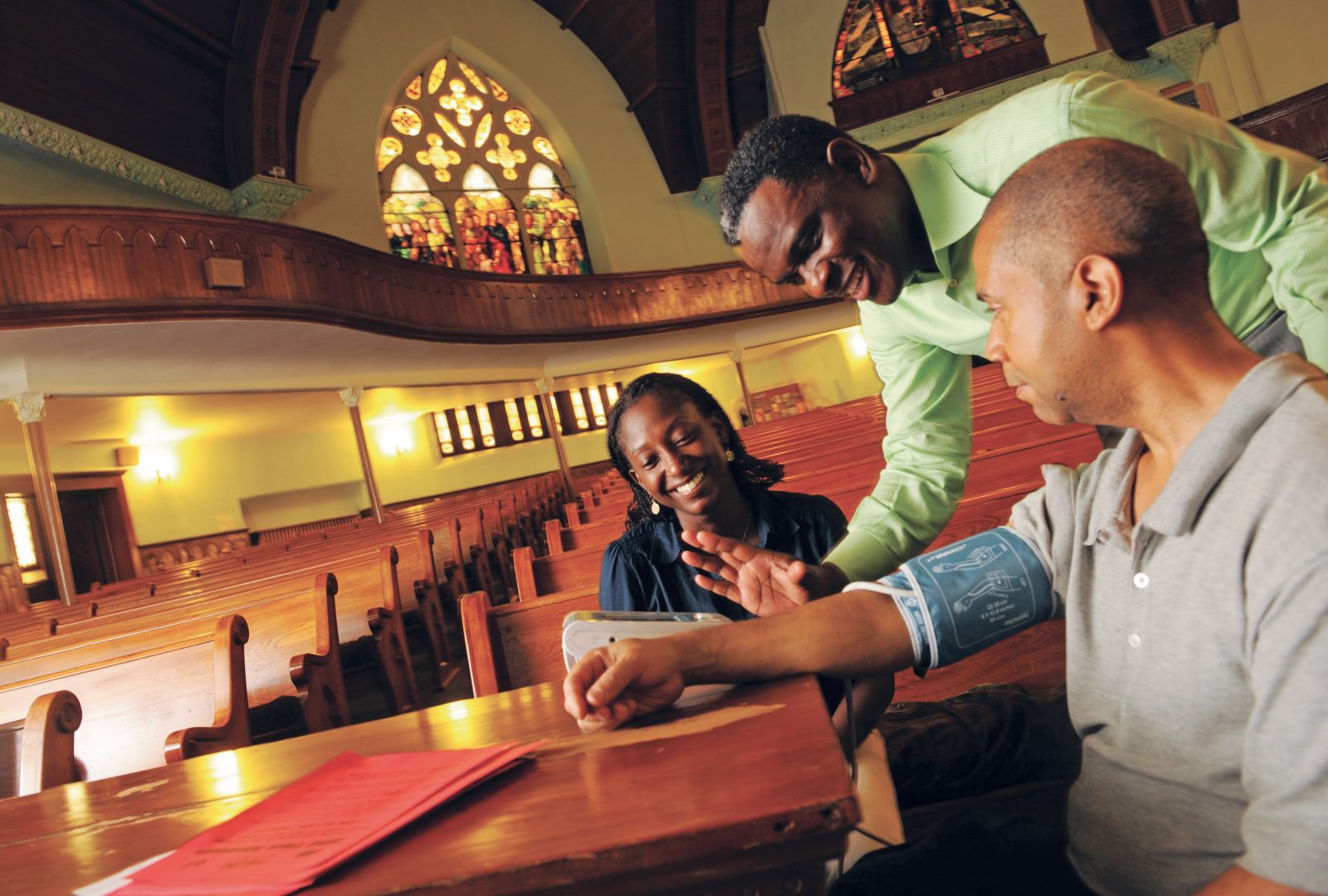 Black men have the highest rates of colorectal cancer (CRC) and are more likely to die from the disease than any other demographic group in the United States. Even in New York City, where disparities in overall CRC screening have been largely reduced, racial differences in age at screening, early stage diagnosis, and CRC mortality persist—making timely CRC screening particularly important.
Building the Evidence
Joseph E. Ravenell, MD, and his team of researchers conducted a randomized study among 731 African American men recruited at barbershops between 2010 and 2013 in New York City. The study participants were aged 50 years or older, out of date on CRC screening, and had uncontrolled high blood pressure. To carry out this community-engaged research, Dr. Ravenell's team established a network of more than 200 community sites across New York City, including barbershops and faith-based and social service organizations. Dr. Ravenell's study demonstrated that community-based patient navigation resulted in a fourfold increase of the CRC screening rate among low-income black men, compared with usual care.
Taking to Scale
Using findings from this research, NYU Langone's Perlmutter Cancer Center, through substantial donor gifts and a grant from the New York City Department of Health and Mental Hygiene, launched a major patient navigation program called the Beatrice W. Welters Breast Health Outreach and Navigation Program in 2016. The program, led by Dr. Ravenell and Kathie-Ann Joseph, MD, MPH, educates residents about cancer and the critical importance of screening, as well as provides assistance in navigating the healthcare system through one-on-one guidance and direct interaction.
ParentCorps: Improving Health and Education Outcomes for Pre-Kindergarteners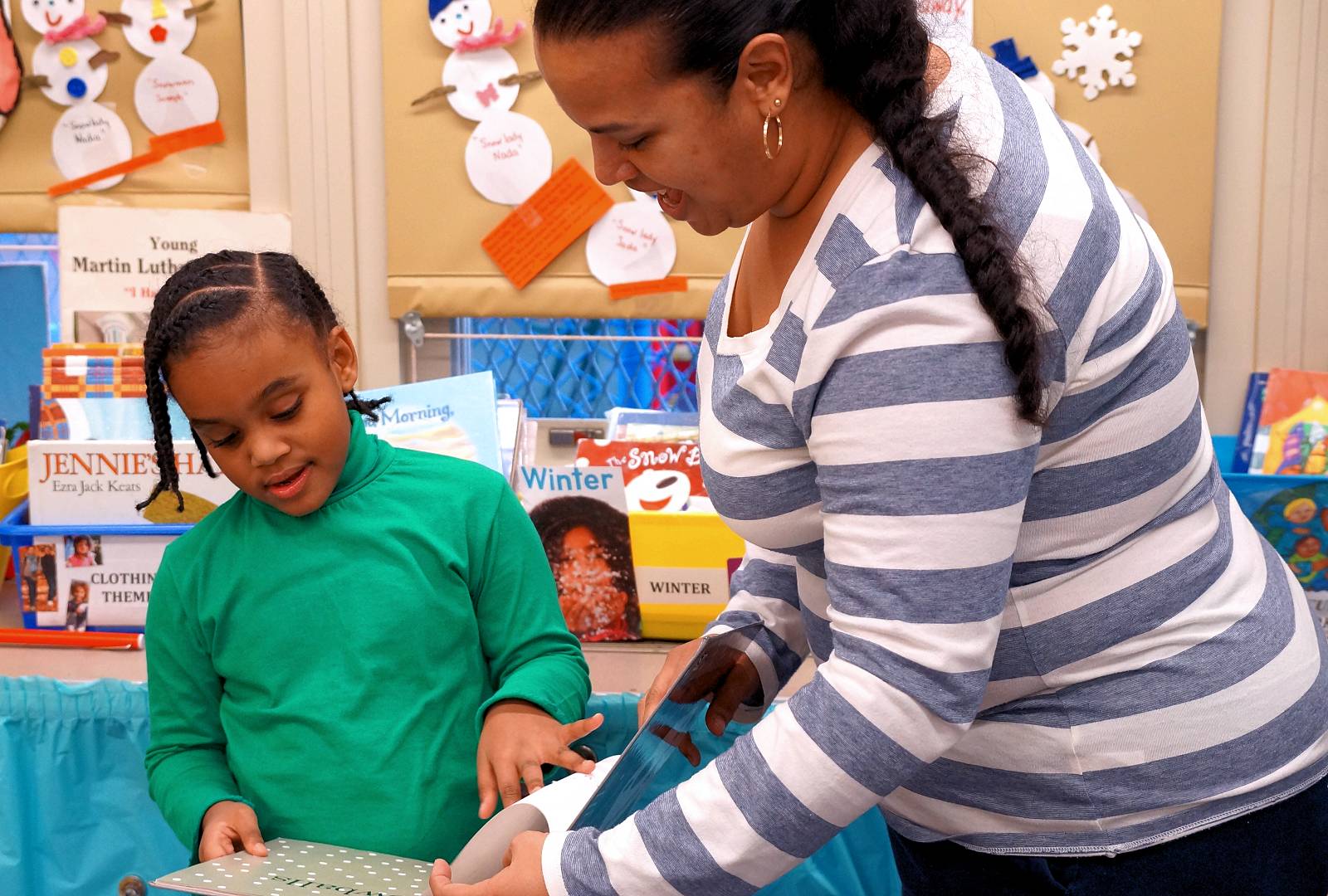 Health disparities and achievement gaps persist despite decades of policy reforms—in large part reflecting gaps in opportunities for learning in early life. Collaborating with parents to support children's health and development is especially important during the early years. The transition to school is an important milestone in the lives of both children and their families. Establishing strong family–school relationships before kindergarten entry can set a solid foundation for empowering parents to stay involved and advocate for their children throughout their educational experience.
Building the Evidence
Led by Laurie M. Brotman, PhD, at NYU Langone's Center for Early Childhood Health and Development, ParentCorps is an enhancement to pre-kindergarten (pre-K) in historically disinvested neighborhoods, centering on racial equity and the voices of families of color. ParentCorps includes professional development for teachers, principals, pre-K program leaders, mental health professionals, and parent support staff; a social–emotional learning program for pre-K classrooms ("Friends School" implemented by classroom teachers in all classrooms); and a culturally relevant parenting program for all families as part of a high-quality pre-K experience (facilitated by school- or district-based mental health professionals). The combination of these three components strengthens family engagement and helps both parents and teachers to provide safe, nurturing, and predictable environments at home and school.
Two randomized controlled trials found that ParentCorps works as intended to promote self-regulation in early childhood by strengthening adult capacity to support children's skill development. Specifically, ParentCorps increases knowledge and use of effective practices (such as setting clear expectations and positive reinforcement) and more nurturing adult–child interactions. ParentCorps also strengthens social–emotional learning in pre-K and prevents the development of mental health problems, including both emotional and behavioral problems, through second grade. ParentCorps leads to improved academic achievement by the end of kindergarten with sustained effects through second grade. In addition, for children who enter pre-K without strong behavior regulation skills, ParentCorps reduces early behavior problems and prevents the development of obesity and unhealthful behaviors through second grade.
Taking to Scale
Based on this evidence of long-term benefits for children and families, the Center for Early Childhood Health and Development is now engaged in a research practice partnership with the New York City Department of Education to scale ParentCorps citywide, throughout its Pre-K for All initiative. Through a three-tiered model of nested services, ParentCorps is reaching all families of four-year-olds enrolled in pre-K programs throughout New York City. As part of this, Department of Population Health faculty are conducting three large randomized controlled trials in more than 180 pre-K programs in historically disinvested neighborhoods to test the relative impact of the tiers on pre-K classrooms and teachers, children, and families. Learn more about the impact of ParentCorps.
Water Jets to Fight Childhood Obesity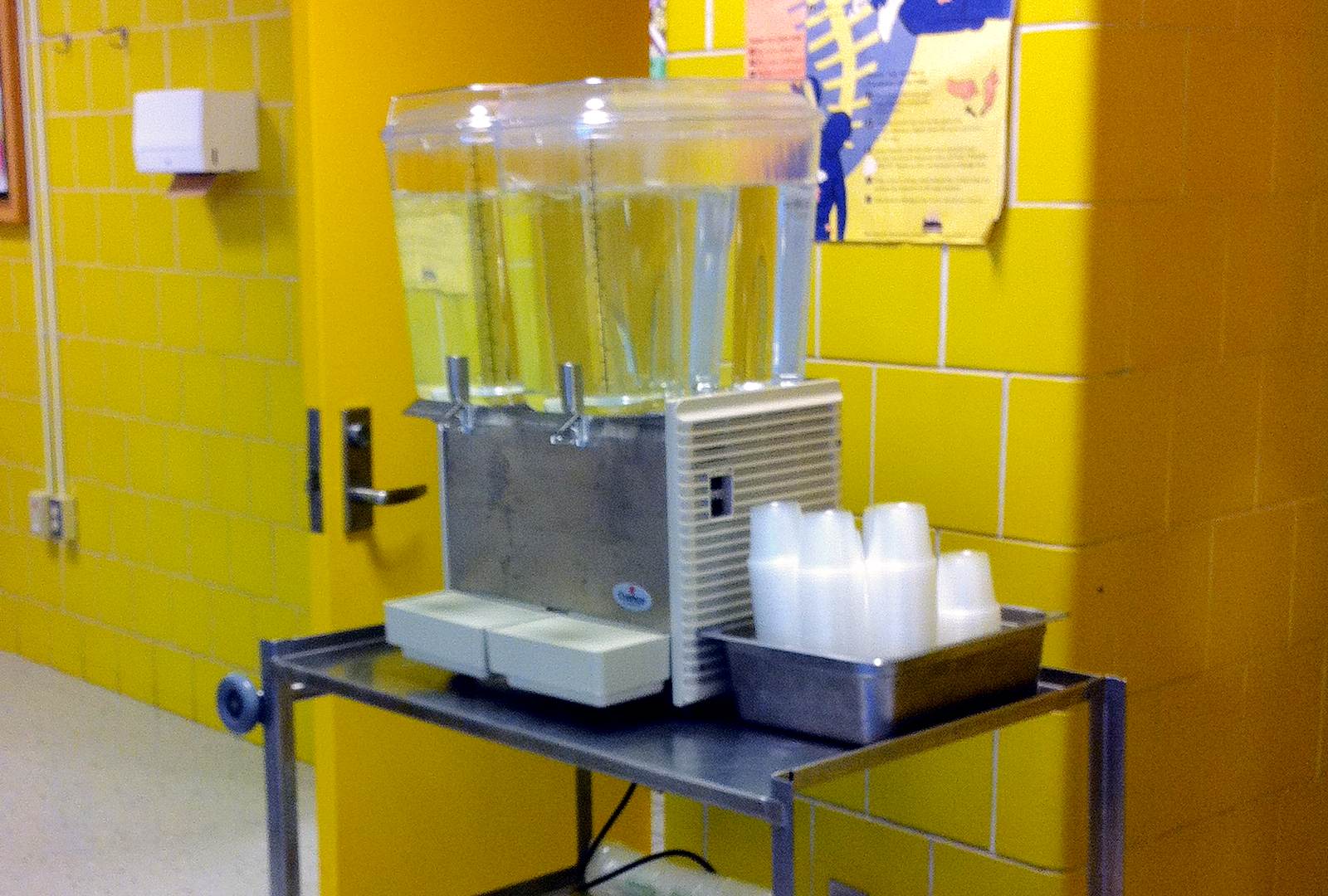 In New York City, nearly half of all elementary school children are overweight. One key strategy in the fight against childhood obesity is to increase the amount of water intake among children while decreasing the amount of caloric beverages consumed.
Building the Evidence
Researchers in the Department of Population Health, led by Brian D. Elbel, PhD, MPH, teamed up with the New York City Department of Health and Mental Hygiene and the Centers for Disease Control and Prevention to assess the impact of boosting the availability of water on the consumption of sugar-sweetened beverages among more than one million students within New York City public elementary and middle schools. Study findings showed that after installing water jets in school cafeterias, there was an association between increased water availability and decreased student weight.
Taking to Scale
After Dr. Elbel's results were published, water jets were installed in all New York City public schools.
Culturally Tailored Hepatitis B and Liver Cancer Screening for Asian Americans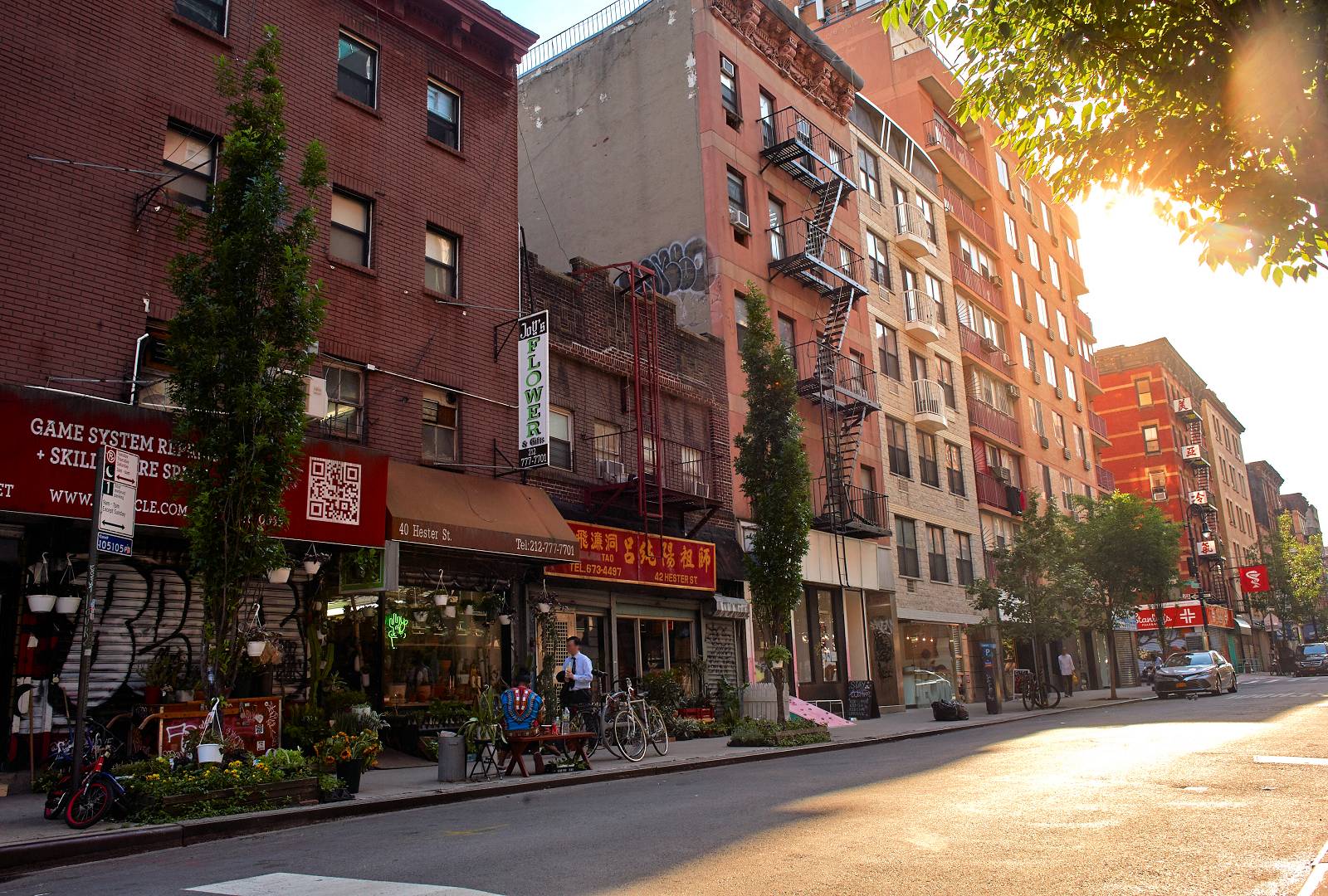 Chronic hepatitis B affects Asian Americans at a much higher rate than the general U.S. population. In fact, the Centers for Disease Control and Prevention estimate that at least 50 percent of individuals infected with hepatitis B in the United States are of Asian or Pacific Islander descent. However, access to care for many Asian Americans is limited by lack of knowledge about the disease, as well as cultural, linguistic, and financial challenges.
Building the Evidence
Researchers from our NYU Center for the Study of Asian American Health teamed up with community partners and the New York City Department of Health and Mental Hygiene to co-lead the B Free NYC: Asian American Hepatitis B Program—a city-wide comprehensive hepatitis B community–clinical linkage to care program—implement a social marketing campaign to increase hepatitis B screening, and co-found the NYC Hep B Coalition.
The B Free NYC: Asian American Hepatitis B Program integrated community health workers and patient navigators who were supported by safety net care providers (NYC Health + Hospitals/Bellevue, NYC Health + Hospital/Gouverneur, and the Charles B. Wang Community Health Center) and a network of minority-serving social service agencies. Approximately 9,000 underserved and vulnerable individuals were successfully engaged and navigated into hepatitis B screening, vaccination, and treatment; 90 percent of the people referred and navigated to care and treatment completed a full clinical evaluation.
Taking to Scale
Leveraging the successes and lessons learned from the B Free NYC: Asian American Hepatitis B Program, the New York City Department of Health and Mental Hygiene now supports the Check Hep B Patient Navigation Program, which provides outreach to community organizations and safety net hospitals and clinics for patient navigation to link people living with hepatitis B to care; support complete hepatitis B medical evaluation, retention in care, and treatment (if recommended); and help patients maintain liver health.
Contact Us
If you are interested in learning more about our work, or in working with us, please contact Sasha Walek, MPA, communications manager, at sasha.walek@nyulangone.org.