Rusk Rehabilitation Divisions
Our divisions are headed by experts in rehabilitation medicine across a wide range of subspecialties.
NYU Langone's Rusk Rehabilitation is home to six divisions, each of which represents one of our pillars of excellence and our commitment to advancing the field of rehabilitation medicine.
We are dedicated to helping each patient return home and live a healthy, productive life. We have a rich legacy and are proud to follow the course set by our founder, Howard A. Rusk, MD, which focuses on the whole person and involves a highly integrated team approach to care.
We continue to build on that legacy by providing outstanding inpatient and outpatient rehabilitation care, providing comprehensive training opportunities for the next generation of rehabilitation specialists, and discovering new treatments through our research initiatives.
Division of Cardiac and Pulmonary Rehabilitation
The Division of Cardiac and Pulmonary Rehabilitation is dedicated to the treatment of disabilities related to heart disease and respiratory disorders throughout the continuum of care, as well as primary and secondary prevention through risk factor modification. Certified by the American Association of Cardiovascular and Pulmonary Rehabilitation, our division offers supervised exercise programs designed to increase strength and endurance, as well as services to help patients modify behavioral risk factors, and stresses lifelong adherence to healthy lifestyles. We collaborate closely with the Department of Cardiothoracic Surgery, NYU Langone Transplant Institute, Leon H. Charney Division of Cardiology, and Division of Pulmonary, Critical Care, and Sleep Medicine to optimize patient health and wellbeing as well as conduct advanced cardiopulmonary exercise stress testing, or CPET, to guide management decisions.
Patients receive individual attention from our specialized team of physiatrists, physicians, advanced practice nurses, exercise physiologists, nutritionists, physical therapists, social workers, and psychologists.
We also conduct cardiopulmonary rehabilitation research and are committed to training future cardiac and pulmonary rehabilitation specialists as well as providing ongoing peer group education.
Division of Limb Loss Rehabilitation
The Division of Limb Loss Rehabilitation offers a range of services from acute inpatient rehabilitation to outpatient management for patients who have lost a limb. Our limb loss physiatrists and team of specialists emphasize patient education about skin care, nutrition, exercise, community activities, fall prevention, and safety in the home. The team also works closely with the prosthetist to ensure comprehensive management of the prosthetic limb and fit are incorporated into the rehabilitation program.
Division of Musculoskeletal Rehabilitation and Sports Medicine
The Division of Musculoskeletal Rehabilitation and Sports Medicine provides a broad range of rehabilitation services to patients who have acute or chronic pain, limited function and mobility because of nerve and muscular disorders, arthritis, joint replacement surgery, fractures, spinal disorders, and sports injuries. Physiatry evaluations and interventions as well as physical and occupational therapy are provided for surgical and nonsurgical sports injuries of the ankle, hip, knee, head, neck, shoulder, elbow, wrist, hand, and spine. Additionally, we offer a wide range of cutting-edge interventional pain and spine procedures, as well as integrative modalities such as medical acupuncture.
Division of Neurologic Rehabilitation
The Division of Neurologic Rehabilitation is dedicated to optimizing the functional abilities of patients with a wide spectrum of neurologic conditions. Our approach varies from patient to patient and includes helping people regain function that is lost after acute and chronic neurologic injuries or conditions, teaching people adaptive techniques for daily living to enhance their quality of life, and trying to slow the functional loss that occurs with the progression of degenerative conditions such as Parkinson's disease and multiple sclerosis.
Our division offers a structured comprehensive array of highly specialized and innovative clinical and educational programs to patients who have sustained brain injuries, spinal cord injuries, or peripheral nerve injuries. We are home to one of the first stoke specialty programs in the nation to be accredited by the Commission on Accreditation of Rehabilitation Facilities (CARF).
We conduct research in several areas of focus, including aphasia and language, emotion and brain injury, eye–hand coordination, neuropsychology, swallowing, stroke, traumatic brain injury, and vestibular and balance rehabilitation.
Division of Oncology Rehabilitation
At the Division of Oncology Rehabilitation, our mission is to use an interdisciplinary approach to improve the quality of life and function for people living with and beyond cancer. Our division offers a broad range of preventive, restorative, supportive, and palliative rehabilitative services. We also work with medical oncologists, radiation oncologists, surgeons, and nurses at NYU Langone's Perlmutter Cancer Center to create individualized rehabilitation care plans for each patient.
Under the guidance of the oncology physiatrists, care may include a combination of physiatry, physical therapy, occupational therapy, osteopathic manipulation, speech–language pathology and swallowing therapy, vocational therapy, psychological services, cognitive rehabilitation, music and recreational therapy, pain management, social work services, and lifestyle interventions, such as nutritional counseling, exercise, and stress management.
Division of Pediatric Rehabilitation
The Division of Pediatric Rehabilitation offers family-centered services to children from 18 months to 18 years, covering the full range of congenital and acquired conditions, including developmental disabilities, medical complications, and progressive deformities.
Our team of physiatrists, physical therapists, occupational therapists, rehabilitation nurses, and speech–language pathologists treat children at Hassenfeld Children's Hospital—34th Street and at various NYU Langone locations in Manhattan, Brooklyn, and Long Island.
Our Research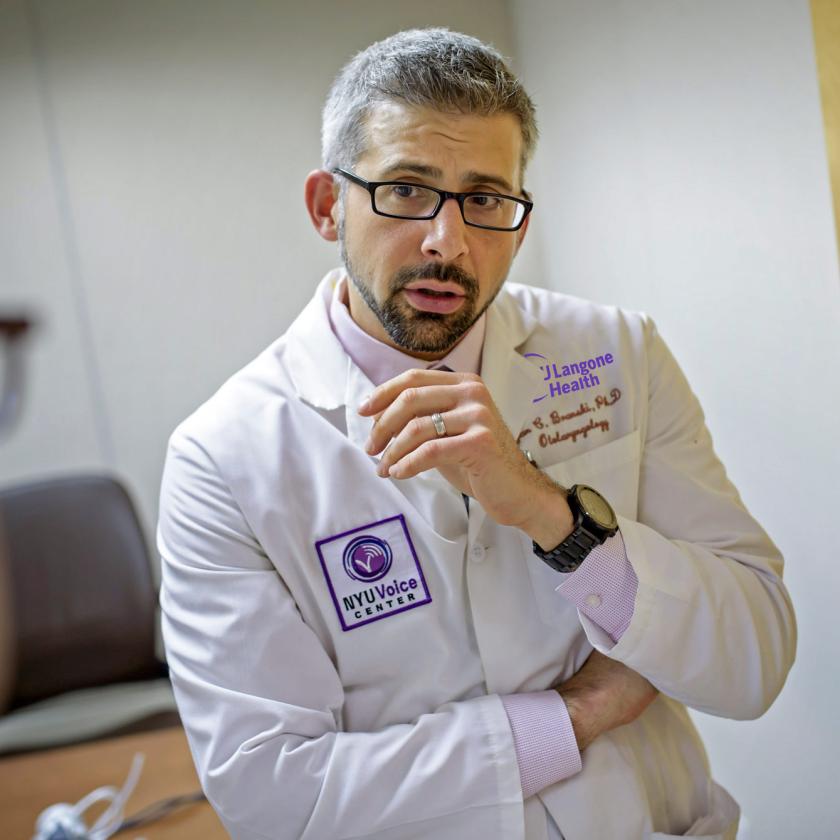 Our Educational Opportunities