About the Department of Medicine
Department of Medicine Diversity Initiatives

Department of Medicine Diversity Initiatives
NYU Langone's Department of Medicine promotes cultural diversity via the recruitment and advancement of underrepresented minorities in medicine, LGBTQ+ residents, and women in leadership positions through our Department of Internal Medicine Organization for Nurturing Diversity (DIMOND).
DIMOND Program
The DIMOND program actively recruits faculty and house staff from groups that are traditionally underrepresented in medicine, encourages continuing faculty development and mentorship, and works with other local and national organizations to address multicultural and minority health issues.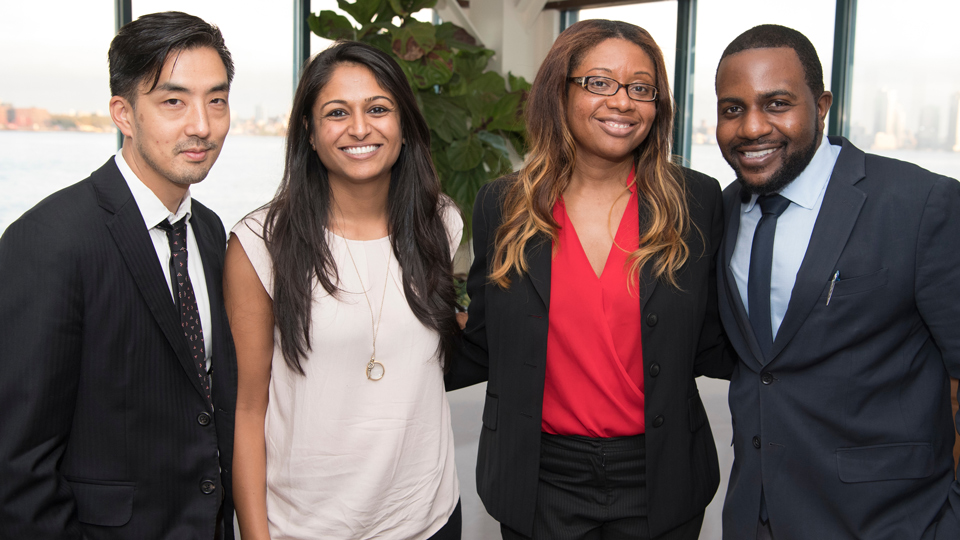 As healthcare providers in a large urban academic medical center, we treat one of the most ethnically and socioeconomically diverse patient populations in the country. We strive to ensure that our workforce reflects the communities we serve.
The DIMOND executive committee guides us in cultivating a climate that supports faculty and house staff who are proficient in providing culturally competent educational experiences and patient care. The executive committee's senior leadership includes Joseph E. Ravenell, MD, associate dean for diversity affairs and inclusion, Fritz Francois, MD, executive vice president and vice dean, chief of hospital operations, and Steven Abramson, MD, vice dean for education, faculty, and academic affairs.
For more information, contact DIMOND program director Renee L. Williams, MD, at renee.williams@nyulangone.org.
DIMOND Events
DIMOND events, sponsored by chair Dr. Abramson, provide networking opportunities and promote the exchange of ideas that raise awareness of issues disproportionately affecting people who are underrepresented in medicine. Annual events include the following:
DIMOND Reception: The first event of the academic year, this reception offers opportunities for the newest DIMOND faculty and residents to meet and set the diversity agenda for the coming academic year.
DIMOND Diversity Mixer: House staff applicants who are interested in the DIMOND program are invited back at the end of the application season to meet potential future colleagues.
LGBTQ Revisit Mixer: LGBTQ+ house staff applicants are invited back at the end of the application season to meet potential future LGBTQ+ faculty, co-residents, and allies.
DIMOND Faculty–Resident Roundtable: DIMOND residents and faculty members hold roundtable discussions focused on diversity-related issues such as workplace bias and strategies for combating racism, sexism, and homophobia in patient care.
DIMOND Resident Potluck: This summer event, hosted each June for DIMOND residents, welcomes the newest recruits over snacks, drinks, and dessert.
DIMOND Leadership Committee and Faculty Mentors
The DIMOND leadership committee is made up of senior and junior residents and faculty mentors in the Department of Medicine. The committee recruits and mentors DIMOND residents. They also work with the executive committee to organize professional and personal development programs and DIMOND events.
Contact a member of the team to learn more about professional and personal development opportunities through the DIMOND program.
Renee L. Williams, MD
Director, DIMOND Program
Specialty: Gastroenterology
renee.williams@nyulangone.org
Christian Torres, MD
DIMOND Chief Resident
christian.torres@nyulangone.org
David Dornblaser, MD
Co-Chair, DIMOND Resident Committee
david.dornblaser@nyulangone.org
Alexander Jordan, MD
Co-Chair, DIMOND Resident Committee
alexander.jordan@nyulangone.org
Cesar Soria, MD
DIMOND Resident Committee
cesar.soria@nyulangone.org
Alvaro Vargas Pelaez, MD
DIMOND Resident Committee
alvaro.vargaspelaez@nyulangone.org
Sophie M. Balzora, MD
Faculty Mentor
Specialty: Gastroenterology
sophie.balzora@nyulangone.org
Ashira Blazer, MD
Faculty Mentor
Specialty: Rheumatology
ashira.blazer@nyulangone.org
Esther R. Butler, MD
Faculty Mentor
Specialty: Adolescent Medicine
esther.butler@nyulangone.org
Beno W. Oppenheimer, MD
Faculty Mentor
Specialty: Pulmonary, Critical Care, and Sleep Medicine
beno.oppenheimer@nyulangone.org
Adriana M. Quinones-Camacho, MD
Faculty Mentor
Specialty: Cardiology
adriana.quinones-garcia@nyulangone.org
Joseph E. Ravenell, MD
Faculty Mentor
Specialty: Population Health
joseph.ravenell@nyulangone.org
Seagram M. Villagomez, MD
Faculty Mentor
Specialty: General Internal Medicine and Clinical Innovation
seagram.villagomez@nyulangone.org