Department of Neurology Divisions & Centers
Division of Autonomic Disorders

Division of Autonomic Disorders
The Division of Autonomic Disorders, part of NYU Langone's Department of Neurology, brings together clinicians and scientists with the shared goal of advancing treatment for children and adults with autonomic disorders through clinical and basic research.
Our clinical research program focuses on finding new therapies for rare autonomic disorders caused by neurodegeneration or genetic errors. Our division has an accredited neurology fellowship program to train physicians and research scientists. We are committed to translational research to bridge the gap between basic science and clinical medicine.
Outpatient clinical care and research are based at NYU Langone's Dysautonomia Center, one of the few centers in the world that specialize in treating severe autonomic dysfunction.
The Dysautonomia Center is the only facility in the United States dedicated to treating familial dysautonomia (FD) and other rare genetic diseases that affect the sensory and autonomic nervous systems. It is a one-of-a-kind facility for patients and their families, as well as a resource for physicians from all over the world. This is made possible thanks to the long-standing support of the Familial Dysautonomia Foundation, Inc., a nonprofit organization created in 1951 by a group of parents with affected children.
The Dysautonomia Center offers specialist multidisciplinary care for patients with multiple system atrophy (MSA) and has an active research program focused on this disorder.
History of the Dysautonomia Center
The Dysautonomia Treatment and Evaluation Center was established in 1969 at NYU Langone. Its mission was to provide the best medical care to patients with familial dysautonomia, a rare, disabling genetic disease that affects the development of sensory and autonomic nerves. The condition is also known as Riley-Day syndrome or hereditary sensory and autonomic neuropathy type III.
In 2007, Horacio Kaufmann, MD, joined NYU Langone to direct the Dysautonomia Center together with Lucy J. Norcliffe-Kaufmann, PhD. He is one of the world's foremost experts and a leader in the field of autonomic disorders. Under their direction, the Dysautonomia Center expanded and built new research facilities. Dr. Kaufmann has directed a comprehensive program for the study of autonomic disorders and conducted innovative clinical trials of the main drugs used in the treatment of autonomic failure.
Today, the Dysautonomia Center is a comprehensive medical facility dedicated exclusively to the research and treatment of genetic and nongenetic (sporadic) disorders of the autonomic nervous system in children and adults. It has an active research program with funding from government grants, foundations, and industry partners. This approach has successfully brought new treatments to the clinic.
Our Team
Faculty
Horacio Kaufmann, MD
Director, Division of Autonomic Disorders, Dysautonomia Center, and Autonomic Disorders Fellowship Program
The Felicia B. Axelrod Professor of Dysautonomia Research, Department of Neurology
Professor, Departments of Medicine and Pediatrics
Maria Alejandra Gonzalez-Duarte Briseno, MD
Assistant Director, Dysautonomia Research Laboratory
Associate Professor, Department of Neurology
Jose-Alberto Palma Carazo, MD, PhD
Research Professor, Department of Neurology
Patricio Millar Vernetti, MD
Research Instructor, Department of Neurology
Clinical Staff
Zenith Khan, DNP, FNP-BC
Kaia Dalamo, DNP, FNP-BC
Research Staff
Jose Martinez, MA
Senior Clinical Trials Manager
Mechteld Kuijpers
Project Assistant
Administrative Staff
Lee-Ann Lugg
Program Coordinator
Mike Yates
Project Assistant
Contact Us
To become a patient at NYU Langone's Dysautonomia Center, please call 212-263-7225 or email nyudysautonomia.referrals@nyulangone.org.
To learn more about the Division of Autonomic Disorders, please contact Lee-Ann Lugg at 212-263-7225 or email nyudysautonomiacenter@nyulangone.org.
Dysautonomia Center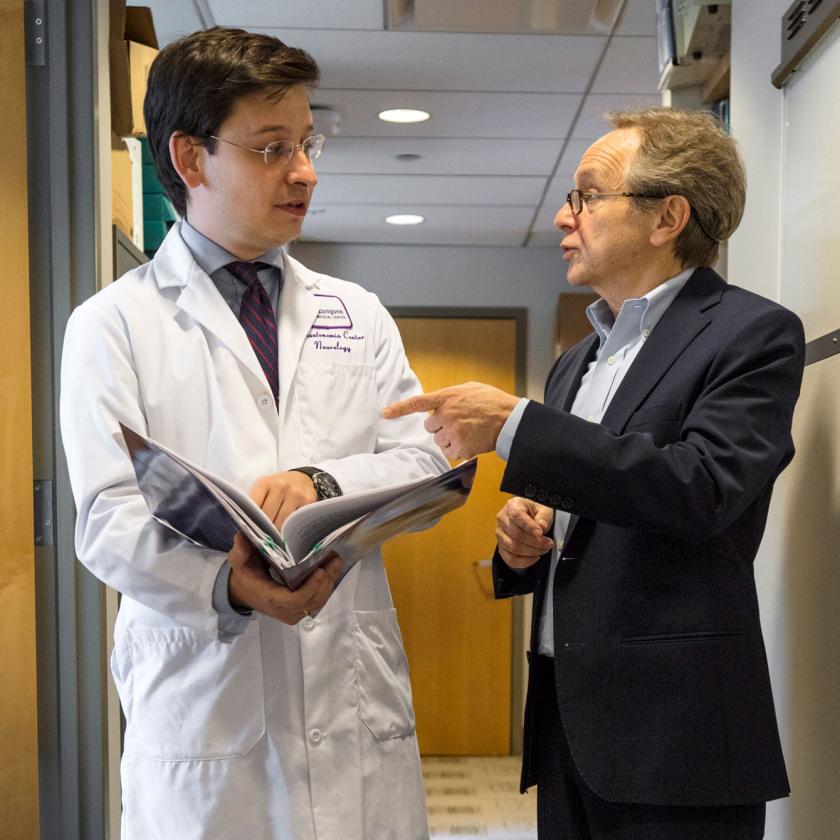 Autonomic Disorders Fellowship