Ophthalmology Fellowships
Glaucoma Fellowship

NYU Langone's Department of Ophthalmology offers a one-year post-residency Glaucoma Fellowship in adult and pediatric glaucoma, designed to provide advanced clinical and surgical training in the management of glaucoma and anterior segment disease. Under the direction of Manjool Shah, MD, faculty members, including Ariana Levin, MD, Poonam Misra, MD, Joseph F. Panarelli, MD, Andrew M. Prince, MD, and Chaim Wollstein, MD, are deeply involved in training.
The program curriculum includes didactic lectures, journal clubs, grand rounds, and case conferences. Fellows have access to the latest diagnostic and surgical equipment, including ultrasound biomicroscopy, anterior segment optical coherence tomography, and different types of lasers.
Upon completion of the program, fellows are well prepared to enter a career in academic medicine or private practice, with a comprehensive understanding of glaucoma management and the skills needed to provide high-quality care to their patients.
Clinical experiences take place at NYU Langone Ambulatory Care Center East 41st Street and NYU Langone Ambulatory Care Center East 38th Street; NYU Langone's Tisch Hospital and Kimmel Pavilion; and NYC Health + Hospitals/Bellevue.
Clinical and Surgical Exposure
Our program provides fellows with a comprehensive education in glaucoma management, including diagnostics, medical therapy, and surgical interventions. Fellows gain hands-on experience in traditional glaucoma therapies and the latest treatments, some of which were pioneered by doctors at NYU Langone. Our expert procedures include trabeculectomy, also known as glaucoma filtration surgery, and trabecular microbypass stenting, a form of microinvasive glaucoma surgery. Fellows also participate in the care of pediatric glaucoma patients.
Fellows gain exposure to advanced anterior segment surgery which is performed on the iris and lens, including complex cataract surgery, intraocular lens displacement, and iris reconstruction.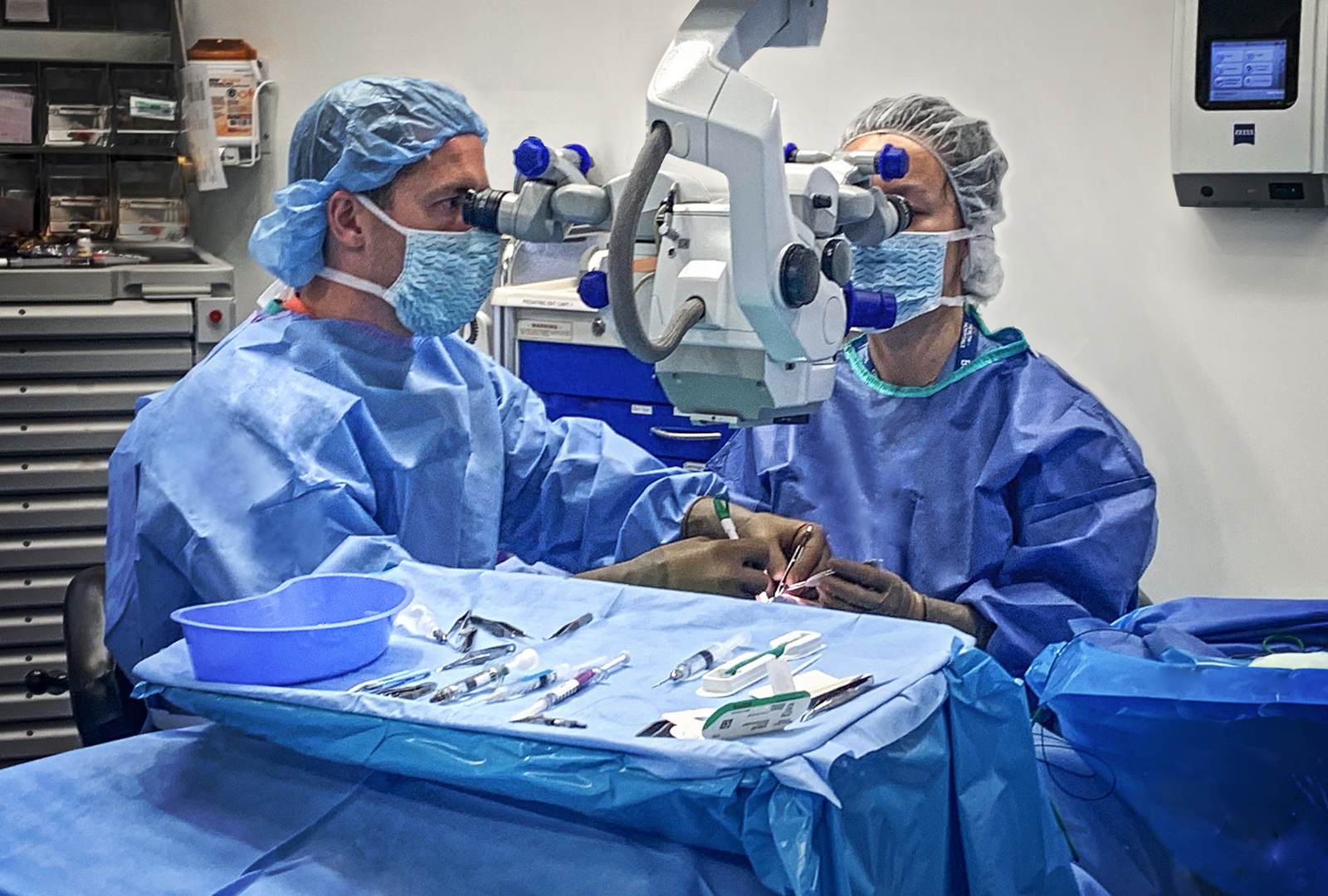 Our fellows interact directly with a diverse patient population and gain experience in a range of clinical settings, including high-volume faculty glaucoma clinics, a tertiary referral center, and clinical care and surgical staffing at Bellevue.
It is a priority for our trainees to attend national training sessions specifically designed for fellows. These conferences typically offer didactic sessions followed by a hands-on wet lab with faculty from around the world.
Research Opportunities
Fellows are required to conduct a research project while at NYU Grossman School of Medicine and are expected to present their original work at a regional, national, and/or international meeting. In addition, you have the opportunity to work with full-time faculty who are actively involved in various types of clinical trials, including medication, laser, surgical device, and imaging.
How to Apply
Our Glaucoma Fellowship is registered with the Association of University Professors of Ophthalmology (AUPO) Fellowship Compliance Committee (FCC) and meets guidelines set forth by the AUPO FCC.
Information and Central Application Service forms relating to the Fellowship Matching Program can be obtained from SF Match.
NYU Langone does not offer H-1B visa sponsorship for house staff, residents, or fellows. J-1 sponsorship is available through the Educational Commission for Foreign Medical Graduates (ECFMG).
The 2023 application deadline for our fellowship has passed. We will provide additional information about the upcoming application deadline as soon as it's available.
Contact Us
Questions about our Glaucoma Fellowship should be directed to OphthalmologyAdminEducation@NYULangone.org.