Ophthalmology Fellowships
Glaucoma Fellowship

NYU Langone's Department of Ophthalmology offers a one-year Glaucoma Fellowship in adult and pediatric glaucoma under the direction of Joseph F. Panarelli, MD. In addition, participating faculty include Poonam Misra, MD; Joel S. Schuman, MD; and Gadi Wollstein, MD.
Glaucoma fellows rotate with all members of the glaucoma service in the ambulatory practice during the year and work with each faculty member in the operating room. Fellows also participate in a fellows' clinic where they have autonomy while still working under the supervision of a glaucoma faculty member. The faculty member signs off on each case that is seen in the clinic at NYC Health + Hospitals/Bellevue and is present for any glaucoma surgical case that occurs at this clinic.
Clinical experiences take place at NYU Langone Ambulatory Care Center East 41st Street and NYU Langone Ambulatory Care Center East 38th Street; NYU Langone's Tisch Hospital and Kimmel Pavilion; and Bellevue.
Clinical and Surgical Exposure
While working in the clinic setting, fellows evaluate both new and established glaucoma patients and are expected to develop complete assessments and management plans based on their clinical examination and the patient's diagnostic testing.
As a fellow, you are expected to become proficient in performing traditional glaucoma surgeries (trabeculectomy, tube-shunt surgery) as well as handling the complications that can occur from such procedures (tube shunt/trabeculectomy revision and choroidal drainage, among others).
Newer microinvasive glaucoma procedures—such as the iStent inject, Hydrus Microstent, Kahook Dual Blade, gonioscopy-assisted transluminal trabeculotomy, endoscopic cyclophotocoagulation, and XEN Gel Stent—are performed by various members of the glaucoma service. Each fellow has an opportunity to first practice these procedures in the wet lab and then perform these surgeries under the guidance of an experienced glaucoma surgeon.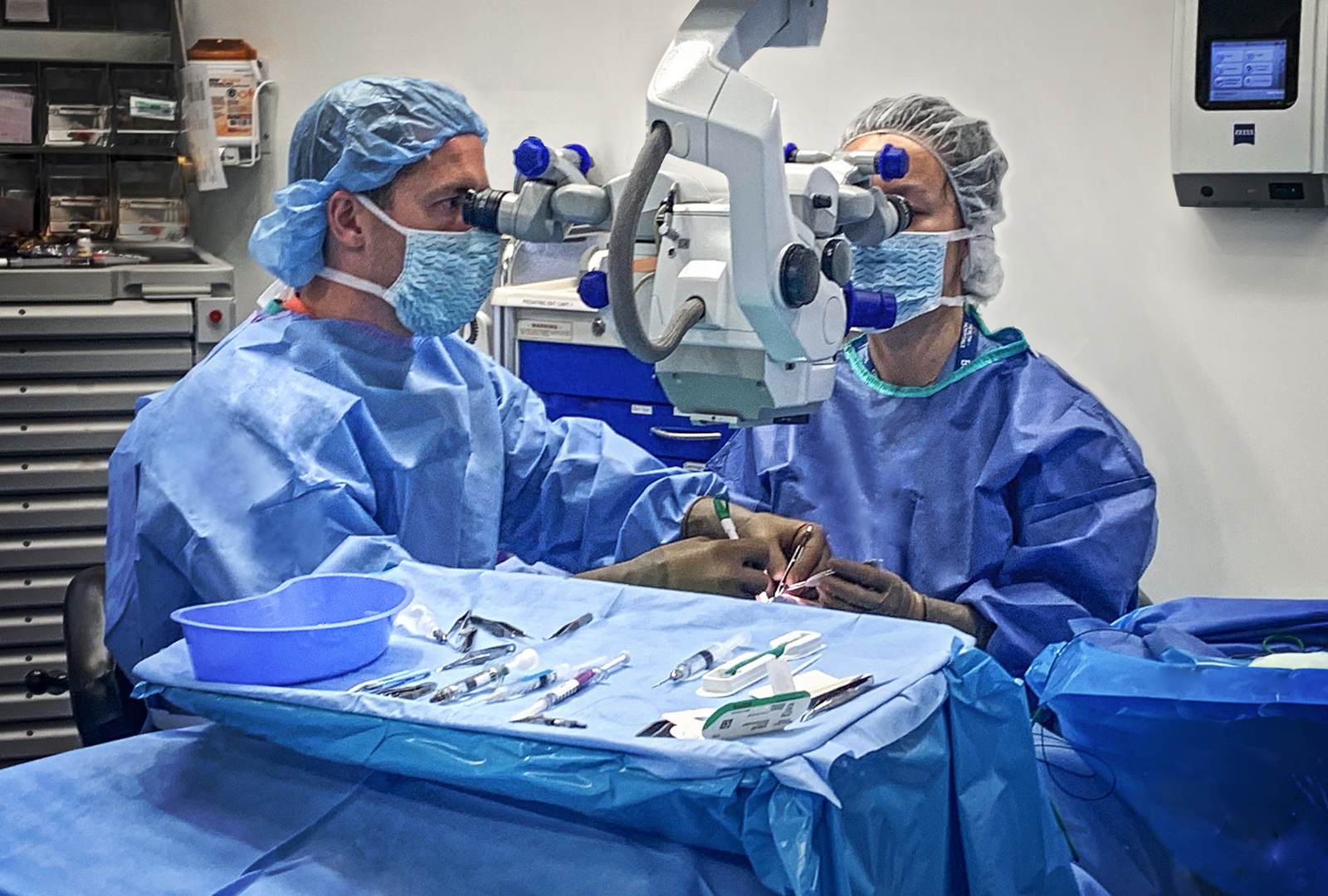 Femtosecond laser cataract surgery and toric and multifocal intraocular lens placement are also taught by members of the glaucoma service, and fellows have the opportunity to become certified to use these technologies during their training.
It is a priority for our trainees to attend national training sessions specifically designed for fellows. These conferences typically offer didactic sessions followed by a hands-on wet lab with faculty from around the world.
Research Opportunities
Fellows are required to conduct a research project while at NYU Grossman School of Medicine and are expected to present their original work at a regional, national, and/or international meeting. In addition, you have the opportunity to work with full-time faculty who are actively involved in various types of clinical trials, including medication, laser, surgical device, and imaging.
How to Apply
Our Glaucoma Fellowship Program is registered with the Association of University Professors of Ophthalmology (AUPO) Fellowship Compliance Program and meets guidelines set forth by the AUPO FCC.
Information and Central Application Service forms relating to the Fellowship Matching Program can be obtained from SF Match.
The 2020 application deadline for our fellowship has passed. We will provide additional information about the upcoming application deadline as soon as it's available.
Contact Us
Questions about our Glaucoma Fellowship should be directed to ophthalmologyadmineducation@nyulangone.org.