Plastic Surgery Fellowship Programs
Plastic Surgery Craniofacial Surgery Fellowship

Plastic Surgery Craniofacial Surgery Fellowship
The Craniofacial Surgery Fellowship, offered through the Hansjörg Wyss Department of Plastic Surgery, is one of the oldest such programs in the United States, with a long history of producing surgical, academic, and scientific leaders in this field.
Under the guidance of Roberto L. Flores, MD, fellowship director, our fellows receive multidisciplinary training in the following areas:
pediatric and adult craniofacial surgery
cleft surgery
orthognathic surgery
craniofacial microsurgery
transplant surgery
virtual presurgical planning
Along with technical training, our broad and diverse clinical experience prepares fellows to assess, plan, and manage the full spectrum of craniofacial disorders from birth to adulthood.
Clinical Training
You receive comprehensive training in pediatric and adult craniofacial and orthognathic surgery by working closely with the craniofacial and orthodontic faculty, as well as a multidisciplinary team of specialists at our cleft and craniofacial unit. This collaboration allows you to be intimately involved in preoperative workup, surgical planning, and patient management. You also have opportunities to create occlusal splints, perform model surgery, participate in virtual surgical planning, create a nasoalveolar molding (NAM) device, and assist with nasoendoscopy.
Fellows provide surgical care at NYU Langone's Tisch Hospital, Kimmel Pavilion, and NYC Health + Hospitals/Bellevue. Ample time is allocated to assist the residents on surgical cases at Bellevue under the supervision of an attending surgeon. Fellows also participate in follow-up clinic.
Didactic Training
As a fellow, you attend all department conferences. You also present about all patients in a multidisciplinary setting in separate weekly conferences on pediatric craniofacial surgery, cleft lip and palate, and adult craniofacial surgery.
Research Activities
We require fellows to undertake multiple research projects in clinical outcomes, tissue engineering, or digital simulation research.
Length of Training
Appointments are for 12 months, from July 1 through June 30 of the next year.
Acceptance Requirements
Candidates for the fellowship program must have completed plastic surgery training in an accredited program in the United States or Canada.
Application Process
We should receive your application no later than September 1 of the year preceding the start of the fellowship. After reviewing applications, we invite eligible candidates to spend a day at our department interviewing with the craniofacial and orthodontic surgery team.
Applicants must submit the American Society of Craniofacial Surgery common application through the organization's website. Applicants should also file with SF Match Residency and Fellowship Matching Services.
State Licensure Requirements
Candidates must have a New York license or limited permit. International graduates must have an Educational Commission for Foreign Medical Graduates® (ECFMG®) certificate.
Contact Us
For more information about the Craniofacial Surgery Fellowship, please email Tabbatha Cooke, fellowship coordinator, at tabbatha.cooke@nyulangone.org or call 646-501-6784.
Craniofacial Surgery Fellowship Faculty Members
In addition to Dr. Flores, our multidisciplinary faculty includes the following members:
Current Craniofacial Surgery Fellow
Below is this year's craniofacial surgery fellow: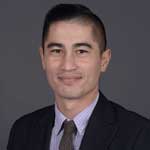 Andre Alcon, MD
Hometown: Fremont, California
Undergraduate school: Dartmouth College
Medical school: Yale University School of Medicine
Plastic surgery residency: University of California, San Francisco