Annual Education Retreat
2018 Annual Education Retreat Highlights

2018 Annual Education Retreat Highlights
On June 19, 2018, leaders from across NYU Langone convened for the Seventh Annual Education Retreat, centered around the theme "A Continuum Approach to Teaching Quality and Evidence-based Medicine." More than 130 attendees representing undergraduate, graduate, and continuing medical education participated in this full-day, hands-on session.
Watch some of the highlights from our 2018 retreat below.
The following are some of the speakers and participants at the event.
Annual Education Retreat 2018 Gallery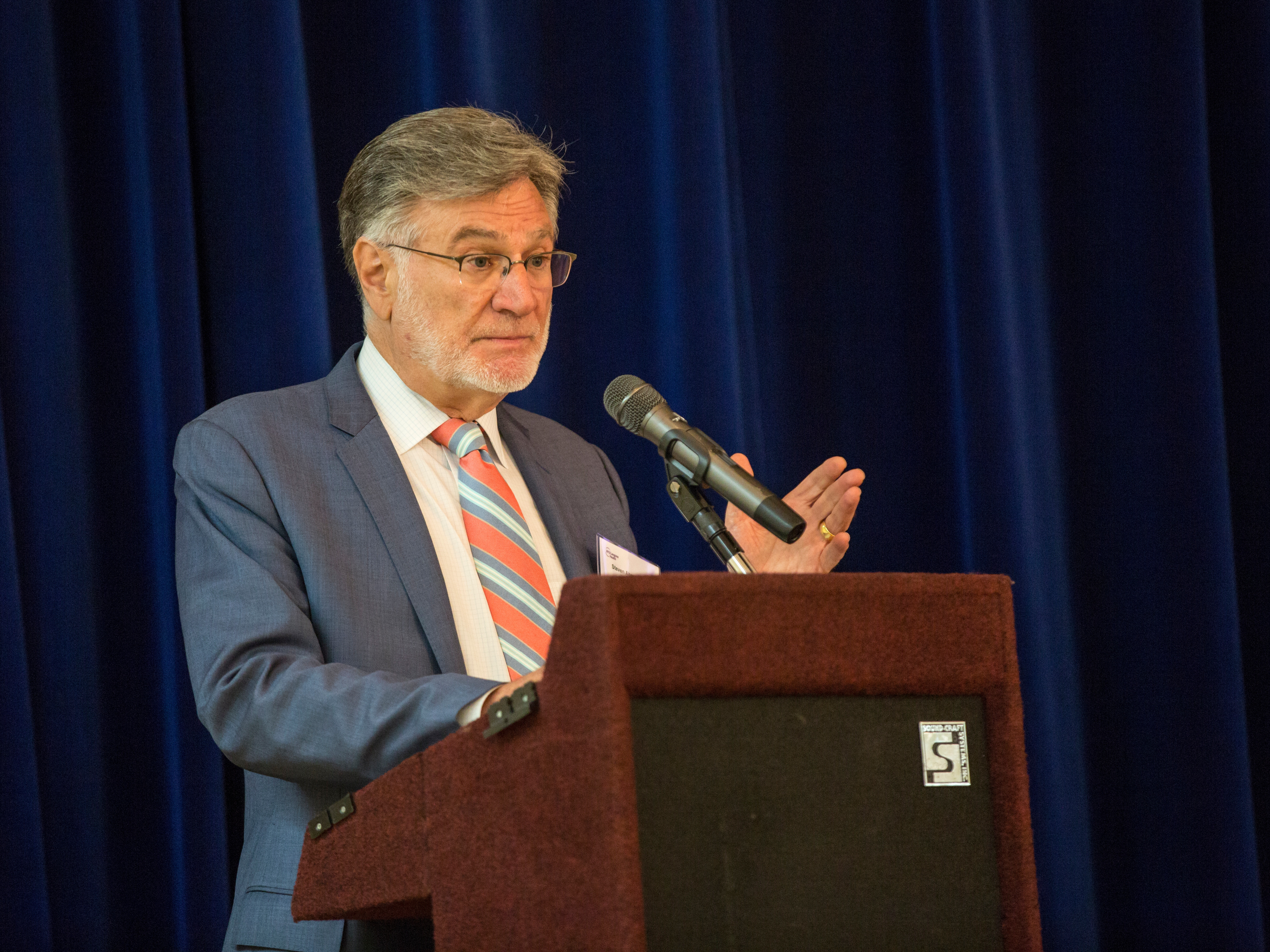 Steven Abramson, MD, welcoming all to the Seventh Annual Education Retreat.
Ben Wertheimer, MD, discussing "Quality and Patient Safety Education Across Undergraduate Medical Education and Graduate Medical Education."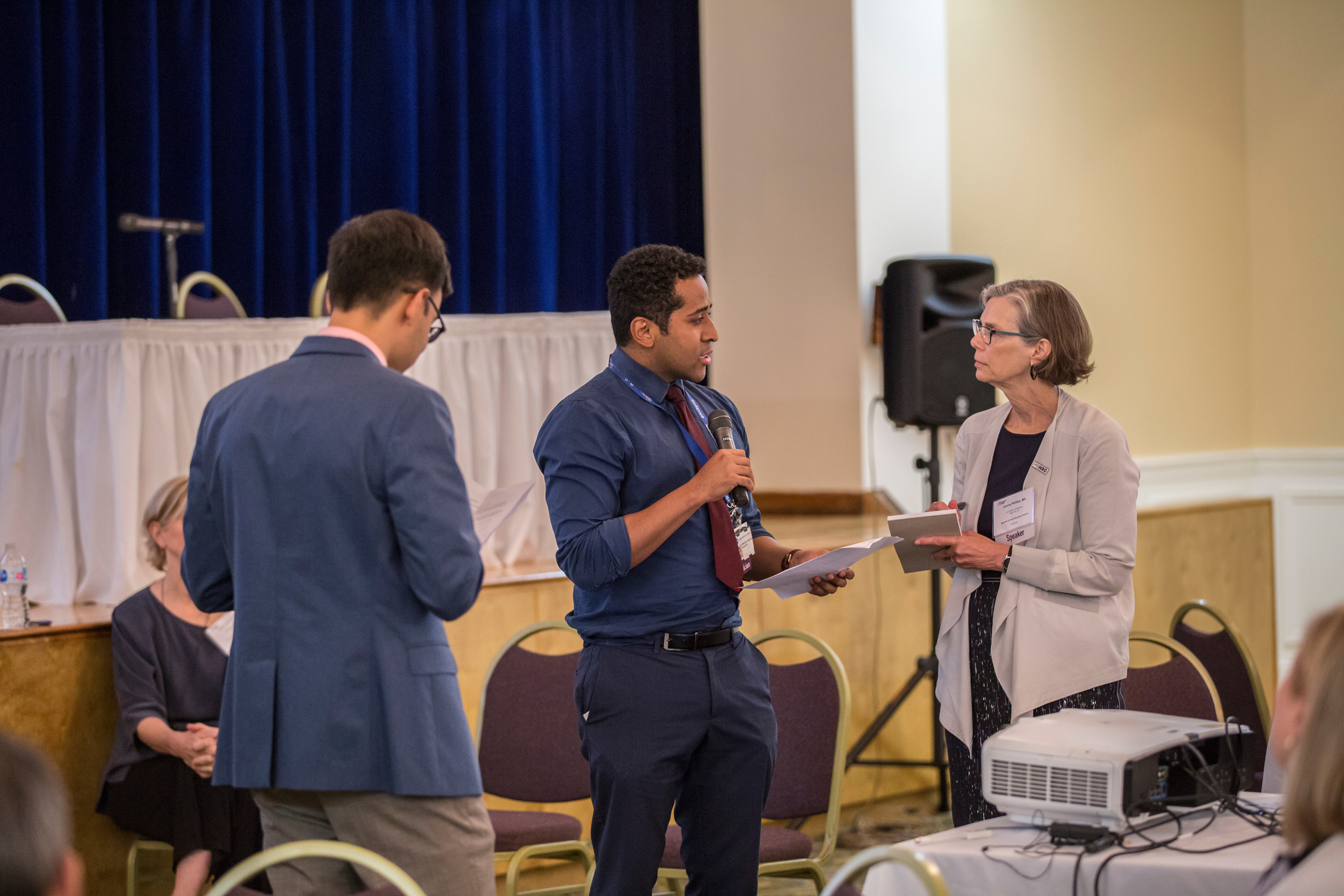 Shah Ahmed, MD; Christian Pean, MD; and Donna Phillips, MD, on "Teaching Medical Students and Residents About Patient Handoffs."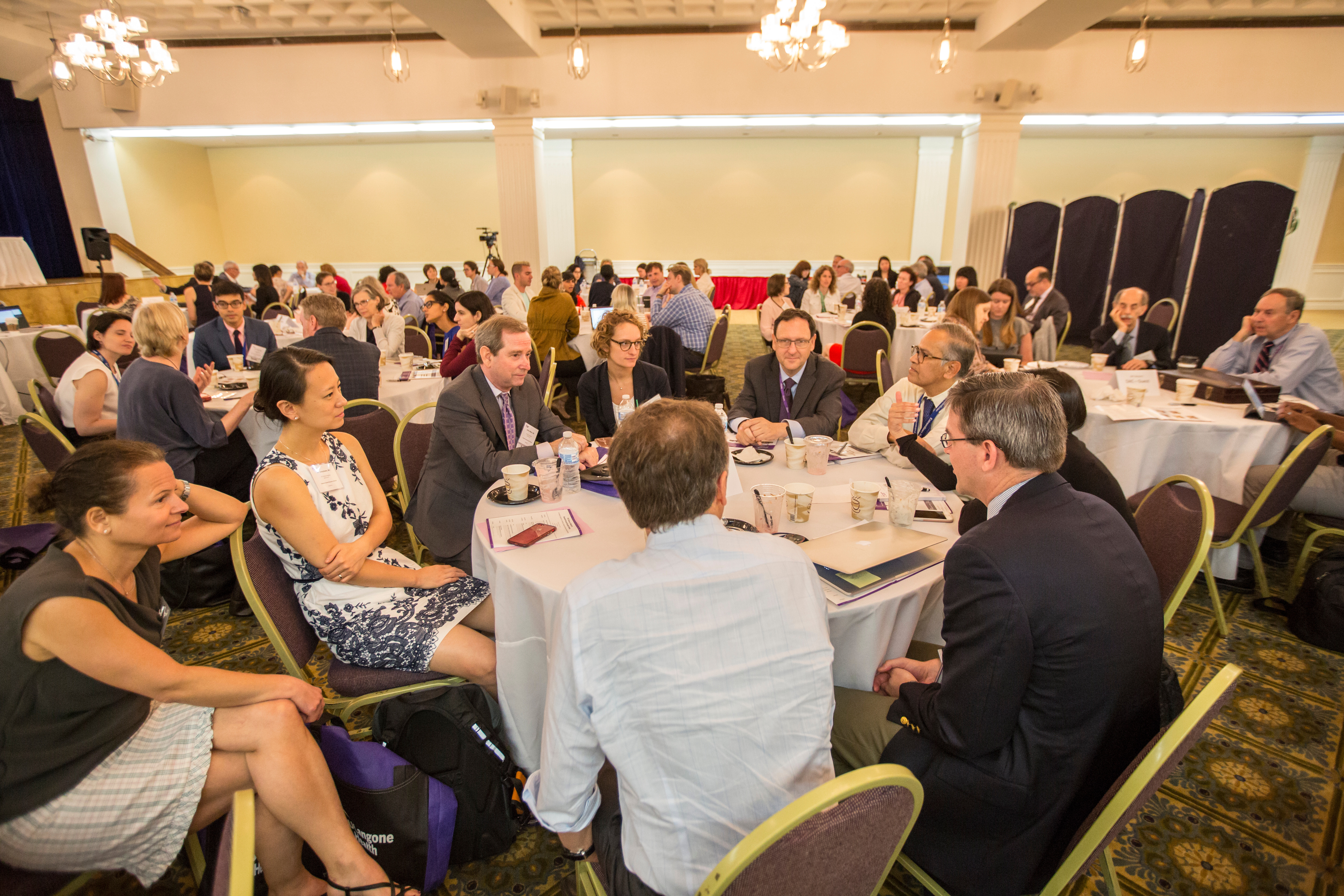 The event fosters table discussions on issues spanning the undergraduate medical education to graduate medical education continuum.
Nader Mherabi; Marc Triola, MD; and Steven Abramson, MD, presented with the Apple Distinguished School Award.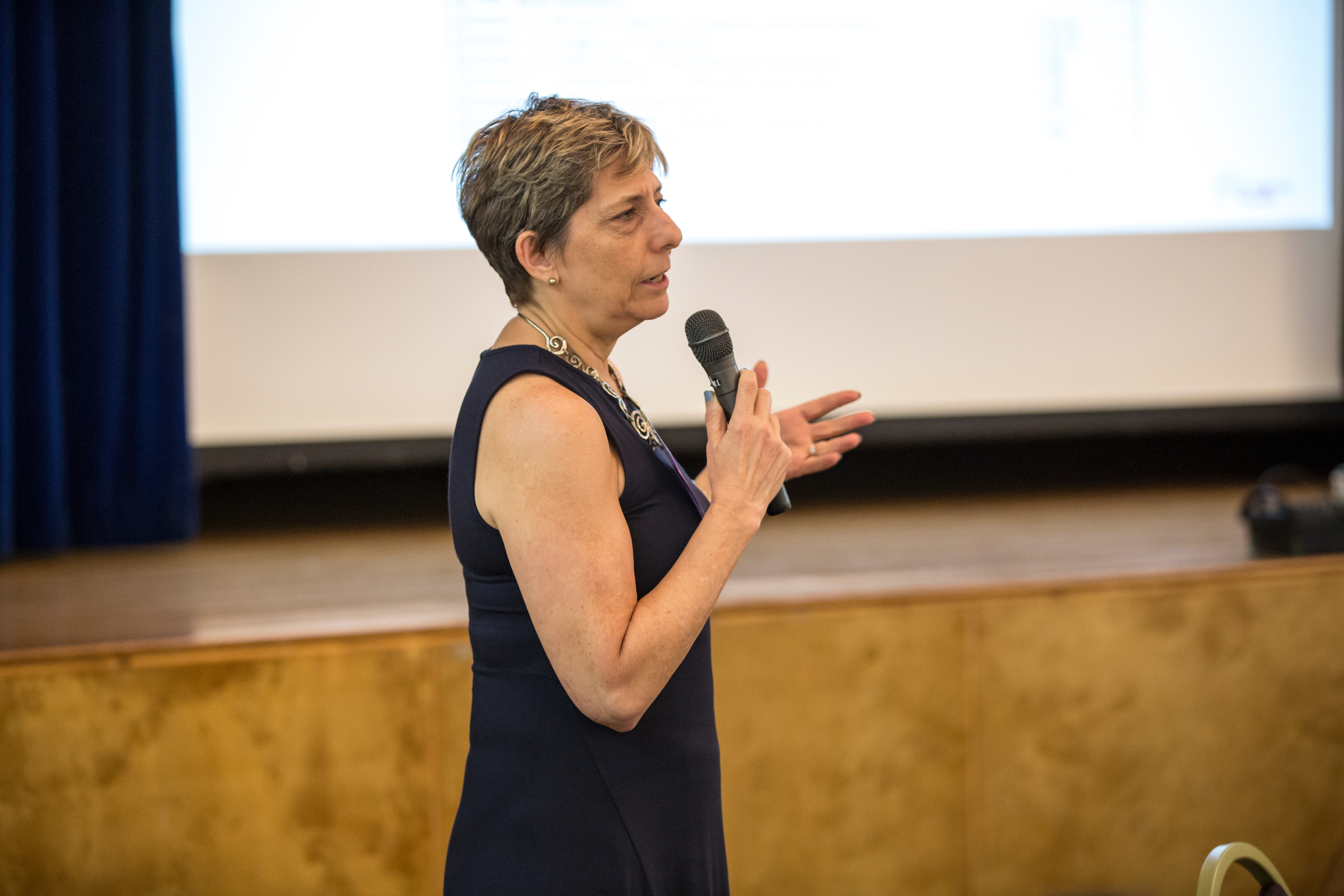 Victoria Harnik, PhD, providing an update on an NYU Langone initiative.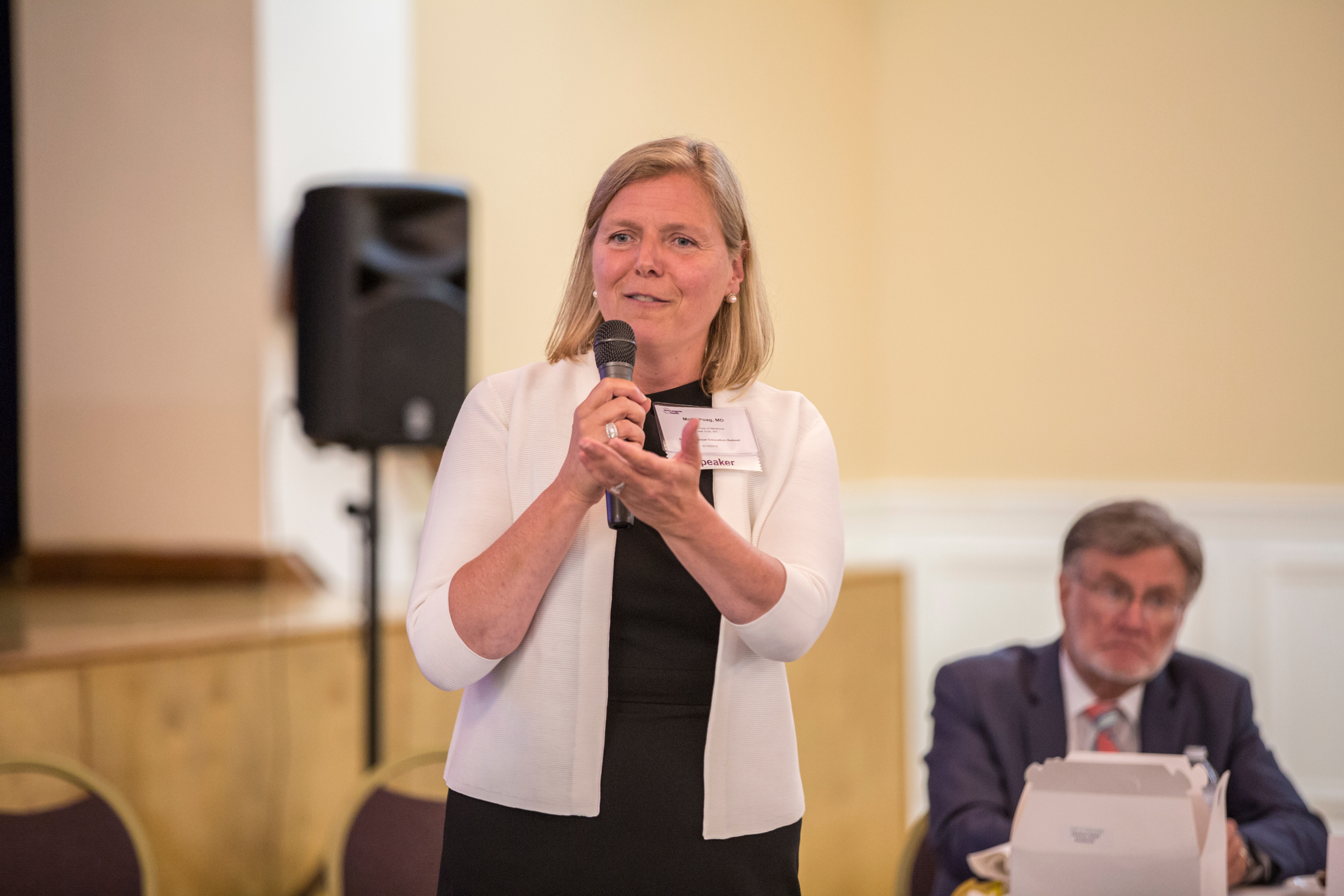 Molly Poag, MD, presenting an "Update on Preclerkship and Clerkship Education of Medical Students."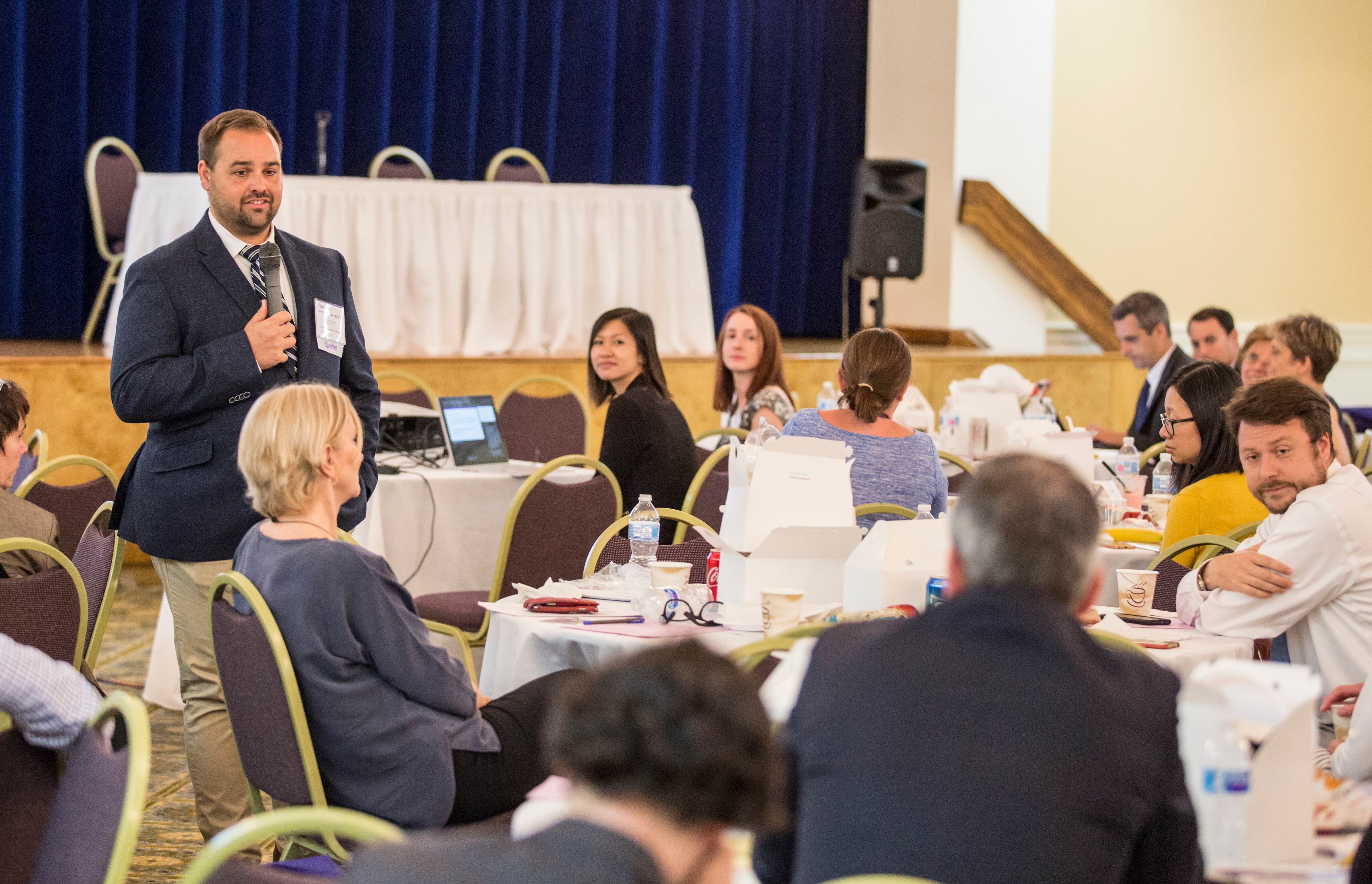 Joseph Nicholson, MLIS, MPH, on "Teaching Evidence-Based Medicine."
Opening Address
Hosted by the Office of Medical Education and the Institute for Innovations in Medical Education, the event kicked off with an opening address by Steven B. Abramson, MD, executive vice president and vice dean for education, faculty, and academic affairs.
"We have made great strides since we met this time last year. There has been a marked expansion in our overall strategy, a cohesion of our education community, and great progress in the areas of resiliency and wellness for our students, residents, and faculty," said Dr. Abramson. "Just as the clinical mission grows in scope and scale, so too does the educational enterprise, with advancements in educational innovations made possible through technology, research, and new programmatic initiatives."
Highlights from the opening presentations included the following.
Resiliency and Wellness Initiatives
Presented by: Linda Tewksbury, MD
Aware that healthcare professionals often face extended work schedules, emotionally challenging interactions, and high levels of work-related stress, experts across the industry are increasingly focusing on the resiliency and wellness of students, residents, and faculty. This is a top priority at NYU Langone, and attendees received updates on a number of notable initiatives implemented in the previous year. NYU Grossman School of Medicine launched a longitudinal resilience curriculum, MD Aware, which seeks to raise awareness among all medical students of signs of stress, provides a variety of coping tools, and fosters strong peer connections and support networks aimed at helping students find a functional and healthy balance between high performance and self-care.
On the graduate medical education level, residents formed the Physician Wellness Committee, which meets monthly and has evolved over time to include faculty. To coordinate efforts across the continuum, an Undergraduate Medical Education (UME)–Graduate Medical Education (GME) Executive Wellness Committee was established, and a full-time wellness facilitator has been hired to provide support for programs in addressing challenges and opportunities around wellness impacting students, trainees, and faculty.
Future goals include developing and promoting more interdepartmental initiatives to support wellness, involving more faculty, and identifying best practices and hot spots where resiliency programs can be further targeted.
Professional Development
Presented by: Jeffrey Manko, MD
Launched in 2016 and 2017, respectively, the GME Leadership Development Program and the UME Leadership Development Group were designed specifically to support the individual and program-level goals of NYU Langone's rising educators. Through training workshops, simulated scenarios, case-based discussions, and projects, faculty learn to tackle and address common leadership challenges, including handling change management, working effectively with multiple stakeholders, and giving feedback. These programs provide an opportunity to foster cross-departmental networking and learning, enabling program leaders to share and apply best practices.
Educational Innovations and Scholarship
Presented by: Marc Triola, MD
Just as technology is changing healthcare delivery, so too is innovation impacting the educational experience at NYU Langone. Publications and scholarship are on the rise, with NYU Langone making effective use of its nearly $4 million grant portfolio for research in educational innovations and scholarship. Leaders reported on several grants and national consortia that leverage the unique expertise NYU Langone has to offer to the field of medical education.
Future plans include the use of advanced analytics to enhance and support strategic, programmatic, and operational activities. In addition, advanced technology and simulation training for both medical students and residents is helping to prepare them for the next phase of their educational journey and ultimately improve outcomes.
Case Presentation and Workshops
Several interactive sessions highlighted key priorities for medical education, including the following presentations:
Apple Distinguished School Award
In a celebratory nod to the education teams' hard work, the group was formally presented with the Apple Distinguished School Award, a two-year designation recognizing NYU Grossman School of Medicine for continuous innovation in learning, teaching, and the educational environment. 
Dr. Triola, associate dean for educational informatics and director of NYU Langone's Institute for Innovations in Medical Education, showcased the various programs that culminated in the receipt of the award, including the Learner iPad Program, custom mobile app development, eBooks, and more. Nader Mherabi, executive vice president and vice dean, chief information officer, concluded, "We have recognized that mobility is key—it is integral to our strategy across all missions: education, clinical, and research. Through this award, our education informatics team is recognized for always thinking out of the box and making our ideas a reality."