Pediatric Critical Care Education
Pediatric Critical Care Medicine Fellowship
Pediatric Critical Care Medicine Fellowship
The Division of Pediatric Critical Care at NYU Langone offers a three-year fellowship that prepares future intensivists for an academic career. Trainees in our Pediatric Critical Care Medicine Fellowship develop skills in clinical care, teaching, and research through hands-on clinical experience and a core curriculum providing the fundamentals of critical care physiology, evidence-based practice, and research skills. The fellowship is accredited by the Accreditation Council for Graduate Medical Education.
Clinical Training
Fellows train at Hassenfeld Children's Hospital—34th Street, which opened in 2018 providing an expanded, state-of-the-art space for children's services. The hospital treats a diverse array of pediatric conditions and offers advanced respiratory support including high frequency oscillatory ventilation (HFOV) and high frequency percussive ventilation (HFPV), as well as extracorporeal membrane oxygenation (ECMO), renal replacement therapies, renal and liver transplantation, and invasive intracranial monitoring.
Fellows manage patients receiving general pediatric surgery as well as those receiving neurosurgery and other subspecialty surgeries such as otolaryngologic, orthopedic, oral and maxillofacial, and plastic surgery. In addition, they manage oncology patients after stem cell and bone marrow transplant. Fellows also rotate through a separate Congenital Cardiovascular Care Unit (CCVCU), which includes a heart failure program, managing congenital and acquired heart disease.
In addition, fellows rotate through the Pediatric Intensive Care Unit (PICU) at NYC Health + Hospitals/Bellevue, the referral center for critically ill children in the New York City Health and Hospitals Corporation, and a Level II Pediatric Trauma Center.
Didactic Training
Fellows participate in a wide variety of core didactic conferences to develop their knowledge base in pediatric critical care medicine outside of clinical experiences. In addition to these core sessions, fellows participate in an extensive simulation curriculum utilizing the resources of the New York Simulation Center for the Health Sciences (NYSIM) to conduct procedural training. Fellows train utilizing high-technology simulators both at NYSIM and in the PICU-leading interprofessional mock codes, refining skills in clinical reasoning, resuscitation, leadership, and communication.
Fellows attend standing divisional and departmental conferences that provide opportunities for collaboration with interdisciplinary teams and discussion of challenging cases. Some of these core conferences are as follows.
Fellow Conference
Our weekly fellow conference features a longitudinal curriculum designed to reflect the American Board of Pediatrics Content Outline for Pediatric Critical Care Medicine, through didactic sessions, simulation, and peer-to-peer teaching, led by our division's faculty or other invited faculty with specific expertise. Fellows are both participants and presenters. Additional conferences for fellows' scholarly and professional development include the following:
Fellow Scholarly Development Conference: a monthly lecture series focused on biostatistics, research methodology, study design, preparation of applications for funding, literature review, evidence-based medicine, ethics of research, quality improvement methodology, and teaching
Fellow Professional Development Conference: a quarterly meeting with the program director or other division faculty focused on career development, wellness, and professionalism
Department of Pediatrics Fellow Core Curriculum
This monthly conference series for all fellows in the department covers topics related to professional development, medical ethics/healthcare disparities, conflict resolution, family-centered care, and wellness.
Case Conference
Case conference is a weekly review of the clinical management of currently admitted patients in the PICU focused on a discussion of the evidence and physiologic basis for clinical care decisions. Fellows are both participants and presenters.
Divisional Conferences
These weekly conferences include our journal club, morbidity and mortality conference, administrative conference, and research meetings.
PICU Staff Conferences
PICU staff conferences consist of all staff, including physicians and staff from nursing, pharmacy, and respiratory therapy. The weekly high reliability organization rounds consist of multidisciplinary meeting of the PICU staff to review safety issues and quality measures. The monthly quality and safety meeting is a multidisciplinary meeting of PICU staff to review safety issues and quality measures.
Other multidisciplinary conferences include trauma rounds, ECMO conference, and combined congenital heart conference and CCVCU walk rounds. Fellows can also attend departmental conferences such as weekly grand rounds. Fellows also participate in annual courses such as our ECMO course, sedation course, NYU Langone's Clinical and Translational Science Institute online learning courses, ultrasound course, and PICU fellow boot camp.
Training Year Experiences
First year: The focus in the first year is on clinical learning with five blocks of PICU service, two blocks of CCVCU service, one block of anesthesia, and three blocks of research with the remaining time on orientation activities as well as four weeks of vacation.
Second year: The second year allows more time for research as well as some elective time with four blocks of PICU service, two blocks of CCVCU service, one block of elective time, five blocks of research, and four weeks of vacation. Elective time is intended to be used in an individualized fashion and the timing can be adjusted between the second and third years.
Third year: The third year is focused on completing research pursuits as well as growing into a leadership/junior attending role with 3 blocks of PICU service, 1 block of CCVCU service, 0.5 block of elective, 6.5 blocks of research, and 4 weeks of vacation.
Research Opportunities
The goal of the scholarship component of our fellowship is to provide significant exposure and training in basic science, clinical research, quality improvement, education, and translational research that results in a substantial scholarly product. This is accomplished through our core curriculum focused on research skills and study design. Our division also has monthly research meetings focused on current projects as well as skill development. In addition, all fellows participate in the Pediatric Acute Lung Injury and Sepsis Investigators (PALISI) Clinical Research Course.
Fellows also have opportunities to collaborate with research groups at NYU Langone and other institutions. They are expected to present their work at local or national meetings and publish in peer-reviewed journals. Mentors and scholarship oversight committees work closely with fellows to develop their research skills and ensure their progress.
Our faculty have a broad range of scholarly pursuits in a range of domains including clinical and translational research, quality improvement, medical education, social determinants of health, and family engagement. Specific areas of interest are varied, ranging from simulation and ultrasound as educational strategies, resident wellness and burnout, optimization of physician handoff and provider-family communication and education, pharmacokinetics and pharmacodynamics in patients requiring extracorporeal support, acute kidney injury and fluid overload, and reducing unplanned extubations in the PICU.
With the recent integration of our pediatric hepatology team and the launch of our Pediatric Liver Disease and Transplant Program, we look forward to future collaborations with this as well as other pediatric subspecialty services. As part of NYU Langone Health, we have access to rich and diverse national collaboratives, including the National Institutes of Health's RECOVER initiative, for which NYU Langone serves as the Clinical Science Core. The goal of the RECOVER studies is to better understand the long-term impact of COVID-19 and to develop new approaches to diagnosis and treatment.
Learn more about our division's research and faculty's publications.
Fellowship Leadership
The fellowship is led Sharon Calaman, MD. Ami Shah, MD, is the associate fellowship director.
How to Apply
Our Pediatric Critical Care Medicine Fellowship participates in the National Resident Matching Program Fall Specialties Match. Applications are accepted through the Electronic Residency Application Services (ERAS). Interviews take place between September and November, and fellows are matched in December.
Pediatric Critical Care Fellows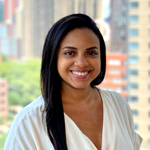 Rebecca Coriolan, MD
Hometown: Bellmore, New York
Residency: NYU Grossman School of Medicine
Favorite thing to do in New York City: Go to live shows! I'm a huge live music fan who enjoys everything from a local artist set at the nearest bar to a big stadium concert at the Garden.
Email: rebecca.coriolan@nyulangone.org