Cancer Research
Community Outreach & Engagement Core

Community Outreach & Engagement Core
As a National Cancer Institute (NCI)–designated Comprehensive Cancer Center, NYU Langone's Perlmutter Cancer Center is involved in community outreach and education activities that integrate all aspects of our basic, clinical, translational, and population research.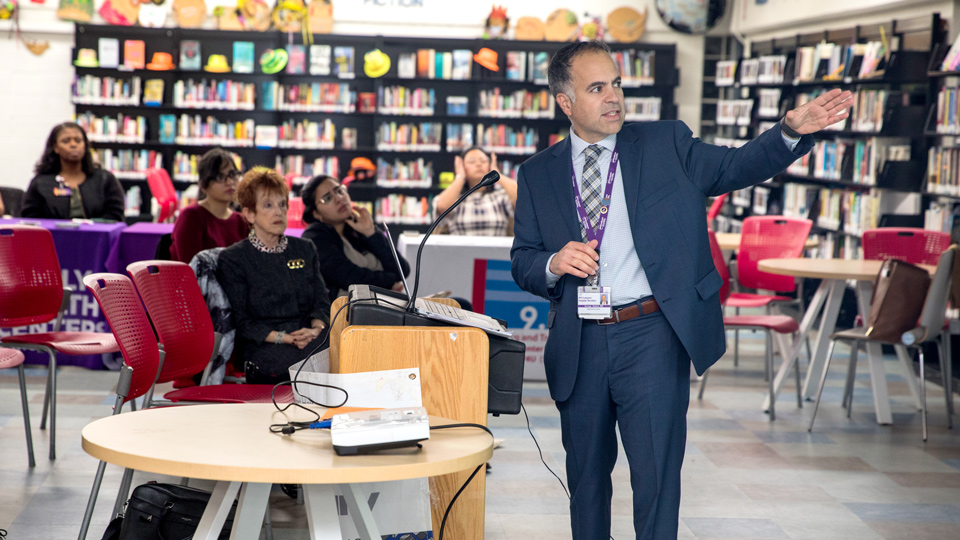 Our Community Outreach and Engagement (COE) Core aims to prevent cancer and reduce disparities in cancer care in the communities that we serve in our catchment area, especially underserved populations. By engaging with our stakeholders, we identify local community needs and implement strategies to translate cancer research into policy and practice.
We focus on the following cancer burdens and disparities in the local communities we serve:
high incidence of lung, colon, breast, and prostate cancer across all areas and groups
high rates of microbe-related head and neck, stomach, liver, and colon cancers in Asian, Black, and Hispanic American communities
increase in triple-negative breast cancer and highly aggressive prostate cancer in Black, Hispanic, and Ashkenazi Jewish communities
increasing rates of liver, melanoma, pancreatic, and lung cancer
In collaboration with researchers at Perlmutter Cancer Center and the Department of Population Health, our scientific research programs target many of these challenges by developing and testing patient navigation programs and prediction models for identifying and reaching underserved communities who are at high risk for cancer.
COE Leadership
Chau Trinh-Shevrin, DrPH
Leader, COE
Dr. Trinh-Shevrin serves as associate director of community outreach and engagement at Perlmutter Cancer Center and vice chair of research in the Department of Population Health. She is a national leader in health disparities and community-based participatory research and is principal investigator of the New York City Cancer Prevention and Control Research Network Center, which is focused on dissemination and implementation of research to reduce liver, stomach, colorectal, and human papillomavirus (HPV)–associated cancers.
Joseph E. Ravenell, MD
Co-Leader, COE
Dr. Ravenell is director of Perlmutter Cancer Center's Cancer Prevention Navigation Program and associate dean of diversity and inclusion. He has served as principal investigator of multiple National Institutes of Health (NIH) and Centers for Disease Control and Prevention (CDC) grant–funded clinical trials to test community-based strategies for colon cancer screening and cardiovascular disease prevention among Black men in urban areas.
Simona C. Kwon, DrPH, MPH
Co-Leader, COE
Dr. Kwon is director of the NYU Center for the Study of Asian American Health and director of the Integrating Special Populations Unit at NYU Langone's Clinical and Translational Science Institute. She has extensive experience in the use of community-based participatory research, evidence-based strategies, dissemination and implementation science, and working with multidisciplinary teams to address community-level health disparities.
Stamp Out Cancer Brooklyn
Perlmutter Cancer Center's Stamp Out Cancer Brooklyn (SOCB) is a multipronged, community-engaged initiative that aims to reduce the overall burden of cancer and alleviate cancer-related disparities in Brooklyn. The initiative engages local communities to disseminate innovative, evidence-based solutions for cancer prevention, early detection, care, and survivorship.
Our cancer prevention efforts focus on obesity, tobacco cessation, and vaccination against and treatment for infection-related cancers. Early cancer detection, timely care, continuity of care, mental health, and social support are critical to improving health outcomes and mental wellbeing among people with cancer and survivors. Moreover, our work supports policies to prevent cancer and mitigate adverse and disproportionate cancer-related health outcomes. We focus our efforts on reducing the major cancer burdens that stem from breast, colorectal, lung, and prostate cancers as well as unique and preventable infection-related cancer disparities.
Our project partners include the Department of Population Health, NYU Langone Hospital—Brooklyn, the Family Health Centers at NYU Langone, and our extensive network of Brooklyn-based social and health partners. Our goal is for this program to serve as a model initiative that could be replicated in other New York City communities or diverse urban environments around the country.
Most notably, we founded the Cancer Action Network (CAN), a multisectoral group of our partners, to leverage a collective impact model and to collaborate for equity and justice in cancer prevention and care. CAN includes leadership from Perlmutter Cancer Center, the Family Health Centers at NYU Langone, and organizations including the American Cancer Society, Arab-American Family Support Center, Arab American Association of New York, the Arthur Ashe Institute for Urban Health, the Caribbean Women's Health Association, Cancer Prevention and Control Research Network, Chinese-American Planning Council, JASA, Make the Road New York, the Mexican Consulate, Mixteca Organization, Inc., New York City Cancer Collaborative, the New York City Department of Health and Mental Hygiene, RiseBoro Community Partnership, SHARE, and Women's Empowerment Coalition of NY.
Together, we want to ensure the needs and assets surrounding cancer prevention and unequal access to care in immigrant communities in Brooklyn are represented. We are excited to build on this productive partnership to address issues related to the disproportionate burden of cancer we often find in underserved communities.
For more information about Stamp Out Cancer Brooklyn, please contact Victoria Foster, MPH, program manager, at victoria.foster@nyulangone.org.
Beatrice W. Welters Breast Health Outreach and Patient Navigation Program
The Beatrice W. Welters Breast Health Outreach and Navigation Program educates women about breast cancer and the importance of screening. The program also provides personal assistance and guidance in navigating the healthcare system.
Patient navigators identify women who could benefit from breast cancer screening through outreach and educational programs in community venues that women routinely visit. They also help women secure breast health services, including low-cost and free mammograms, and provide them with active support, from diagnosis and treatment to survivorship. The program also provides opportunities for women to access promising new therapies through clinical trials.
For more information about the Welters Program, please call 844-902-9355 or email bewell@nyulangone.org.