Annual Medical Education Innovations & Scholarship Day
2018 Annual Medical Education Innovations & Scholarship Day Highlights

2018 Annual Medical Education Innovations & Scholarship Day Highlights
On November 28, 2018, more 150 attendees, including faculty, students, residents, and staff, came together to recognize the innovations occurring across NYU Grossman School of Medicine in undergraduate, graduate, and continuing medical education. The event included a poster session, podium presentations, workshops, networking opportunities, and awards that recognized educators for their leadership and contributions to medical education at the local and national levels.
The day served as a reflection of the depth and breadth of inquiry occurring across education at our medical school. As Steven Abramson, MD, executive vice president and vice dean for education, faculty, and academic affairs, said, "Our medical school remains unique in our shared commitment and passion for education across all departments. Over the last few years, we have seen that change allows for opportunities for new people to join the community, energizing our efforts. Educators are role models—they set examples every day and their actions will be remembered long after they occur."
Our Fourth Annual Medical Education Innovations and Scholarship Day will take place on Wednesday, November 20, 2019. Please save the date.
Highlights from the 2018 event, which kicked off with welcome remarks from Dr. Abramson and Ms. Crystal Mainiero, included the following presentations
Keynote Address
George E. Thibault, MD, is the immediate past president of the Josiah Macy Jr. Foundation. Under his leadership, the Macy Foundation has had a profound impact by better aligning the education of health professionals with contemporary health needs and a changing healthcare system.
Dr. Thibault's keynote address on the "Reflections of a Foundation President: A Decade of Promoting Change in Health Professions Education" gave insight into lessons learned, future levers for change, and strategic directions in health professions education.
Educator Community Fourth Annual Medical Education Innovations and Scholarship Day Image Gallery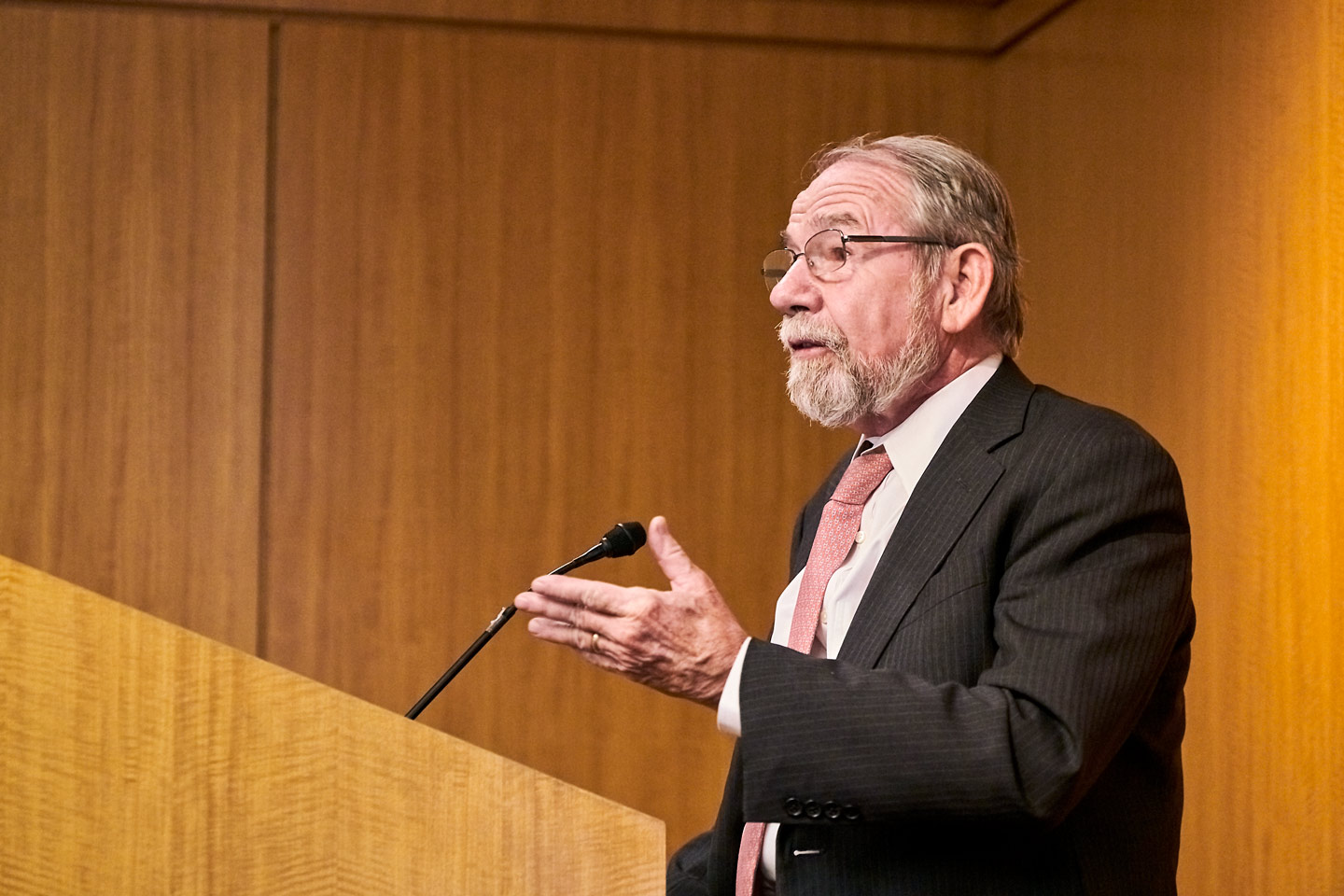 Dr. George E. Thibault presented his keynote address.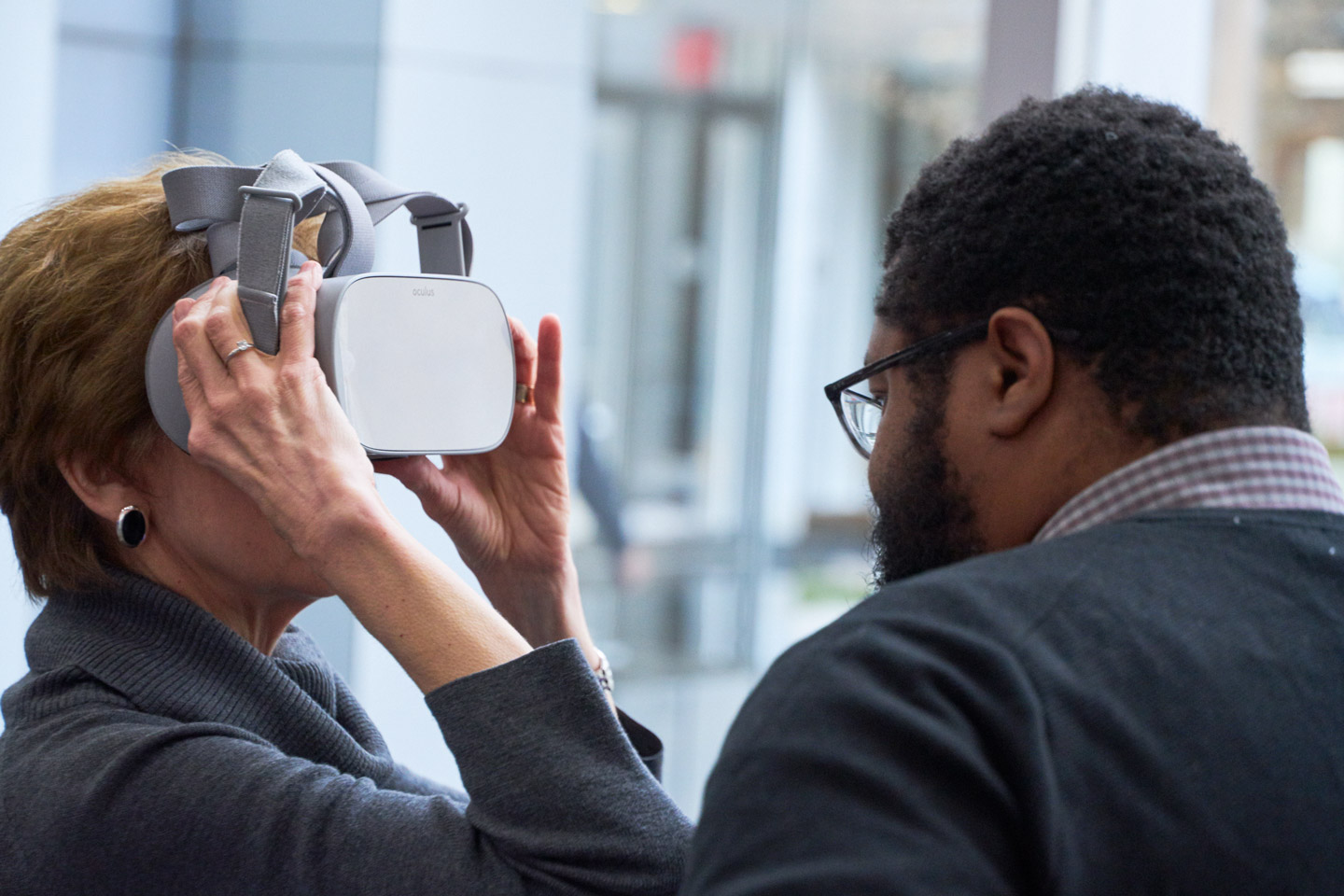 Participants learned how new technology can transform teaching and learning in medical education.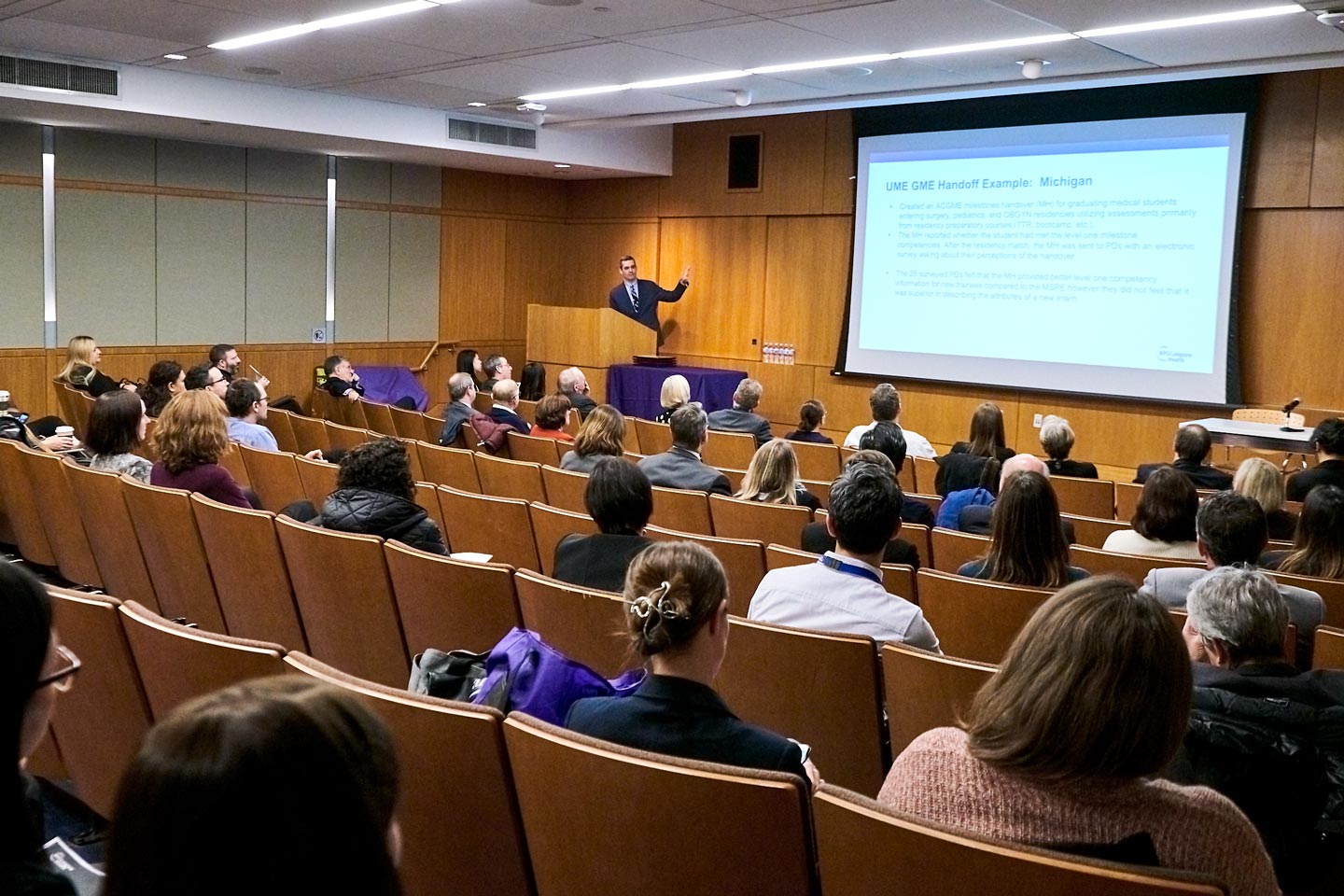 Dr. Marc M. Triola spoke about medical education initiatives at NYU Langone.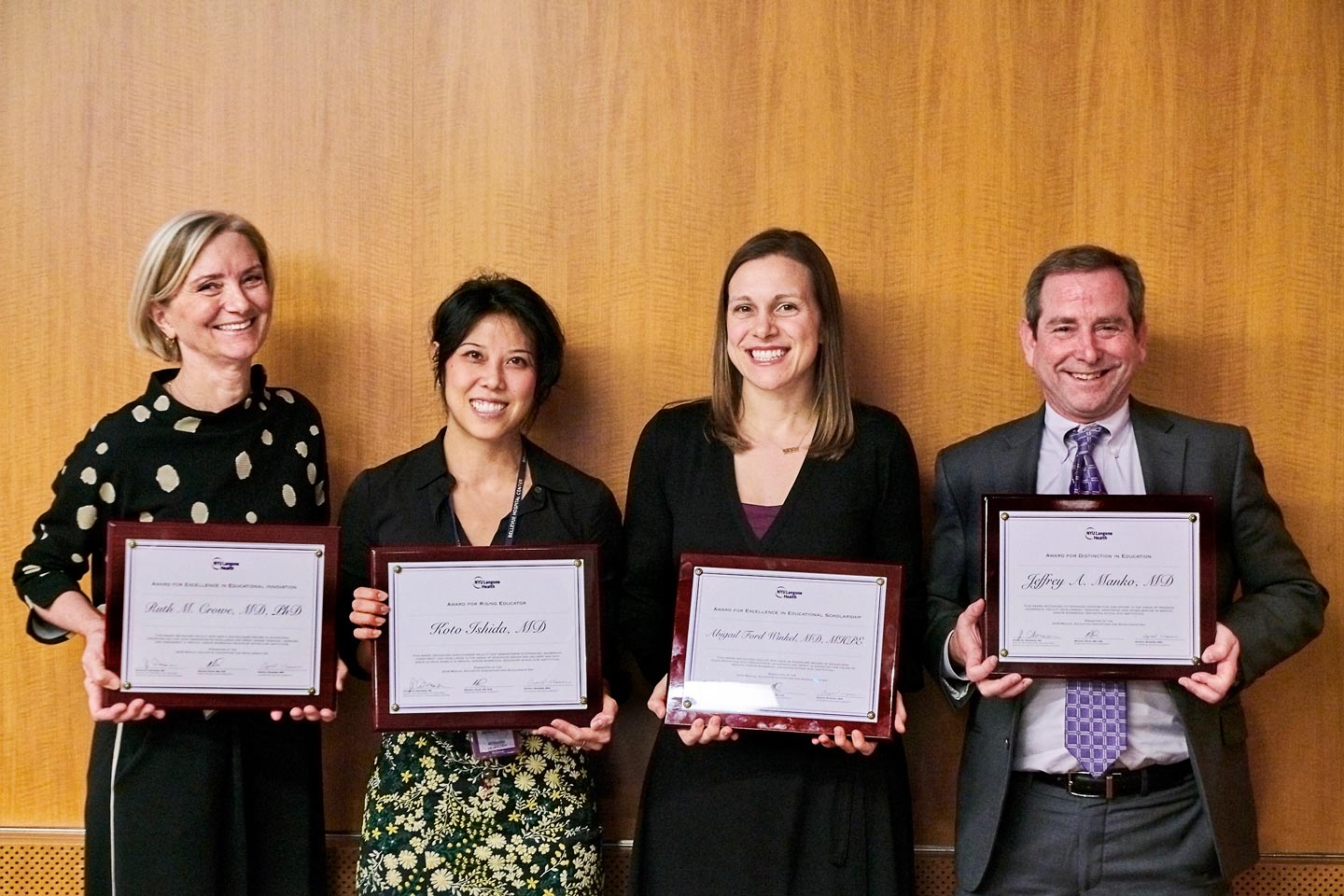 Dr. Ruth M. Crowe, Dr. Koto Ishida, Dr. Abigail Ford Winkel, and Dr. Jeffrey A. Manko were recognized for their exceptional educational efforts.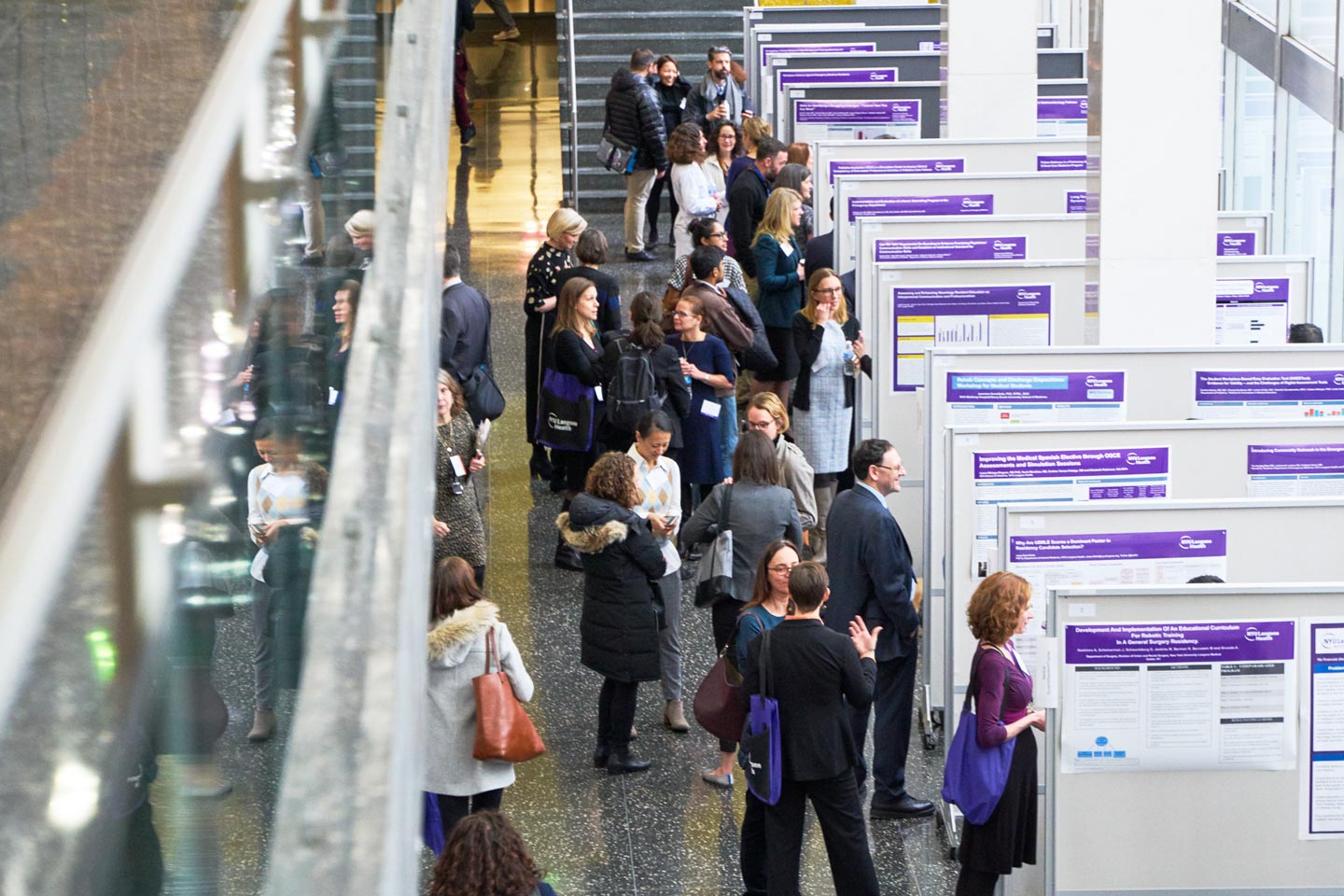 Forty-five posters were accepted for the Educator Community's 2018 Annual Medical Education Innovations and Scholarship Day.
Educator Community Awards
We celebrated the 2018 Educator Community Award winners, recognized for their exceptional efforts in support of NYU Grossman School of Medicine's educational mission. Awards were given in four distinct categories. Congratulations to Koto Ishida, MD; Ruth M. Crowe, MD, PhD; Abigail Ford Winkel, MD; and Jeffrey A. Manko, MD.
Medical Education Initiatives
In this special session, Marc M. Triola, MD, presented on an educational handoff pilot in development for implementation across the undergraduate medical education and graduate medical education continuum.
Podium Presentations
There were five podium presentations at this year's event. The topics covered included the following:
Medical Education Day Workshops
Concurrent workshops were offered. The topics included "Developing a Conceptual Framework for Wellness in Your Educational Program," "Thinking Fast and Slow: Building a Clinical Reasoning Toolkit," "Tough Conversations: An Immersive Simulation Workshop on Delivering Effective Feedback," "Using Educational Data for Research: How to Get Started," and "Conducting Literature Reviews for Your Educational Project: A Hands-on Session." For more information, please contact us at educators@nyulangone.org.
Winning Posters
Forty-five posters were accepted after a peer-review process. A team of judges rated the posters during the event and awarded four as exemplars in innovation, impact, and potential.
Title: "Why Are USMLE Scores a Dominant Factor in Residency Candidate Selection?"
Author: Jesse Burk-Rafel, MD
Abstract: The U.S. Medical Licensing Examination (USMLE) was designed as a pass/fail credentialing examination, yet residency programs use score thresholds to screen applicants in the Match, leaving students to devote time, money, and emotional wellbeing to seeking high USMLE scores. Why does the USMLE play such a dominant role in the Match? We used quality improvement methods to identify myriad root causes that may not be obvious to the casual observer. Systematically addressing these root causes would improve the resident selection process for applicants and programs alike.
Title: "Early Exposure to Clinical Imaging in First-Year Medical Student Anatomy Curriculum: A Pilot of Radiology-Anatomy Laboratories Using Dynamic Image Review on a PACS Teaching Environment"
Authors: Kira Melamud, MD; Jeffrey B. Alpert, MD; and Maria C. Shiau, MD
Abstract: There is a changing paradigm in early medical student education with trends toward decreasing cadaveric dissection and accelerated medical student curricula. As such, there is a recognized need for preclinical basic science training that is efficient and integrates early awareness of the clinical significance of the material being taught. A recent curriculum redesign of the preclinical basic science coursework at NYU Grossman School of Medicine provided an opportunity to restructure anatomy education and integrate clinical radiologic imaging into the first-year anatomy. The goal was to assess if early exposure to clinical imaging helps reinforce traditional methods of teaching anatomy, and acts as a bridge to early introduction of pathologic processes.
Title: "How Do Core Outpatient Safety-Related Competencies Assessed in OSCEs Transfer to Clinical Practice (as Assessed by Unannounced Standardized Patients)?"
Authors: Colleen C. Gillespie, PhD; Sondra R. Zabar, MD; Kathleen Hanley, MD; Amanda Watsula-Morley, MA; Jeffrey Wilhite, MPH; Lisa Altshuler, PhD; Barbara Porter, MD; and Andrew B. Wallach, MD
Abstract: Physicians' communication, patient education, and patient activation skills are increasingly recognized as critical to outpatient safety. Objective Structured Clinical Examinations (OSCEs) provide opportunities for controlled assessment of competencies while Unannounced Standardized Patient (USP) visits assess actual practice (the ability to transfer competencies into patient care). This study reports on the transfer of these outpatient safety competencies from assessment to primary care practice. Results indicate that while OSCE-assessed competence is generally strongly associated with clinical practice (USP), such assessments of competence may not fully capture the "entrustability" of all trainees. Additional variables, such as clinic factors, physician professionalism and attitudes, and the use of the electronic health record may help to explain some of the discrepancies between competence and actual practice we found.
Title: "Training Biomedical Researchers to Effectively Collaborate with Data Scientists"
Authors: Nicole Contaxis, MLIS; Alisha Langford, MPH, PhD; Yindalon Aphinyanaphongs, MD, PhD; and Alisa R. Surkis, PhD
Abstract: Collaborations between data scientists and biomedical researchers afford new opportunities for research. However, a lack of researcher awareness about data science can result in missed opportunities for collaboration, and differences in perspectives and language can result in failed collaborations. To bridge that gap, librarians developed a class to explain the tools, techniques, and limitations of data science to biomedical researchers. Discussions with biomedical researchers and data scientists and other curricular resources informed the level of technical detail for the class, types of case studies to discuss, and issues to highlight in negotiations between a domain expert and data scientist.