Annual Medical Education Innovations & Scholarship Day
2019 Annual Medical Education Innovations & Scholarship Day Highlights

2019 Annual Medical Education Innovations & Scholarship Day Highlights
On November 20, 2019, more than 300 attendees including faculty, students, residents, and staff gathered at the Fourth Annual Medical Education Innovations and Scholarship Day to recognize the innovations occurring across the institution in undergraduate, graduate, and continuing medical education. The event featured an interview with Daniel Kahneman, PhD, recipient of the 2002 Nobel Memorial Prize in Economic Sciences, and David M. Oshinsky, PhD, the 2006 winner of the Pulitzer Prize in History for Polio: An American Story. The full-day program also included a poster session with 68 posters, 5 concurrent workshops, and awards to celebrate our faculty educators for their leadership and contributions to medical education.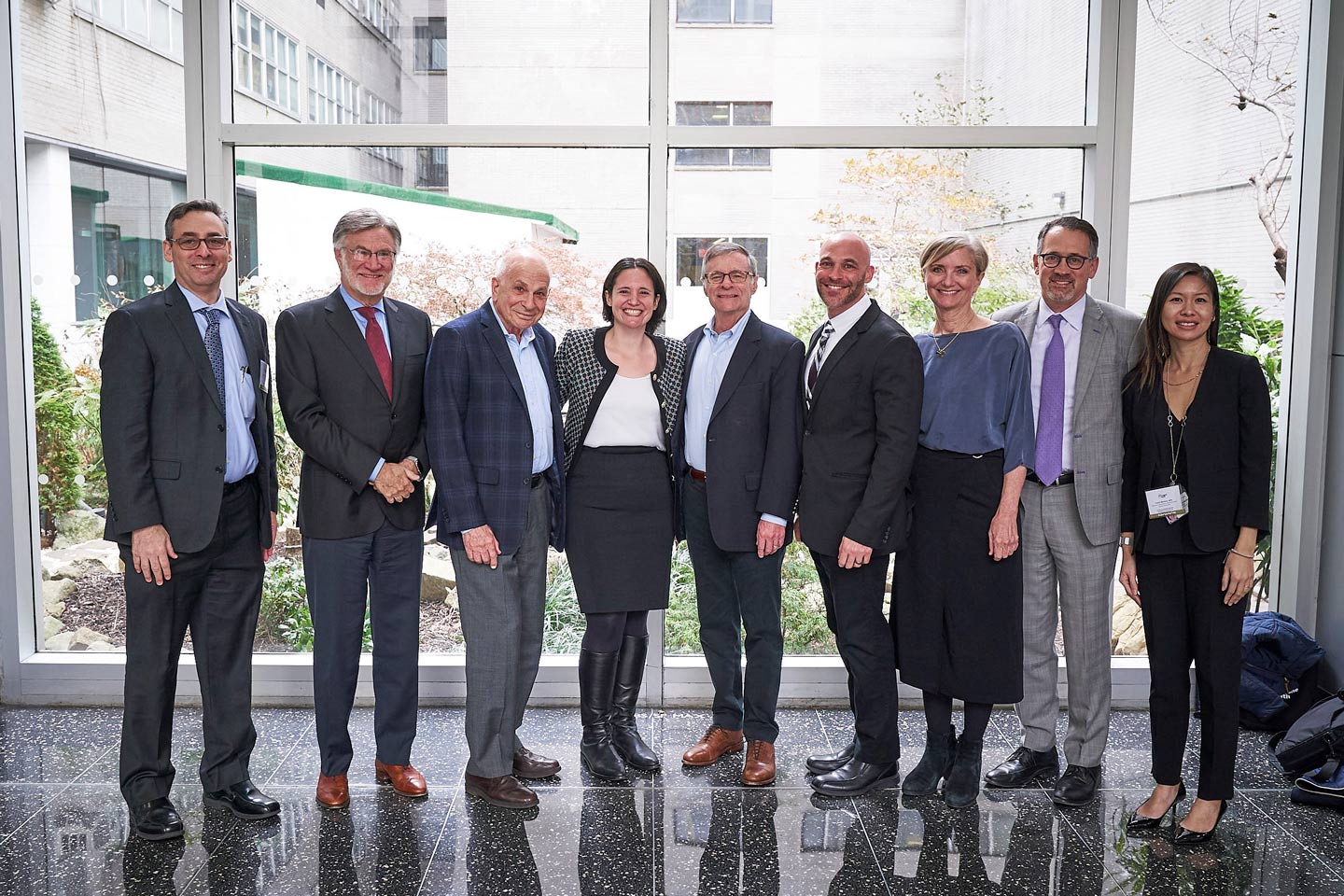 Our Fifth Annual Medical Education Innovations and Scholarship Day will take place on Tuesday, November 10, 2020. Please save the date.
Highlights from the 2019 event, which kicked off with welcome remarks from Steven Abramson, MD, and Ms. Crystal Mainiero, included the following presentations.
A Conversation with Daniel Kahneman, PhD: Thinking, Fast and Slow
In this featured session that provided insight into teaching and practice, Daniel Kahneman, PhD, and David M. Oshinsky, PhD, dive into Dr. Kahneman's groundbreaking work in cognition and bias, which led to the publication of Thinking: Fast and Slow.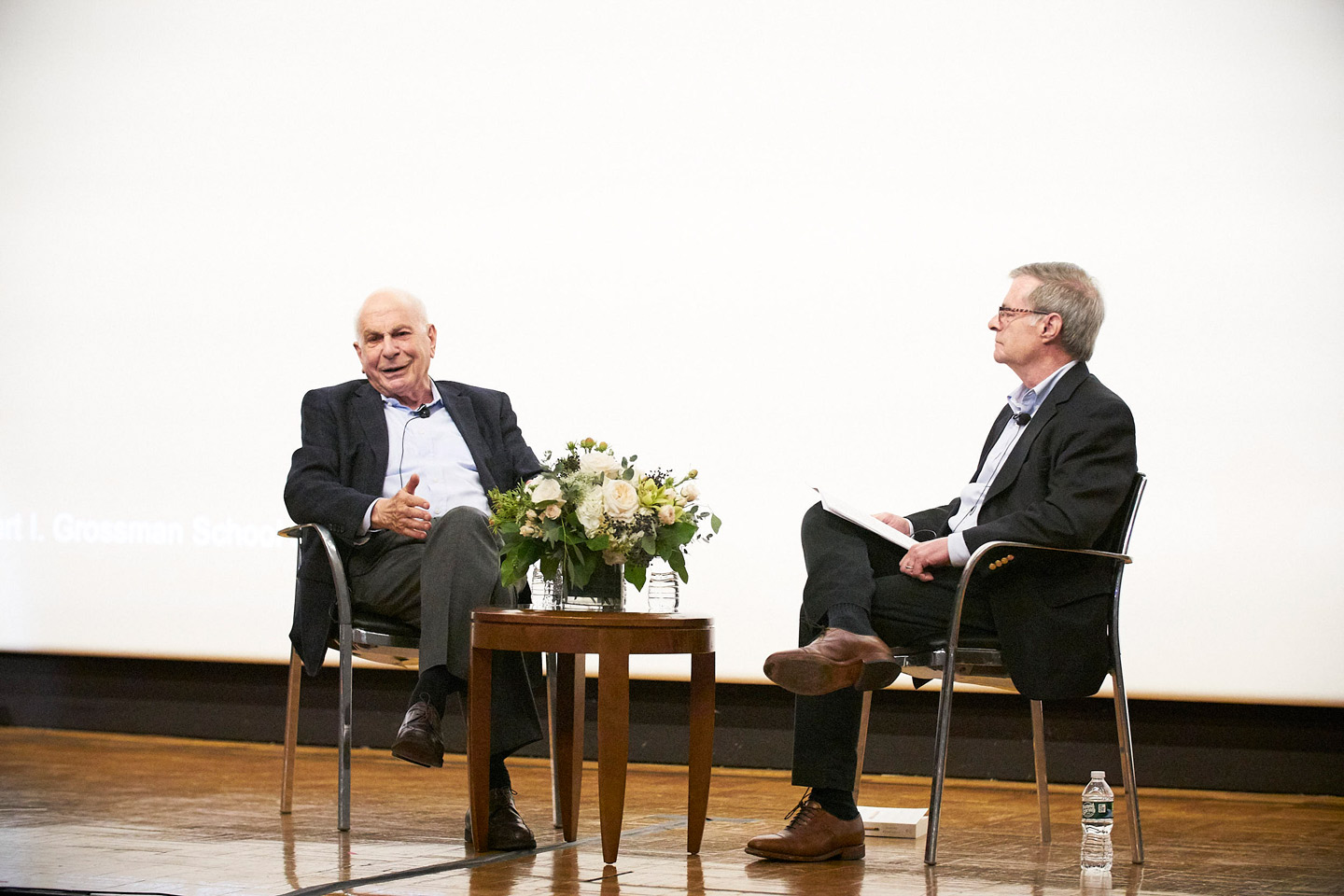 Panel Presentation
During a morning panel on "Teaching and Assessing Clinical Reasoning Across the Continuum," Ruth M. Crowe, MD, PhD; Richard E. Greene, MD, MHPE; and Verity E. Schaye, MD, MHPE, explored how research from cognitive science has been used to better understand diagnostic reasoning in the medical setting and design curricula for medical students and residents that address this fundamental aspect of physician training. The session was moderated by David T. Stern, MD, PhD.
Featured Innovations in Medical Education
The afternoon session featured four podium presentations of medical education innovation. Topics included the following.
Living Anatomy: A Redesign of NYU Grossman School of Medicine's Anatomy Curriculum
Presenters: Greg Dorsainville, MPS; Sally Frenkel, PhD; Victoria M. Harnik, PhD; Kira Melamud, MD; Kristen Ramirez, MPhil; Melvin Rosenfeld, PhD; and Brian Shearer, PhD.
Resident Retriever: A Machine Learning Approach to Screening Residency Applicants
Presenters: Jesse Burk-Rafel, MD, MRes; Marina Marin, MSc; Ilan Reinstein, MS; James Fang, MD; Brad Kim, MS; Yindalon Aphinyanaphongs, MD, PhD; Louis Miller, MD; and Patrick M. Cocks, MD.
Transition to Residency Advantage
Presenters: Abigail Ford Winkel, MD, MHPE, and Patrick M. Cocks, MD.
Learning in Context: Implementation of an Ambitious, Three-Year Curriculum at NYU Long Island School of Medicine
Presenters: Steven Shelov, MD, MS, and Gladys M. Ayala, MD, MPH.
Educator Community Awards
The 2019 Educator Community Award winners were recognized for their exceptional efforts in support of NYU Grossman School of Medicine's mission. We expanded the award categories to include the inaugural UME (Undergraduate Medical Education) Preclerkship and UME Clerkship Educator of the Year, the GME (Graduate Medical Education) Program Director of the Year, and the Best Medical Education Collaboration awards. Congratulations to Richard E. Greene, MD, MHPE; Heather B. Howell, MD; Donna P. Phillips, MD; Alex Moroz, MD, MHPE; Margret S. Magid, MD; Ludovic P. Desvignes, PhD; Ann Y. Lee, MD; Cecilia L. Mercado, MD; Greg Dorsainville, MPS; Kristen R. Ramirez, MPhil; Melvin G. Rosenfeld, PhD; Sally R. Frenkel, PhD; Brian M. Shearer, PhD; Victoria M. Harnik, PhD; and Kira Melamud, MD.
For Faculty 2019 Annual Medical Education Innovations Gallery Two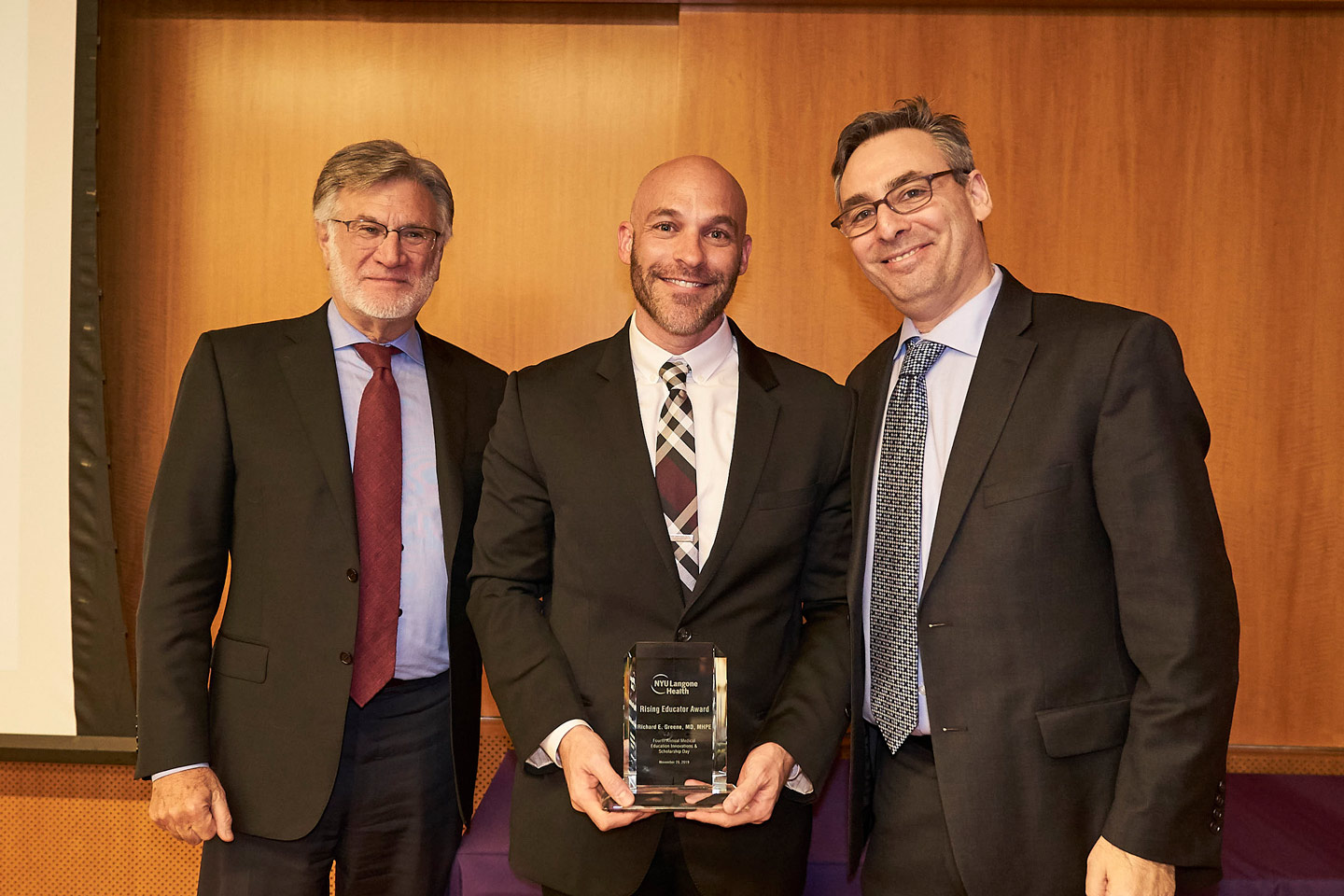 The Rising Educator Award was presented to Dr. Richard E. Greene.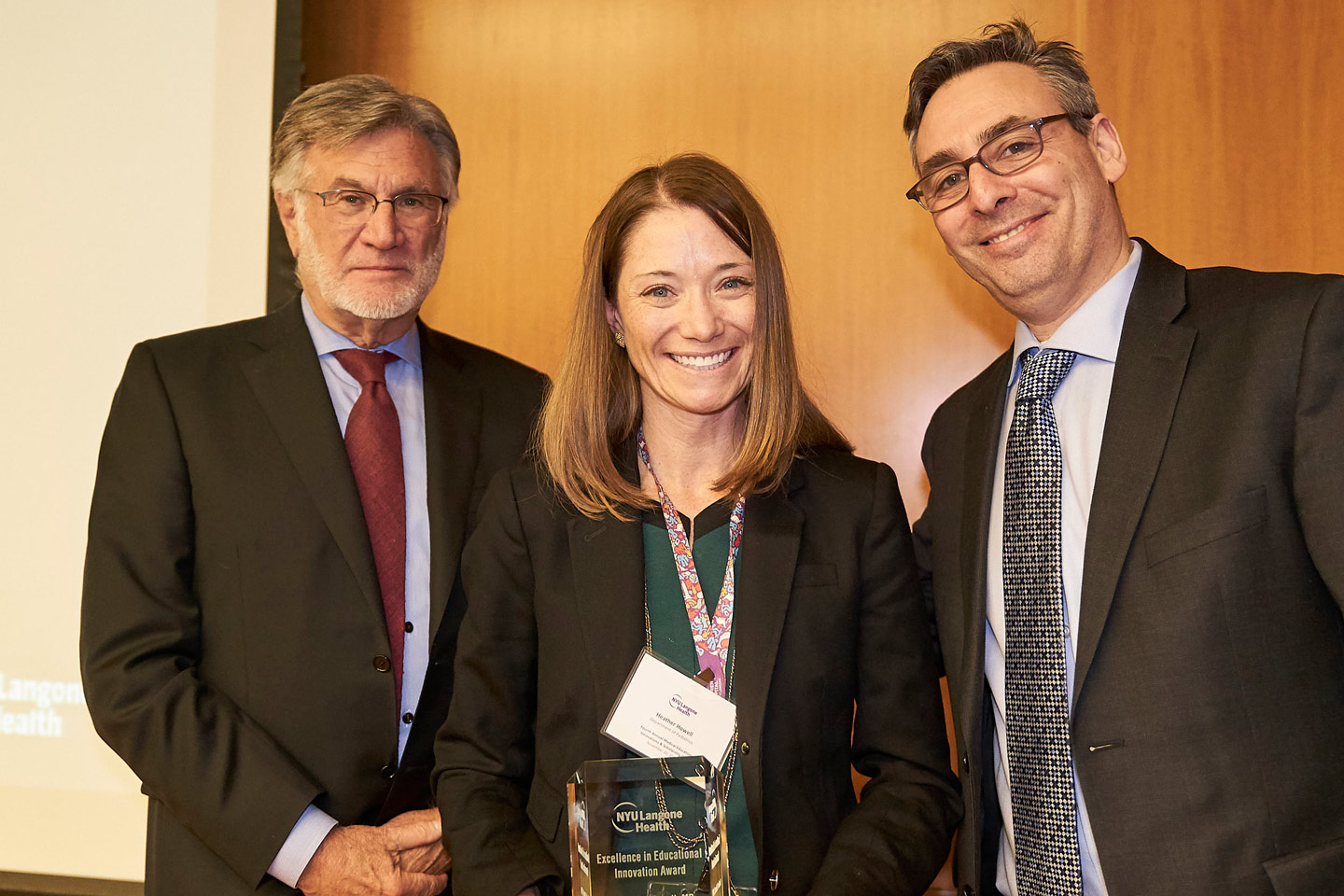 Dr. Heather B. Howell received the Excellence in Educational Innovation Award.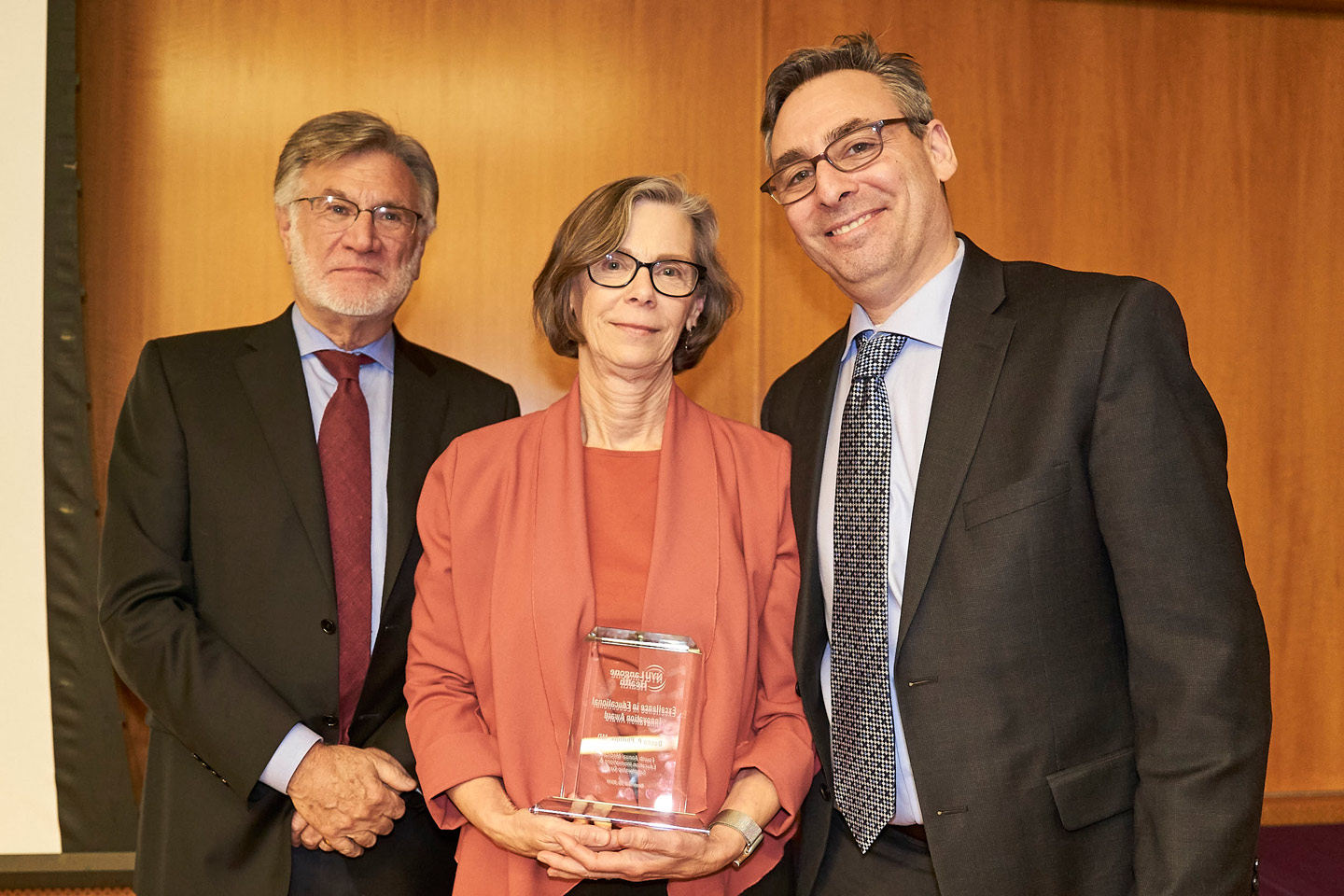 Dr. Donna P. Phillips was the recipient of the Excellence in Educational Innovation Award.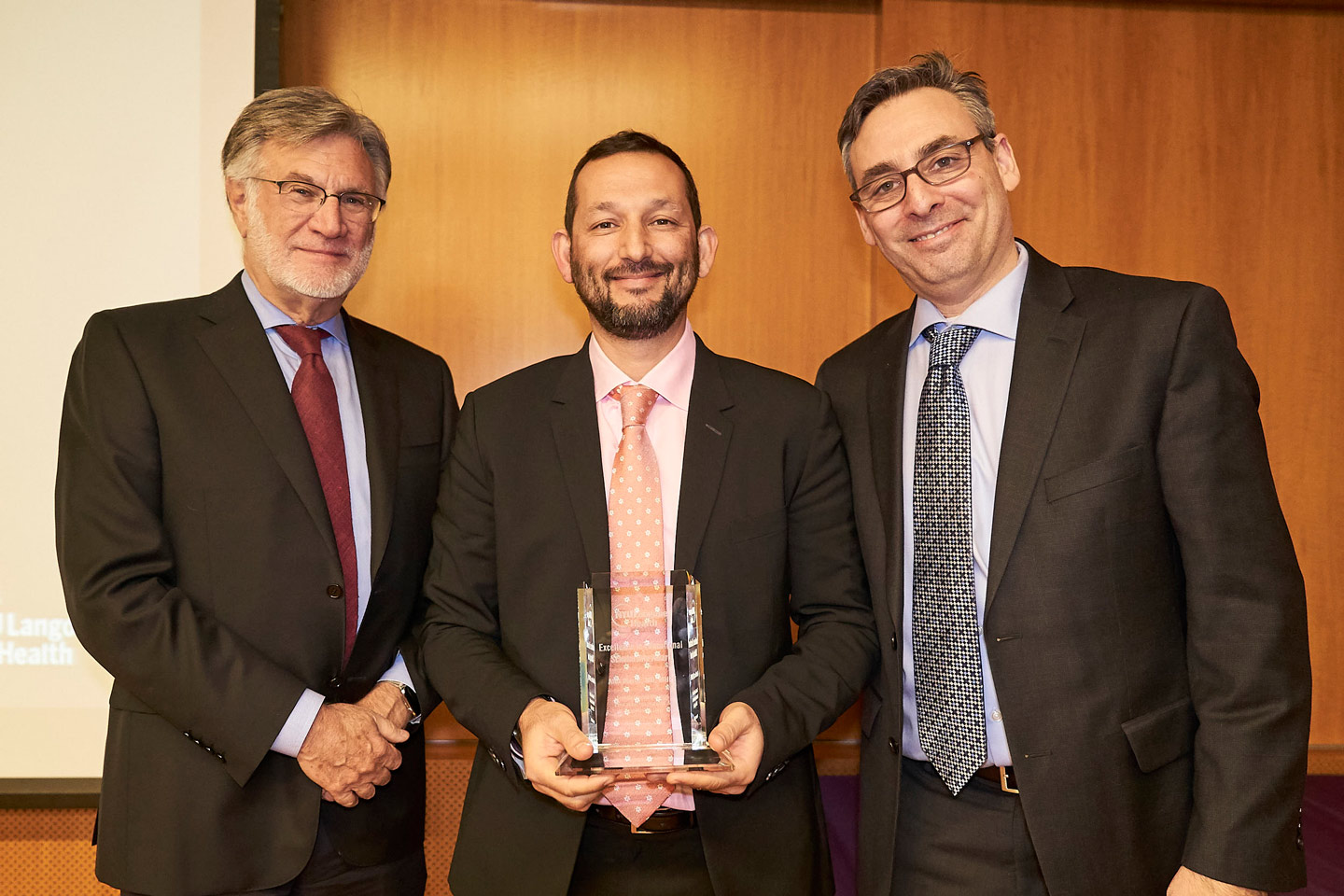 The Excellence in Educational Scholarship Award went to Dr. Alex Moroz.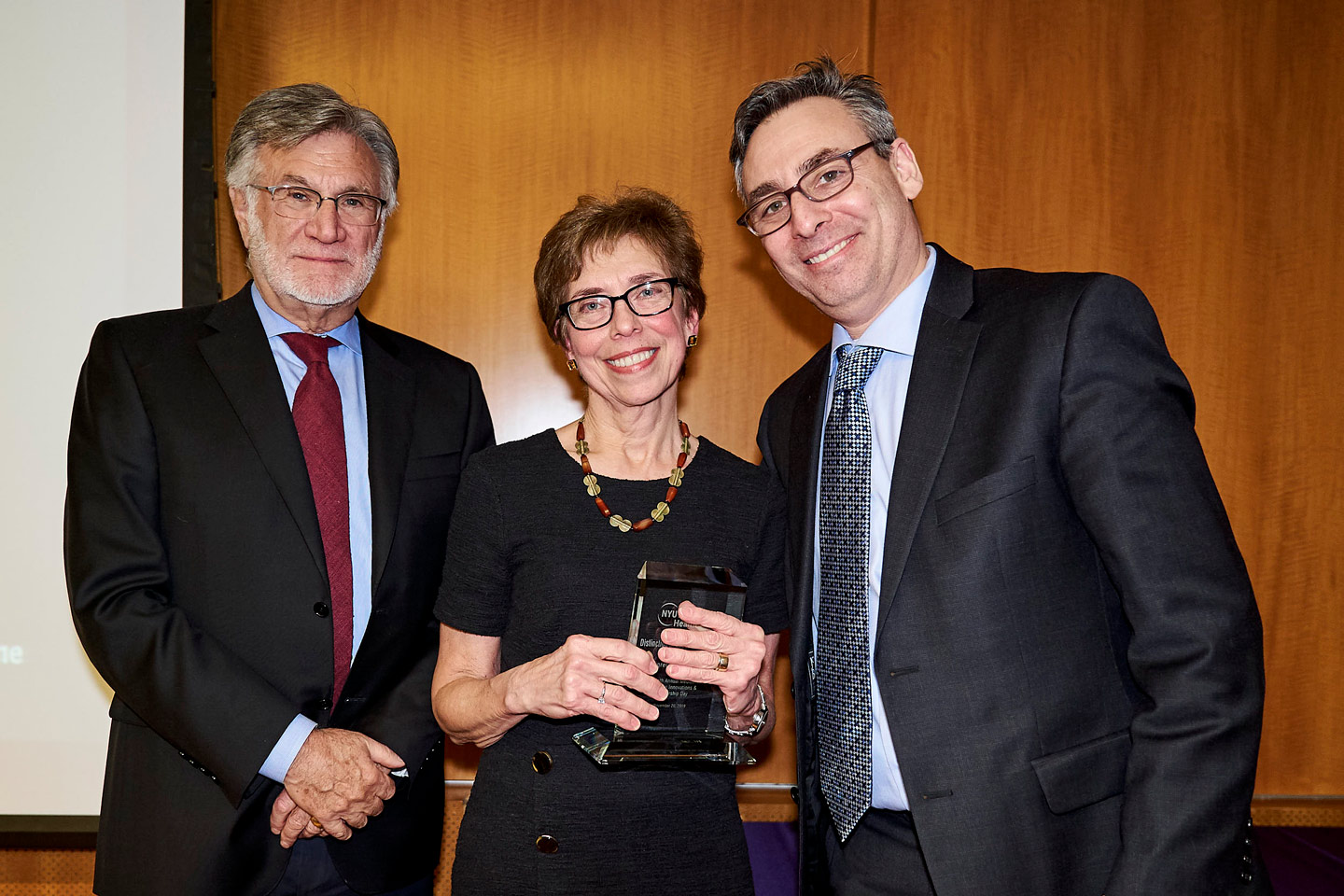 Dr. Margret S. Magid received the Distinction in Education Award.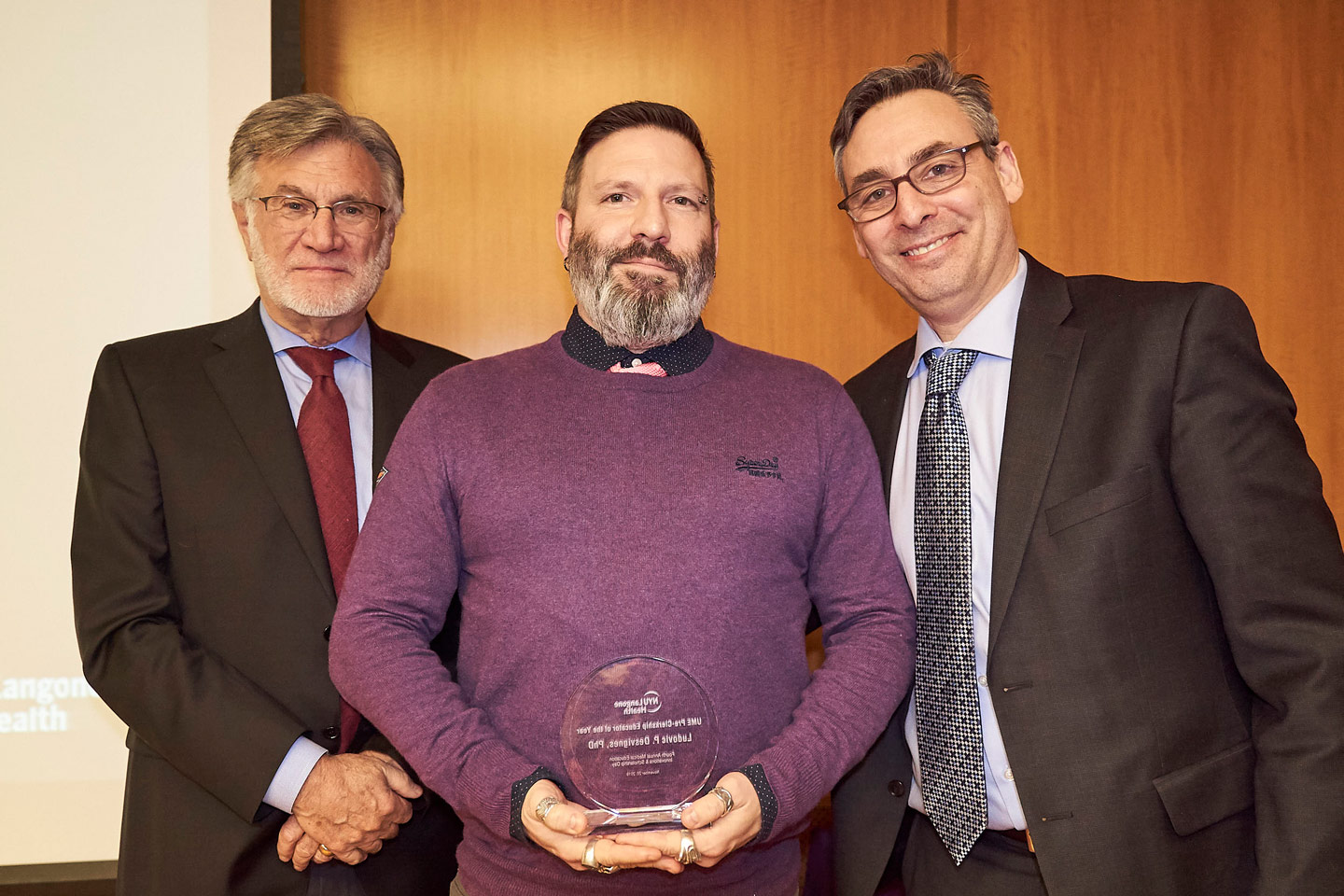 The inaugural UME Preclerkship Educator of the Year Award went to Dr. Ludovic P. Desvignes.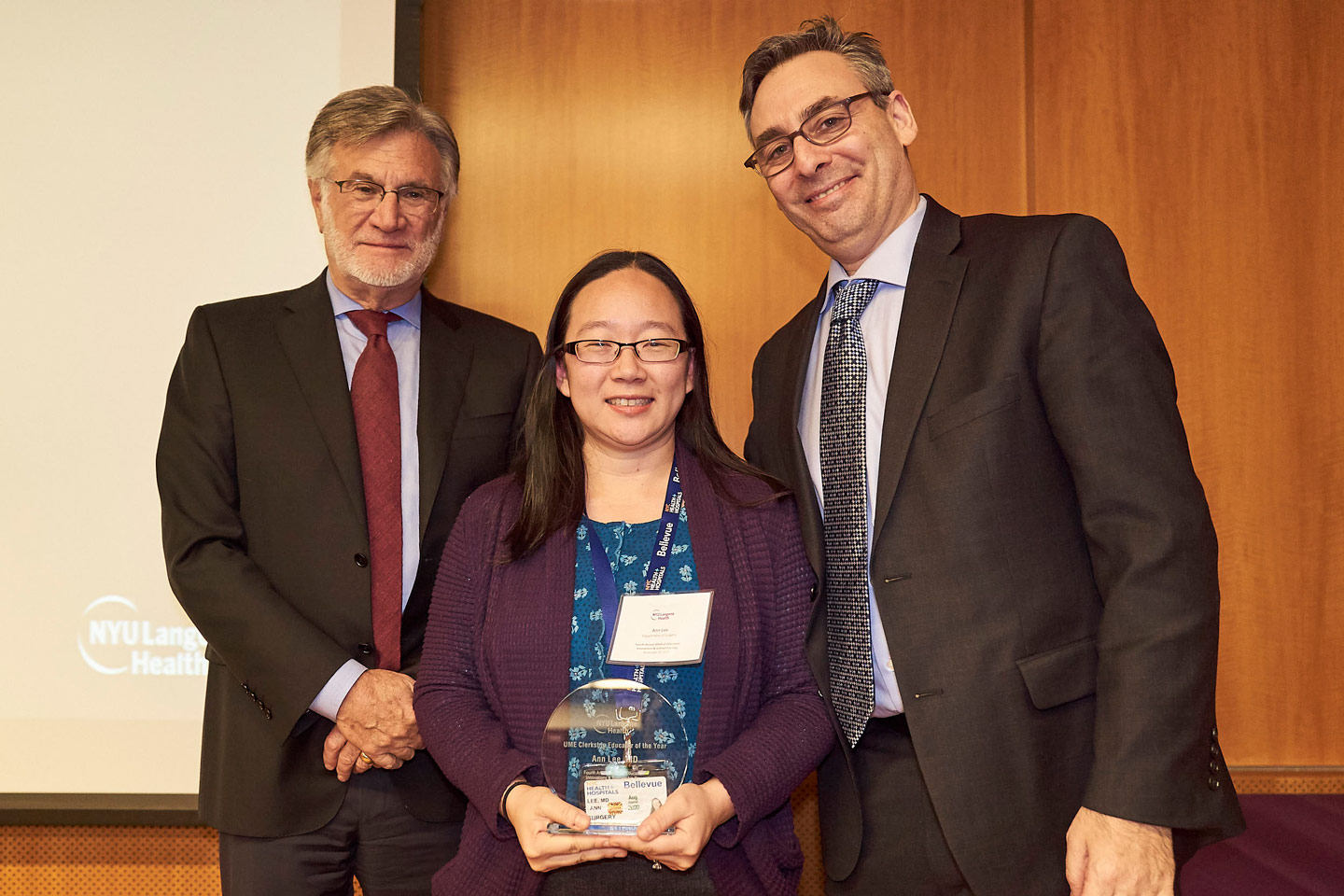 Dr. Ann Y. Lee received the first UME Clerkship Educator of the Year honor.
Dr. Cecilia L. Mercado was awarded the GME Program Director of the Year.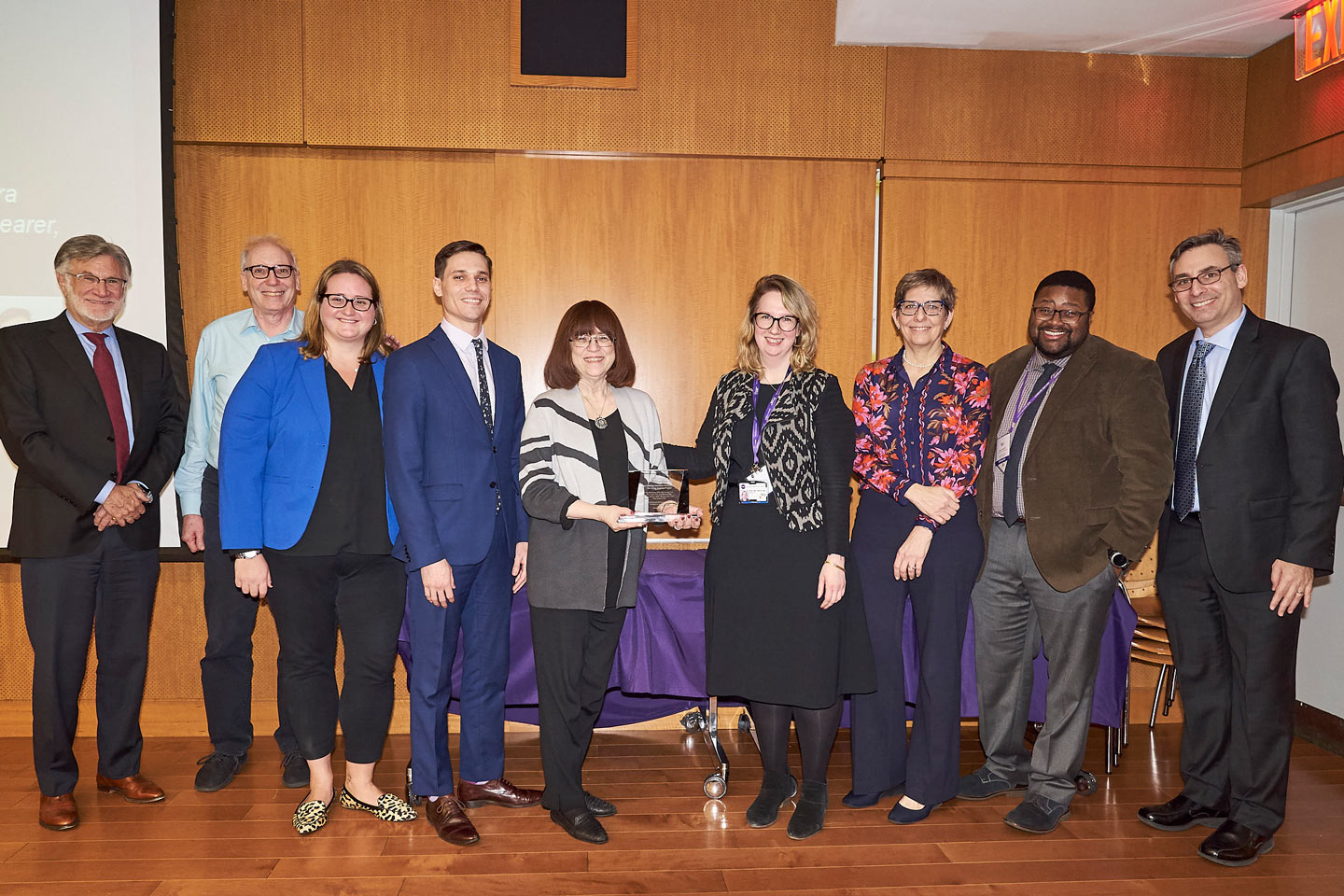 The recipients of the Best Medical Education Collaboration Award were lauded for their joint endeavor.
Medical Education Day Workshops
More than 80 attendees participated in our concurrent workshops.
Clinical Event Debriefing to Improve Team Performance, Clinical Systems, and Wellness
A formalized approach to clinical event debriefing has the potential to enable the detection and correction of systems issues, create and sustain a culture of high performance interprofessional teamwork, and support a culture of patient safety where near misses and high-risk events are openly discussed without fear. Presenters: Shannon O. McNamara, MD; Christie A. Lech, MD, MHPE; Jessica H. Leifer, MD; Soma Pathak, MD; and Janice Shin-Kim, MD.
Expanding Your Leadership Toolkit with Design Thinking
Design thinking is an approach used to creatively solve complex problems. The methodology relies on several core concepts: a user-centric approach, the belief that every person is creative, involvement of a multidisciplinary team, rapid prototyping of an idea, and tolerance of failure. This workshop taught educators basic design-thinking skills that can be applied to curriculum development, quality improvement, research, administration, and patient care. Presenters: Allison Greco, MD, and Deepak R. Pradhan, MD.
Improving Interviewing Skills for GME
This workshop focused on how to conduct residency and fellowship interviews more effectively. It allowed participants to utilize structured interview formats to determine the most desirable candidates tailored to the unique needs of the training program. Presenters: Nina Blachman, MD, MHPE; Rachael W. Hayes, MD; Sarah J. Moore, MD; Suparna A. Sarkar, MD, PhD; and Rafael Rivera, MD, MBA.
Standardized Patient Programs and Evaluations: Demonstrating Value and Impact
Objective structured clinical examinations (OSCEs) provided valuable feedback about how learners interact and achieve a wide range of objectives. Participants learned how to interpret information provided from an OSCE at the level of the individual, as well as gain an understanding on how to interpret OSCE performance to evaluate a curriculum or program, and to answer research questions. Participants worked through sample cases in small groups and learned from real-life examples of successful studies using OSCE data to expand what we understand about teaching and learning. Presenters: Sondra R. Zabar, MD; Colleen C. Gillespie, PhD; Abigail Ford Winkel, MD, MHPE; Stefanie C. Cardamone, MD; and Kathleen Hanley, MD.
Thinking, Fast and Slow: Building a Clinical Reasoning Toolkit
This workshop presented an easily adaptable approach to train faculty, residents, and students in the diagnostic process that is grounded in educational theory as well as share our experiences with implementing this curriculum across the UME, GME, and faculty development spectrum at NYU Grossman School of Medicine. The group reviewed a framework that organizes the clinical reasoning concepts of problem representation, illness scripts, diagnostic schemas, and diagnostic time-outs into a shared mental model both to teach clinical reasoning and to improve one's own diagnostic process. Participants had the opportunity to practice teaching using this framework and strategize how they can integrate it into their own educational practice and curriculum. Presenters: Verity E. Schaye, MD, MHPE; Michael P. Janjigian, MD; and David Kudlowitz, MD.
Winning Posters
Sixty-eight posters were accepted after a peer-review process. A team of judges rated the posters during the event and awarded four as exemplars in innovation, impact, and potential. The winning posters were in the following categories.
Faculty Development and Other Innovation or Scholarship
Title: "Faculty Development in Medical Education Impacts Clinician Educators' Role Identity and Sense of Community"
Authors: Penelope Lusk; Khemraj Hardowar; Verity E. Schaye, MD, MPHE; Michael P. Janjigian, MD; Kevin D. Hauck, MD; Neil M. Shapiro, MD; Daniel J. Becker, MD; Sondra R. Zabar, MD; and Anne D. Dembitzer, MD
Abstract: Faculty development programs (FDP) in medical education can increase clinician educators' confidence in teaching and improve their teaching skills. The impact of FDP on faculty's role as educators and their sense of an educator community is less well understood. Longitudinal FDP in medical education for clinician educators can lead to a greater appreciation for the role of an educator and identification with a community of educators. Investment in longitudinal FDP may have lasting impact on the clinical learning environment and the identity of a faculty as an educator.
Graduate Medical Education
Title: "The Learner's Perception of the Transition to Residency: A Qualitative Study of New Interns' Experiences"
Authors: Lucy M. Chang, MD; Kinga Eliasz; Danielle Cacciatore; and Abigail Ford Winkel, MD, MHPE
Abstract: Transitioning from medical student to resident is a challenging juncture in medical training, and educators are developing strategies to ease this transition. Considering the perspective of learners' needs, this study suggests that educational interventions that allow a more gradual transition in responsibility, afford authentic opportunities to build professional relationships, and develop identity in the role of doctor may be the most impactful efforts to improve the residency transition.
Undergraduate Medical Education
Title: "Improving Medical School Curriculum Through Content Mapping: The Gift That Keeps on Giving"
Authors: Ludovic P. Desvignes, PhD; So-Young Oh; and Colleen C. Gillespie, PhD
Abstract: Integration of basic science and clinical teaching is difficult to achieve in medical school curricula despite widespread endorsement of its importance to preparing future physicians. Curriculum content in medical school is often taught in silos, from preclerkship basic science classes to the clinical teachings on the wards. Curriculum mapping is expected to help faculty integrate basic science and clinical content, enhance student experience of the curriculum, and improve learning outcomes.
Medical Student, Resident, and Trainee
Title: "Outcomes of a 'Boot Camp' for Incoming Neurology Residents"
Authors: Alexandra Kvernland, MD; Brandon Giglio, MD; Marco Russo, MD, PhD; David E. Valentine, MD; Alexander Allen, MD; and Arielle M. Kurzweil, MD
Abstract: The transition from internal medicine to neurology can be jarring for many residents and presents a host of challenges from the complex anatomy of the nervous system to the nuances of the neurologic exam, clinical reasoning, and management of neurologic emergencies. Traditionally our program offered an introduction to neurology through a series of didactics combined with clinical duties over several months. This method was limited, however, by anxiety about caring for patients while still learning new material with conflicting clinical duties. An alternative introductory course was developed in 2018 and modified in 2019 to address these issues. A one-week "boot camp" with a focus on case-based review and simulation sessions may better prepare incoming residents for clinical neurology and mitigate anxiety related to transitioning to a new residency program. We continue to seek and incorporate feedback from incoming trainees about their boot camp experience to improve it and enhance the transition process to neurology residency.