Cytometry & Cell Sorting Laboratory Instruments & Services
FACSAria II Self-Service

The expert staff at NYU Langone's Cytometry and Cell Sorting Laboratory provide researchers with access to a FACSAria II self-service flow cytometer. Researchers who wish to reserve time on this instrument must first complete required training.
Reserve this instrument using iLab (Kerberos ID and password required).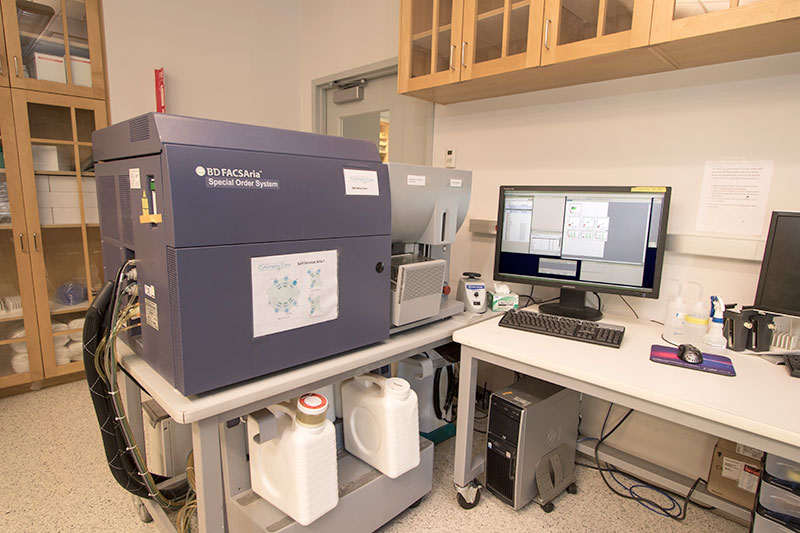 FACSAria II Location
NYU Langone
Joan and Joel Smilow Research Center
522 First Avenue, Room 609B
Phone: 212-263-5907
FACSAria II Optics
4 lasers and 15 colors (see configuration)
FACSAria II Biosafety Level
BSL-2 (unscreened human material or infectious material)
mandatory advance notice for setup and decontamination for infectious sorts
FACSAria II Pricing
$49 per hour: Perlmutter Cancer Center users
$52 per hour: non–Perlmutter Cancer Center users
$77 per hour: external academic users
$103 per hour: external industry users
FACSAria II Sample Preparation
Acceptable sample tubes are polypropylene 12 × 75 mm, 15-mL tubes, bullet tubes, or 1.5-mL microcentrifuge tubes.
Concentration should be 10–20 × 106 cells per mL (allows for ideal pressure and best use of time).
Always bring extra media to dilute if necessary.
Filter all samples as close to sorting time as possible.
FACSAria II Sample Collection
Collection tubes should be coated with appropriate media (such as FBS):
4 5-mL (12 × 75 mm) tubes
2 15-mL tubes
4 1.5-mL microcentrifuge tubes
well plates (up to 384 wells)
4 "bullet" tubes (1-mL tubes)
4 polymerase chain reaction (PCR) tubes
slides and cover slips
FACSAria II Nozzle Options
70 µm
This is the default nozzle size.
This nozzle can sort 7.6 × 107 total cells per hour; collection volume is ~106 cells in 1 mL.
Requires higher pressure (70 psi) and is not ideal for larger or fragile cells.
100 µm
This is not the default nozzle size; it must be changed back to 70 μm when done.
It can sort 3.3 × 107 cells per hour; collection volume is ~4 × 105 cells in 1 mL.
It is best for large or delicate cells because it uses lower pressure (20 psi).
This nozzle is appropriate for stem cells, fibroblasts, neurons, and larger cancer cells.
FACSAria II Tutorials
FACSAria II Self-Serve Quick Guide
FACSAria II Configuration
Self-Service Aria II (5 laser, 18 parameters)
Review the configuration of the FACSAria II below, or access a printable document.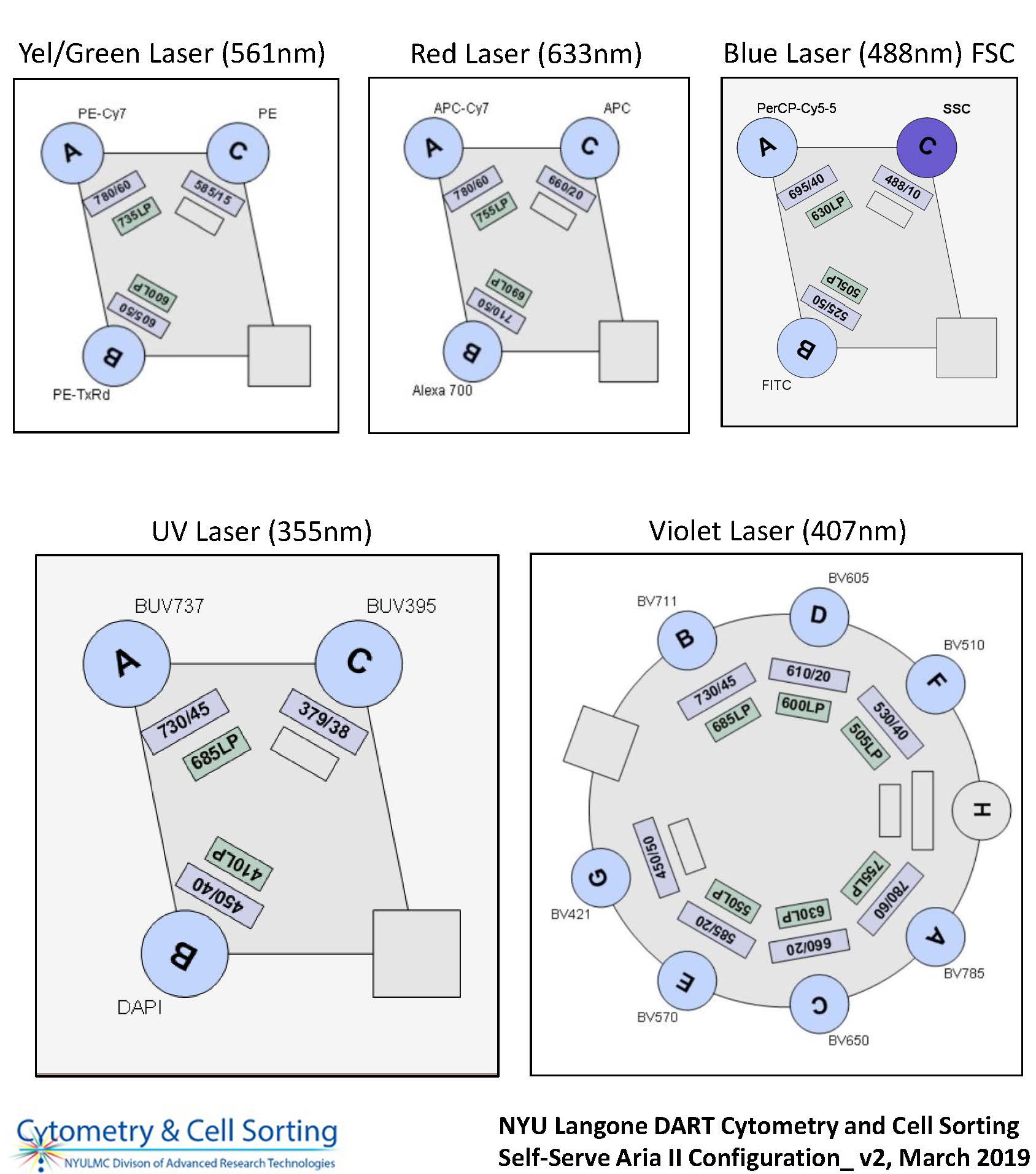 Self-Service Aria II Filter Setup