Scientific Cores & Shared Resources
Division of Advanced Research Technologies

Division of Advanced Research Technologies
NYU Langone's Division of Advanced Research Technologies comprises core laboratories that are dedicated to facilitating basic, clinical, and translational research. Our scientists collaborate across academic disciplines and with partnering investigators from outside institutions and laboratories.
Our team members recognize that the most complex problems in biomedical research require complex solutions—powerful technologies employed by experts who personify the ethos of collaboration as they conduct their studies with precision.
A diverse committee of faculty, core directors, and administrators provides strategic guidance, ensuring that our technology and practices enable our partners to perform more robust research.
What's New
Our core laboratories partner with the research community on many noteworthy studies. Below are some highlights.
Collective Celebration of Years of Service
Our Collective Celebration of Years of Service recognized directors from three of our cores for their 24-plus years of service: Cynthia A. Loomis, MD, PhD (Experimental Pathology); Peter A. Lopez (Cytometry and Cell Sorting); and Fengxia Liang, PhD (Microscopy).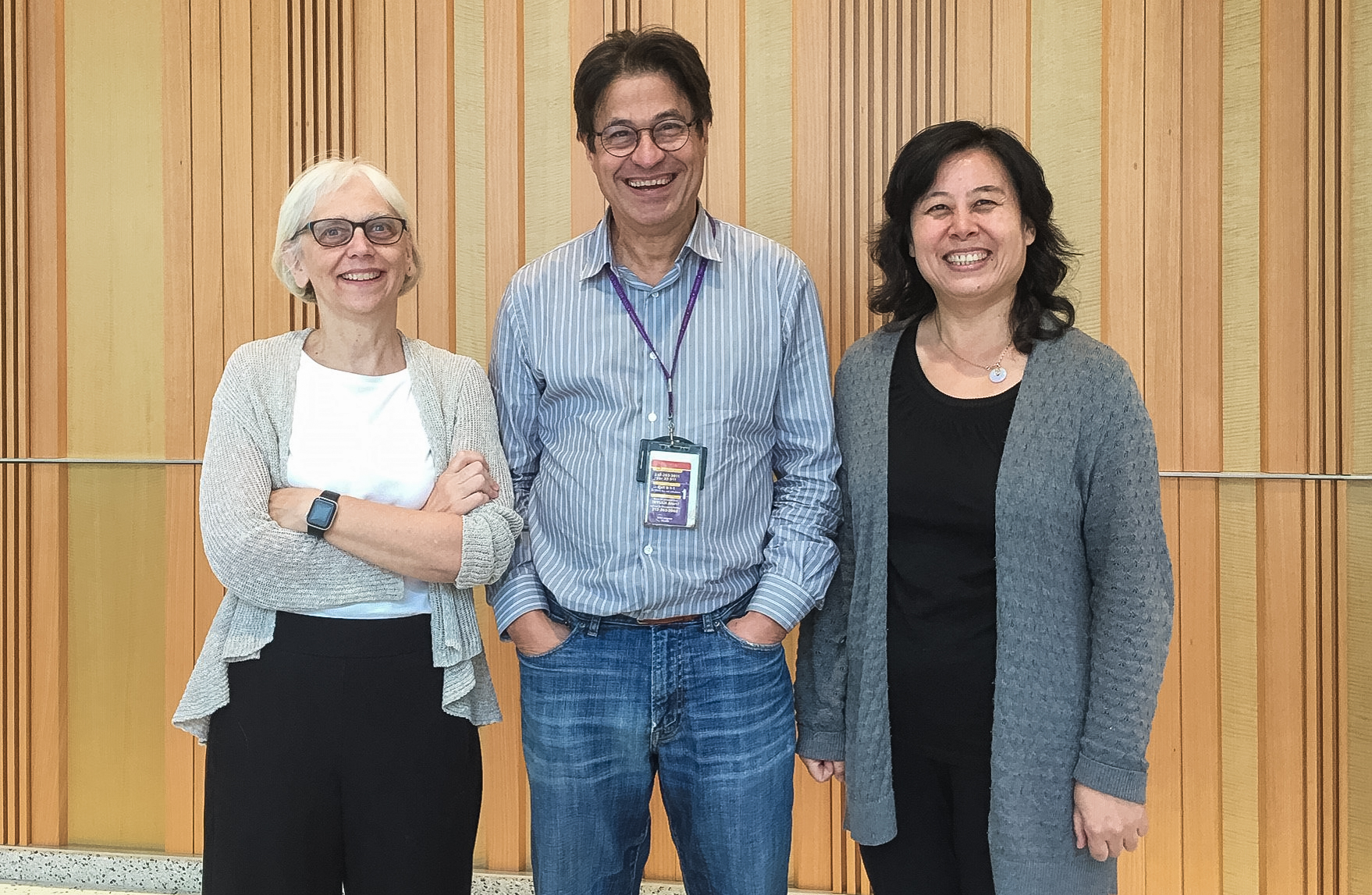 Cross-Core Collaboration Leads to Single-Cell Resolution Mapping of the Bone Marrow Niche
The cellular makeup of the bone marrow microenvironment and how it supports the production of blood and platelets has long been poorly understood. Recently, Aristotelis Tsirigos, PhD; Iannis Aifantis, PhD; and colleagues from multiple core laboratories published a high-profile paper in Nature mapping the transcriptional landscape of the mouse bone marrow niche at single-cell resolution. By creating a detailed, transcriptional blueprint of haematopoiesis, the study paves the way for potential new treatment options to address bone marrow-related diseases. This work was supported by resources from our Cytometry and Cell Sorting Laboratory, Experimental Pathology Research Laboratory, Genome Technology Center, and Microscopy Laboratory.
First Comprehensive Transcriptome Analysis of Human Aneuploidies
Aristotelis Tsirigos, PhD; Adriana Heguy, PhD; and colleagues have published the first comprehensive transcriptome analysis of human aneuploidies in preimplantation embryos. The study revealed significant transcriptional dysregulation in nonviable aneuploidies, suggesting that the majority of associated abnormalities occur very early in development. These findings may guide the development of new preimplantation genetic screening methods and shed new light on developmental abnormalities. This important work was supported by the Genome Technology Center, which provided expert library preparation and sequencing; the Applied Bioinformatics Laboratories, which carried out all data analysis and interpretation; and the High Performance Computing Core. The project was performed in collaboration with Frederick L. Licciardi, MD, at the NYU Langone Fertility Center, which delivered patient care, procured specimens, and provided financial support.
Division of Advanced Research Technologies Administration
Division of Advanced Research Technologies Advisory Committee
Jef Boeke, PhD
Professor, Department of Biochemistry and Molecular Pharmacology
Director, Institute for Systems Genetics
Bruce Cronstein, MD
The Dr. Paul R. Esserman Professor of Medicine, Department of Medicine
Professor, Department of Biochemistry and Molecular Pharmacology and Department of Pathology
Director, Program in Collaborative Research, Division of Translational Medicine, and Clinical and Translational Science Institute
Glenn Fishman, MD
The William Goldring Professor of Medicine, Department of Medicine
Professor, Department of Biochemistry and Molecular Pharmacology and Department of Neuroscience and Physiology
Vice Chair, Research, Department of Medicine
Director, Leon H. Charney Division of Cardiology
Ruth Lehmann, PhD
The Laura and Isaac Perlmutter Professor of Cell Biology and Chair, Department of Cell Biology
Director, Skirball Institute of Biomolecular Medicine
Director, Kimmel Center for Stem Cell Biology
Benjamin Neel, MD, PhD
Professor, Department of Medicine
Director, Laura and Isaac Perlmutter Cancer Center
Richard Tsien, DPhil
The Druckenmiller Professor of Neuroscience and Chair, Department of Neuroscience and Physiology
Professor, Department of Neurology
Director, Neuroscience Institute
Itai Yanai, PhD
Professor, Department of Biochemistry and Molecular Pharmacology
Director, Institute for Computational Medicine